Typically most backpacking trips I do, are over the span of a weekend, so usually 1 to 2 nights, sometimes 3. Having done many of them over the years at this stage, I thought it would be useful to lay out some information with regards to what I typically pack for a 2 to 3 day backpacking trip of this kind.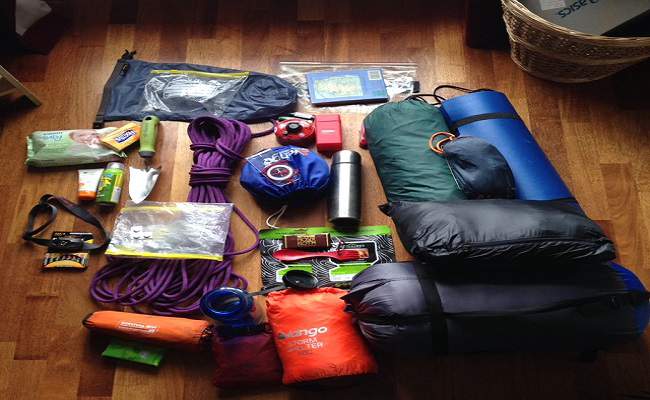 I will try and split the various bits and pieces out into logical groupings to help make it clearer to follow. So if you're unsure of a particular area, say food, you can just skip to that area to read up on it.
I'm going to preface this article by stating that when you start backpacking you need to develop a system. The system obviously needs to be adapted for varying locations, conditions, seasons, etc.
We'll explore that more below but ultimately, while most 'systems' will be similar, there will be nuance based on personal preferences.
Your overall backpacking system comprises of several smaller systems. So, you have a system for shelter, for sleeping, cooking, and so on. Breaking it down that way makes it easier to manage and map out what you think you need.
Shelter
Let's start with the obvious one for backpacking, shelter. You of course must have shelter with you if you plan to stay out overnight in the wilderness. With that in mind I recommend a one or two person tent. 
A two person tent is a bit too much in my opinion but it is doable to carry for one person if it's a sleek enough package. If you're with a friend, you can always share the load by splitting it up between two people.
Now, you can of course choose an ultralight backpacking option, like a tarp and some kind of bivvy bag, if the conditions allow that. Personally, I always go with a one person tent, the one I am currently using is the Terra Nova Zephyros 1 Person Tent, you can see a picture of it in the field during my winter experiment below.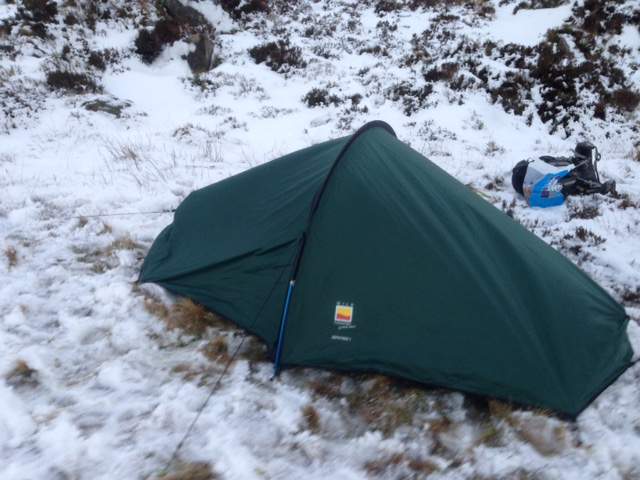 I like this as it is compact and lightweight (plus it didn't break the bank). It's a 3 season tent but I have used it in winter. I tried an experiment to see if a 3 season tent could be used in winter and it went fine. Of course, it all depends what type of winter weather you're talking about! Our old friend common sense plays a part here as always!
As a tip, I pack my tent by removing all the packing and take only the tent pieces I need with me. I also stuff the tent down into the bottom of my backpack. This saves on space and makes it easier to carry.
As a final note, if you are new to buying a tent, check out the tent buying guide as well, it covers all the various shelter options that are available. Remember to get clear on the conditions of where you plan to camp, as that will have a big impact on what kind of tent you need.
Sleep System
Crucial to a successful night out under the stars, or clouds 🙂 , is of course, a good night's sleep. As part of your overall backpacking system, you need a sleep system.
In brief, you need a suitable air mattress and pillow (a pillow is not necessary but I like to have one). I used to use a foam roll mat but my air mattress, pictured in it's packed form below, is head and shoulders above it in terms of comfort.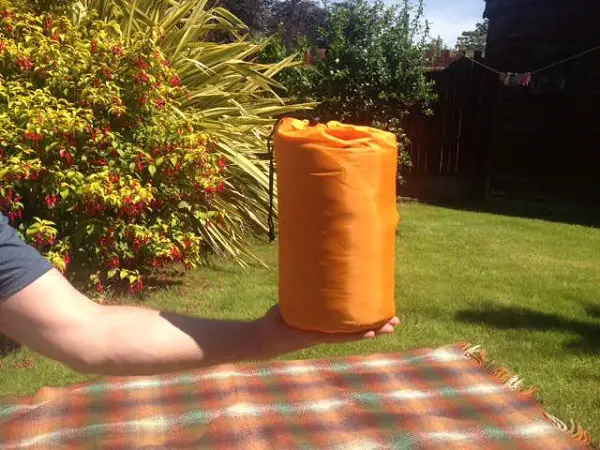 Next up, a critical piece of your comfort and safety is your sleeping bag. You must have a suitable sleeping bag for the temperatures and conditions you are planning to camp in. This is critical, as finding out your bag isn't going to work in the middle of the night in the wilderness, is not a recipe for a happy experience!
Check out the sleeping bag buying guide to learn more about how to choose an appropriate sleeping bag. The process is pretty straightforward when you know how.
You may also want to consider a sleeping bag liner but I tend not to bother with that for a backpacking weekend. I use those for trips into the huts in places like the Alps.
Cooking
Cooking is of course the next thing you need to consider. I will look at food and water next but to help qualify this, I only ever heat food for main meals up while backpacking.
I use food in a bag that I just have to heat up. Very easy and efficient with minimal hassle. Anyway, I digress … in terms of cooking I bring a simple butane gas stove with me. I always bring an extra gas canister as well, just in case I run out.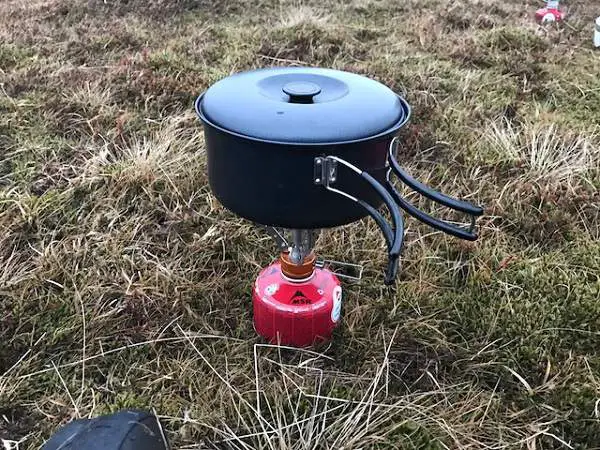 It's a good idea to check how full your existing gas canister is. This is usually very easily done by putting it into water to see how much it floats / sinks. The canister will usually have instructions on it, on how to do this.
I bring one basic but functional stainless steel pot with me and I use that for all my cooking. As I said I only ever heat things up in water so I have zero mess and no cleaning at the end.
I also tend to use the water I heat stuff up in e.g. for coffee, tea, etc. I also try to pack the cooker and whatever else I can squeeze into it, inside my cooking pot. This saves on packing space when getting your kit together.
Lighter and Utensils
As well as this, you need to bring a way to light the gas. Typically I pack a few lighters, I always bring spares just in case. Pack these in dry bags so they are functional in bad conditions when you need them. In fact as a rule, I typically put all my cooking gear into a dry bag, easier to keep it all together.
Finally, you need utensils to eat and drink with. Again, I aim for zero fuss and minimal packing weight so I bring only a suitable mug, a flask (can double as a mug) and a spork to eat with.
I eat straight from the bag so I don't need a container of any kind. If you do, I suggest eating straight from the pot as a plate is a needless extra in my opinion.
Ideally, cook away from your tent to avoid any major mishaps as tents can go up in an instant if they get an errant spark on them! If the weather is too bad, utilize the porch in your tent (Look for a functional porch when buying your tent) and be very careful if you cook while still in the tent!
Food and Hydration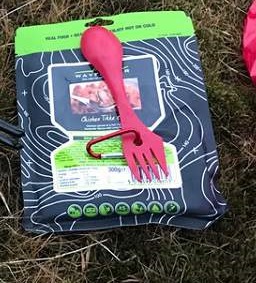 Next up, you have to bring food and source water. As already alluded to, in terms of food, I only ever bring pre-cooked food that can be heated up in water. It's easy to manage with zero fuss. The food available in these bags is actually really pretty tasty and I have been happy to eat it for a few days on the trot.
I don't entertain any cooking that means I have to wash up for two reasons. First, I am lazy when it comes to this 🙂 and two, more importantly, it's all about leave no trace and washing a dirty pot out will invariably leave bits of food lying about.
As well as this I bring easy carry food in wrappers for backpacking. Things like energy bars, chocolate bars, boiled sweets. Anything that is dry and in a wrapper. When I day hike I will take fruit with me but I don't bother when I backpack on a weekend as it means there will be decomposing waste to carry out.
One of the things I like about backpacking is that your pack should be lighter on the way out, than on the way in. After you've ate your food and used some of your gas, you knock some weight down.
Waste
Be sure to pack your food and waste / empty bags away in a seal-able bag of some kind as the waft from them can attract animals and that is not ideal. In some cases, say if you have bears to consider, you may need a proper canister that will really stop any waft from getting out.
Also, I always carry my waste with me. So, if I camp up for a night but then head out for a day hike the following day, I take all waste and all my food with me.
If you leave it behind and a smell gets out, it could easily to be too much of an attraction to animals, especially if you're not around to dissuade them.
You can easily come back to a ruined tent as animals try to get at the food inside. This is not good as not only will you possibly go hungry but you may not have a roof over your head for the night!
Water
Water is of course critical. I source all my water in the mountains. I plan my camping location in advance so I am relatively close to a good water source.
I also do my research, and if it is OK to drink the water straight from the river (common in the UK and Ireland), I have no issue drinking it straight if the source is high up enough. You need to decide what is right for you though, as I have friends who would never do this and they always use a filtration method.
If the water is not safe to drink, you need a way to purify it. There are many ways to purify river water these days. I recommend a bit of experimentation to see what you prefer as there are many ways to do it.
Of course you then need a way to carry water. When I day hike, I prefer to use a hydration bladder to carry my drinking water. However, I don't do this when I backpack for several reasons.
Firstly, if a bag full of water bursts inside your backpack, that is not going to be cool. You should utilize dry bags as much as you can but even with your stuff packed into them, something inside still could get soaked.
If a bladder burst or water seeped out through a hole, it would probably be a while before you realized as it is on your back and not directly in your view.
The first time you notice it is probably when you feel it on your back or legs and by that time, it is very possible that some of your stuff could be wet.
Think about if you had a down sleeping bag and it got drenched … D'oh! No warm and comfy nights sleep for you 🙂 Again, employing dry bags will help prevent this but it is still something to try and avoid. On top of this, you have probably just lost all your drinking water.
When I backpack, I always use water bottles. I tend to bring two, one 1 liter bottle and one 0.5 liter bottle. I place the 0.5 liter in a side pocket so I can access on the move without taking my pack off my back.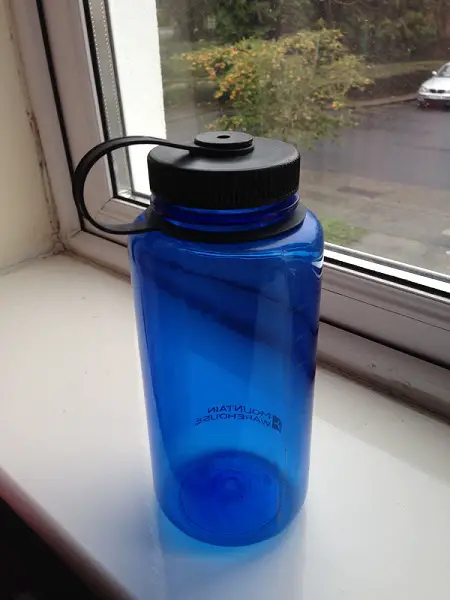 The 1 liter bottle is kept in my pack. I use it to refill my drinking water bottle should I need to, or to carry water to cook with. You should always try to camp close to a water source if possible so you can replenish your reserves as you need to.
Another good option which I use from time to time, is a water bag. These are just bags that you can fill up with water and leave near your tent, can be very handy to have to save multiple trips back and forth to the river. A hydration bladder can do this job fine as well.
Safety
By default, you should always have some safety gear with you. This should comprise of:
your mobile phone and some extra charging capability
map and compass (Carry a spare)
a headlamp (with spare batteries and ideally a spare headlamp)
and possibly a suitable hiking rope (only include a rope if you know how to use it and think there may be a viable need for it)
These are the main items to think about in terms of safety. Follow the links above to learn more about each specific item. Now, depending on where you camp, your safety equipment may need to be more extensive. For example, are there animals you need to potentially protect yourself from in the area you plan to camp in?
As well as this, before you ever set out on a backpacking trip, make sure you do proper research. For example:
Do you need a permit to go where you want to go?
Is camping even allowed?
What time of year is it and is it safe to camp in the conditions?
What's the weather forecast?
Where are you going to camp?
What's your route to get there?
Can you get in touch with emergency services from where you will be?
Do you have the correct contact number?
Is there mobile reception?
You should be very well versed in all of this and more in advance. In truth most of your safety work is done long before you ever set out.
Anyone can be unfortunate and take a tumble, but good planning nearly always prevents problems long before they can get a chance to manifest and helps ensure you can deal with them if they do.
Clothing
It could be argued that clothing is part of your safety as the gear you wear and carry will have a major impact on the level of enjoyment you experience. Again, you need to be looking at the location, conditions, etc.to see what you need but as a general rule I take the items below.
Hiking Boots
It goes without saying, you should have good hiking boots or, if conditions allow, hiking shoes with you. I always go with sturdy backpacking boots, even in warm weather. Pictured below are my awesome Meindl Vacuum hiking boots!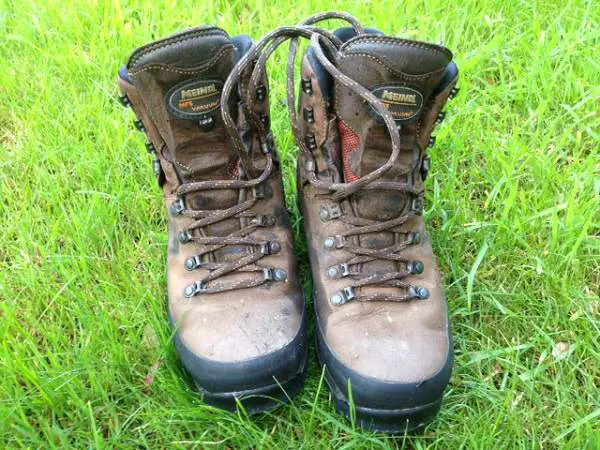 The extra weight on my back means for me, that I want more stability in my feet and ankles, so  I go with boots every time. Some people do hike in trail shoes but that isn't for me. I prefer the traditional leather Alpine style boot but the more technical looking backpacking boots are an equally viable option and can sometimes be lighter.
Ensure your boots are well broken in and you have suitable insoles should you need them, again break them in before heading out on extended backpacking trip.
Underwear
I will wear one pair of hiking socks which generally will do me the whole weekend. If the weather is to be very wet, I will carry a spare pair of socks. It can be a good idea to always have a spare pair, even in good weather but sometimes I'll skimp on this if the conditions are good.
I tend to just wear normal boxers when I backpack and like socks, if it's going to be wet, I carry a spare pair for a weekend trip. However, these boxers are made of cotton which for me, in any other aspect of hiking gear, is a no-no.
For some reason I let it slide when it comes to my boxers. I have tried using Nike running boxers instead of the cotton but, oddly enough, they didn't work well for backpacking and led to a bit of chaffing.
This is something I need to look at some more but I haven't had any major issues wearing cotton boxers in bad weather so that is most likely why I haven't tried to change it too much.
My other gear and rain gear does the job well and so broadly speaking, my boxers stay dry enough. I also find if they're a bit damp, if I sleep in them in my sleeping bag, they will dry up in no time from the heat inside the bag.
Base layers
You need a good base layer, even when the conditions are good, you should have one packed away. At colder times of year I wear one and carry a spare. Merino wool or synthetic is the order of the day here as you need good wicking capability for your base layers.
I prefer Merino when it's cooler as it's more snug and cosy on the skin. I think synthetic fiber base layers are maybe a better option in warmer weather as I tend to feel cooler in them. Whatever works best for you though.
I don't bother with wearing baselayer leggings. I have them but even when I used them in Winter in the Alps, I found they were just far too warm for me.
If your legs get chilly though, they are an option. In saying that though, I pack them in as a spare at colder times of year as it's handy way to add more heat while sleeping in a bag at night should you need it.
Mid layer
I will always wear a suitable hiking tee over my base layer top. Any synthetic running tee should do the job.
Although normally an outer layer I will add my pants into the mid layer section as I often wear rain gear over them. I wear hiking pants that are very breathable and ideally with venting options.
I like the more recent materials being utilized in hiking pants such as elastane mix. I find them very comfortable as they are stretchy and fit easily.
They also dry very quickly which is also something I look for. Hiking pants are a whole area in and of themselves, check out the hiking pants buying guide to learn more on what to look for.
Next up, over my tee, I will wear a fleece. If it's a colder time of year I wear a heavier warmer one. If it's warmer, I might wear a thinner one or none at all.
At all times I carry a micro fleece in my spare clothes bag for extra warmth as required. Again, you can use this as required e.g. over your base layer in your sleeping bag for extra warmth if that works.
Sometimes I carry an insulated jacket as well. They wrap up very small and they can be great for colder conditions. When you're sitting about in your campsite, that extra warmth on top of a heavy fleece, tee and base layer can be just the ticket.
Outer layers
This is basically my rain gear. I carry rain pants and use them as I need to. Good rain pants are a very good investment indeed and I believe in paying a bit extra for good ones.
You will more than get it back in terms of use as, depending where you are backpacking of course, you will get rained on! I also use them as an extra layer for warmth over my hiking pants and they can be an excellent wind stopper i.e. keeping windchill at bay.
The next critical piece of my outer gear set up, is a good rain jacket. I opt for the rain shell jacket option as they are lighter and easier to pack and carry. Your jacket needs to provide rain protection and breathability.
Think Gore-tex or or other well known waterproof and breathable technologies. You can opt to carry a wind jacket but I don't. I rely on my rain jacket to do that and keep the wind chill away.
Hats, gloves, etc.
I always carry a minimum of two hiking hats, one I have access to and one in my spares bag. These are usually beanies but in hotter times I wear and carry sunhats too.
I carry three pairs of gloves:
One lightweight acrylic with touch screen capability
One waterproof pair  (debatable if they are actually waterproof but they retain heat when wet and that's what I want)
A pair of ski gloves or mittens for warmth
Sometimes, if the weather might be chilly, I will take my neck gaiter with me. This is great for keeping the chill of my neck. Sometimes, I will pack a balaclava too as they are also excellent when you need to keep the head warm.
Hygiene
Not the most pleasant of things to talk about, but when you gotta go, you gotta go … and if you're spending two to three days in the wilderness, you can rest assured that at some point, you will need to go 🙂
I won't go into the details about what to do when nature calls in the wilderness but I will list out what I bring with me in for that purpose. I pack a trowel to dig a cat hole, tissues and baby wipes. You can use a lighter too to burn any used paper.
I don't bother with a tooth brush, normally I just bring some chewing gum and that does me fine for a couple of days. For cleaning my hands and face, I use the baby wipes (any kind of hygienic skin wipe will do the job but baby wipes are easy to get).
Backpack
Last but most definitely not least, you can't get very far on a backpacking trip without something to carry all this stuff in 🙂 With that in mind, you need a good backpack.
For a weekend trip I generally get away with a 53 liter bag (48+5) but aiming for a 60L to 65L bag is probably a good idea. It's funny as although I prefer a bit more space, as I do more and more backpacking, I consistently try and carry less.
However, when starting out, you should probably aim for more space to get a chance to work your backpacking system first. After that, you can work out what needs to stay and what can go.
Miscellaneous
The core of what I carry is covered above but there can be miscellaneous items that I take with me from time to time. For example, if it's sunny weather, I might pack some hiking sunglasses along.
I will often take gaiters with me too. They are great for wetter areas or if you're hiking through shale and scree. Also, sometimes I will take walking poles, they can be really useful, especially when carrying a heavy load on your back over steep terrain. I don't always take them though.
Conclusion
When I first started writing this article, I thought it would be a straightforward enough piece. However, it turned out to be a tad longer than I first thought lol 🙂
I hope you found the information here on what to pack for a 2 to 3 day backpacking trip useful. What I list here is how I go about my backpacking weekend trips so if you're planning something similar, this should give you some good pointers if it is your first time.
I am sure I have may have missed one or two minor things but hopefully I have covered most of them.
While this is what I do at the minute, it is always an evolving process. As I get more gear, as gear gets better, as I learn more tricks, etc. I will continue to change and adapt how I go about this.
It's a never ending work in progress but the one common goal for me will always stay the same, namely less weight and more efficiency 🙂
Please feel free to ask me any questions in the comments below and if I can help clarify anything for you, I will be only too happy to do my best to do that.
Finally, if you found value in this, please share it around your networks!