When you're out hiking, it is inevitable that the weather will turn on you at some point. To help keep you dry and protected, your pack should always have your rain gear in it.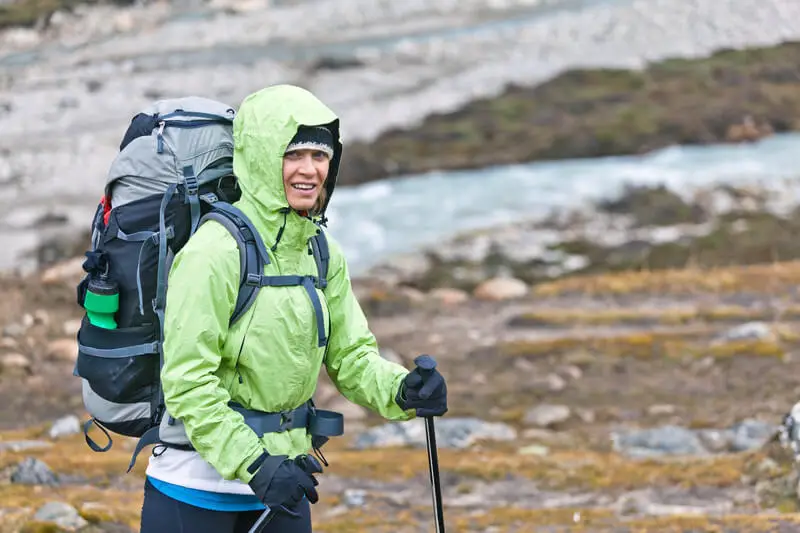 As mentioned, the downpour and / or rain shower will catch up with you, so it's important to be prepared. With that in mind, you want to find the absolute best rain jackets for the trail.
Here in this article, I want to lay out the best hiking rain jackets for women in 2023 that are currently available on the market today. They all, more or less, have all the functionality and features that you, as a day hiker or shorter term backpacker, should be looking for in a rain shell jacket.
They all also score well across multiple review sites and multiple user reviews, so if you're in the market for a new waterproof jacket, this list will give you plenty of ideas and options to consider.
Please note that any prices referred to here are the retail guide prices and so, they are subject to change. Prices for gear change all the time, so any reference is only meant to give you a ballpark idea of the actual cost.
If you can't wait and just want to know how to get our top rain jacket recommendation, then check out the Outdoor Research Aspire, it's our number one choice for the best women's rain jacket.
So, now that the introductory blurb bit is done and out of the way, let's crack on and take a closer look at some of the best hiking rain jackets for women in 2023!
1. Outdoor Research Aspire
Pros:
A Gore-Tex 2.5 layer jacket that offers excellent protection
Another lightweight jacket, both to wear and to carry
Perfect for all types of hiking year round
Very waterproof construction (50D plain weave) and breathable
Cons:
At the higher end of the price scale but it is more bang for your buck
Outdoor Research Aspire Rain Jacket Features Summary:
GORE-TEX® with Paclite® product technology 2L
100% polyester 50D plain weave
Waterproof, windproof and breathable
Fully seam-taped and laminated construction
Fully adjustable hood
YKK® AquaGuard® zippers
Internal Front Stormflap and Hem-To-Bicep TorsoFlo™ Venting
Zip Hand Pockets, with pocket placement above harness, and zip arm pocket
Left-hand pocket doubles as stuff sack
Carabiner Loop and hook/loop cuff closures
Elastic cuffs and an elastic drawcord hem
Weight: 388g / 13.7 oz – average weight for size M
Best Uses: Hiking, camping, general outdoor and day-to-day use
The Aspire rain jacket from Outdoor Research is a Gore-Tex 2.5 layer rain jacket that offers outstanding protection from the elements.
Gore-Tex is an industry standard in the rain protection business, so we're off to a good start with the Aspire.
Aside from its water resistance, Gore-Tex is also very breathable, so the Aspire offers good performance in that regard. There's also an interesting feature with the Aspire that I don't think I've seen in a jacket before.
It features two-way zippers that run from the biceps to the arms. This enables the jacket to be worn as a poncho! An interesting concept I can honestly say I have not come across before.
There are two zippered hand pockets on the Aspire jacket as well as one pocket on the arm. The jacket weighs in at 388 g / 13.7 oz (medium), and so it ranks pretty well in terms of weight.
This packable rain jacket fits nicely into its own pocket so it can be snugly wrapped up and put into your day pack.
As mentioned at the start, this rain jacket for women is at the higher end of the scale in terms of price, but I think you get a lot of functionality for your money.
2. Arc'teryx Zeta SL
Pros:
Jacket design and construction fits well
Very lightweight
Excellent waterproof capabilities
Breathes well using Gore-tex technology
Packable
Designed with the hiker in mind
Cons:
No extra additional venting options e.g. pit zips
Hood is not helmet compatible
Pricier compared to some of its peers
Arc'teryx Zeta SL Rain Jacket for Women Features Summary:
Waterproof and breathable
Ultralight compact construction
Taped seams for added weatherproofness
Laminated high-strength hanger loop
2L GORE-TEX with NEW PACLITE Plus product technology
Articulated patterning and gusseted underarms for mobility and comfort
Storm Hood with laminated brim and halo adjuster
Not helmet compatible
Chin guard collar with brushed microsuede facing for added comfort
Watertight full length front zippers and fly
Die-cut Velcro cuff adjusters
Adjustable hem draw-cord with slight drop hem
Two hand pockets with watertight zippers and RS zipper sliders
Weight: 310 g / 10.9 oz
Best Uses: Very versatile jacket suitable for all types of hiking, backpacking and general outdoor use
Arc'teryx produce some of the best performing outdoor gear available today and the Zeta SL Jacket is another top of the line offering from them.
This jacket is developed and designed specifically with the hiker in mind. The Zeta SL is a great jacket for day hiking and longer trekking adventures too, basically a really great all round hiking rain jacket.
The jacket hugs the body comfortably and it's sleek contours are all in the right places providing a great fit, with or without multiple layers. The jacket utilizes very functional materials and an efficient design so it doesn't leave anything out in terms of functionality.
The waterproof and breathable capabilities in the Zeta SL are provided via Gore-tex with PACLITE® Plus product technology, and it performs admirably in tough wet conditions.
The zips are highly water resistant and the jacket seams are taped, all of which enables a protective and breathable cocoon around the torso. However, the Zeta SL has no additional venting features e.g. pit zips.
The jacket packs away easily and it is very lightweight, so easy to carry in your daypack when not in use.
The Zeta SL comes with a very functional storm hood, however, the hood is not helmet compatible. This is a bit of a disadvantage in terms of versatility to use the jacket for other outdoor activities e.g. rock climbing.
The jacket features two hand warmer pockets with a fully adjustable hem and cuffs. So, it's easy to adjust the jacket to fit your unique body shape as needed.
Overall, the Zeta SL is designed as a functional rain jacket, and it comes up trumps! An excellent rain jacket option for any lady hiker!
3. Outdoor Research Helium II
Pros:
A super lightweight jacket, they're not kidding when they say helium
Stuffs into its own pocket for easy packability
Construction offers good mobility and range of motion
The 30D ripstop fabric enables good protection from the elements
Cons:
As a result of the ultralight construction, there are no hand pockets
Wrist cuffs are elasticated as opposed to Velcro so can't be opened
Outdoor Research Helium II Rain Jacket Features Summary:
Pertex® Shield+, 100% nylon
2.5 layer laminated construction
30D ripstop, fully seam-taped
Waterproof, breathable, windproof and lightweight
YKK® AquaGuard® zippers
Zip chest pocket
Internal pocket doubles as stuff sack
Reflective logos
Carabiner loop
Elastic cuffs and an elastic drawcord hem
Best Uses: Running, hiking, climbing, emergency rain protection on the trail
This super lightweight Outdoor Research Helium rain jacket is a packable rain jacket and will fit easily into your day pack or travel bag. It's a no frills and no nonsense rain jacket.
The obvious starting point with this jacket from Outdoor Research is its weight. With a name like Helium II, this jacket zeroes in on being lightweight and easy to carry while not sacrificing protection from the elements.
The Outdoor Research Helium II features standard 2.5 layer construction and utilizes its Pertex Shield+ technology to offer breathability and rain protection.
From many of the reviews I checked on the Helium II in this area, it performs very well. There are no other venting features on the jacket though except for the cuffs.
Protection from the rain comes in the form of a DWR coating on the outside of the jacket which as alluded to above, performs well. The Helium II comes with a stiffened hood that was noted by many users to perform well, and it is also easy to adjust.
The Helium features only two pockets – one inside stuff pocket and one on the chest – with the internal pocket being where the jacket can be packed away, so no standard hand warmer pockets.
Overall, I feel the Helium II is probably better suited for a runner rather than a hiker, but if weight is a big issue for your hikes, it could be a great option for emergency rain protection in a heavy pack.
4. Mountain Hardwear Stretch Ozonic
Pros:
The jacket offers good ventilation and breathability
Lightweight design provides a comfortable wearing experience
Suitable for all types of hiking, most of the year round
40D construction offers excellent waterproof protection
Cons:
A stiff brimmed hood would be nice to have
Mountain Hardwear Stretch Ozonic Rain Jacket Features Summary:
Fabric Body: Dry.Q™ Active Stretch 40D 2.5L (100% Nylon)
Breathable waterproof technology
Weight: 313 g / 11.1 oz
4-way all-over stretch fabric
Abrasion-resistant 40D face fabric
Large underarm vents
Hood cinch system
Exposed matte vislon Aquaguard zipper
Packable zip chest pocket
Best Uses: Hiking, backpacking, camping, general use
The Stretch Ozonic rain jacket from Mountain Hardwear is a very functional rain jacket. Sleek and very stylish, it's a great all-rounder for every season. It is also tough and durable for even the harshest of conditions.
The Mountain Hardwear Ozonic jacket is a super light rain shell jacket. As with the Venture and PreCip, it performs very well in terms of ventilation while utilizing its patented Dry Q membrane in its 2.5 layer construction.
This allows your torso to breathe while keeping the nastier elements out. This is further supported by the underarm pit zips which can be opened for venting purposes at your convenience.
The hood and cuffs are fully adjustable so you can create a decent protective shell in the worst of conditions. The Stretch Ozonic also features two standard hand warmer pockets.
The jacket also comes with a lifetime warranty from the manufacturer, which is always nice to have.
5. Outdoor Research Interstellar
Pros:
Love the material used in the jacket construction, somewhat stretchy and feels good
A lightweight jacket that provides a comfortable fit
Waterproof, windproof and breathable
Helmet compatible hood
Cons:
Pocket location could be better, hard to access while wearing a pack
Outdoor Research Interstellar Rain Jacket for Women Features Summary:
Fabric: Ascentshell™ 3L, 100% nylon, 20D mechanical stretch ripstop face with 100% polyester 12D backer
Waterproof, windproof and breathable
Lightweight and air permeable
Fully seam-taped electrospun membrane
Movement-mirroring stretch
Fully adjustable helmet compatible hood; Wire-brimmed halo-hood with Hood Lock™
YKK® AquaGuard® Zippers; YKK® AquaGuard® Vislon Center front zipper
Internal front stormflap
Zip chest pocket; Zip hand pockets; jacket stuffs into left hand pocket
Carabiner loop and key clip
Dynamic Reach™ underarm panels
Elastic cuffs with hook/loop cuff closures
Elastic Drawcord Hem
Weight: 285 g / 10.1 oz
Best Uses: Day hiking, backpacking, climbing, general day-to-day outdoor use
Outdoor Research have come up trumps with the Interstellar jacket. It's a top rain jacket option which has the versatility to be used for a broad range of outdoor activities, not just hiking.
The jacket fabric is 'Ascentshell™ 3L, 100% nylon, 20D mechanical stretch ripstop face with 100% polyester 12D backer'. This tough layer provides strong protection from the elements, and works well throughout its sturdy design and construction.
The same material is also very breathable and reports are that this feature performs particularly well in the Interstellar jacket. Good breathability in the fabric can be a hard thing to achieve in a rain jacket, so they have done well with that here.
The movement-mirroring stretch fabric means the jacket has excellent mobility, providing a great range of motion. This is really practical and useful for someone hiking over tougher terrain, where the use of your hands may be required e.g. scrambling.
The hood is very functional providing excellent protection in tough windy conditions. It is fully adjustable and helmet compatible. It also features a wire-brimmed halo-hood with a Hood Lock™ to keep your line of sight good in a windy downpour.
The jacket comes with two zipper hand pockets and one chest pocket. they have YKK® AquaGuard® zippers so good rain protection at the zips too. The chest pocket is perfect ideal for quick access for a key item, say a compass or a mobile phone.
The Interstellar jacket offers excellent functional capability, so overall it's a good value for money hiking rain jacket in terms of price.
In summary, the Outdoor Research Interstellar is a great rain jacket option for the trail. It will perform well giving you the protection you need under a wide range of tough conditions.
6. Patagonia Torrentshell 3L
Pros:
Waterproof capability performs very well in the Torrentshell
Good breathability with very effective pit zips for extra ventilation
A great hood that is very adjustable to suit and performs well
Overall very durable and quality construction
Cons:
Zipper pulls and cord locks can be a bit fiddly
Patagonia Torrentshell 3L Rain Jacket Features Summary:
Material: Recycled ripstop nylon (bluesign® approved) and Fair Trade Certified™ sewing
3-layer H2No® Performance Standard waterproof/breathable polyester
DWR treatment bolsters defense against moisture
Zippered underarm vents release excess heat quickly
2 hand pockets keep necessities close
2-way-adjustable hood with a laminated visor rolls down and stows with a simplified cord-and-hook design
Hem and cuffs are adjustable to personalized preference
Jacket stuffs into hand pocket when not in use
Best Uses: Day hiking, backpacking, mountaineering, general outdoor use, day-to-day use
The Torrentshell 3L is a very functional and popular option from Patagonia with many great reviews all over the web.
It features a 3 layer construction that is probably one of the toughest on this list. It also uses recycled nylon ripstop for even more durability.
This women's rain jacket performs very well in tougher conditions making it an excellent option for the trail. It is very water resistant performing well in the elements.
Most user reviews I have read for both the men and women's version of this rain jacket fully support the effectiveness of this capability.
The waterproofness of the jacket is further enhanced with DWR treated zippers, a storm flap, and waterproof pockets.
Again, user accounts indicate that the Torrentshell is very breathable and the pit zips it features provides an extra quick venting option which works well.
One of my favorite features of the Torrentshell is the 2-way adjustable hood which features a laminated visor. It looks strong, and all reports indicate that it holds up very well under tough conditions.
The Patagonia Torrentshell 3L Rain Jacket for women has two hand warmer pockets, and overall, the fit of the jacket generally comes in as true to size. In terms of weight, the Torrentshell is about average in relation to its peers.
It is packable in its own pocket with a handy clip-in loop to attach to a pack. Its overall construction can be classed as tough and durable. The Patagonia Torrentshell 3L is a very fitting option for all kinds of hiking!
7. Marmot PreCip Eco
Pros:
Functional adjustable hood works well
Waterproof, breathable and packable rain jacket
Underarm pit zips provide easy and quick ventilation
Good price and value for money
Cons:
Not as tough as other jackets
Breathability not as good as with other jackets in its class
Marmot Precip Eco Rain Jacket Features Summary:
Waterproof/breathable, PFC-free Marmot NanoPro™ recycled nylon face fabric lasts longer than ever, thanks to the advanced technology of the microporous coating
100% seam taped
Adjustable hood rolls into the collar when not needed
DriClime®-lined chin guard is soft on skin
PitZips allow cooling airflow when the temperature rises
Pack pockets are strategically placed to be out of the way of pack straps and your hipbelt
Angel-Wing Movement™ sleeves allow full range of arm motion and prevent jacket from rising up when arms are raised
Adjustable hook-and-loop cuffs
Best Uses: Day hiking, general outdoor use, day-to-day use
Our top budget rain jacket, the Marmot Precip Eco rain jacket for women, is a really popular rain jacket. It is a new iteration to celebrate the 20th anniversary of the Marmot Precip line, which features a focus on environmentally friendly recycled materials used in its construction.
It's a top seller on Amazon and with good reason. It's a nice all around rain jacket that will keep you dry on the trail. It is also great for casual use as well.
You don't have to look too hard to find a slew of excellent user reviews for the Precip Eco. It's a top performer and generally scores consistently well in terms of functionality and performance.
As with the men's rain jacket option, its sleek look works well in the women's version of this rain jacket too. It provides a comfortable fit that allows angel wing movement, i.e. it doesn't ride up your back when you swing your arms.
The PreCip Eco is waterproof and breathable, and from the many tests and reviews I have seen in these areas, it performs well. It also has pit zips for extra ventilation should you need them after a tough push on the trail.
The Precip Eco is also lightweight and durable, so ideal for carrying in a day pack or backpack. It packs away in its own pocket so it can be easily stowed away.
The hood is fully adjustable, and while it is functional, it is one area in the jacket that could perform better in tougher conditions. Some other nice features of the PreCip are the DriClime® chin guard, the adjustable Velcro cuffs and the elastic drawcord hem to secure a cocoon around your torso.
If you secure all of those, you should be able to keep some of the most uninviting weather at bay! In terms of pockets, the PreCip features two zippered hand pockets.
8. Columbia Arcadia II
Pros:
Very accessible in terms of price, good value for money
Very functional design for a rain shell jacket
Performs well for light trail hiking on wet days and for casual use
Cons:
Definitely heavier than some its peers in the same category
Columbia Arcadia II Rain Jacket Features Summary:
100% nylon 2 layer jacket with full dull, plain weave
Omni-Tech™ waterproof/breathable fully seam sealed
Adjustable storm hood attached to the jacket
Drawcord adjustable hem
Zippered hand pockets
Packable into hand pocket
Best Uses: Light day hiking, general day-to-day use
This is listed as one of our best budget choice rain jackets for women. The Columbia Arcadia II is another top seller, and it comes in at the very affordable mid to low range in terms of price. Stylish and functional.
A basic rain shell jacket retailing in at about $59.95 (depending on size etc.), it is very accessible. It is made with 2 layer construction featuring Columbia's waterproof Omni-Tech technology and a mesh lining.
The breathability is limited because of its two-layer construction and there are no pit zips featured, so this rain jacket offers no quick ventilation option. The two hand pockets are mesh, so when left open, they do offer some level of ventilation.
Overall, the user reviews indicate that the Arcadia II is a comfortable fit. Although not brimmed, the hood can be cinched down for a snug fit for tougher conditions.
In terms of weight, the Arcadia is probably in the middle to top end of the range when compared to its peers listed on this page. The Arcadia II has two hand pockets, and the jacket does stuff into one of them by design.
Overall, I feel the Arcadia II is perfect for someone who wants to give hiking a go. If they don't take to it, it will work great as a day-to-day rain jacket.
In summary, it's a basic but functional enough 3 season entry level rain shell hiking jacket but not much more than that.
9. Marmot Minimalist
Pros:
3 layer Gore-tex Active laminate provides strong protection from the elements
Mesh-lined pockets are accessible while wearing a pack
Minimalist design means the jacket is lightweight
Sleek design looks and feels great
Constructed with Bluesign® approved fabric
Cons:
No extra ventilation options
More expensive than some of its peers
Marmot Minimalist Rain Jacket for Women Features Summary:
GORE-TEX® Paclite® fabric is lightweight and packable, yet durably waterproof, windproof, and breathable; 100% seam-taped to keep water out
PitZips provide ventilation to regulate body temperature
Articulated elbows for increased mobility
Bonded-flap center front zipper
Zippered hand pockets
Adjustable drawcord hem; Adjustable VELCRO® cuffs
Attached hood with peripheral cord adjustment
Weight: 390 g / 13.7 oz
Best Uses: Day hiking, backpacking, various outdoor activities and general day-to-day use
The Minimalist is an excellent offering from the well known and loved brand Marmot. They are outdoor people so you know this jacket has been created by and for people who love the outdoors!
The Marmot Minimalist offers excellent protection from the elements in inclement conditions by utilizing a lightweight GORE-TEX® Paclite® fabric. This performs well under tough conditions.
This material also enables excellent breathability in the fabric itself, which is always a must for when you exert yourself on the hills and it gets stuffy inside. The jacket also comes with functional pit zips. I am a fan of pit zips so its good to see them in this jacket.
The jacket features two zippered hand warmer pockets, which are functional and practical. The hood is attached to the jacket and comes with a peripheral cord adjustment.
The jacket also comes with an adjustable drawcord hem and adjustable Velcro cuffs, to enable you to get a snug fit.
Given the fact that environmental impact is a growing concern by the day, it is worth noting that the material used for the Minimaist is GORE-TEX® with Paclite® Technology which utilizes 100% Recycled Polyester 3.2 oz/yd.
This jacket is definitely pricier in comparison to some of it's peers in the same class, but you get a really great jacket for the extra bucks. So I feel that overall it is an investment in quality as opposed to needless extra expense.
10. Arc'teryx Beta SL Hybrid
Pros:
Lightweight, breathable and water-resistant; Gore-Tex performs very well
Very comfortable design with good mobility
Perfect for all types of hiking year round
Cons:
May not fit true to size so take that into account when buying
More expensive than other options listed but much more resilient – you get what you pay for!
Arc'teryx Beta SL Rain Jacket Features Summary:
Compact, lightweight, 2-layer GORE-TEX® PACLITE® Plus is reinforced with 3-layer GORE-TEX in high-wear areas
Breathable and waterproof protection
Adjustable, helmet-compatible StormHood™ provides coverage and full visibility
WaterTight™ VISLON center front zipper; 2 hand pockets with WaterTight zippers and RS™ zipper sliders
Adjustable hem drawcord seals out wet and cold
DryCuff™ laminated adjustable cuffs provide weather protection and a fine-tunable fit
Weight: 300 g / 10.6 oz (approximate, may vary per sizing)
Best Uses: All types of hiking, climbing, backpacking, trail running, skiing
The Beta SL Hybrid is a highly functional rain jacket from Arc'teryx. If you like to be out on the trail in tougher conditions, then this is a great choice.
The first thing to highlight about the Arc'teryx Beta SL jacket is its weight. It comes in at around 300 g / 10.6 oz (approximate, will vary as per sizing) so definitely in the lightweight department.
However, don't let that fool you into thinking that less weight equates to not being as tough as you'd like, that is certainly not the case.
The Beta SL Hybrid is constructed using superlight N40r GORE-TEX fabric, so we are talking tough here but without having additional unnecessary weight from the construction.
Featuring their new Paclite® Plus product technology, the Arc'teryx Beta SL Hybrid jacket is both water resistant and breathable. The jacket also features pit zips for extra ventilation as required
The cuffs are laminated, and the hem drawcord means you can get a snug and secure fit. There are two front hand warmer pockets that have watertight zippers so you can securely close them. They are well positioned to enable access while wearing a pack.
The Beta SL Hyrid offers a sleek fit. It is a very functional choice and also looks the part as well. If there is a downside, it is the price, as the jacket is at the top end of the scale in that regard. However, with Arc'teryx, you know you are an getting excellent quality product for your investment.
11. The North Face Venture 2
Pros:
The Venture 2 is a functional and lightweight rain jacket
Breathable with extra ventilation available via pit zips
Available at a good price with a long history of satisfied customers
Cons:
The Hood is basic with not as many functional adjustment options as some of its peers
The North Face Venture 2 Rain Jacket Features Summary:
2.5-layer DryVent fabric is waterproof and windproof
Fully sealed seams help keep you dry in torrential downpours
Breathable material with underarm zip venting
Hem cinch-cord and fully adjustable hood
2 Zippered hand pockets to stash small essentials
Jacket stows in hand pocket for easy packing
Relaxed fit with revised lines allows easy layering
Best Uses: Day hiking, general outdoor use, day-to-day use
The North Face Venture 2 is the next generation of the older Venture jacket, which was a tried and trusted favorite for many. You get all you need in the Venture in terms of function, as well as a long history of happy customers.
So, the North Face Venture jacket for women has been around for a long time, and the Venture 2 is the latest iteration of it. It's been a bestselling rain jacket from North Face for a long time and has even won an award from Backpacker magazine in the past.
Made from 100% nylon 40D ripstop, the Venture 2 ticks most of the boxes you would want in terms of a rain shell jacket.
It is waterproof and breathable and has the extra feature of pit zips to help ensure good ventilation in and around the chest and torso area. The hood is fully adjustable, and while it is not peaked or stiff-brimmed, it does close up well.
The Venture is lightweight and stows away in its own pocket. There are two hand pockets. The Venture scores well in terms of price too.
12. Columbia Switchback III
Pros:
A lightweight jacket that is easy to wear and pack
Sports a nice design that fits and wears comfortably
Good for all light to medium trail hiking most of the year round
Cons:
Be careful with the sizing; some users reported it not fitting true to size
Not the best option for heavier rain showers
Columbia Switchback III Rain Jacket Features Summary:
Material: OMNI-SHIELD 100% nylon Hydroplus
100% seam taped
Stowaway hood
Back venting system
Packs into hand pocket
Modern Classic fit
Adjustable cuff tabs
Omni-Shield™ advanced repellency
Average weight: 176 g / 6.2 oz
Best Uses: Light to medium trail hiking, traveling, day-to-day use
This is the second featured rain jacket from Columbia. The Switchback III is another top seller on Amazon, so it is definitely worth a second look if you're in the market for a new rain jacket.
Columbia is a well-known and respected brand in the rain jacket industry, and the Columbia Switchback III jacket is another very functional offering from them. It is also a very affordable and accessible option in terms of price.
The jacket features are constructed using OMNI-SHIELD 100% nylon Hydroplus, which features Columbia's Omni-Shield™ advanced water repellency technology, which offers a decent level of protection from the wind and the rain.
The seams are fully taped which adds to the water repellent capability of the jacket.
The hood can be stowed away, and the cuffs are fully adjustable to allow for a more personalized fit so you can be both snug and comfortable.
The jacket can be packed away into its own pocket, which is handy to have if you need to pack it away for travel purposes, or just to stow it safely away in your day pack while you are out on the trail.
There are two hand warmer pockets that come with zippers so they can be closed up.
13. The North Face Resolve 2
Pros:
Very accessible in terms of price, offering good value
Comfortable design and construction for a basic rain shell
Durable and practical so perfect for casual urban and suburban use
Cons:
Minimal breathability around the torso
Elasticated cuffs can't be opened for circulation of air
The North Face Resolve 2 Rain Jacket Features Summary:
DryVent™ 2 layer jacket
Nylon & polyester mesh drop liner construction
Waterproof rain jacket
Breathable and seam-sealed
Center front storm flap with Velcro® closure
Adjustable hood stows in collar
100% windproof fabric
Covered secure-zip hand pockets
Elastic-bound cuffs
Back panel kicker
Adjustable Hem cinch-cord
Best Uses: Day hiking, general outdoor and day-to-day use
Similar to the men's top hiking rain jackets list, the Resolve is the second of two jackets from the North Face to feature on the list.
It sits at the lower end of the price range for a rain shell and offers a two-layered construction as opposed to 2.5, and is an excellent jacket for casual use.
The Resolve offers pretty good waterproof protection but not as much as some of its peers. This jacket is at the lower end of the price range though so you can naturally expect a bit less.
In terms of breathability, the Resolve's 2 layer construction with mesh drop liner utilizes The North Face Dry-vent technology. This offers a basic enough solution and isn't as functional as some of its peers.
There are no extra venting options like pit zips. The jacket is one of the heavier options listed here and isn't stowable or packable in its pocket by design. The hood is adjustable and performs well, and the handcuffs are elastic. Now, this may sound a bit so-so, but it really isn't the case.
The Resolve 2 jacket is very accessible in terms of price, and it will offer a sturdy enough option for day hiking and general day-to-day use.
For someone just testing the waters with hiking or who just enjoys a good hike in the hills with their dog at the weekend, the Resolve should suit them just fine without breaking the bank!
14. Diamond Candy
Pros:
Very accessible price point
Performs well in wet conditions
Jacket provides good warmth with room for layers
Comfortable soft lining inside
Cons:
Watch the sizing for larger / curvier shaped bodies
Diamond Candy Rain Jacket Features Summary:
Super soft and warm fuzzy lining provides great heat retention
Cotton padding will keep all your body warm and prevent heat loss
YKK zippers
Soft and lightweight, windproof and adjustable hood can be adjusted to get the right fit and protection in inclement weather
Water-repellent technology is suitable for rainy or misty weather.
Removable hood
Soft shell is highly wind resistant and heavy-duty
2 zippered waterproof hand pockets, 1 zippered chest pocket, 1 internal pocket
Adjustable cuffs help seal in warmth
High collar provides neck protection
Best Uses: Day hiking, fishing, traveling, running, camping, walking your dog, general outdoor and day-to-day use
The Diamond Candy rain jacket for women is not as well known, in terms of brand, as others listed here. However, it is a very affordable and functional jacket that covers all the basics in terms of performance from a rain jacket for the trail.
As mentioned, the first thing of note is the jackets affordability. It comes in at a very wallet friendly price tag, while still providing good quality and functional capability. It's worth noting the amount of satisfied customers on Amazon to back that up, the jacket scores very well.
The Diamond Candy jacket offers pretty good rain protection, the rain repellent coating performs well by most user accounts. The polyester fabric used in the jackets construction also allows a good level of breathability.
A very functional feature in this jacket is the soft inner lining which provides extra warmth for colder days on the move. While that is a good thing for cooler climes, it isn't ideal for wearing in hotter and more humid conditions.
The jacket does not come with pit zips and it doesn't pack away into it's own pocket. Given the extra bulk needed to enable the extra capability to provide warmth though, that is understandable.
The hood is adjustable and detachable, and is closed using a Velcro closure. The hood also comes with a functional chin guard which performs well. The handcuffs are also adjustable and can also be sealed using Velcro straps
For a hiker who enjoys sticking to well worn trails and needs a bit more warmth in a rain jacket, the Diamond Candy is a good option to consider. It comes in at a very affordable price and offers most of what any hiker will need for a day out on the hills.
Where to Start When Choosing a Rain Jacket
It can get confusing when you start looking at all the available rain jacket options there are, because there are just so many. To narrow down your choices, you need to think about the style you want and what kind of hiking you will be doing.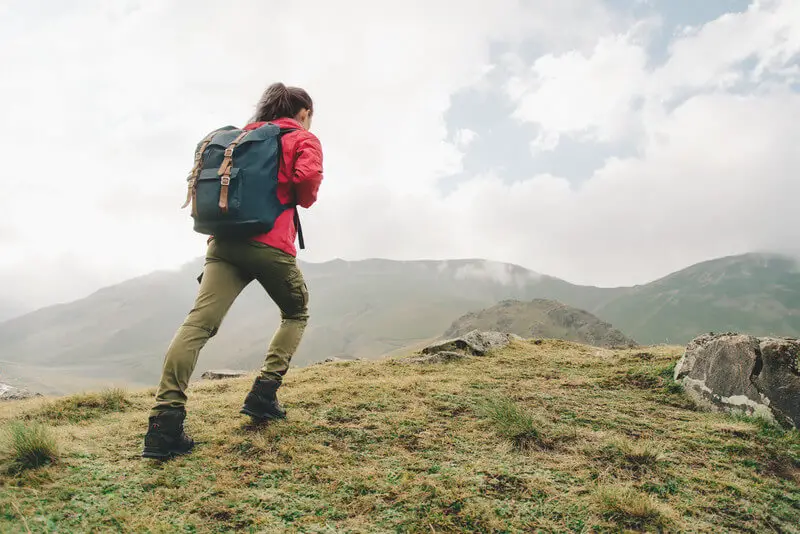 Overall, a basic but functional and durable rain shell jacket should meet most people's hiking needs. I'm talking about average hiking here so not trekking off into remote arctic regions or anything like that.
I do think that this is good news in terms of hiking gear. As you have probably noticed, it can cost a fair bit of money to get brand made hiking kit.
However, for most average hikers, a rain shell jacket made using 2 or 2.5 Layer construction in line with sensible layering, should easily meet your needs for decent protection from the rain and wind while on your next hiking trip.
Getting a more expensive and tougher hard shell jacket is certainly an option, but I honestly think that unless you're spending a serious amount of time outdoors, it won't be necessary for most.
In terms of basic waterproof protection, the good news is that rain shells are the most accessible in terms of cost, and you can get a pretty decent one from anywhere between $50.00 at the lower end to $300.00 at the higher end.
I always say this when talking about hiking gear, but to say it again, be sure you're clear on what you need your rain jacket for.
As I alluded to above, if you spend a lot of time outdoors in tough conditions (3 to 5 hours a day more than twice a week), then investing in a more expensive hard shell jacket could be a better option.
To learn more about what to be thinking about when buying a rain jacket, check out the post on how to buy a waterproof hiking jacket.
Waterproof versus Water Resistant
This is a pretty important topic to bring up when we start to dive into what the best hiking rain jackets for women are.
When a rain jacket proves that it is good at keeping water out, then it is usually referred to as waterproof. However, it actually really is just water-resistant because no rain jacket can be 100% waterproof.
A waterproof and breathable rain jacket keeps the rain from reaching your skin but it also breathable enough that your sweat doesn't stick around and linger inside the jacket. This kind of jacket is ideal for when you know there will be both precipitation and perspiration e.g. when hiking.
Water-resistant rain jackets, on the other hand, can really only handle a small amount of light rain and only for a short time. These jackets are often referred to as windbreakers or featherweight jackets.
If the rain lasts for a longer duration or it starts to hit you at an angle, you will find that this type of rain jacket really isn't going to offer you much in the way of protection while you are out hiking on your favorite trails. So, a weather check before you go is definitely in order if this is all you have in your pack.
Waterproof but non-breathable rain jackets can keep the water out if you are just standing or sitting around and not really doing a whole lot.
However, since you are planning on hiking, then this is probably not the kind of rain protection you are looking for. This is often compared to an emergency poncho or rain slicker and won't guard you against rain and wind.
So, when you spend your time on the trails and a rain shower threatens to ruin your fun, you should think back to the different types of rain protection you can get and decide which will work the best for what you need it for.
Many times, you will find that a rain jacket that is both breathable and water-resistant may be all you need to protect you until the rain passes so you can hit the trail again.
Types of Weather Shells
We should also take a quick second to provide you with a brief rundown of what a hard shell is compared to a soft shell because you will hear these terms a lot when looking for a rain jacket.
Hard shell is a term used often for gear that is also waterproof and breathable. The fabric used will often be stiffer than in a rain jacket and you may find no insulation with hard shells. This is when layering is needed.
Soft shells, on the other hand, have an insulating layer and a water-resistant shell. This allows for improved breathability but doesn't offer as much protection from the rain as hard shells do.
However, if you find that you will be doing a lot of activity and possibly overexerting yourself, then you are going to want something lightweight and breathable – especially when perspiration is a concern as well.
Overall, for most hikers, a rain jacket like any of the ones listed here, combined with layering, should be more than adequate for your needs.
FAQ
In this section, we wanted to list out some of the typical questions folks ask about hiking rain jackets, especially when they are new to buying one will be adding to this as we need to. We hope you find it useful and if your question isn't covered, please leave a comment, and we will get back to you.
Q1. I see 2, 2.5 and 3 layer jackets, what is the difference and which should I get?
We did a full article on the difference between these, which is worth a look. However, the Reader's Digest version is that for most average hikers, a 2 or 2.5 layer jacket should be adequate.
3 layer jackets are not ruled out, but they are usually more expensive and are much sturdier in their construction, and so they are heavier, bulkier, etc.
If you spend a lot of time outdoors, especially in inclement conditions, investing in a 3 layer might be a good idea. But as mentioned, they are a much bigger affair, so take that into consideration before purchasing.
Q2. I need a rain jacket that will keep me 100% dry in torrential downpours, what is the best option?
The simple fact of the matter is that no rain jacket is completely waterproof; it will allow the rain to get in eventually.
It's always important to check the forecast before you head out on the trail, and if the weather is raining solidly for the next 8 hours while you are out on the trail, you are probably better off skipping the trails that day.
No rain jacket, even a 3 layer, can withstand that type of relentless rain for hours on end. Something made from PVC or the like might keep the rain out, but you will sweat like crazy from the inside and get wet from your sweat.
It's the fine balance between some level of breathability and waterproof capability, that is an ongoing holy grail of sorts for manufacturers.
Q3. Do I need to care for my rain jacket in a special way, say when cleaning, etc.?
Yes, you do indeed. We did an article all about cleaning and caring for your rain jacket, but in a nutshell, follow the manufacturer's instructions when it comes to washing your rain jacket. Be sure to use the right kind of detergent and wash cycle, and reproof as you need to.
How often to reproof? It differs for different people, but our rule of thumb is to reproof after about 12 heavy uses. By heavy, I mean the jacket was out in some heavy rain for decent stretches while you were hiking.
Finally, drip dry is always the rule. Don't tumble dry your rain jacket, or worse, dry clean it!
Q4. What features should I look for in a good functional hiking rain jacket?
This is usually down to personal preference, but broadly speaking, we like plenty of accessible and functional pockets, pit zips, and a brimmed storm hood. Angel wing movement is also a really nice thing to have, so you can have more mobility in your arms and torso.
Q5. I'm not sure what size I should pick, how do I know the right one for me?
Most manufacturers and sellers on Amazon provide sizing guides, which are helpful and usually easy to follow. Women's sizes typically come in S (small), M (Medium), L (Large), XL (Xtra Large), etc. Each of these categories has a range of chest, torso, etc. size within them.
Sizing can be funny though, so it can be good to check user reviews to see if the jacket fits 'true to size.' Sometimes jackets can run large or small.
Another easy way to get a feel for the right size for you is if you can get to try one. Go to an outdoors store and try a few on. Most outdoor stores will be happy to help you find the right fit … and sell you a jacket too of course 🙂
Q6. Is the capability for the jacket to be stowed into its own pocket important?
The short answer is no. It can be a nice feature to have, but rolling your jacket into its hood works fine as a way to safely store a jacket in a day pack.
Q7. What should I look for in a good hood on a rain jacket?
This depends on what hiking you do. Overall, we like a stiff-brimmed hood that can be zipped up, like a snorkel as such, and secured by zipping and a button closure. Velcro is always good to have too – as long as you have the security of a zipper or button as well.
In tough conditions, like heavy wind and rain, a hood like this can really be a huge help when trying to see your way ahead, as it keeps all the nasty elements out of your eyes and gives you a clearer field of vision.
Q8. There are so many great jackets, how do I pick the one that's right for me?
Well, being on this page is a very good start. You should also spend a little time reading up on user reviews on places like Amazon, REI, etc.
You will get a wealth of information in those reviews, and while nothing can ever be 100%, (that is just because most people love a jacket, it doesn't necessarily mean you will) it is not a bad aid to help you with further information to help you filter your choices and make a better decision.
What can't be stated enough as well though is, to be sure to know what you need your jacket for, so you are looking at the right type of jacket in the first place.
Conclusion
So that's it! I hope you enjoyed this quick preview of the best hiking rain jackets for women in 2023. As you can see, there are a lot of great choices on offer for sure.
Whether you're a weekend day hiker or a multi-day backpacker, there should be something here on the list to meet your needs. So, if you're on the hunt for a new rain jacket for the trail, definitely check some of these options out.
As mentioned above, always remember to know your requirements before buying a new rain jacket. In the rain jacket area, it is easy to get more functionality than you may need, and the price difference can be significant.
I think for most average hikers, a basic rain shell jacket, like the ones listed here, combined with layering should more than meet requirements.
I really hope you found this post useful, if you did please like and share it around your networks!