Hiking shoes are an excellent addition to your hiking kit. They provide a more flexible option for hiking in better conditions and on even trails.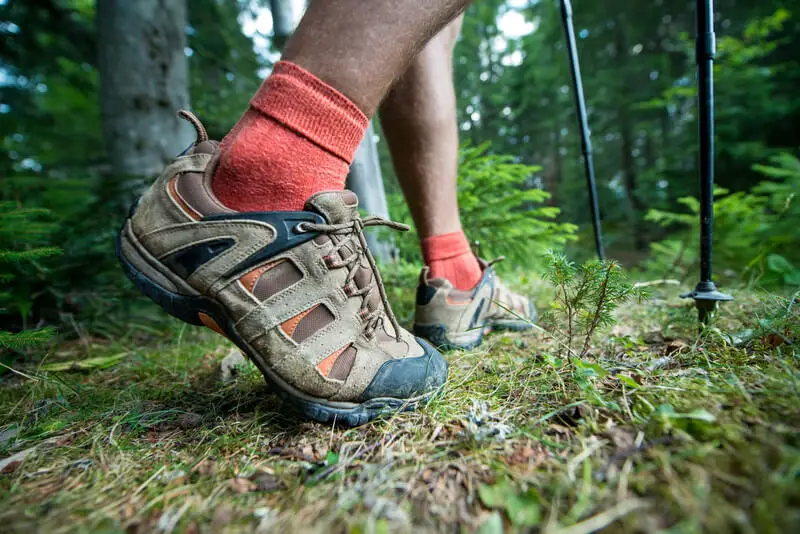 Although not always the best option, they have their place and I wouldn't be without them. They also look damn good with a pair of jeans, so they are a versatile investment.
Here in this article, I want to lay out the best hiking shoes for men in 2023, that are currently available on the market today. They all, more or less, have all the functionality and features that you, as a day hiker should be looking for in a pair of hiking shoes.
If you can't wait and just want to know how to get our top men's hiking shoes recommendation, then check out the La Sportiva Spire GTX, it's our number one choice.
All shoes listed here also score well across multiple review sites and multiple user review's, so if you're in the market for a new pair of men's hiking shoes, they'll give you plenty of ideas and options to consider.
1. La Sportiva Spire GTX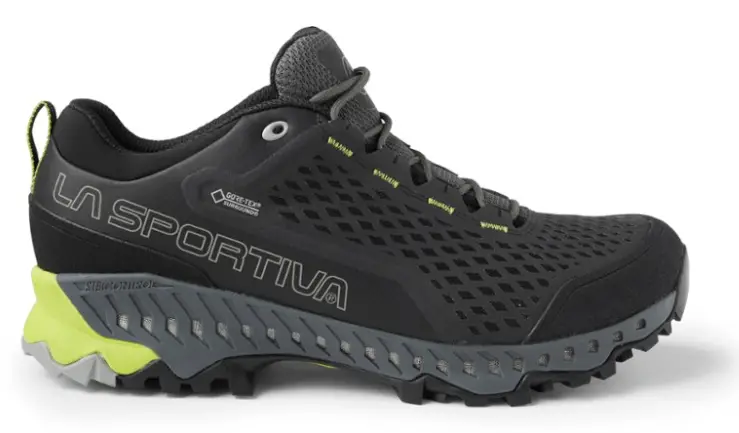 Pros:
Comfortable fit with abrasion-resistant mesh enhanced breathability
Excellent traction and stability, even over extreme terrain
Waterproof
La Sportiva Spire GTX Hiking Shoes for Men Features Summary:
Abrasion-resistant mesh uppers provide durable protection while a Nano Cell 2.0 structure supplies maximum breathability
Nano Cell 2.0 Technology works with the GORE-TEX SURROUND aeration channels within the footbed and midsole to supply 360° breathability along with waterproof protection
STB Control System integrates ventilation outlets into the midsoles that are designed to give structure and torsional stability for comfort, stability and a snug fit
Vibram® XS Trek and Impact Brake System™ outsoles supply traction and grip
Weight: 1 lb. 12.8 oz. (Pair)
Best Uses: Day hiking, general outdoor use, day-to-day use
La Sportiva have been making quality trail footwear for a long time and the Spire GTX Hiking Shoes are no exception. This popular, low-cut hiking shoe has been designed to offer the stability and excellent grip.
Thanks to its durable Vibram XS Trek rubber outsole, the Spire GTX offers excellent traction and grip no matter the terrain. It's 5mm OrthoLite Insole/EVA/thermoplastic polyurethane inserts, enhance stability whilst allowing a degree of flexibility for faster paced hiking.
The upper is made from a combination of mesh / polyurethane Techlitethat allows your feet to breathe. The lacing system enhances fit and comfort, while the rubber sidewall toe wrap provides added stability and protection from extreme and rocky terrain.
This hiking shoe really is an excellent choice, that also performs well in terms of its waterproof capabilities. It is really is an outstanding hiking shoe for a broad variety of locations and seasons, where it manages to provide the protection and grip of a hiking boot in a lightweight, breathable shoe cut with a rigid, durable sole.
Although, priced at the higher end of the market compared to its competitors, the La Sportiva Spire GTX are an excellent hiking shoe that are worth the investment.
2. Salomon X Ultra 3 GTX
Pros:
Waterproof Gore Tex membrane keeps your feet dry in wet weather
SensiFit technology for greater comfort, stability and confidence
Enhanced stability through the Advanced Chassis construction
Quick Lace system for rapid, even fastening
Lightweight and snug fitting for extra agility
Cons:
Less breathable than sister models without the Gore Tex lining; if you're looking to purchase these hiking shoes for speed you may prefer to go for the non-waterproof model with extra breathability
Salomon X Ultra 3 GTX Hiking Shoes for Men Features Summary:
Midsole: injected EVA
Protective heel cap provides rearfoot stability and protection
Protective rubber toe cap
 EVA shaped footbed provides excellent cushioning and support
Ortholite sockliner helps create a cooler, drier and healthier environment
Sensifit™ cradles the foot providing comfort
Quicklace™ for one pull tightening
Weight: roughly 1.5 pounds (680 g) per pair
Best Uses: Hiking, trail running, day-to-day use
Salomon originated in the French Alps in 1947 and prides itself upon its focus on performance driven design.
The X Ultra 3 GTX are no exception, providing a wealth of technological innovations that will enable you to stay nimble on the trail over all types of terrain, whilst providing enough support to be an excellent contender as hiking boot replacement shoes. 
The X Ultra 3 GTX has a rubber outsole with multi-directional lugs. Made from two types of strategically placed rubber, the outsole provides excellent grip and traction on all terrain types.
Your feet hold steady and are protected thanks to its high-traction Contra-Grip and protective heel cap. Descent control technology makes easy work of steep, difficult descents, in short, the X Ultra 3 GTX are hiking shoes you can rely on to get you safely up and down challenging, mountainous trails.
The EVA and molded shank midsole further enhance stability and constitute the shoe's Advanced Chassis, which connects directly to the sole, stabilizing the heel.
Your whole foot is intuitively held in place by the innovative, wrap-around SensiFit system that ensures a snug, comfortable and customizable fit for ultimate comfort and stability.
The water-repellent upper is made from textile and synthetic leather and comes complete with a GoreTex membrane that makes these hiking shoes fully waterproof although less breathable than their non-GTX sister range.
The upper is completed with an advanced Quick-Lace system that adjusts to ensure your whole foot is held evenly tight, and works in tandem with the SensiFit system. A thick rubber toe cap ensures maximum protection for rocky, uneven terrain.
The X Ultra 3 GTX is an excellent trail running / hiking shoe and is the perfect choice for anyone looking for a hiking shoe for fast-paced hiking over rugged, challenging terrain.
Comfortable, lightweight and snug-fitting, the waterproof X Ultra 3 GTX will keep your feet safe and dry no matter where you choose to explore, making them a worthy hiking boot replacement for greater speed and agility.
In spite of their high price, this is a best selling, popular model and comes complete with a two-year manufacturer's warranty. Ideal for anyone looking for hiking shoes for back country exploration and long hikes over seriously challenging terrain, with the odd trail run / jog thrown in for good measure.
3. Arc'teryx Aerios FL GTX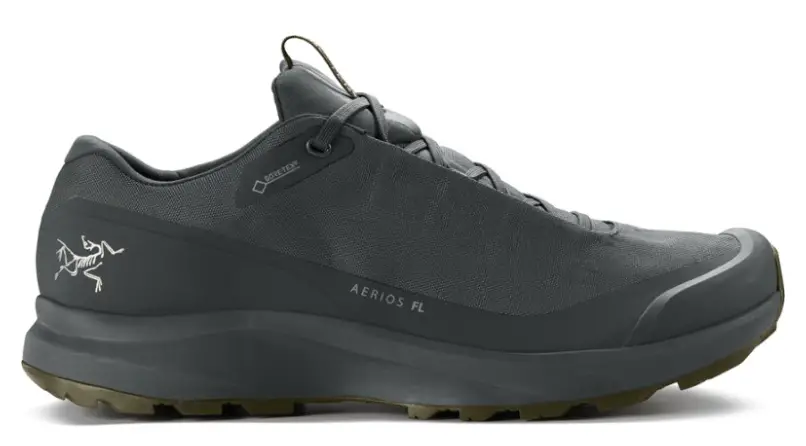 Pros:
Cordura mesh upper breathes well
Very lightweight
Waterproof
Cons:
Price, one of the most expensive hiking shoes on the market
Arc'teryx Aerios FL Low Hiking Shoes for Men Features Summary:
GORE-TEX® membranes provide waterproof protection at a light weight across variable conditions on the trail
Single-layer Cordura mesh uppers with protective thermoplastic polyurethane (TPU) films resist abrasion
Toe caps guard against stubbed toes
4mm thick OrthoLite® 3D molded insert adds cushioning
Vibram® Megagrip outsoles deliver surefooted traction across varied terrain
Streamlined, minimalist design
Weight: 1 lb. 8.4 oz. (Pair)
Best Uses: Hiking, general outdoor use
Arc'teryx have been creating very comfortable and functional outdoor gear for many years and now they've put their expertise into the Aerios FL GTX hiking shoes.
This hiking shoe is extremely comfortable with a soft but cushioned sole. However, the high level of technology, workmanship and materials come at a high price, making these quite pricey relative to some of its competitors.
With a durable Vibram Megagrip rubber outsole the Aerios FL GTX offers good traction and grip on a variety of terrains in all conditions.
A compressed EVA layer offers a sturdy, cushioning midsole that also serves as an excellent shock absorber, ensuring your comfort no matter what the terrain.
These shoes have a flexible cordura mesh upper complete with a low collar and a highly breathable GORE-TEX waterproof breathable membrane, for dry feet. 
The Aerios is a lightweight hiking shoe, primarily designed to offer outstanding comfort, and is suitable for trail hiking at whatever pace you prefer.
The Aerios has a technical, streamlined and minimalist look which looks pretty sexy in our opinion and would not look too out of place in an urban setting.
In spite of its high price tag, it remains a popular choice and its high levels of comfort and cushioning have seduced large numbers of people.
Anywhere you really need to experience comfort and to take the weight off your feet, whether it's miles on the trail or all day at work, these hiking shoes are possibly a contender for the most comfortable hiking shoe ever made.
4. Merrell Moab 2 Vent
Pros:
Durable Vibram TC5+ rubber outsole with 5mm lugs provides excellent traction
Bellows tongue keeps moisture and debris out of your shoe, while the rubber toe cap provides extra protection over uneven or rocky terrain
Merrell air cushioned heel provides stability and shock absorption
EVA footbed offers zonal arch and heel support
Merrel Moab 2 Vent Hiking Shoes For Men Features Summary:
Material: 100% Suede leather and Mesh
Bellows, closed-cell foam tongue keeps moisture and debris out
Protective rubber toe cap
Breathable mesh lining
Merrell M Select FIT.ECO+ blended EVA contoured footbed with added zonal arch and heel support
Molded nylon arch shank
Merrell air cushion in the heel absorbs shock and adds stability
EVA midsole for stability and comfort
Vibram TC5+ sole
5mm lug depth
Weight: 1lb 15oz / 888G
Best Uses: Day hiking, general outdoor use, day-to-day use
Popular outdoor-brand Merrell are famous for their performance oriented hiking footwear and the MOAB 2 Vent (Ventilator) Hiking Shoe is both sturdy and reliable, providing excellent support and traction.
These hiking shoes are ideal for anyone looking for a lightweight alternative to hiking boots for long distance hiking over challenging terrain. The MOAB 2 Vent are one of the pricier hiking shoe models, they do however offer exceptional stability and durability. 
Featuring an extremely durable Vibram TC5+ outsole with 5mm multi-directional lugs, the MOAB 2 Vent Hiking Shoe provides excellent grip and traction. You can rely upon it over all types of terrain in various weather conditions.
It's EVA midsole and molded nylon arch shank add stability and comfort, enhanced further by the Merrell air cushioned heel that works as a shock absorber protecting your feet from hard, rugged terrain.
Zonal arch and heel support is provided by Merrell's M Select FIT.ECO blended EVA contoured footbed. Your feet will feel great even after miles of rocky, extreme terrain.
The MOAB 2 Vent have a breathable mesh lining, perfect for those who like to hike a little faster than the average pace, allowing perspiration to pass to the outside, keeping feet dry.
The suede leather and mesh upper also features a bellows tongue that is very useful on gravel and sand, as it keeps debris out and away from your feet as well as providing moisture protection.
The upper fastens with a traditional lacing system so you can adjust your shoe's fitting. However, if you have owned previous versions of this model, be aware that this new, updated version no longer features the uppermost eyelets at the top of the shoe.
The laces now tie at what was the second eyelet. This can give the impression of having less ankle support, which can lead to heel slippage depending upon how this shoe fits for you.
The MOAB 2 Vent Hiking Shoe is an excellent hiking boot alternative, providing you with the stability and comfort you need for long days on the trail.
It's Vibram rubber outsole will allow you to take on challenging terrain, while its breathable mesh lining is great for cooling hot, sweaty feet.
In spite of its higher-than-average price, the MOAB 2 Vent is a good purchase for anyone looking for a durable, serious hiking shoe that will stand its own to a hiking boot.
5. KEEN Targhee II
Pros:
Durable lugged outsole provides excellent traction and grip
Contoured heel lock makes difficult descents much easier
Comfortable padded collar and tongue
Waterproof nubuck leather upper
Cons:
Not as lightweight as other models, if you're looking for footwear for fast-paced hiking, there are better options
Concerns about the durability of the shoes over time and not being sturdy enough for more intense use
KEEN Targhee II Hiking Shoes for Men Features Summary:
Waterproof nubuck leather upper
Dual density compression molded EVA midsole
Non-marking rubber outsole
Hydrophobic mesh lining
Removable metatomical dual density EVA insoles
4mm multi directional lugs
Contoured heel lock
KEEN.Dry waterproof breathable membrane
orsion stability ESS shank
Weight: 15.4 oz / 436.6 g
Best Uses: Light day hiking, outdoor use, general day-to-day use
Popular outdoor brand Keen from Portland, Oregon have become one of the most successful hiking footwear providers in recent years. The Targhee II provides all-day comfort for adventure seekers out on the trail.
Designed to cope with any terrain, the heavy-duty rubber outsole features 4mm multi-directional lugs alongside a contoured heel lock for a maximum of traction and grip.
The ESS shank and dual density compression molded EVA midsole provide great stability and balance, whilst enabling the Targhee II to remain lighter than a boot.
The Targhee II is well known for its durable, waterproof nubuck leather upper for protection from the elements. Combined with a hydrophobic mesh lining, this hiking shoe offers a greater level of breathability than your average hiking boot, while keeping water out.
KEENs generally offer good arch support and the Targhee II is no exception. Comfort is further enhanced with its padded tongue and collar and easy-on heel pull.
All in all the KEEN Targhee II hiking shoes are a great choice for hiking in the wet, however, it is heavier than a lot of other hiking shoes, so if you're really looking to pick up the pace you may be better with a lighter weight option.
The Targhee II provides more ankle support than a standard shoe and helps keep your feet protected, although it is important to remember that they are not hiking boots (there is another version of the Targhee that are hiking boots).
Overall, competitively priced in the lower half of the scale, the Targhee II is an extremely popular, great all-rounder. However, they may not be the best option for tougher hiking excursions.
6. KEEN Voyageur
Pros:
Rubber lugged outsole provides excellent traction and grip
Metatomical EVA footbed for excellent stability and comfort 
Contoured heel lock for easy descents
Mesh lining for increased airflow
Cons:
Potential sizing problems, you may find that even your regular Keen size fits differently with this model
KEEN Voyageur Hiking Shoes for Men Features Summary:
Leather and Mesh Upper
Rubber sole
Removable insole
Metatomical EVA footbed
Non-marking rubber outsole
4mm multi directional lugs
Contoured heel lock
Torsion stability ESS shank
Best Uses: Light hiking, general outdoor use, day-to-day use
It's for good reason that the KEEN Voyageur Hiking Shoe has developed a cult-like following of fans. Providing great breathability and day-long comfort, it has become the go-to shoe for a huge number of people, for both hiking and everyday wear alike.
Its durable rubber outsole features 4mm multi-directional lugs and a contoured heel lock, making easy work of steep descents with an excellent grip on even tricky terrain.
Torsional stability is provided by its built in ESS shank, which allows an ideal balance of flex and protection from rugged terrain.
Comfort is one of the reasons for this hiking shoe's huge popularity. Thanks to its metatomical EVA footbed, this hiking shoe provides extra support, while its sturdy toe box protects from stubbing on harder, rocky terrain.
The leather and mesh upper allows feet to breathe, for a fit that is both flexible and snug.
With the continual airflow supplied via the mesh lining, your feet will feel fresh and comfortable all day long. There are some sizing issues with this shoe, so you might be best trying out two sizes and returning one to ensure you get the right fit.
The Keen Voyageur Hiking Shoe is competitively priced around the mid-range mark against its compatriots. It's a great option for those looking for a versatile hiking shoe that can be worn all day both on the trail or around town, providing support, comfort and breathability.
7. Merrell Moab Edge 2
Pros:
Excellent traction thanks to its lugged Vibram rubber sole
Breathable, fast-drying mesh upper
Lightweight and easy to wear
Antimicrobial odor control
Cons:
Spacious toe box is not to everyone's taste
The Merrell Moab Edge 2 Hiking Shoes for Men Features Summary:
Mesh and TPU upper
•Traditional lace closure
Bellows tongue keeps out debris
M Select™ FRESH antimicrobial agents reduces shoe odor
Breathable mesh lining
Kinetic Fit™ BASE insole is contoured like your foot and provides flexible, intuitive support for connected and protected movement
Molded nylon arch shank
M Select™ GRIP outsole tunes each outsole with durable traction that grips when and where you need it
5mm Lug Depth
Weight: 1lb 13oz / 808g
Best Uses: Day hiking, general outdoor and day-to-day use
Merrell prides itself on manufacturing high quality outdoor footwear that fulfills four main criteria: comfort, durability, design and versatility, basically everything you need from a good hiking shoe. The Moab Edge 2 provides all this and more.
The Moab Edge 2 has an extremely M Select™ GRIP outsole with 5mm lugs, ensuring your stability whatever the terrain and weather conditions may be. Wet, dry, hot or cold the Moab Edge 2 outsole provides excellent traction.
The Kinetic Fit™ BASE insole is contoured like your foot and provides flexible, intuitive support for connected and protected movement. This allows your foot to flex more naturally, which provides greater comfort and ease of movement.
The construction of these shoes allows the heels to absorb shocks which further enhances stability. This makes this hiking shoe ideal for those looking to move at a faster pace than regular hiking.
The Edge 2 feature a lightweight, molded nylon arch shank and a comfortable foot bed, complete with M Select™ FRESH antimicrobial agents, which helps on the odor control front. The antimicrobial agents enhance freshness and disrupt the reproduction of odor-producing microbes.
The laced upper is made from an extremely breathable, fast-drying mesh which prevents build up from perspiration, while the bellows tongue keeps debris out. Complete with rear pull loop, the Moab Edge is easy to put on and remove.
The Moab Edge 2 provide an excellent, comfortable fit, however, the spacious toe box is not to everyone's style, so if you prefer to be able "feel" the shoe, then this may not be the right hiking shoe for you.
Although it is priced above average, this hiking shoe is an extremely popular choice, mainly thanks to its lightweight and fast-drying construction as well as its excellent grip.
This makes it the perfect choice for those looking for a great alternative to heavy hiking boots for faster paced hiking over rough terrain.
8. Adidas Terrex Swift AX3
Pros:
Comfortable cushioned heel and toe cap provide enhanced impact protection
Outstanding grip across a wide variety of terrain in all weather conditions
Very Breathable
Cons:
Some users expressed concerns regarding durability
Adidas Terrex Swift AX3 Hiking Shoes for Men Features Summary:
Lace closure
Mesh and synthetic upper
Moulded TPU toe cap
Textile lining; Continental™ Rubber outsole for extraordinary grip even in wet conditions
Durable, lightweight EVA midsole
Moulded sockliner
Weight: 355 g (size UK 8.5)
Best Uses: Hiking, general use
Adidas is famous for its sportswear and the quality construction of its Terrex Swift AX3 Hiking Shoes will not disappoint those looking for a durable, waterproof yet breathable hiking shoe with excellent traction. 
The Continental™ rubber outsole outsole provides optimal grip in even wet and rocky conditions, coupled with the EVA midsole support structure for midfoot stability.
The Swift AX3 are highly reliable, durable hiking shoes with excellent grip over mountainous and off-road terrain in all weather conditions. Heel cushioning and a molded TPU toe cap provide impact protection and enhance comfort.
The upper material construction is a lightweight, breathable, abrasion-resistant synthetic mesh. This will prevent your feet from getting hot and sweaty after many miles on the trail. To maintain breathability alongside waterproofness, the Terrex Swift comes complete with a breathable textile lining.
Its lacing system allows for functional lacing and a snug fit. The Terrex Swift are very breathable, making them an excellent choice for year-round wear. Its traction and grip are excellent across a wide variety of challenging conditions, whilst the shoe remains lightweight yet sturdy.
This popular hiking shoe is priced at the higher end of the middle, of the price range for hiking shoes. They offer both quality and good value for money, thanks to its strong, lightweight and durable construction.
9. Merrell Moab Adventure MOC
Pros:
All-day comfort for casual outdoors wear
Versatile. Looks like a regular shoe, making this a good all-rounder that doesn't look out of place in a variety of settings
Vibram rubber outsole for excellent grip in all weather conditions
Organic odor control for fresh smelling footwear
Cons:
No pull-on loop on this pull-on shoe, can make putting them on more difficult than it need be
The Merrell MOAB Adventure MOC Hiking Shoe for Men Features Summary:
100% Leather
Vibram sole
Nubuck and mesh upper
EVA midsole for stability and comfort
Breathable mesh lining
Best Uses: Day hiking, general outdoor use, day-to-day use
Veering a bit away from the standard hiking shoe, top outdoor footwear brand Merrell have created the Moab Adventure MOC, a slip-on, hiking-style shoe that can be worn just about anywhere thanks to its smart exterior. 
Ideal for casual outdoor wear, the Moab Adventure MOC combines a great all-round, everyday-wear shoe with hiking shoe features, for a versatile classic that is great for an active lifestyle.
In spite of its hiking shoe features, this shoe is more suited for casual wear and occasional hiking, not a full-time hiking boot replacement. 
The Moab Adventure MOC has a Vibram outsole which provides excellent stability and slip resistance in all weather conditions.
Its EVA midsole adds to stability and comfort, while its FIT.ECO blended EVA footbed features organic odor control, so you can even wear them to the office without having to worry about any odors after miles of walking.
The molded nylon arch shank is lightweight and provides support. The moccasin upper is made of nubuck leather, complete with a breathable, mesh interior lining.
As a moccasin there are no fastenings, although it is somewhat surprising that this model does not feature a pull-on heel loop to aid with pulling these shoes on.
The Moab Adventure MOC is priced higher than many similar shoes, and while it may be marketed as a hiking shoe, it is best considered as casual footwear with an outdoor sole. It makes an excellent shoe for everyday wear including the occasional ad-hoc outdoor adventure.
Although it offers a Vibram sole, this shoe is not going to make a great hiking boot replacement. However, if you are looking to buy just one pair of shoes for both town and country wear, you will be pleased with the good looks, durability and grip provided by the Moab Adventure MOC.
Its comfort straight from the box would make it a good choice for a active vacation shoe that will not go to waste once the trip is over. 
There is an argument to say that this shouldn't be on this list as a classic type hiking shoe, but it's hybrid versatility for light trail walking and general day-to-day use has it's merits for the appropriate user.
10. The North Face Ultra 109 GTX
Pros:
Toe cap and TPU SnakePlate for extra foot protection over extreme terrain
Waterproof and breathable thanks to their Gore Tex membrane
Sturdy and durable
Lifetime warranty
Cons:
Less effective traction on wet, slippery surfaces
The North Face Ultra 109 GTX Hiking Shoes for Men Features Summary:
Upper: GORE-TEX® Extended Comfort Range waterproof, breathable membrane
Breathable mesh
PU-coated leather upper midfoot support
Protective TPU toe cap
Compression-molded EVA midsole
ESS midfoot shank
TPU Snake Plate™ forefoot protection
UltrATAC™ rubber outsole
Weight: 1 Lb 15 Oz (879 G) *Based On Men's 9
Best Uses: Hiking, trail running, general day-to-day use
As one of the leading high-quality outdoor wear specialists, The North Face needs no introduction. The Ultra 109 GTX is a sturdy hiking shoe built with the elements in mind, to offer the stability of a hiking boot in a shoe. 
The Ultra 109 GTX has a UltrATAC rubber outsole providing great traction and grip over varied terrain. It did, however, perform less impressively in wet, slippery conditions.
The North Face also make the Storm III with a Vibram outsole, so if you expect you will be needing maximum traction in the wet, that could be a better option from TNF.
A compression-molded EVA midsole and ESS midfoot shank provide excellent stability, while the rigid TPU SnakePlate protects your forefoot from brushing over uneven trails.
The Ultra 109 GTX has a leather and breathable mesh upper complete with a Gore Tex Extended Comfort Range membrane that keeps water out while allowing feet to breathe.
A protective toe cap ensures durability and enhanced protection on rocky or uneven trails, while the laces allow a customized fit.
This rigid hiking shoe provides excellent support and has been designed to provide security and stability over a wide variety of terrain.
Complete with a lifetime warranty, these durable hiking shoes are towards the upper end of the price scale, however considering their excellent performance and warranty they represent good value for money.
Ideal for rugged hiking and outdoor exploration, these hiking shoes would also be suited for any outdoor wear that involves walking for miles, including urban environments, thanks to their muted good looks.
11. Columbia Redmond V2
Pros:
Lightweight – the Redmond is lighter than most other hiking shoes
Flexible suede leather upper with mesh and webbing 
Waterproof and breathable seam-sealed membrane
Columbia Redmond V2 Hiking Shoes for Men Features Summary:
Combination suede leather, mesh and webbing
Omni-Tech™ waterproof breathable seam-sealed membrane bootie construction
Techlite™ lightweight midsole for long lasting comfort, superior cushioning, and high energy return
Omni-Grip™ non-marking traction rubber
Weight: 14.25 oz / 403g (Size 9, 1/2 pair)
Best Uses: Hiking, general outdoor use
Popular outdoor-wear brand Columbia have created the Redmond V2 Waterproof Hiking Shoe, available at a competitive price point.
Lightweight, waterproof and breathable, first impressions are good, however, although the Redmond Waterproof rates highly in certain areas, its overall performance makes it more suitable for use on even, easygoing terrain rather than full-on hiking.
It is an excellent choice for those who are looking for a low priced hiking boot alternative for an outing or trip involving easy walking, or for those looking to start out hiking with a minimal financial outlay before investing in more specialized gear.
These waterproof hiking shoes have their own patented Omni-Grip non-marking rubber outsole which provides a fair degree of grip, although this is somewhat reduced on wet, slippery surfaces. 
The Tech-Lite midsole provides a good degree of cushioning, however without the firmness of a shank it is impossible to appreciate it if you stray onto rough or uneven terrain.
The Richmond Waterproof's upper is made from suede leather, mesh and webbing, with a breathable, waterproof membrane. This keeps your feet dry while allowing them to breathe.
The waterproof membrane works well, however, be aware that as the shoes are quite low cut, water can get in from above and they do take several days to dry out completely, at room temperature drying, once wet through.
The Richmond's reinforced toe cap helps to prevent against toe injury through stubbing rocks or other hazards.
The Richmond V2 Waterproof Hiking Shoe is an excellent purchase providing you don't want to do any serious hiking over rough terrain. It would be ideal for even trails and general everyday wear even in wet weather, thanks to its waterproof membrane.
However, if you're looking for a hiking shoe for long treks you would be better looking at a different model with greater comfort and protection.
This hiking shoe would also be a good option for a trip walking on paved trails. They are also a great fit to be used about town afterwards thanks to its subtle styling.
Where to Start When Choosing Hiking Shoes
To boot or not to boot, is that the question? Well, no, we don't think so. Hiking boots are generally a must for any serious hiker, they are often the best option for many hiking adventures. However, they are not always the best option for the trail, and hiking shoes can at times be a better choice.
As with all types of hiking gear, hiking shoes have a myriad of options to choose from, all with different features and built for different needs. Prices can also vary widely, so it can be difficult to know where to start.
Overall, I look on hiking shoes as an accompaniment option to my hiking boots. I do most of my hiking in a temperate climate, where it is very wet in the cooler months, so for that reason, hiking boots are generally what I need.
However, on a hot summers day on a nice easy trail, I will turn to my hiking shoes to provide a more comfortable hiking experience.
I also tend to go off trail quite a bit, so I like the extra ankle support that hiking boots give me. I have on many occasions slipped down a rabbit hole or the like, and the support of my hiking boots has most definitely saved me from a strain, sprain, or possibly worse!
Now, some people who always hike on well marked and even trails, and in drier conditions, may reverse this approach i.e. it makes more sense to use hiking shoes more often than boots. Under those conditions, that of course makes sense.
Overall, the point I am making here is that, as always, what you need your hiking shoes for is the critical factor in choosing to use them on a hike over hiking boots.
With that covered off, the next things to think about are the make-up and construction of the shoes. Hiking shoes, like hiking boots, offer many different types of features, will vary in weight, etc.
Check out our buying guide which goes into the subject in much more detail. Again though, fundamentally keep your needs in mind.
Ask yourself questions like, where do I plan to use my hiking shoes? What types of trails? Are they well defined and even? What type of climate will I be using them in? Will I use them for casual use about town?  And so on.
When you have all these answers, you will have the basis for going more in depth into the features you may want or need.
Conclusion
So that's it! I hope you enjoyed this quick preview of the best hiking shoes for men in 2023. As you can see, there is a lot of great choice on offer for sure.
As I said at the start, I don't think hiking shoes can fully replace hiking boots, but they are an essential part of any hikers kit, and well worth the investment. So if you're on the hunt for a new pair of hiking shoes, definitely check some of these options out.
As mentioned above, always remember to know your requirements before buying a new pair of hiking shoes or boots. There can be a big variation in price and there is no point buying more than you need.
I really hope you found this post useful, if you did, please like and share it around your networks 🙂