Whether you're thinking about buying your first pair of rain pants, or replacing a pair that's no longer keeping you dry, it makes sense to check out the best that is on offer before you buy.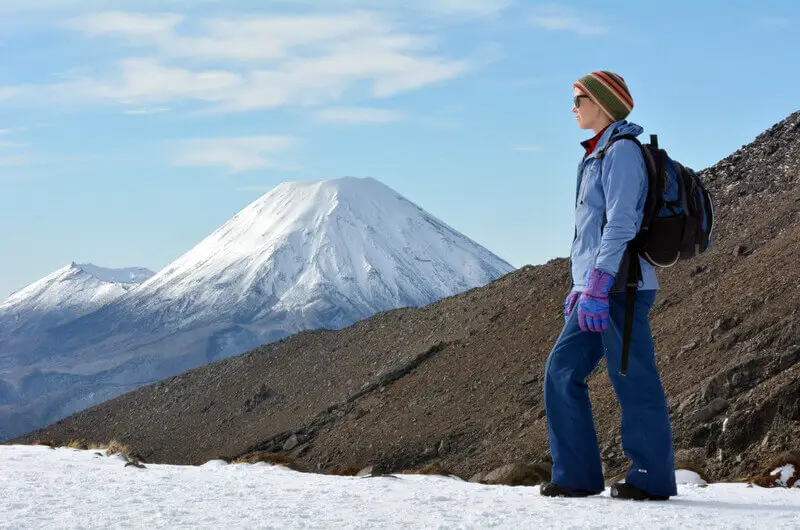 As ultra-light articles become increasingly durable, it could be time for you to make the switch and save yourself valuable backpack weight and space.
Taking all of the relevant features and capabilities into account, we've taken a look at some of the best ultra-light rain pants for women, including a variety of styles, prices and models, all with ultra low weights and great packability.
In this article we list out our top women's rain pant choices, we then follow that up with some things to consider when buying rain pants. Useful as a refresher as an experienced hiker, or as an introduction if this is the first time you've purchased them.
If you don't have time to go through the full list, then we can tell you that our top ultralight rain pants for women are the Arc'teryx Beta SL.
So, lets get started!
1. Arc'teryx Beta SL
Pros:
Weight: 11.6oz / 330g
Gore-Tex three-layer waterproof breathable laminate
¼ length zippers
Articulated knees and gusseted crotch for ease of movement
Cuff drawcords and lace hooks
Cons:
No pockets
May need to remove larger boots to put them on
Arc'teryx Beta SL Pants Features Summary:
Superlight, packable emergency waterproof pant
Minimalist design maximizes packability
Reduced weight without sacrificing key features
For use during sudden storms
Simple pull-on design
Full length side zippers for easy on/off and rapid ventilation
Hem and insteps are reinforced with abrasion-resistant N150p-X GORE-TEX fabric with Paclite® Plus product technology
Material: GORE-TEX fabric with Paclite® Plus
Weight: 11.6 oz / 330 g (reg)
Best Uses: Hiking, mountaineering, trekking, travel, outdoor use
The Beta SuperLight by Arc'teryx are a great companion on hiking trips. Weighing in at 11.6oz (330g) they are a decent weight and also extremely packable.
Made from nylon with a Gore-Tex Packlite laminate for lightweight waterproofing, the Beta SL also benefits from reinforced frequent use areas.
The instep, lower leg and hem are reinforced with a heavier-duty three-layer Gore-Tex laminate, making these rain pants more durable without adding too much weight.
Due to their enhanced durability, the Beta SL are great emergency rain pants that you can rely upon when you're out on harsh backcountry trips. They are windproof, waterproof and breathable, keeping you dry even in severe downpours.
The reinforced areas do not hinder movement, in fact, the Beta SL are one of the most comfortable and easy to wear rain pants we could find. Thanks to the articulated knees and gusseted crotch, these rain pants move with you.
So, if you frequently hike through rough terrain the Beta SL would be an excellent choice to have in your backpack. Aside from a comfortable fit with great ease of movement, the Beta SL also features an elasticated waistband that is easy to pull on and is comfortable under your backpack.
Importantly, the adjustable drawcord allows you pull the waist in tight, once you've got them over your hips, so your rain pants stay in place throughout the duration of your hike.
The Beta SL have no pockets, which can be a drawback for some people. While it all depends upon your personal preferences, provided your shell jacket has a couple of easily accessible pockets, this shouldn't really be too much of an issue.
Another potential downfall is the side zippers which are not always sufficiently long to allow bulkier boots to pass through, meaning you may have to remove your boots to put them on. The pared back, ultra-light design of the Beta SL, prioritizing its packability and being lightweight, doesn't allow for many more features.
The cuff drawcords and lace hooks, allowing you to attach your rain pants to your boots, are an extremely useful addition, meaning you can keep water and debris out. This can eliminate the necessity for gaiters in some cases, which will also help to keep your backpack weight and volume down.
On the whole, the Beta SL are excellent ultra-light rain pants that are more durable than most, and possibly one of the most comfortable and lightweight pair of rain pants available for women.
Although their pared back design doesn't allow for much in the way of features, or even pockets, the Beta SL are excellent emergency rain pants that will keep the weather out, although their ultra-light durability and comfortable design understandably comes at a price.
2. Arc'teryx Zeta SL
Pros:
Weight: 9oz / 255g
2-layer GORE-TEX® fabric with PACLITE® Plus tech
3/4 length zippers
Articulated patterning for unrestricted mobility
Cons:
Expensive
More appropriate for spring / summer hiking
Arc'teryx Zeta SL Pants Features Summary:
Compact, lightweight 2-layer GORE-TEX® fabric with PACLITE® Plus tech is packable and has improved next-to-skin feel
Full articulation delivers an exceptional fit and freedom of movement
Zippered fly with snap and adjustable webbing closure
WaterTight™ lower leg zippers
Reinforced insteps add durability
Material: 40-denier nylon ripstop (N40r) GORE-TEX with PACLITE Plus tech
Weight: 9 oz / 255 g (reg)
Best Uses: Summer hiking, mountaineering, trekking, travel, outdoor use
The Zeta SL pants are rain pants that are more for the finer times of year. They are a good option for protection from the elements on the trail in spring and summer, working great with a pair of shorts or a light base layer.
Weighing in at 9oz (255g) they are lightweight and very packable. Made from 40-denier nylon ripstop (N40r) GORE-TEX with PACLITE Plus tech, these rain pants are durable and very waterproof.
The pants will protect you from the wind, providing a comfortable layer of protection in that regard. As mentioned, the Zeta SL are great as emergency rain pants in the lighter seasons, but they would not be the best rain pants option for tougher seasons.
The design in the Zeta SL is purposely minimal, so there are not lots of extra features, just plenty of functionality. The fully articulated patterning gives an exceptional fit and freedom of movement.
Aside from a comfortable fit with excellent mobility, the Zeta SL also features a zippered fly with a snap closure, that has an internal webbing adjuster for a secure fit over a layer.
The Zeta SL have no pockets. While this is not something that we consider a major issue, given they are rain pants, some may find this a disadvantage.
The pants come with 3/4 length side zippers which move in one direction only, so while they are very easy to slip on, you can't open them from the top down as you can with a bi directional zipper, to enable easy venting. Extra venting can be achieved by opening from the very bottom up, but this will also leave your legs open to the rain.
The Zeta SL offer a really sleek and slim fit, and you may want to size up if you want to wear bulkier layers below them. They are a great pair of ultra-light rain pants that are tougher and more durable than most.
The minimalist design combined with the lightweight and easy to use features on these pants make them a really top notch pair of rain pants. One downside, is the price, as these rain pants are expensive. Definitely worth a look though!
3. Marmot Minimalist
Pros:
Weight: 0lbs 9.2oz (260.8g)
GORE-TEX with Paclite® Technology
Articulated knees allow great mobility
Cons:
Slim fit
Not as easy to put on as others
Marmot Minimalist Pants Features Summary:
GORE-TEX with Paclite® Technology
PFC Free DWR
100% Seam Taped
Hand Pockets with Water Resistant Zipper
Elastic Waist with Snap Closure and Zip Fly
Articulated Knees
Ankle Zippers
Material: GORE-TEX® Products with Paclite® Technology 100% Recycled Polyester 3.3 oz/yd
Weight: 0lbs 9.2oz (260.8g)
Best Uses: Hiking, trekking, travel, outdoor use
The Marmot Minimalist pants are a functional and affordable pair of rain pants that have benefitted from lots of 'out in the field' feedback, with various improvements added over multiple iterations of the design over the years. They are lightweight coming in at 9.2oz (260.8g).
The GORE-TEX with Paclite® Technology is a well known and trusted technology that provides excellent waterproof protection as well as great breathability. The wind-blocking hydrophobic membrane and weight-minimizing Paclite technology add plenty of comfort and protection from the elements.
The 100% recycled fabric features a PFC-free, water-repellent finish, so good for the environment in that regard. The pants are also 100% seam taped to further add to the excellent waterproof capabilities of these pants.
These pants allow you to easily add an extra layer of protection on your legs without too much hassle. They are functional and tough rain pants that can be used all year round.
The pants come with two waterproof zippered hand pockets which are easy to use and handy to have, so you can put quick access items like a compass, within easy reach. The articulated knees ensure you also have an excellent range of movement, when stretching, bending, etc.
The Minimalist pants come with an elastic Waist with a Snap Closure and Zippered Fly, so you can get a secure and comfortable fit.
The pants have ankle length side zippers. This means they are easy to put on over hiking boots, without taking them off. We prefer longer side zippers, ideally going up to the hips, but this isn't a deal breaker by any means. The ankle zippers work fine, but you will likely need to be seated when putting them on.
As mentioned, the Marmot Minimalist pants have been an ongoing project with ongoing improvements made over time. They offer a comfortable and sensible fit for a very functional pair of rain pants, at an accessible price, so we are a fan of these pants for sure!
4. Outdoor Research Helium
Pros:
Ultra light: 5.4oz/152g
Highly compressible, fold into back pocket for extra packability
30 denier ripstop nylon body
Waterproof, windproof and breathable – Pertex Shield + 2.5 layer
Tapered legs with drawcord cuffs
Cons:
Only one pocket
Not a great fit for curves
Outdoor Research Helium Pants Features Summary:
Waterproof and breathable
Fully seam-taped
Laminated construction
Windproof and lightweight
Back pocket doubles as stuff sack
Reflective logos
Carabiner loop
Internal loops for instep lace
Elastic waist with drawcord
Gusseted crotch
Ankle zippers
Accepts accessory suspenders
Material: Pertex® Shield+2.5L; 100% nylon 30D ripstop
Weight: 5.4oz / 152g
Best Uses: Hiking, trekking, travel, general outdoor use
Our top recommendation for the best ultra-light women's rain pants are the Helium rain pants by Outdoor Research. This is our top pick for several reasons, not least of all because of their light weight and excellent packability.
The Helium pants weigh just 5.4oz (152g) and they fold up into their own back pocket, making it extremely compressible. If you're looking for ultra-light rain pants that weigh next to nothing and take up hardly any space in your backpack, then the Helium should be your first choice. Simply pack them and forget about them, until you hit wet weather.
The Helium are made from 30 denier ripstop nylon for durability. While they're not the thickest, most durable rain pants, having been designed to be extra ultra-light and packable, they are fairly resistant and strong for such light rain pants.
They are also fully waterproof and have good breathability, thanks to the Pertex Shield fabric technology in the construction. The Helium don't have any vents as such, however, vents on waterproof pants aren't always a good thing as you'll often finish up wetter.
As the fabric is thin and breathable, any faster paced activity results in a good transfer of any internal moisture to the outside of the material, keeping you dry.
Their ultra-light weight makes the Helium comfortable to wear and gives good ease of movement. Your comfort and mobility when wearing the Helium is further enhanced by the gusseted crotch and tapered legs.
The elasticated drawcord in the waist is comfortable and practical, allowing a customized fit that keeps your rain pants up while making them easy to put on.
The elasticated waist is comfortable even with a fully loaded backpack. In terms of fit, we found that the Helium generally fitted well, although it may not be the best fit for curvier bodies.
Other features include elasticated cuffs complete with ¼ length side zips to help you to get the Helium on over your boots and to ensure a close fit, keeping you dry.
For hikes off trail, you can attach the bottom of the rain pants to your boots keeping you dry and any debris out. The one pocket is zippered and to the rear, which comes in handy as well as doubling up as a pouch in which you can quickly and easy pack the Helium away for extra packability in your pack.
The zipper is covered by a flap to ensure that water stays out, as well as making sure the garment is easy to turn in on itself and store.
All in all, thanks to its extremely low weight and excellent packability, the Helium is our top choice of ultra-light rain pants for women. While it may be lacking in added features, they're comfortable to wear and are the ideal choice to have with you in your backpack, just in case the weather turns.
5. Marmot PreCip Eco Full Zip
Pros:
Weight: 10.23oz (290.0g)
Marmot NanoPro waterproof and breathable fabric
Full-length side zippers – easy to put on over boots
Fully seam taped with bonded storm flaps over side zippers
Women specific sizing
Cons:
No drawcord to tighten waist
Less breathable than other models
Marmot Precip Eco Full Zip Pants Features Summary:
Marmot® NanoPro™ Waterproof/Breathable Fabric
100% Seam Taped
Full Length Side Zips with Bonded Storm Flaps
Zip Front Hand Pockets
Material: NanoPro™ Eco 100% Recycled Nylon Ripstop 2.4 oz/yd
Weight: 10.23oz (290.0g) (Regular)
Best Uses: Day hiking, trekking, biking, travel, outdoor use
The Marmot PreCip Eco Full Zip rain pants for women are a good lightweight option, especially if you are looking for rain pants that will fit over wider boots and crampons.
Weighing in at 10.23oz (290.0g) they're a fair bit heavier than our lightest choices, however, they remain nonetheless a good choice if you're looking for lightweight rain pants with full-length side zippers.
They pack down well taking up little space in your backpack, although they are understandably slightly less packable than other models without full-length zippers.
Treated with Marmot's own NanoPro waterproofing, the PreCip Eco women's rain pants feature a highly effective microporous treatment that keeps water out. The garment's zippers are covered with storm flaps that ensure you stay dry even in windy and wet conditions.
Inside, all seams are fully taped. While the PreCip can get a little clammy on the inside, this is rarely a problem when used as they are meant to be, as an overgarment, and not in direct contact with the skin.
Breathability is generally good, although the PreCip is better suited to low to moderate hiking speeds, where you're less likely to build up much of a sweat.
Made from 100% ripstop nylon at 2.4oz per yard, the PreCip is durable without taking on extra unnecessary ounces. They hold up well across various terrains and are suitable for backcountry hiking trips.
As far as ultra-light rain pants go, they are as durable as the majority of other rain pants, although they do not benefit from extra reinforcements in high use areas.
Sized specifically for women, if you're looking for your first pair of ultra-light rain pants, you may find it easier to get the correct fit that you are looking for. The Precip is also available in long and short sizes which is particularly useful if you tend to struggle with average lengths.
While the PreCip Eco fits well and is comfortable to wear, some users may find these rain pants less comfortable as you cannot tighten up the elasticated waist band, which may lead to slipping for some women with wider hips and smaller waists.
Comfort levels are arguably improved by the full-length side zippers, meaning you can get these rain pants on in a hurry over your boots, reducing the time it takes to get them on and the risk of getting wet while doing so.
The full-length zippers can also be used for venting, thereby raising comfort levels, however, venting in the rain also allows water to enter, so this is not always a really useful feature.
The PreCip features three pockets. While pockets can be useful, many users prefer to use their rain jacket pockets, so this doesn't really make these rain pants much more attractive, unless of course your rain jacket is short on pockets.
The pockets are zippered with bonded storm flaps and consist of two front hand warmer style pockets with another at the rear.
The PreCip Eco are a good option if you're looking for lightweight rain pants than you can put on without removing your boots, especially for use with mountaineering boots or crampons.
They are versatile and durable, although as they are less adjustable around the waist, they may not be a suitable fit for all women. With their full-length side zippers, three pockets and storm flaps, they are, understandably, not the lightest option.
They do, however, provide a good lightweight choice that will keep you dry and take up little space in your backpack.
6. Columbia Storm Surge
Pros:
Weight: 9.6oz / 272g
Mesh lining
Drawcord-adjustable, elasticated waist
Omni-Tech waterproof and breathable technology
Adjustable cuffs
Cons:
No ankle zippers
No pockets – although not really a must on rain pants
Columbia Storm Surge Pants Features Summary:
Omni-Tech waterproof/breathable
Fully seam sealed
Drawcord adjustable waist
Elastic at waist
Material: Shell 100% nylon MO LTX; lining main: 50% polyester / 50% recycled polyester mesh, 100% nylon 210T taffeta; lining waistband: 100% nylon 210T taffeta
Weight: 9.6 oz / 272 g
Best Uses: Day hiking, general outdoor use
The popular Columbia Storm Surge rain pants are a durable, versatile option to keep you dry during wet weather hikes. At the heavier end of our ultra-light rain pants selection, the Storm Surge weighs in at 9.6oz (272g).
While they are compressible and easily packable, they do take up more space in your pack than the other options on our list.
The Storm Surge is made from 70 denier ripstop nylon, making them by far the most durable, abrasion-resistant rain pants on our list. They are less likely to wear through by continued rubbing from your backpack or harness and they will stand up to extreme conditions out on the trail.
Columbia's Omni-Tech technology makes them waterproof and breathable, with all seams fully sealed to ensure you stay dry.  They also come complete with a lightweight mesh lining, that can help to improve breathability by wicking away perspiration.
This can, however, mean that you may want to size up for increased freedom of movement when wearing over bulkier hiking pants. While the fabric does breathe, if you tend to perspire a lot or live in a more humid, hot climate, you may be better off with another model offering increased breathability.
The Storm Surge fit reasonably well and come with an elasticated waistband complete with drawcord, so you can tighten them sufficiently once they're on and in place.
If you really want a more athletic fit that has greater ease of movement, you may want to look at another model such as the Helium or Beta SL, which have more features such as gusseted crotches and articulated knees. However, for your average paced, standard hike, the Storm Surge performs reasonably well.
While the cuffs are adjustable, allowing you to fit them closely around your boots to keep rain and debris out, there are no ankle zippers. This means you'll probably struggle to get these rain pants on without removing your hiking boots first.
These rain pants do not have any pockets or pocket openings. While this may be an inconvenience for some, it's generally just as easy to use your rain jacket pockets.
On the whole, the Storm Surge are good, durable all-rounders. They are heavier than many other ultra-light rain pants and slightly less packable, however, if you are looking for a thicker pair of rain pants that you can keep in your pack at a low weight, then they could be just what you're looking for.
7. Mountain Warehouse Pakka
Pros:
Weigh just 5oz / 142g
Pocket openings provide easy access to hiking pants' pockets
Compress into included stuff sack
Hook and loop adjustable cuffs
Inexpensive
Cons:
Not very durable
Not sufficiently waterproof in heavy, prolonged downpours
Mountain Warehouse Pakka Pants Features Summary:
100% nylon
Waterproof
Taped seams
Hook & loop adjustable ankle opening
Packable in drawstring bag
Material: 100% nylon, with Rainproof ISODRY
Best Uses: Day hiking, travel, general use
The women's Pakka rain pants by Mountain Warehouse are very basic, ultra lightweight rain pants. Weighing in at around 5oz (142g), they are one of the lightest pairs of rain pants you'll find due to their pared-back features and very basic construction.
They are highly compressible and pack into their included stuff sack, taking up a minimal amount of space within your backpack.
For what they are, inexpensive, very basic rain pants, the Pakka performs rather well. Although they won't keep you 100% dry in the worst of weather, if you're looking for an inexpensive pair of rain pants for short, damp hikes, they would work pretty well.
They feature an IsoDry fabric treatment to help to keep you dry, although as you'd expect at this kind of level, they are not very breathable. However, as the fabric is extremely thin, with your body heat, you'll have less breathability issues than with a thicker fabric.
As the Pakka are so light, they are fairly comfortable to wear. Their straight cut does not adapt to your body or allow for any ease of movement, but with pants this light and thin, you can hardly feel that they are there.
The elasticated waistband is fairly comfortable, however there is no drawcord to further adjust the waist size. The cuffs are adjustable, allowing for a close fit around your boots to keep out water and dirt or debris.
However, you will need to remove your boots in order to put on these rain pants, as the cuffs do not feature any extra openings or zippers. There are no pockets, however, there are pocket openings which allow you to access your pockets underneath in your regular hiking trousers.
For such a basic model, this is a nice touch and it doesn't detract from this article's waterproofing. If you need a pair of rain pants for hiking out far and wide in extreme conditions in the backcountry, then of course, the Pakka are not going to be anywhere near the standards you need.
However, if you are an occasional hiker, looking for an inexpensive, lightweight pair of rain pants to stick in your day pack, then they could be a good option to try.
Why Pack Rain Pants for Hiking?
When you're heading off for a long hike with uncertain weather, it makes sense to pack a pair of rain pants, you don't want to risk getting drenched.
Even just a small amount of rain can leave you uncomfortable and potentially ruin your hike, not to mention the risk of catching cold or hypothermia. Even if there is no rain forecast, it's surprising how quickly a storm can build up, especially in the mountains, and catch even the most prepared of us off guard.
Aside from protecting you from actual rain, rain pants can also be useful to put on for early morning hikes when the ground is still wet, if you're passing through prairies or meadows, or after a downpour.
Large muddy sections of trail are ideal places to pull on your rain pants and avoid getting your hiking pants covered with mud. They can also come in use to help protect against wind and cold, especially when you hit those conditions at high altitude, which you may not have been expecting.
Lastly, even in hot weather, if you're heading through a bug infested area, you may want to stick on your rain pants over your shorts to protect your legs from bites until you get clear.
In fact, the more you think about it, the more potential uses you can find for your rain pants and once you realize their convenience, you'll want to make sure you always have a pair in your pack just in case, whether the forecast looks good or not.
Why Should I Buy Ultra-light Rain Pants?
Given the improvements made in ultra-light gear over recent years, it's now very often on a par with regular gear in terms of durability, albeit often with a higher price tag.
If you want to buy rain pants for hiking, they're probably going to spend a lot of time sitting in your backpack. Hence why it makes sense to purchase the lightest, most packable pair that suits your needs, saving you space and keeping your pack weight down.
Ultra-light Rain Pants Features
In general, the lighter the better. However, lighter often equals less features. Let's take a look at some of the main features you'll find on a pair of rain pants, so you can decide what you need and what you don't, to pick the lightest pair suitable for your needs.
Material
Rain pants are generally made from nylon due to its water-resistant properties and as it is so light weight. It is also easy to fold up and takes up little space.
Nylon rain pants are made in different degrees of thickness and strength known as deniers. Depending on your anticipated usage of your rain pants, you'll want to find a pair that will be durable enough for your needs but at the lightest weight.
DWR
The durable water repellent is the laminate or treatment that is added to your rain pants to keep water out. While Gore-Tex is probably the most well-known product for waterproofing gear, there are plenty of other excellent choices available today.
If breathability is also an important issue for you, for example if you tend to hike more athletically challenging routes, or if you live in a warmer humid climate, then make sure that your rain pants have good breathability.
While, unfortunately, there is no universally accepted measure of breathability, you can find out about a DWR's performance by reading fellow hikers' reviews and checking out the manufacturer's claims. This is usually a trade off based on the material used, DWR coating, etc.
Fastenings
Remember you'll want a comfortable fit under your backpack around your waist, so bear this in mind when choosing your ultra-light hiking rain pants. Elasticated waist bands are generally comfortable, and they may or may not come with additional zippers or drawcords.
You may find that rain pants with drawcords offer you a better fit as a woman, enabling you to tighten the waist sufficiently to keep them up, without struggling to pull them up over your hips.  
Fit
Some rain pants offer a looser, baggier fit, while others are tighter fitting. If you tend to hike at speed or through rough terrain, you may prefer a closer, more athletic fit that is less likely to catch on any vegetation or obstructions.
The more athletic your hikes are, the more you should consider light rain pants that have features such as articulated knees and gusseted crotches for added ease of movement. Any knitted-style nylon construction will stretch for a more comfortable fit.
Remember that as an overgarment, your rain pants should allow for standard-sized hiking pants underneath. However, certain more fitted models may sometimes be better in a size up if you are considering wearing them over other bulkier layers.
Openings
When rain suddenly starts to fall, you will want to get your rain pants on quickly, without having to take off your boots, if possible. If you have slimmer than average sized hiking boots, or wear trail runners, then you might not have an issue with the narrow openings found on many rain pants.
With bulky hiking or mountaineering boots, however, you may struggle with anything other than full or half-length length side zips.
Ultimately, it's down to your personal preference, some people prefer to pull them on quickly over their boots while others don't mind stopping and taking off their boots (definitely not recommended in our humble opinion).
Although they're convenient, remember that any additional or extended openings are potentially vulnerable to leaks and will also likely bump up the price and weight.
Packability
As your rain pants will probably spend the majority of the time taking up space in your backpack, it makes good sense to pick a model that's highly compressible and packable.
Some models come with stuff sacks, while others may fold into their own pockets to keep them compact and easy to remove from your backpack in a hurry.
As you'll probably want to keep your rain pants in an easy to access pocket, away from any sharp equipment that could damage them, how they fold up isn't terribly important, unless perhaps you would like to clip them on to your pack when folded, for example when they're wet and muddy after use. In any case a ziplock bag will keep your pack contents protected.
Conclusion
Finding the best ultra-light rain pants for women is all about finding the best rain pants that are suited to your hiking style, body and climate. Evidently, selecting the lightest, most packable rain pants, means you'll need to compromise on certain features.
Unless you're expecting to be making heavy use of your rain pants, for your average hiker, it makes sense to go for lighter rain pants that will help to keep your pack weight down and take up a minimum of space.
So, decide what your priorities are and choose the best, lightweight rain pants, that are best suited to your individual needs.