It can be a bit hit and miss trying to choose the best base layer for men. Have a read through our guide and check out our range of recommendations.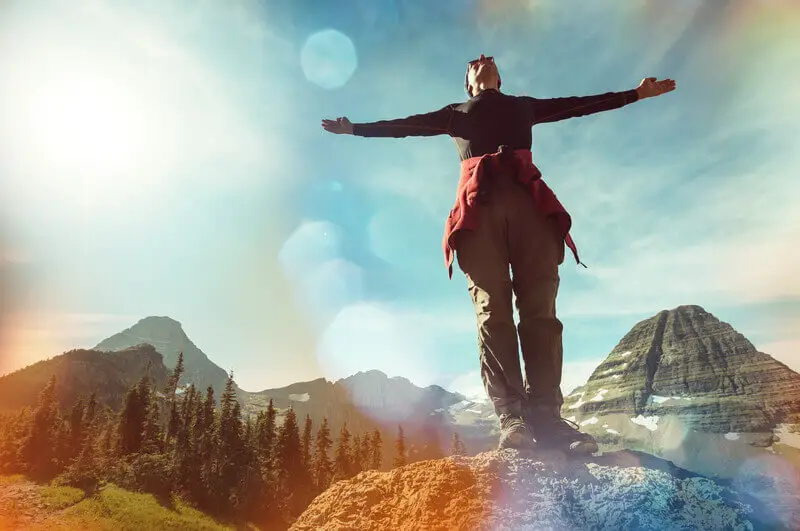 Whether you're out for a winter stroll or hiking to cold temperatures at high altitudes, there's a great selection of men's options to choose from.
In this article we list our best base layers for men in 2023. We've selected suitable options of varying thicknesses and fabrics, so whatever your preferences, time of year and activity level, you'll will find one that's made to suit your needs.
If you just don't have time for that and just want to know what our top choice is, we recommend the SmartWool Merino 250 Active Crew, it's our number one choice.
After that, if you're totally new to buying them, we walk you through some of the key things you need to consider when buying one to meets your needs.
1. Smartwool Merino 250 Crew
Pros:
100% natural Merino wool
Shoulder panels for increased comfort carrying a backpack – no shoulder seams
Excellent temperature regulation
Does not hold odors
Interlock knit with flatlock seams for comfort and ease of movement
Cons:
Expensive
Weighs a lot when wet
This slim-fitting, 100% merino wool crew from Smartwool is our favorite base layer for when temperatures drop.
The excellent thermoregulatory quality of merino wool means you will stay warm in the cold, but you won't heat up too much during periods of exertion.
Thanks to the wool's superior wicking and fast-drying nature, any perspiration is moved away from your skin, keeping you dry and warm. As with all Merino wool garments, this top does not hold on to odors thanks to the wool's natural antibacterial properties.
So, whether you're wearing it for hard summit hikes or for days on end during extended backcountry trips, you won't need to worry about washing it out or putting up with the stench of dried sweat.
This also helps to prolong the garments longevity as you really can wear it for longer between washes.
This one is one of the warmest on our list. As it's warm enough to wear alone as well as a base layer, this makes it one of our most versatile pieces and its good looks mean you can also wear it out and about.
As a thicker option, it is naturally less breathable than thinner ones, however, thanks to its thermoregulatory qualities and excellent wicking properties, it keeps moisture well away, putting it almost on a par with more breathable models.
However, unlike more breathable models, this crew provides you with added warmth and wind protection so when you pause for a break, you won't instantly feel cold.
Comfortable and non-itchy, the Smartwool 250 is slim fitting without being too tight. The interlocking knit and flatlock seams add comfort and ease of movement.
Unlike some other options, this one is long enough to keep you fully covered when moving about, even with overhead stretches. The shoulder panels replace shoulder seams for extra comfort when carrying your backpack.
The main downside is the price, however, look after it well and it will last. It also becomes heavy when wet, like all wool, although thanks to its odor-resistant nature, you're highly unlikely to need to wash it on the trail.
2. Icebreaker Merino 200 Oasis
Pros:
Excellent breathability
Comfortable fit and lightweight
Dries quickly
Odor resistance works well
The Icebreaker Merino 200 Oasis is a popular lightweight base layer created using 100% merino wool, which offers for outstanding results.
This makes for a warm fit that is suitable for mild or cold conditions with more intense activity, thanks to its superior levels of breathability.
The Icebreaker 200 enhances moisture capture and evaporation on a molecular level to keep you warm and dry. If you enjoy keeping active year-round and more challenging hikes, then this could be the best choice for you.
Highly breathable and extremely fast drying, the Icebreaker 200 also has the warmth, thermoregulatory and odor-resistant qualities that you would expect of a pure merino wool top.
Its stretchy and lightweight make-up fits like a second skin for unhindered ease of movement, essential for increased comfort levels, especially on more technical hikes.
The gusseted underarms allow you to move with you and its long torso won't leave you exposed when stretching or bending, while its flatlock seams make sure you won't chaff.
The offset shoulder seams prevent back rubbing and so you won't have shoulder seams digging into your skin under the weight of a fully loaded backpack.
If you tend to feel the cold and don't often work up a sweat when you're out on the trail, then the Icebreaker 200 Oasis is a good option for you.
On the negative side, this option is not as durable as some of our other recommendations, although with good care it should still last for quite some time. It is pricey too.
If you need a comfortable, warm and highly breathable base layer that fits like a glove, then this really is the one to go for.
3. Patagonia Capilene Midweight Crew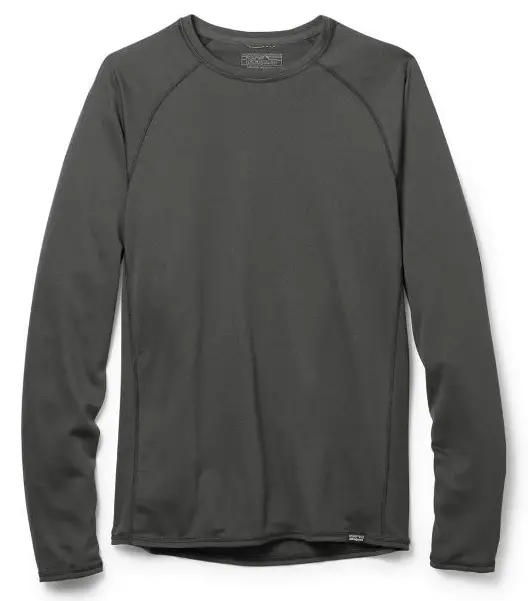 Pros:
Great breathability
Very Comfortable and snug
Lightweight
Warm
Odor resistance works well
The Patagonia Capilene Midweight Crew is an effective and warm base layer, that really comes up trumps in the comfort department.
It is made using recycled polyester (bluesign® approved) which is interesting, as manmade fibers can sometimes be a bit cooler, than say in comparison to Merino wool.
However, it really is a warm and snug fit, which is great for colder conditions. It's smooth face allows easy layering and the internal diamond-grid pattern rests lightly on the skin to help trap warmth, and this works well.
The hollow-core yarn construction provides great wicking performance when under pressure. The material makeup also lends itself to faster drying times too.
Its stretchy and lightweight and allows you to move comfortably and freely. There are full underarm gussets which also provide unhindered shoulder mobility.
The flatlock seams and rib-knit collar with internal neck tape provide chafe-free comfort. The raglan shoulder seams and offset side seams lie smoothly beneath pack straps, so again helping to ensure a comfortable fit while carrying a pack on the trail.
The Capilene features elastic thumbholes which add further coverage for your hands and make the layering process easier, especially in colder weather.
The Patagonia Capilene Midweight Crew is generally an all round good performer and super comfy, however it unfortunately falls down in the area of durability.
Overall, if you want a really sleek and comfortable base layer, the Capilene will do the job well, but it is not as durable as some other options on this list.
4. Under Armour Coldgear Reactor
Pros:
Four-way stretch construction for greater ease of movement
Mesh side panels for enhanced breathability
Lightweight, quick drying and breathable polyester and elastane fabric
Soft brushed side next to skin for breathable warmth
Anti-odor treatment prevents odor buildup
Cons:
Neck can be tight to get on
Not as warm as merino wool
The Coldgear Reactor base layer by Under Armour is a good choice for staying active in colder weather.
This polyester and elastane blend won't provide you with the same level of warmth as a merino or merino blend will, however, if you're looking for a durable, synthetic option for moderate to intense activity, then the Coldgear Reactor would make a good choice.
Highly breathable, this top wicks sweat and dries extremely quickly. For those of you who don't want to have wool next to your skin, the soft brushed interior provides extra insulation and a warming sensation against bare skin.
Breathability is further enhanced by the side mesh panels, so if you easily build up a sweat, this could be a good option to consider.
While there is an anti-odor treatment to prevent the growth of odor-causing microbes, unlike merino wool, you won't want to be wearing this for more than a day before washing.
With its four-way stretch fabric and articulated cuff, the Coldgear Reactor fits well and moves with you, although it's close fitting neck can be a little difficult to get on for some.
The side mesh panels also allow for greater freedom of movement, while the shoulder panels make for comfortable wearing with a backpack.
While the Coldgear Reactor lacks some of the warmth of a merino top, it is a good choice if you are looking for extra breathability with a good amount of stretch and a snug fit.

5. WoolX Glacier Heavyweight
Pros:
Heavy interlock knitted merino layer
Designed for extreme cold – 18.5 micron, 400g/m
Underarm gusset
Cuffs with thumbholes
Stays tucked with slight back drop
Cons:
Heavy when wet
Less breathable
If you are looking for a base layer for extreme cold or for wearing when camping, then the WoolX Glacier is the warmest option in our selection. Its dense, interlock knitted construction is extremely warm and will protect from the wind as well as the cold.
In spite of its density, it is also fairly breathable thanks to its 100% merino wool construction, although it is better suited to lower intensity activities where you will really benefit from its extra heat.
If you're considering a cold winter backpacking trip, then this would be an ideal choice to keep you warm even when you've set up camp for the night, as well as during breaks on the trail. Its wool construction also stops odors from building up, even after several days' wear.
Although denser garments are naturally less breathable, thanks to its merino wool construction, the WoolX Glacier still breathes surprisingly well and does a great job of wicking sweat away from your body.
While you probably won't need such a heavy layer for high intensity activities, this top is fairly adaptive thanks to merino wool's thermoregulatory qualities.
Going from a steep ascent with your fully loaded backpack to a well-deserved break at a windy summit won't leave you over heating then suddenly shivering with cold.
The Glacier is a snug fitting, comfortably soft option that has been designed with outdoor pursuits clearly in mind. It stays tucked thanks to its slight back drop and sufficient torso length.
The cuffs feature thumbholes, making layering easier and providing extra warmth and protection for your hands, while the underarm gussets offer complete freedom of movement, ideal when you're maneuvering a heavy backpack.
There are shoulder seams, however, they don't cause any discomfort. The only real downsides are less breathability due to the thickness of this heavyweight top and the fact that it is very heavy when wet.
All in all, a fantastically warm base layer ideal for extremely cold hiking and backpacking trips. You could also use it over a lighter, daytime layer when temperatures drop overnight and around camp.
6. Helly Hansen Lifa Stripe
Pros:
Made from polypropylene that quickly moves moisture away from your skin
Ideal for high intensity activities in cold weather
Affordable
Lightweight and quick drying
Cons:
Not very warm when you stop exercising
Poor fit
If you're looking for an inexpensive base layer for intense hikes, where you'll be creating a lot of body heat, then the Helly Hansen Lifa Stripe could be the one for you.
It is lightweight and dries extremely quickly, wicking sweat away from your skin immediately thanks to its polypropylene construction.
If you often tend to feel hot rather than cold and prefer trail running or fast-paced, energetic hikes, then this layer would be a natural choice for all seasons thanks to its excellent breathability.
Although the Lifa is quick drying and breathable, it is not very warm once you stop moving. It could make a decent base layer for milder seasons, however, if you are not expecting to be really active on the trails, your needs would probably be better served by another option.
Furthermore, the athletic cut of this garment makes it a little on the short side. The low-bulk cuffs and flat-lock stitching make the Lifa easy to layer, while the polypropylene fabric is comfortable against your skin.
On the whole, the Lifa is an inexpensive option that will not keep you very warm in cold winter weather, but it will dry quickly, wick away sweat and breathe reasonably well.
So, if your activity levels and climate fit in with these main qualities, then the Helly Hansen Lifa Stripe could be made for you.
What are Base Layers?
Base layers are close-fitting undergarments that are worn next to the skin. They provide an extra layer of insulation helping you to stay warm. They also have an important role to play in keeping you dry, especially during more intense activities.
The layering approach to outdoor wear allows for a combination of different garments that can be altered for varying circumstances such as weather, terrain and exercise intensity, while catering to individual needs and preferences.
Features
When you're looking for a new base layer there are some important features to bear in mind. Above all you want to stay warm and dry, but ease of movement, comfort and resistance to odors are some of the other features you may want to consider.
Fabric
It's important to select a base layer made from a fabric that is suited to your needs. Here are some of the most popular fabrics used in them and their main qualities:

Merino wool – Super soft, comfortable and natural, Merino wool is highly reputed for its excellent thermoregulatory qualities, keeping you at an ideal temperature despite temperature fluctuations or an increase or decrease in activity levels. It is also naturally odor resistant and will not build up a stink like some synthetic garments do.
Synthetic/wool blend – This offers the best of both worlds, the warmth of wool and its thermoregulatory qualities with the breathability of synthetic fabrics. Wool/synthetic blends tend to add greater durability to woolen garments and make them more suitable for higher activity levels.
Polyester/synthetic blend – Polyester or other synthetic options tend to perform poorly at keeping you warm in cold conditions. They do, however, provide excellent breathability and are fast drying. If you tend to not feel the cold too much and are planning on high intensity activities, then a synthetic top will provide extra insulation with superior breathability.
Weight
Base layers are available in either lightweight, mediumweight or heavyweight. The heavier the weight, the thicker and denser the garment will be, keeping you warmer.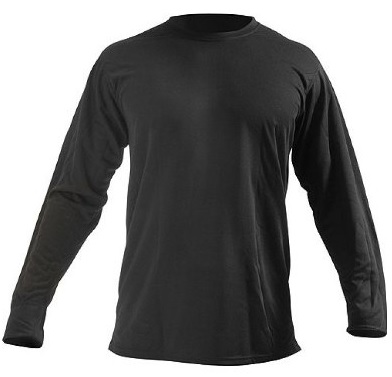 Colder temperatures and lower activity levels are better suited to heavyweight options, while milder temperatures and more intense activities are better suited to lightweight options, that tend to breathe better but keep you less insulated.
Fit
Base layers should fit snugly. To effectively wick moisture away, they need to be touching your skin. You'll also find them more comfortable and easier to layer when they are close fitting.
However, you do not want them to be as close a fit as compression garments. They insulate by trapping a small amount of warm air close to your body. So, they'll need to fit closely but not too tightly.
You may prefer to purchase one that is slightly longer than your regular t-shirts, this will enable you to keep yourself fully covered when stretching out and your layer of warm, insulating air will not be lost if you can keep your top tucked into your pants.
Long, snug and relaxed is the ideal fit for an effective base layer. For some brands you may prefer to size down if you're often between two sizes.
Comfort
It goes without saying that these layers need to be comfortable as they sit next to your skin. While Merino wool is naturally soft and comfortable next to your body, synthetic fabrics may have a brushed interior face to improve heat insulation and add a cozy sensation.
The actual knit of the garment itself will improve comfort levels, as will any stretchiness, allowing for greater ease of movement. Shoulder panels, flat-locked seams, printed tags, there are numerous features which can improve your comfort levels.
Comfort is also dependent upon the article's thermoregulatory properties, its ability to wick away sweat and its breathability. Keeping you warm and dry is by far the most important comfort that a base layer can achieve.
Breathability
It's important to stay dry in order to keep warm and comfortable. Even low-intensity activities can cause you to perspire and if your base layer lacks breathability, you could find yourself uncomfortably damp which could lead to extreme cold or even hypothermia.
Quick-drying
You'll need this layer that is closest to your skin, to wick sweat away from your body to keep you warm, dry and comfortable. This requires fabrics that dry quickly, enabling efficient moisture transfer and evaporation.
Odor-resistant
Merino wool is naturally odor-resistant and can be worn several times without washing. Even after several uses, it probably still won't smell.
Synthetic fabrics, on the other hand, will need washing after use to prevent bad odors building up. Some synthetic fabrics are treated to prevent this odor build up. This should mean that they smell less, however, in reality they often can smell pretty bad, nonetheless.
Features
Base layers are mostly minimalist for easy layering, however, you may want to look out for underarm gussets and any panels that may help improve ease of movement.
Thumbholes can also be a nice addition and provide a little extra warmth for your hands, while stopping your sleeves from riding up. You should also pay attention to seam location, especially on the shoulders.
Neck styles vary from model to model and really come down to personal preference, while extras such as mesh panels for added breathability may be of interest if you also enjoy high-intensity winter activities.
Choosing the Right One
When choosing the best one for you, you need to select one that is right for you and your needs, taking into account your personal preferences, your activity levels, the temperature and location.
Challenging, intense activities will require breathable, lighter weight options or else you'll risk overheating, while if you tend to feel the cold and are planning a winter leisurely hike with plenty of stops to admire the snowy scenery, then you'd be better off with a less breathable but warmer, heavier weight layer.
A medium weight Merino wool base layer or a mixed wool and synthetic layer is a great versatile all-rounder for hiking, where you may have a combination of more intense activity for ascents, pauses and slower sections.
A medium weight will ensure you stay warm when you stop, without overheating on the more challenging sections of trail.  
Conclusion
Finding the best base layer for men in 2023 is all about knowing what you need and prioritizing those needs, while taking personal preferences into account and dressing for the occasion with a good selection of complementary layers.
For some people a mid-weight merino one fulfils all of their needs, others prefer to have a heavier weight for the depths of winter and a synthetic blend for other seasons or faster-paced adventures.
Ultimately, whatever works best for you and keeps you warm, dry and comfortable is the best base layer there is!