As more and more equipment becomes hi-tech and increasingly lightweight, it can be advantageous to update your gear and keep your pack weight down.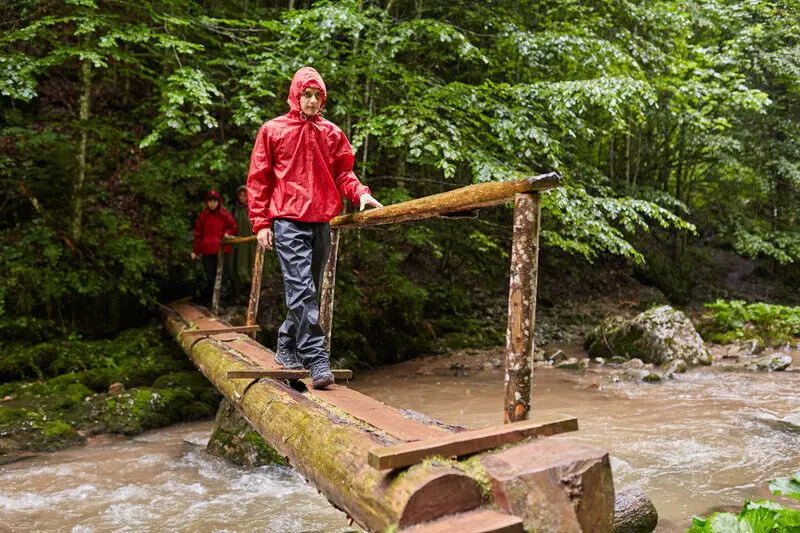 In this article we take a look at some of the best ultra-light rain pants for men and see where you could save a few ounces in your backpack and keep yourself dry when out on the trail.
After that we look at some buying advice for those who are new to buying rain pants, so be sure to check that section out if its your first time buying rain pants.
If you don't have time to go through the list, then we can tell you that our top ultralight rain pants for men are the Arc'teryx Zeta SL.
1. Arc'teryx Zeta SL
Pros:
Lightweight and easy to pack away
Excellent 3/4 length leg side zips
Comfortable and breathable
Arc'teryx Zeta SL Rain Pants Features Summary:
Compact, lightweight 2-layer GORE-TEX® fabric with PACLITE® Plus tech is packable and has improved next-to-skin feel
Full articulation delivers an exceptional fit and freedom of movement
Zippered fly with snap and adjustable webbing closure
WaterTight™ lower leg zippers
Reinforced insteps add durability
Material: 40-denier nylon ripstop (N40r) GORE-TEX with PACLITE Plus tech
Weight: 9.3oz
Best Uses: Day hiking, trekking, travel, outdoor use
The Arc'teryx Zeta SL rain pants are our top choice in the ultra light category. The pants are really lightweight and very easy to pack away into your pack. The Zeta SL pants take up very little space and they are also lightweight at just 9.3oz.
Made from a 40-denier nylon ripstop (N40r) GORE-TEX with PACLITE Plus tech, they are a strong and tough pair of rain pants. The 40-denier ripstop in the construction provides a very tough material, so you can wear these pants for all your hiking adventures.
For a short burst of rain or a longer downpour, the Zeta SL will cover you well. As mentioned, they are lightweight, durable and easy to carry.
The waterproof technology used in these pants is GORE-TEX PACLITE Plus. This performs really well in tough conditions. So, as well as providing excellent waterproof protection, they also breathe well too.
The Zeta SL are not lined, which reinforces the idea that the primary purpose of these pants is emergency rain protection, not warmth, although you will always get some element of warmth from an extra layer.
Overall, you need to rely on other layers for that purpose, which is in our opinion the best way to go for a hiker as you can adjust your layers as and when needed.
The Zeta SL by all accounts fit well and true to size, they are a slim fit which taper to the bottom of the legs. They are designed to be able to be worn over your normal hiking pants.
The full articulation in the pants ensure you have excellent mobility while wearing them. The pants are secure using a Zippered fly with snap and adjustable webbing closure.
The pants also feature three quarter length zips down the outer sides of the legs, which is perfect to enable you to put these pants on in a hurry over your hiking boots. These leg zips are very waterproof too.
The instep of the pants are also reinforced which is good as that is where will typically get the most use.
There are no pockets in the Zeta SL, which we think is fine as they are designed as an emergency layer for a downpour. The pockets in your pants below them will still work fine although it may be a bit fiddly to get access to them.
2. Marmot Minimalist
Pros:
Comfortable fit
Great mobility
Tough construction
Marmot Minimalist Rain Pants Features Summary:
GORE-TEX® Paclite® fabric is lightweight and packable, yet durably waterproof, windproof, and breathable; 100% seam-taped to keep water out
Water-resistant hand pockets; Ankle zippers with snap closure
Articulated knees for improved mobility
Elastic waist with snap closure and zip fly
Material: GORE-TEX® Products with Paclite® Technology 100% Recycled Polyester 3.2 oz/yd
Weight: 0lbs 10.93oz (309.9g)
Best Uses: Day hiking, trekking, travel, general use
The Marmot Minimalist rain pants are an excellent pair of rain pants that won't break the bank. They are a winner on the weight front, at 0lbs 10.93oz / (309.9g), and super easy to pack.
They are constructed with GORE-TEX® Products Paclite® Technology 100% Recycled Polyester 3.2 oz/yd, meaning they are tough and offer excellent protection from the elements.
The Minimalist pants are designed to be worn over your normal hiking pants, so be sure take that into account when considering sizing. They are easy to pull on and have ankle length zippers which slide on easily over hiking boots.
The waterproof technology used in these pants is GORE-TEX PACLITE. This performs great when the skies open up, protecting you from the elements but also letting your legs breathe.
The Marmot Minimalist pants fit well but as mentioned above, keep in mind that they are designed to be worn over hiking pants, so you may want to get them to fit a bit larger than a normal pair of pants.
There is full articulation in the knees in the pants and this enables a great range of motion, for when you have to negotiate a tricky piece of terrain.
The pants have an elastic waist, with a snap closure and a zip fly which are comfortable and easy to use. The pants also have two zippered pockets with waterproof zippers, that are functional and easy to use.
As mentioned above, these pants only have ankle length zips, so they don't run down the full outer sides of the legs. If we were to be picky, we prefer three quarter length zips (ideally bi directional zips) in rain pants as they are easier to put on and take off. Bi directional zips also enable a bit of easy ventilation by opening the zips at the top of the legs just a smidge.
However, these pants are mainly designed to protect you from the rain and wet, and there is no doubt that they perform that task admirably, at an accessible price.
3. Mountain Hardwear Stretch Ozonic
Pros:
Weight: 10.2 oz / 283g
Four-way stretch fabric
Extremely compressible
Full-length zippers
40 denier material – durable and resistant
Cons:
Thigh height pocket
Less waterproof than other options
Mountain Hardwear Stretch Ozonic Pants Features Summary:
Dry.Q™ Active's waterproof technology banishes moisture
4-way, all-over stretch fabrication
40D face fabric is tough, durable, and abrasion-resistant
Full length side zips for easy on/off
Elastic at back waist for a comfortable fit
Side zippers have two security closures, a Velcro® tab at waist and a snap tab at ankle
Integrated, easily adjustable webbed belt for a comfortable fit
Enhanced knee articulation for outstanding range of motion
Loops at leg cuffs securely fasten to the bottom of your boot
Material: Fabric Body: Dry.Q™ Active Stretch 40D 2.5L (100% Nylon)
Weight: 10.2 oz / 289 g
Best Uses: Hiking, trekking, travel, cycling, general outdoor use
The Ozonic Rain Pants by Mountain Hardwear are one of the most comfortable rain pants available thanks to their in-built stretch. Let's see how the rest of this rain pant's specifics bear up.
As far as weight and packability go, the Ozonic weighs in at 10oz (283g), which makes it around average in terms of ultra-light rain pants.
Thanks to its stretchy fabric, it is extremely compressible and will only take up a tiny amount of space in your backpack, making it a great choice for those with limited room to spare.
Made from a 40-denier nylon fabric, the Ozonic is also fairly durable and resistant, making it a better choice for rougher terrain. As it's stretch fabric tends to hug more closely to your contours, it's also less likely to get snagged by vegetation or other obstacles.
The Ozonic is treated with a DryQ Active 2.5-layer waterproofing. This waterproofing performs satisfactorily, although possibly less well than the Helium or Beta SL. The storm flaps and watertight zippers help to keep you dry whilst allowing easy access.
This rain pant is extremely comfortable compared to rain pants in general, thanks to its four-way stretch fabric. This allows complete freedom of movement, so if you're dealing with any ascents or descents, rocky areas or any other challenging terrain in the wet, you won't be held back by the Ozonic that moves with you, hugging your legs.
This is enhanced further by the inbuilt knee articulation. The webbing waist belt also adds another level of comfort, by enabling you to keep this rain pant well-adjusted in combination with the elasticated back that is comfortable with a fully-loaded backpack.
Other features include full-length zippers that allow you to easily put on and take off the Ozonic quickly, even with large or wide footwear, keeping you cleaner and drier.
Loops at the bottom of the cuff fasten to your boots, keeping you drier and any debris out. There is a thigh height zippered pocket that is good to have, however, not very comfortable for anything but the smallest of items.
A good choice for staying dry on hikes where challenging terrain requires a more athletic performance, the four-way stretch fabric moves with your body.
The full-length zippers and high compressibility also make this rain pant an outstanding choice. However, for extreme wet weather, you may be better off with a slightly better performing membrane.
4. Outdoor Research Helium
Pros:
Weigh just 5.6oz / 160g
Stores into back pocket as a stuff sack for added packability
100% nylon 30D ripstop, fully seam taped
Pertex Shield+ makes these rain pants waterproof and breathable
Ankle zippers
Outdoor Research Helium Pants Features Summary:
Waterproof and breathable
Fully seam-taped
Laminated construction
Windproof and lightweight
Back pocket doubles as stuff sack
Reflective logos
Carabiner loop
Internal loops for instep lace
Elastic waist with drawcord
Gusseted crotch
Ankle zippers
Accepts accessory suspenders
Material: Pertex® Shield+2.5L; 100% nylon 30D ripstop
Weight: 5.6oz / 160g
Best Uses: Day hiking, trekking, travel, outdoor use
While all the rain pants we've reviewed are excellent choices, the Helium rain pants by Outdoor Research are another clear favorite in the ultra light category. Highly packable, these rain pants take up next to no space up in your backpack, simply fold them into their back pocket which doubles as a stuff sack.
The Helium pants take up much less space than any of the other rain pants listed. They are also extremely light, weighing in at just 5.6oz (160g).
Made from a 100% nylon construction, these rain pants are actually more durable than you would think given their extra light weight. The 30-denier ripstop construction makes them suitable for hiking over a variety of terrains and while you will find more durable rain pants, you won't find ones any lighter with their level of durability.
It really comes down to where you tend to hike and where you are likely to wear them most. For us, this pair of rain pants represents the ideal tradeoff between lightweight and durability, bearing in mind they will probably spend most of the time getting carried about in your backpack.
The Pertex Shield+, makes these ultra-light rain pants highly waterproof and breathable. This treatment consists of a PU film that is laminated on to the nylon shell, allowing moisture built up on the inside to pass through to the outside, while preventing external moisture from entering the pants. The seams are fully taped, ensuring that you won't get wet.
When it comes down to fitting, the Helium are comfortable to wear, although they do tend to size small, especially for use over your regular hiking trousers. The fit is on the slimmer side, however, we found that this improved this rain pant's mobility rating and the fabric has a good motion range.
As for features, the Helium, as pared down ultra-light rain pants, doesn't offer much in the way of added extras. The elasticated drawstring waistband is comfortable, even with a fully loaded backpack.
The legs feature zippers to enable you to put on and take off the pants without removing your footwear, although the zipper opening can be a little snug for those with larger feet wearing smaller sized pants.
There are also elastic loops for suspenders, reflective logos, a carabiner loop to attach them to your pack and internal loops under the pant cuffs, which allow you to use them like gaiters, keeping out snow and debris.
There is just the one back pocket, however, provided your rain jacket has decent pockets, you won't really need more pockets in your rain pants. It comes down to personal preference.
All in all, we were highly impressed with the Helium rain pants, if you need a pair of super lightweight rain pants to keep in your pack for light to moderate use on average hiking trips, then you really won't find much better than this.
Highly packable, ultra-light weight, you can simply pack the Helium and forget about them until you need them.
5. Marmot PreCip Eco Full Zip
Pros:
Lightweight 11.64oz (330g)
Full-length zippers – easy put on and venting
Three zippered pockets
Elasticated waistband
Taped seams and NanoPro waterproof/Breathable fabric
Cons:
Lack Durability
Less breathable than other pants
Marmot Precip Pants Features Summary:
Marmot® NanoPro™ Waterproof/Breathable Fabric
100% Seam Taped
Full Length Side Zips with Bonded Storm Flaps
Zip Front Hand Pockets
Back Zip Pocket
Elastic Waist
Long Length
Material: NanoPro™ Eco 100% Recycled Nylon Ripstop 2.4 oz/yd
Weight: 0lbs 11.64oz (330g) (Long version)
Best Uses: Hiking, trekking, travel, cycling, general outdoor use
The main advantage of the Marmot PreCip Eco Rain Pants is their full-length zippers. Understandably, these also have their downsides, which we'll take a look at.
In terms of weight, the Precip are one of our heavier choices, weighing in at 11.64oz (330g). While it is not the lightest by a long shot, if you are looking for lightweight, packable rain pants and our other picks, don't quite fit the bill, then this pair could possibly be the ones for you.
In spite of them being a bit heavier, the Marmot Precip are still highly packable and roll up neatly, taking up only a small amount of backpack space. So, is it worth the extra ounces?
Material wise, the Marmot PreCip is 100% nylon. Unfortunately, the fabric itself is on the thin side and appears lacking in durability.
While the pants would be a good, relatively inexpensive option to keep in your backpack for occasional use, when used regularly they probably would not last as long as some of our other top choices. So, it all comes down to your needs and what you expect from your ultra-light rain pants.
The PreCip Eco are treated with Marmot's own NanoPro waterproofing and all seams are 100% taped. The full-length side zippers have bonded storm flaps, however, bear in mind that where there are zippers there does tend to be some vulnerability to water leaking.
The DWR works well and the pants are waterproof. In terms of breathability, the PreCip performs pretty well, although it is not as breathable as the Helium. Of course, you can use the zippers to vent moisture.
The PreCip pants are fairly comfortable with a relaxed fit and it is available in standard sizes with a short length option. It generally fits true to size, taking into account that you'll mostly be wearing it as on over garment.
The elasticated waistband is comfortable, although it would be nice to have a drawcord to tighten the waist a little more. The three zippered pockets are useful and functional. The main advantage of this PreCip Eco model is the full-length zippers.
They allow you to quickly and easily put on and take off the rain pants. If you have very large feet or extra wide boots, this could make the extra weight of this model well worth it.
Being able to quickly and easily put on rain pants as the storm breaks is invaluable to staying dry. It is also a good way to keep the worst of the mud and wet on the rain pants when you're done wearing them, rather than getting it over the rest of your clothes.
On the whole, the Marmot PreCip Eco full-zip pants are a great option. While they are not the lightest in terms of weight, they are extremely practical, although durability could be an issue with frequent use. A good value choice that is effective yet inexpensive.
6. Arc'teryx Beta SL
Pros:
Gore-Tex fabric with Packlite Plus technology
¼ length WaterTight lower leg side zippers
SL = superlight range, weight 9.2oz / 260g
Elasticated waistband with drawcord and fly zipper
Adjustable, reinforced cuffs with drawcords and lace hooks
Cons:
Less breathable than other rain pants
Arc'teryx Beta SL Pants Features Summary:
Superlight, packable emergency waterproof pant
Minimalist design maximizes packability
Reduced weight without sacrificing key features
For use during sudden storms
Simple pull-on design
Full length side zippers for easy on/off and rapid ventilation
Hem and insteps are reinforced with abrasion-resistant N150p-X GORE-TEX fabric with Paclite® Plus product technology
Material: GORE-TEX fabric with Paclite® Plus
Weight: 12.5 oz / 355 g (reg)
Best Uses: Day hiking, trekking, travel, general outdoor use
The Arc'teryx Beta SuperLight Pant has been designed to provide maximum storm protection against the wind and rain in a lightweight, easily packable format.
While these rain pants weigh more than the Helium, they are still an ultra-light model that won't weigh down your backpack.
For this model with the ¼ length zippers, the weight is a respectable 12.5 oz (355g) making the Beta SL a good lightweight and packable choice to keep in your backpack. The micro-seam allowance helps to keep weight down.
Made from nylon with a Gore-Tex breathable laminate, the Beta SL benefits from having the instep, lower leg and hem reinforced with a heavier weight three-layer Gore-Tex laminate.
This makes the Beta SL a more durable rain pant, hence the slight extra weight. Although the Gore-Tex laminate with Packlite Plus technology is extremely efficient at keeping water and the wind out, it is slightly less breathable than other rain pants.
However, all things considered for your average hiker and when worn as a shell layer, this detracts little from these rain pants' otherwise excellent performance.
The Beta SL has a fairly baggy fit, which can be preferable when you're looking to wear it over other clothing. It really comes down to a matter of personal preference.
Available in short, regular and tall lengths, this model has a good range of different lengths for a more customized fit and enhanced comfort. The articulated knees enhance mobility as does the gusseted crotch area.
With the reinforced areas adding to the weight, whilst enhancing the product's durability, Arc'teryx have chosen to cut back on other features to keep the Beta SL rain pant at a competitive weight and still highly packable.
For this reason, perhaps, this rain pant does not have any pockets, which may or may not be an issue for you. While you can rely predominantly upon your jacket pockets and don't really need any in your rain pants, it can be a good option to have at least one though.
The lower legs feature ¼ length zippers making the pants easy to put on or remove, while the adjustable cuff drawcords and lace hooks work well, securing the rain pants over your boots and keeping the elements and any debris out. The elasticated waistband is comfortable and has a drawcord and fly zipper access.
All in all, the Beta SL are comfortable and easy to put on in the event of a sudden downpour. Their reinforced areas make it more durable than several others, without compromising too much on weight.
A good compact model that will keep you dry, although at a price that is in fitting with the brand and high quality of the product.
7. Mountain Warehouse Pakka
Pros:
Lightweight: 5.3oz / 150g
Inexpensive
Compresses into stuff sack
Hook and loop adjustable ankle opening
Easy access to hiking trouser pockets through openings
Cons:
Very thin fabric
Not as waterproof in extreme, heavy downpours
Mountain Warehouse Pakka Pants Features Summary:
100% Nylon
Waterproof
Taped Seams
Hook & Loop adjustable ankle opening
Packable in drawstring bag
Material: 100% nylon, with Rainproof ISODRY
Best Uses: Hiking, travel, biking, general outdoor use
The Pakka Rain Pants by Mountain Warehouse are a no nonsense, no frills rain pant that are extremely lightweight and inexpensive. We always like to list a budget option for the occasional hiker or for light recreational use, and the Pakka fit that bill well.
Weighing in at around 5.3oz (150g), they are even lighter than the Helium, although of a lesser quality construction, fit and performance.
The Pakka take up a minimum of space and come with a handy stuff sack to keep the pants neatly compressed in your backpack. It's also comes in handy for packing it away in when wet after use.
Made from nylon, with an IsoDry fabric treatment, the Pakka are basic, entry-level rain pants and perform accordingly. The fabric is very thin and rather fragile.
Water resistant, rather than waterproof may be a better description, however, in light to moderate rainfall, these rain pants perform well and will keep you dry. They are not particularly breathable, which is to be expected for the price you pay for them.
In terms of comfort, as they are so lightweight, you barely feel that they are there. You can adjust the bottom cuff to fit which can increase comfort levels slightly and helps to keep water and debris out. They fit reasonably well, although they do not move with your body like the Ozonic.
The Pakka rain pants do not have any pockets, although it does have pocket openings that allow you to access your hiking pants pockets underneath.
The elasticated waistband is satisfactory, however the quality of the elastic remains to be seen over time. For the low price, the Pakka are a good buy, but set your expectations accordingly.
While they lack the comfort and features of the other models we've reviewed, for infrequent use in damp conditions they serve their purpose well. For any extreme or severe rain, or for more durable rain pants that will last, the Helium or Beta SL are much better options.
For the occasional hiker in a temperate climate, having the Pakka rain pants in your backpack could help you stay dry during the occasional shower for a very low price.
Why You Need Rain Pants
Good, dependable rain pants can make the difference between a good hike and a bad hike. Or even not going out on a hike, if you see the clouds darken and are hesitating.
Knowing you can stop and quickly protect yourself with your rain pants will allow you to enjoy your hikes even more, and they can even be useful for crossing wet fields as well as waterfall hikes, muddy trails and anywhere else you're likely to risk getting damp.
Rain Pants' Features
Aside from the obvious such as waterproofing and fastenings, rain pants come with a variety of features, some more essential than others.
Material
The majority of rain pants are typically made from nylon, as it's lightweight and even before treatment it tends to have excellent water-resistant properties.
You want to consider the durability and abrasive resistance of your rain pants fabric before purchasing, and to make sure that it will stand up to where you tend to hike most often.
For rougher environments, purchase rain pants with a higher denier, or if lightweight is of the utmost importance to you, choose a lower denier with less thickness.
DWR
DWR = Durable Water Repellent. This is the treatment or laminate that makes your rain pants waterproof. A good DWR will also enhance breathability so you don't get too clammy on the inside.
DWR's all lose their efficacy over time, however, you can retreat them to keep them functioning like new.
Fastenings
Elasticated waistband, drawcords or zippers, there are a variety of fastenings. Remember to choose one that will be comfortable with your backpack on and fully loaded.
Fit
This comes down to your personal preferences and where you tend to hike. You may prefer a relaxed, baggy fit, or a slim, more athletic fit. Tighter fits can be better for hiking through rougher terrain at speed.
Openings
You'll want to be able to get your rain pants on quickly and easily at the first signs of rain. Large hiking boots, or people with large feet may struggle with rain pants that have smaller openings.
You don't really want to have to remove your footwear if possible, to get them on. Some rain pants offer full length zippers, which I quite like, others 1/4 length and still others may have hook and loop features at the lower leg openings.
Packability
Consider how small you can pack your rain pants and save valuable space by choosing ones that are highly compressible. Some may come with a stuff sack, or pack into a pocket. Others can simply roll up and squash in to your backpack.
Other Features
While not essential, you may like to have some other features to choose from, such as pockets, vents or pocket openings allowing you to access your regular pockets.
Some rain pants have cuffs that can fix to your boots like gaiters, keeping out snow or debris and water. If you have zippered rain pants, you should check for waterproofing and storm flaps to ensure that they do not leak.
Conclusion
When you're choosing the best ultra-light rain pants for men, the most important aspect is to correctly match your priorities with the advantages of specific rain pants.
Are you likely to face extreme weather on a regular basis? Do you struggle with getting your footwear through regular sized openings? Do you need athletic performing rain pants? Or is light weight and packable your most important priority?
Choose your ultra-light rain pants accordingly, no one product is perfect for all uses and there are always trade-offs to be made. What looks like a bargain can cost you more if you have to buy twice, but you don't want to pay over the odds for something you rarely use.
Choose an affordable, lightweight packable model that is appropriate for your circumstances, and that will provide you with the level of comfort and features you need, while keeping you dry out on the trail.