Today I wanted to take a look at a gear item I haven't touched on across the site too much as yet. That is hiking gloves and specifically, what are the best hiking gloves to use.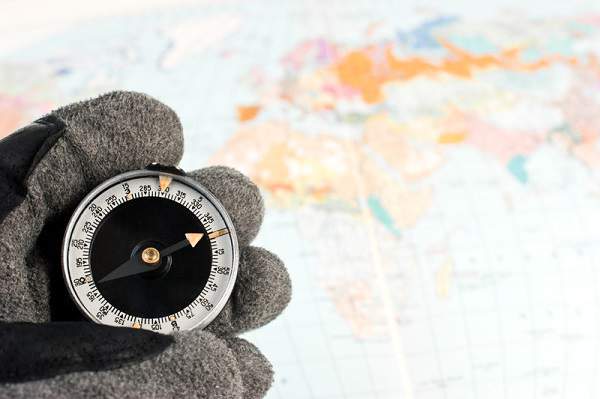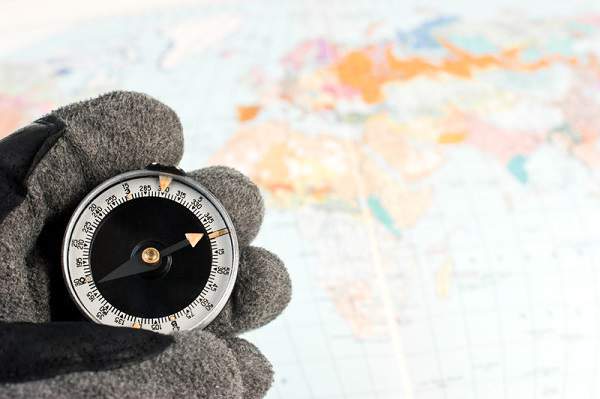 Gloves are of course a really important part of your complete day hiking kit . Your hands are one of your extremities that are usually exposed to the outer environment so they are on the front line, so to speak, in terms of dealing with the elements.
There are many different types of hiking gloves available and there is the usual mind boggling brand choice available. They run from everything from a light polyester type glove, to a full on ski glove. Different gloves will have different functionality of course. You can get gloves that have specific features like waterproofing, or touchscreen friendly, (so you can still operate a smartphone screen with them on).
What to Consider when Buying Hiking Gloves
First off, as with any piece of hiking kit, you need to think about where you will be predominantly doing your hiking. That will determine what specific functionality you need to consider. If you hike only in sunny climes all year round, gloves may not actually be high on your requirements list 🙂
Hand Size
Kind of stating the obvious but if you don't know what size of gloves you normally wear, you need to find out. This can be easily done in any store and standard gloves will give you a reasonable idea of what size you should run with. From my experience, the sizes usually run in Small, Medium, Large, Extra Large, that kind of thing. So it isn't complicated or at least it shouldn't be in most cases.
Waterproof
So, do you need your gloves to be waterproof (or as waterproof as anything can realistically be)? There are different options available and some gloves do perform better than others in this area. However, keep in mind that I don't really believe that any hiking gear clothes item is really 100% waterproof.
Breathability
I've written about breathability on the site before. You're on the move on the trail so you will sweat and so, in tandem with being waterproof to some degree, your gloves having some wicking capability is a good idea. Air needs to be able to circulate in some form in most cases.
Insulation
How much insulation do you need? If your gloves get wet will they still retain warmth? Things worth considering. Normally, synthetic material is better at retaining heat when wet than natural fibers like wool. My main hiking gloves, which are predominantly polyester and neoprene, are fine when wet, as long as I am moving they keep heat great.
Warmth
Tying in with Insulation, will you be hiking in the depths of winter in really cold conditions? How much mobility are you happy to sacrifice to get more warmth? Logically ski gloves will be warmer than a driving glove style fit. I accommodate this with multiple pairs of gloves which I explain further below.
Mobility
Would you like good mobility e.g. still able to work a compass while you have them on? Some gloves will be more restrictive than others so if this is a big one for you, take it into account. For me, I can usually take a glove off if I need to for some dexterity but my main gloves aren't actually bad for general hand movement, using a compass and so on.
What I Recommend
As always, I want to try and give you my approach to what I do for this. In my opinion, there is a catch all approach which I use that I think should cover most average day hikers year round in most hiking conditions (I always say that as if you're going into extreme conditions e.g. sub-zero temperatures in the Arctic, you will need specialist kit but that doesn't fall into my category definition of average day hiking).
I have 3 pairs of hiking gloves and I use a combination of them all year round.
My Primary Pair of Hiking Gloves – Year Round Use
The first pair is my main stay pair of gloves. They are a pair of Sealskinz Waterproof Gloves, pictured below. I use these on their own most of the year round and they work OK.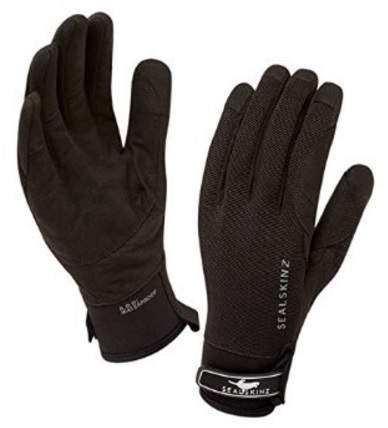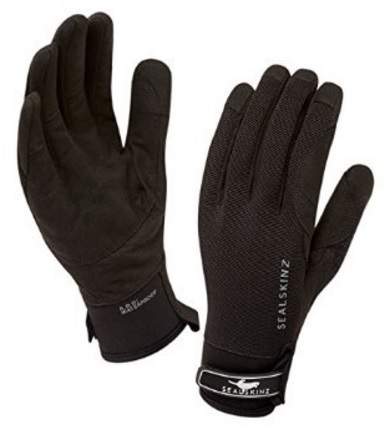 The advertising says they are totally waterproof but I don't really buy that, my hands do get wet but that could be from internal sweating I guess. However, for me, even when wet they retain heat very well so I have no issues with them. They also have a touchscreen feature on the finger and thumb which works pretty good. Handy for operating my navigation App on my phone.
I have a hiking friend, mainly a cyclist, who also has these gloves and he isn't a huge fan but that's due more to high winds cutting into his hands through wet gloves when cycling in rain (He needs wind proofing capability on a different level). I noticed that some comments on Amazon said a similar thing, again they were cyclists though. As a hiker, I've been reasonably pleased with them since I got them last Summer so I'm good to go.
My Secondary Pair of Hiking Gloves – Spring to Autumn Use
I have a pair of Berghaus PowerStretch Gloves, pictured below. I got these a couple of years back and I like them a lot. They double up as a glove liner so you can use them in tandem with another pair of hefty gloves if you needed to e.g. thick mittens, gloves. That would only be required in seriously cold conditions though, not average day hiking.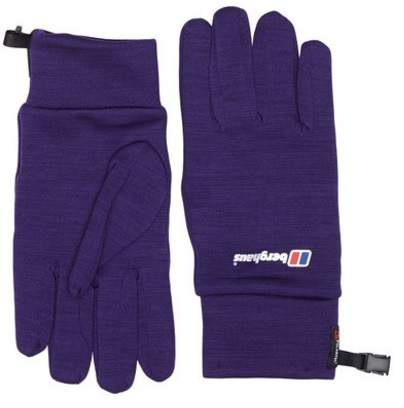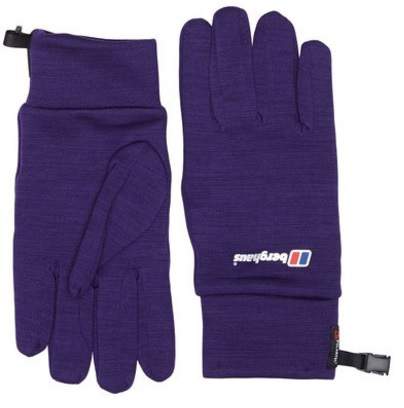 I normally use this pair as my spare pair from mid Spring to Mid Autumn (when it's not really cold). They also come in handy if someone is short a pair of gloves or, heaven forbid, I lost my primary pair, the Sealskinz, above.
My Secondary Pair of Hiking Gloves – Winter Use
My third pair is basically a pair of ski gloves. In really cold temperatures, I work with the Primary Pair and my Secondary Pair for winter use. Pictured below are the 'eWing Mens Winter Snow, Ski, Snowboard, Cold Weather Gloves'. Unlike the last two pairs, these are not my actual ski gloves. They are however an economical buy at $10.99 with decent reviews which matches what I do use … I will explain that in more detail in the Price section below.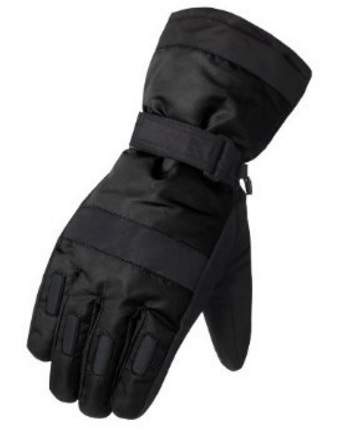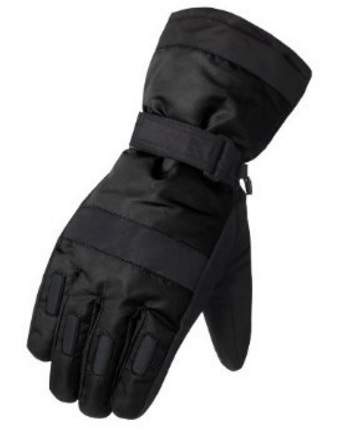 If it's too cold and I need to heat my hands fast, I pop my ski gloves on. I generally find that after a while, when my hands have warmed up, I can comfortably return to my Sealskinz, my hands normally actually get too hot in the ski gloves if I wear them too long while hiking.
I've never had the need to double up gloves with the ski gloves, they are more than warm enough on their own. However, if that was required, the Berghaus PowerStretch gloves would be the best accompanying partner to the ski gloves. So, overall, I think I have every base pretty much covered.
Price
You can spend a wide variation on gloves. From 20 dollars for a reasonable Spring pair to 80 dollars for a very hi-tech waterproof, make your breakfast in the morning for you, pair 🙂 . I say that only half-jokingly as, from my personal experience, gloves to some degree are one of those areas that you can get away with using a non-fancy pants brand name.
How so? Well, when it comes to my regular main pair of gloves, the Sealskinz, I wouldn't compromise. I wanted to spend a bit of extra money to get a good pair as they are my main pair of gloves used year round when I am out hiking. The Berghaus ones aren't overly expensive but a non-brand pair would probably work fine for what they are used for.
As alluded too in the winter glove section above, the pair I use that are not anything special are my ski gloves. I bought them in a standard department store before going skiing two years back. As with the eWing sample I have given above, They were cheap as chips but man do they work a treat! Ski Gloves can of course be really expensive but I'm not really a skier. A basic pair of ski gloves is more than enough for my basic hiking needs in the mountains in winter. They keep my hands nice and toasty in very cold conditions.
Conclusion
So, I hope you found this post on what are the best hiking gloves informative and useful. As you can see, there isn't one absolute or 'best' pair I use although I do have my main pair in the Sealskinz. To summarize, I always have two pairs of gloves in my day pack. In winter, I have my Sealskinz and my ski gloves and I alternate between the two utilizing the ski gloves when serious warmth is needed. Most days, even in winter, the Sealskinz are enough. The rest of the year, my Sealskinz are my main stay gloves and I have my old Berghaus Powerstretch gloves mainly as a back-up pair.
This approach works well for me so if you're thinking about getting hiking gloves, I recommend you give it a try. As a final note, hiking gloves are one of the things I always have a spare pair off in my day pack, I've been caught out once or twice and was very grateful to have a spare set in my pack. If you've any questions or are unsure about anything I list here, please feel free to leave a comment or drop me a note. I'll be happy to help if I can.
In my next post, I think I'll do a review of my Sealskinz as they are my mainstay pair of hiking gloves and I have been pleased with them to date.
As always, please like and share … you know you want to 🙂