So, the never-ending quest for the perfect hiking boots! Is there such a thing? Can there really be such a thing as the ideal hiking boot? Perfect is a big word so probably not, but you can get darn close to it though.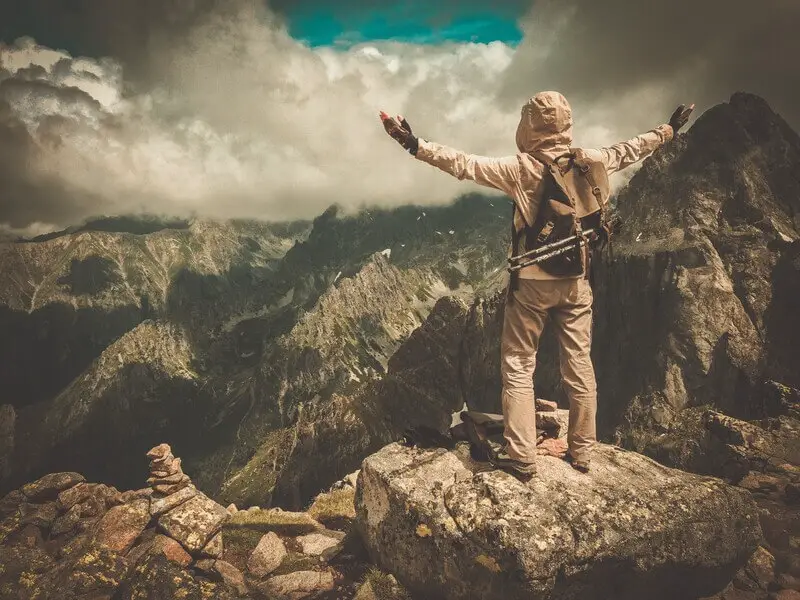 In this post, we list out the best men's hiking boots of 2020. This should give you plenty of options if you're in the market for a new pair of boots for the trail. We keep the descriptions brief enough to try and give a quick but concise overview, along with the main pros, cons, and best uses.
Of course, what makes the perfect boot for you will depend on your personal preferences. So before you go over our list, take some time to identify what you are looking for in a hiking boot.
Whether you want waterproof boots, ankle support, breathable mesh, or any number of features, our list has you covered.
These boots are listed in our order of preference, with some singled out as the number one option in a particular area or category, e.g., best value hiking boots. These are our top-rated hiking boots, so read on to find out more.
Note that prices are not listed in definitive detail here. Any prices referenced are guide retail prices and are meant only to serve as a guide, as prices chop and change all the time. To see live prices, click on the links and you will be taken to the live price for each pair of boots.
If you don't have time to go through the full list, our number one hiking boots for men are the Salomon Quest 4D 3 GTX hiking boots, a great all rounder that will perform well across the year on trails.
OK, so with that all done and dusted, let's roll on and look at the top men's hiking boots for 2020! We are confident that you will find something on this list that you will enjoy and get a lot of great use from.
1. Salomon Quest 4D 3 GTX
Pros:
Fit feels well from day one and you shouldn't experience a long break in period
Design provides significant stability and support
Perfect for all types of hiking all year round
Waterproof and breathable capability works well
Cons:
Possibly too much boot for the light trail hiker
Salomon Quest 4D 3 GTX Hiking Boots for Men Features Summary:
A high-cut boot designed and built for backpacking
Gore-Tex membrane provides waterproof, breathable protection
Nubuck leather and textile upper is breathable and lightweight
4D Advanced Chassis provides stability and support
OrthoLite sock liner and molded midsole for cushioning and stability
Improved outsole on the Quest 4D 3 GTX with a new lug design for better grip on all surfaces
Lace locker keeps laces in place for a secure fit
Protective rubber toe cap
Best Uses: Day hiking, backpacking, tough terrain hiking
The Salomon Quest 4D 3 GTX Hiking Boots are a top seller on Amazon and with many other retailers.
Whether you want to head out for a week of backpacking, or you are more interested in a day hike into the hills, these boots will do the job comfortably. They are a versatile and stable pair of boots that will serve you well.
The Quest 4D 3 GTX boots are also a tough pair of hiking boots. They're probably more suited to tough hiking and backpacking than they are for casual day hiking, but they have a lot to offer and will work just fine for a day hike out on the trail.
Waterproof and very breathable, their high-quality leather and Gore-Tex construction mean that you actually get a very tough boot without it being overly heavy.
This is of course by design, but in relative terms of day hiking, they are still a heavier option.
Ideal for backpacking and hard hiking, the Quest 4D GTX 3 hiking boots for men are a more technical hiking boot option that should see you well covered for most, if not all, of your hiking needs all year around.
These boots have had several iterations incorporating lots of user feedback, so they offer a tried and tested design and construction over time. This is part of the reason that they have a lot of rave reviews from happy avid hikers.
So if you are looking for a great pair of hiking boots and want to make a good investment, consider the Quest 4Ds. They're a quality product.
I know several happy users personally and they all highly recommend the Salomon Quest 4D 3 boots. Definitely worth a closer look for sure!
2. Scarpa Zodiac Plus GTX
Pros:
Very strong and sturdy construction
Excellent design means they handle varying terrain very well
Perform well in more challenging conditions
Suitable for off trail hiking
Excellent grip
Cons:
Lacing system could work better
Scarpa Zodiac Plus GTX Hiking Boots for Men Features Summary:
GORE-TEX® Performance Comfort lining
PU + 3D EVA-MP midsole
1.8mm Suede Perwanger upper
Vibram® Drumlin / Mont outsole
Waterproof and breathable
Rubber rand for performance and protection
Asymmetric lace system provides a precise fit
Best Uses: All types of day hiking, scrambling, general and day-to-day outdoor use
The Scarpa Zodiac Plus GTX boots are an excellent offering from Scarpa. They come with all the standard things a hiker needs from a good pair of hiking boots, but they also offer a bunch more.
They have a modern and technical design utilizing tried and tested materials, such as perwanger leather and Gore-Tex, in the construction.
The Vibram sole offers excellent grip on varying terrain, so these boots are good for most types of hiking in most conditions, including lighter snow.
They are comfortable and snug in their fitting, with a lacing system to secure them around your feet.
You are get a lot of bang for your buck with the Zodiac Plus boots. These boots will stand up well over time and tick a wide variety of boxes in terms of functionality for most hikers.
3. Timberland White Ledge Mid
Pros:
A best selling boot with a lot of happy customers
Excellent for trail and light hiking
Excellent value at a very affordable price
Seam sealed waterproof protection
Feel and look great for casual use
Cons:
Great as a light hiking boot, but not sturdy enough for the more adventurous hiker e.g. off trail hiking, scrambling, etc.
Timberland White Ledge Hiking Boots for Men Features Summary:
Premium full grain leather construction
Seam sealed for guaranteed waterproof performance
Rubber sole
Shaft measures approximately 4.75″ from arch
Rustproof speed lace hardware with hooks at the top for secure lacing
Best Uses: Day hiking, light trail hiking, casual use
The Timberland White Ledge Hiking boots for men, are a great pair of all round hiking boots that offer excellent value for money.
Not only are they wallet friendly, they are also stylish and functional as a pair of hiking boots. Perfect for trail and light hiking, the White ledge boots offer a great all round performance.
The boots are seem sealed so the waterproof full grain leather uppers will work well under tougher trail conditions.
There is plenty of cushioning available with the collar generously padded offering plenty of comfort as you hike on the trail.The cushioned EVA footbed and dual density EVA midsole also offer excellent stability as you hike.
The rubber outsole has functional lugs that work well providing good traction and grip on the ground underfoot. For a basic pair of hiking boots at a very friendly price, these are a great choice.
If you do more adventurous off trail hiking, then this is probably not the best option. Overall though, the Timberland White Ledge are a very functional and good value for money pair of hiking boots.
4. HOKA ONE ONE Sky Kaha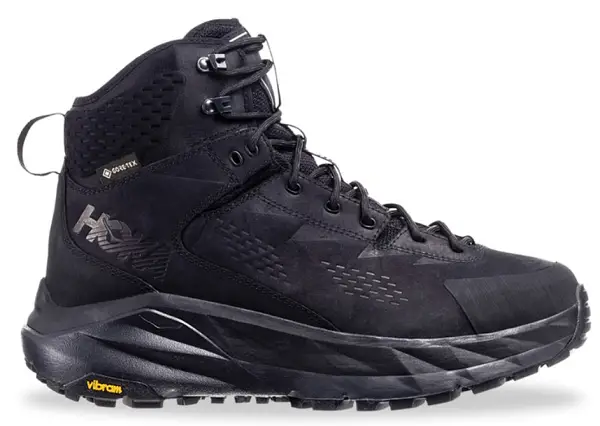 Pros:
Really comfortable hiking boots
Excellent user reviews
Waterproof and durable
Full grain leather construction
Vibram outsole provides excellent traction on any trail
A top end year round pair of hiking boots
Cons:
The outsole is thick and chunky, which may take a bit of getting used to
There are more versatile hiking boot options that may perform better over varied terrain
HOKA ONE ONE Sky Kaha Hiking Boots Features Summary:
GORE-TEX® waterproof bootie keeps your feet comfortable and dry
Features a full-grain waterproof leather upper for durability and support
Features an EVA top layer for plush comfort next to the foot
Bottom layer of rubberized foam offers durable cushioning and a supportive base
Features a Vibram® Megagrip hi-traction outsole with 5mm lugs
Includes multidirectional lugs for supreme grip on varied terrain
Best Uses: Hiking, backpacking, day-to-day use.
The first major thing of note for the HOKA ONE ONE Sky Kaha hiking boots, is the comfort they provide. They boast functional padding, not too much and not too little, which provides excellent stability while not compromising on comfort.
The structural design of the boots is both functional and great to look at. They are modern in design while not compromising on the key things you need from your hiking boots, like stability, comfort and excellent traction.
They come in the usual standard sizes and the fit seems to be largely true to size for most folks. There is a generous toe box and the 5mm lugs on the outsole are very functional providing great grip on the trail.
Some users reported that the main downside with these boots is the lacing with reports of it being both too light and too tight, you just can't win sometimes :-), but this largely seems down to personal taste more than anything else.
They are available in several color options, all of which work well e.g. black olive / green, black / phantom (Pictured) and charcoal grey / blue.
The waterproof capability in the Sky Kaha boots also works well via the gore-tex booties. These also provide good breathability for hiking on hotter days. Your feet can breathe easily and remain dry in a rain shower. They weigh in at approximately 2lb. 4.4 oz. for a pair, a reasonable weight for a pair of men's hiking boots.
These boots are great for hikers who like to stick to trails all year round. While they are excellent year round hiking boots, they will also hold their own if you enjoy heading out backpacking.
The HOKA ONE ONE Sky Kaha Hiking Boots for men are a classy pair of hiking boots that have many excellent user reviews left by many happy customers!
They do all you need them to do while providing the comfort you need at the same time. All round, they are a very functional and comfortable pair of hiking boots.
5. Salomon X Ultra Mid 3 GTX
Pros:
Affordable entry level hiking boots that won't break the bank
Gore-Tex lining in the construction offers decent 3-season waterproof hiking protection
A good all-around performer that offers plenty of comfort for the trail
Cons:
For a boot of this design and construction, it should perform better in terms of breathability in hotter conditions
Traction and grip on certain kinds of rock, especially when the rock is wet, is not the best
Salomon X Ultra Mid 3 GTX Hiking Boots for Men Features Summary:
Mid-high hiking boot for rugged trails and backpacking trips
Gore-Tex Performance Comfort insert is waterproof and breathable
SensiFit upper cradles foot for added comfort on the trail
Ortholite footbed cushions foot when hiking over rocky terrain
Advanced Chassis midsole disperses the impact of each step
Protective rubber toe cap and mud guard protects the boot from wear
ContaGrip sole ensures reliable traction on variable surfaces
Injected EVA, shank
Upper material: Textile
Best Uses: Day hiking, trail hiking, light backpacking, general outdoor use, day-to-day use
Another great pair of hiking boots from Salomon on our top hiking boots for men list, the Salomon X Ultra mid hiking boots, are functional and lightweight hiking boots.
As with the Quest 4D 3 GTX, they have a very technical look about them, being both modern and stylish.
The sole of the boots is made from rubber and features a Contragrip traction outsole which performs well on most types of terrain. Although some users commented that the traction wasn't the best, the boots could be used while hiking over smooth wet rock.
They're a light pair of boots in comparison to some of their peers, especially their cousin, the Quest 4D 3 GTX mid hiking boots. They provide a very comfortable fit with good cushioning and should not require a significant break-in period.
The X Ultra Mid GTX boots are reasonably water resistant via their Gore-Tex lining and should do well for trail hiking most of the year – certainly for 3 seasons of the year.
There were some comments from users about the breathability not being as good as it could be in hotter conditions, but aside from that and the traction comment referenced above, they have a generally positive run of feedback across the board.
They're a good entry level pair of hiking boots that are versatile enough to handle various kinds of hiking and shorter backpacking trips.
6. Timberland Chocorua Trail Mid GTX
Pros:
Fine all-around hiking boots with wide feet options available
The boots are light enough in weight while still offering good support
Waterproof and breathable capabilities should be fine for 3 season hiking
Very accessible price coming in at around $100
Cons:
Eyelets and laces can loosen easily when tied
Soles are thin so not ideal for backpacking or tough terrain hiking
Timberland Chocorua Hiking Boots for Men Features Summary:
Waterproof Leather
Rubber sole
Shaft measures approximately 3.5″ from arch
Upper made with premium waterproof leather from an LWG Silver-rated tannery
TimberDry™ eco-conscious waterproof membrane
Rustproof, speed lace hardware with lace hooks at the top
Removable contoured sock liner
Solid rubber outsole with lugs for superior traction and shock absorption
Best Uses: Light to medium year-round trail hiking, general outdoor use, camping, day-to-day use
The Timberland Chocorua hiking boots are a stylish pair of high-quality leather hiking boots that offer decent comfort and performance, without breaking the bank. If you like the looks of classic, leather boots, then these could be a great choice for you.
Last time we checked, the Chocorua hiking boots were actually in THE top sellers on Amazon, which is quite a claim to fame. That makes sense given the nature of these boots as excellent hiking boots for general outdoor use and day hikes.
The Chocorua boots are another good option for the light to the medium hiker. They'll perform great on trails with a bit of off trail action, but I wouldn't push them too hard beyond that.
If you're a newbie to hiking or recently started and you are considering getting a better pair of boots to see you through plenty of day hikes without breaking the bank, these could be the ticket.
They utilize the leather upper and Gore-Tex lining combination, so they offer a reasonable level of protection from the rain and moisture. They're a very accessible option, in terms of price, for day hiking, general outdoor use (fishing, camping, etc.) and normal day-to-day use.
We recommend these boots if your needs aren't overly extensive and you're looking for great value for your money.
7. Lowa Renegade GTX Mid
Pros:
Nubuck leather and waterproof Gore-Tex construction enable year-around hiking
Vibram outsole provides good grip and traction
Comfortable fit with decent ankle and foot support
Cons:
Some reports that laces can come loose quite easily
Lowa Renegade GTX Mid Hiking Boots for Men Features Summary:
Upper material: Nubuck leather
Construction slip lasted – Injected PU midsole
Lining: GORE-TEX®
Lacing hardware open and closed hooks
Additional hardware locking ankle hook
Monowrap Frame® MONOWRAP® Support Frame
Insole atc footbed
Midsole double injection DuraPU™
Sole VIBRAM® EVO
Stabilizer Hard
Weight Per Pair (lb) 2.44 (1.1kg)
Best Uses: Hiking, light backpacking general outdoor use, day-to-day use
The Lowa Renegade GTX Mid are a global star in the world of hiking boots. They have a lot of very happy users across the board over a long chunk of time, so they're a tried and trusted model that scores consistently well in terms of performance, comfort, and functionality.
They're an excellent choice if you are looking for a more functional year-round pair of hiking boots. More 3-season than 4-season, they still offer exceptional functionality and comfort year round.
The construction is waterproof and breathable Gore-Tex, which is, of course, an industry standard when it comes to waterproof and breathable hiking boots. The construction of the Renegade boots boasts of high levels of performance as well.
The soles are Vibram so again, a popular industry standard that performs very well. Perfect for the light to medium hiker most of the year around.
The Lowa Renegade Mid GTX Hiking Boots retail at the higher end of the price range for hiking boots, but they're an excellent pair of all around hiking boots.
So if you're looking to invest into a solid pair of all-around boots, then the Lowa Renegade GTX Mid boots are a great choice.
8. Meindl Vakuum GTX
Pros:
Excellent boots that can handle all types of terrain the trail can throw at you, as well as off-trail hiking
Vibram soles work really well providing excellent traction
Waterproof and breathable utilizing a Gore-Tex lining
Very comfortable hiking boots all around
Cons:
Not ideal for hiking in hot and humid weather
Expect a long break-in period as they mold to your feet
Meindl Vakuum GTX Hiking Boots for Men Features Summary:
Outer material: Leather upper with Gore-Tex lining
Vibram outsole
Lace up closure
Block heel
Fit type: Regular size
Shoe width: Normal
Best Uses: All types of hiking, backpacking, general outdoor use
These are the editor's current favorite boots at the moment. Meindl definitely seems to be more well-known and common in Europe than in the US, but they have a lot of quality hiking boots in their product offerings.
The Meindl Vakuum hiking boots are a sturdy, tough and very durable pair of hiking boots. They feature Vibram outsoles which perform excellently on all types of terrain.
I've been using them now for about a year, and they have held up very well in everything from snow to bog and everything in between.
The only downside is that they are a bit too much in very warm conditions. They're constructed using Nubuck leather in the upper and Gore-Tex lining for protection from the elements. They have a very traditional hiking boots look about them; one I personally like a lot.
Although technically they are a three season boot, I think they are a really a four season boot (with the exception of when it's very hot), and they perform well in light to medium snow when it's cold and wet underfoot.
So while they are great for the cold, you might find them a bit too insulated when it is very hot outside.
They definitely sit at the higher end of the price scale, but you get a lot of bang for your buck! The boots are also resolable, and so you can expect to get a very long life from them.
9. KEEN Targhee II Mid
Pros:
Good 3 season boots with a minimal break-in period
Multi-directional lugs provide good traction and grip over varying terrain
Rubber toe protectors offer significant toe protection
Waterproof and breathable boots that will let your feet breathe
Cons:
Fabric lace eyelets are less than ideal. If they break, the boots are done
KEEN Targhee II Mid Hiking Boots for Men Features Summary:
KEEN.DRY® waterproof breathable membrane
4mm multi-directional lugs
Contoured heel lock
Dual-density compression-molded EVA midsole
Hydrophobic mesh lining
Non-marking rubber outsole
Removable metatomical dual density EVA footbed
Torsion stability ESS shank
Waterproof nubuck leather upper
Best Uses: Day hiking, trail hiking, general and day-to-day outdoor use
The Keen Targhee II Hiking Boots are another top seller on Amazon and have been around for a few years at this stage. In that time, they have made many customers happy with their reliable and comfortable performance.
They're a popular boot in the mid-range category. They are probably best suited for a lighter day hiker who stays on trails. They still have a lot of very good user experience reported across the board on their performance.
The Targhee II are waterproof and breathable, so they're perfect most of the year around – definitely 3-season, maybe 4-season depending on where you go hiking.
The level of waterproofness is not on the same level as say the Asolo Power Matic boots that we will take a look at below, but they will keep you dry under reasonable tests, e.g. puddles, moisture on grass, lighter rain showers, etc. So before you pick these up, make sure you understand the type of terrain you are working with.
Their look is a kind of hybrid, an autumnal feel but definitely taints of the technical design there too. It works though, they're about middle of the range in terms of price, so you could do a lot worse for a light hiker.
10. Vasque Breeze III GTX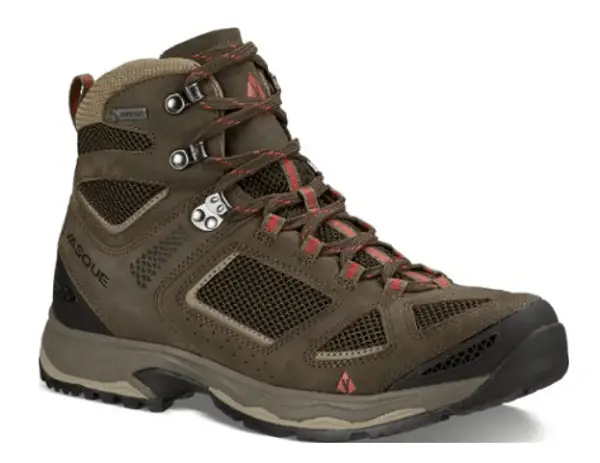 Pros:
Lightweight and exceptionally breathable
Another good day hiking boot, perfect for trails and valley hiking
Perfect for all types of hiking across the year
Waterproof and breathable capability works well
Cons:
Not as durable as other options in the same class
Waterproof capabilities aren't the best in its class either
Vasque Breeze III GTX Hiking Boots for Men Features Summary:
High-abrasion leather uppers with mesh panels are supportive, breathable and strong
GORE-TEX® Extended Comfort waterproof breathable membranes keep feet dry, yet breathe for comfort
Dual-density midsoles with EVA cushion pods offer all-day comfort and support
Heel and toe ventilation ports increase airflow along the footbeds
Thermoplastic polyurethane Exo-plates add lateral stability and structure
Vibram® Contact Grip outsoles with Megagrip rubber compound are stickier than ever, enhancing your control in all weather and trail conditions
Best Uses: Light to medium year around day hiking, light backpacking, camping, general outdoor use, day-to-day use
This is a pair of boots with a very 'pleasing to the eye' design. The Vasque Breeze III GTX hiking boots are the latest iteration of a very successful and popular hiking boot. They are another excellent choice for trail and lighter day hiking.
In a similar vein as the timberland Chochoruas and the Keen Targhee boots listed above, the Vasque Breeze are a light hiker option. They're a lightweight mid boot and are designed for light hiking over relatively easy terrain.
They are waterproof hiking boots, but I wouldn't expect too much from them in that regard; some light showers you'll be fine, walking across a river at foot level, they won't cut it.
However, for on-trail light hiking at a reasonable price, you're in the ballpark with the Vasque Breeze III GTX Hiking Boots. You'll get a comfortable, light hiking boot that will do great for light weekend day hiking.
So if you have basic need and just want a lightweight, comfortable boot, then the Vasque Breeze will suit you just fine.
11. Hoka One One Tor Tech Mid
Pros:
Very comfortable with a lot of cushioning
Minimal break-in required, so they should be good to go out of the box
One of the lightest pair of boots on offer, but with a tough outsole
Thick outsole in conjunction with the cushioning provides good shock absorption from the trail
Cons:
A light trail hiking boot so not as versatile as other options
Hoka One One Tor Tech Mid Hiking Boots for Men Features Summary:
eVent waterproof membrane
Durable mesh and synthetic upper
Gusseted tongue
Lace-up closure
Heel pull loop
Padded tongue and collar.
Best Uses: Day hiking, trail hiking, day-to-day use
The Hoka One One Tor Tech Mid hiking boots are an interesting pair of boots as they are designed with good cushioning and supporting trekking uppers. This is a good combination which of course offers the wearer a lot of comfort.
These boots are lightweight and enable smooth movement at any pace, across most types of terrain. The thick outsoles also deliver fantastic shock absorption too, which helps keep your feet from getting tired and stressed on tough ground.
They are water resistant, but it seems the capability in this area is limited, as many users commented that they could perform better in that. Another area that came up a few times for critique was in terms of traction over certain types of terrain, especially when wet.
While maybe not the best all-around performer, if you need lots of comfort and cushioning for day hiking or light trail hiking in fair conditions, they could still do a very decent job for you.
Also, the design was inspired by trail running shoes, so these boots are great if you like to hike fast, or maybe even break into a run every now and then.
12. Asolo Power Matic 200 GV
Pros:
Sturdy and tough construction means you have boots for all seasons
Waterproof capability works exceptionally well
Constructed using high-quality leather
Cons:
Much heavier than average hiking boots
Not as breathable as they could be, so not ideal for hiking in hotter conditions
Asolo Powermatic 200 GV Hiking Boots for Men Features Summary:
Asolo/Vibram® highly technical sole is comprised of three different PU densities that are co-injected and molded together
The high-density front portion secures and guarantees maximum stability
The medium-density heel reduces shock and fatigue during take-off and landing
Further shock absorption is obtained through the four strategically placed low-density cylinders that are linked from the outsole to the midsole.
One-piece water-resistant 2.8 mm full grain leather upper
Gore-Tex® lining, waterproof boot, and breathable
Micro Pulley lacing system
Gripped with a dual-density molded rubber outsole produced in conjunction with Vibram®
The outsole has self-cleaning lugs designed for optimum performance on varying types of terrain
Best Uses: Backpacking, hiking on rough terrain on and off the trail
What can you say about the Asolo Power Matic 200 GV boots!? A whole lot as it turns out! They are a power-packed pair of backpacking boots that can take on the toughest hiking you can throw at them.
These are a tough pair of hiking boots from Asolo. What is really sweet about them is that their construction includes tough, one-piece leather, which is always stronger than when sewing separate parts together.
Even though they are leather, they have a very technical no-nonsense look and style to them. These are ideal for hard backpacking trips or hiking over tough and rough terrain like snow, mud and off trail legs.
They're waterproof and, again, as we're looking at a leather construction, a significant break in period will be needed. These boots will be heavier than a standard pair of hiking boots, but that's why they'll last the course. These are great if one of your priorities is an investment that will last you a long while.
You're looking at the higher end of the price range in terms of retail prices for the Asolo Power Matic 200 GV boots. It could seem like a lot, but these boots will last for a very long time so the investment will prove to be worth it.
13. Scarpa Terra GTX
Pros:
Excellent nubuck leather and Gore-Tex construction
Waterproof and breathable hiking boots
Vibram soles offer good grip on most types of terrain
Cons:
Break in might take a while
Not the best choice for off-trail hiking
Scarpe Terra GTX Hiking Boots for Men Features Summary:
Upper: Oiled full grain leather provides good support and protection
Vibram Energy Sole unit provides excellent grip
Lining: Gore-Tex performance comfort footwear
Breathable waterproof lining ensures the wet stays out
Best Uses: Day hiking, trail hiking, general outdoor use
A classic look and style all over, the Scarpa Terra GTX hiking boots are ideal for trail hiking and low to mid-level difficulty hiking.
I have a friend who bought these about a year ago and absolutely adores them. They are a good option for the medium hiker who enjoys day hiking on trails with a bit of off-trail thrown in every now and then.
Their Vibram soles provide good traction and the nubuck leather, and Gore-Tex lining combination ensures a good level of breathability and waterproof qualities.
I like the look and style of these boots; they have a traditional yet modern look that will look as well with a pair of jeans as they do on the trail.
They're not a very heavy pair of boots, but not the lightest either. They're designed more for trails and lower level hiking, i.e. in valleys, forests, etc. Overall, they are a very nice pair of functional hiking boots which really look the part.
The Scarpa Terra GTX boots are a good option for the medium day hiker that likes to push things a bit further every once in a while.
Some Quick Thoughts to Help You Choose
It's a hard one to call as even with the best user experience in the world, one man's meat can always be another man's poison… ergo, the boots that you think are the best thing since sliced bread might well be anathema to the next man.
Everyone has different and unique requirements as well as a preference for a different style or look. Some love that traditional Alpine leather look while others want a more technical and modern statement from their hiking boots.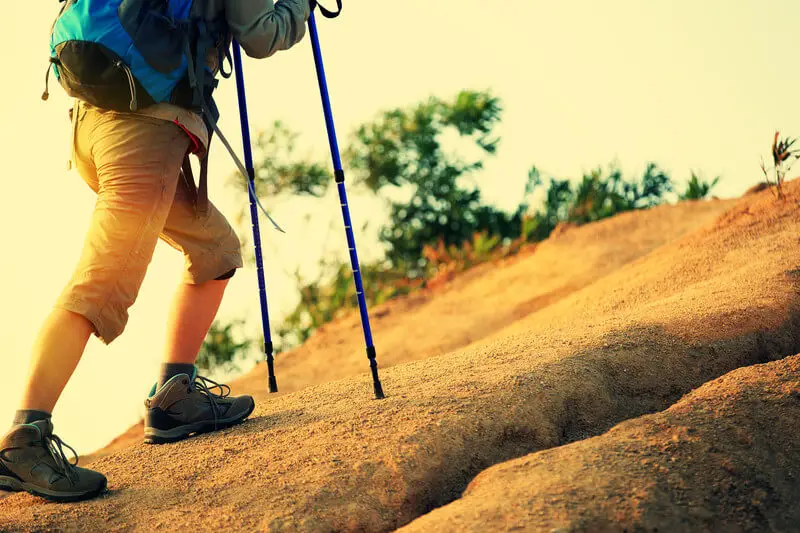 Of course, as always, the market caters to all tastes, shapes, and sizes, and you can, generally, learn a lot from people's functional user experience with hiking boots. The most important bottom line piece of advice to know before you buy is simply, know what you need your hiking boots for.
So before you decide what boots you really want and dive into our buyer's guide, take a while to evaluate your needs and consider what you actually need your boots for.
Maybe you are an avid outdoorsman and need some heavy duty boots, or maybe your light hikes put you more in need of some lightweight boots. Or maybe you would be more suited with something else, such as trail runners, trail shoes, or hiking sandals.
Suffice it to say, everything listed on this page are all top quality hiking boots with lots of good user experience to go along with them. However, some of them are better suited to particular hiking activities than others.
For example, a perfect day hiking boot may not cut the mustard on a backpacking trip. It can also be a common mistake for someone to get too much boot for their needs, so keep that in mind.
If you're totally new to buying hiking boots and would like some more information on how to choose, check out the hiking boot buying guide to give you an idea of what you should be thinking about before picking a pair of boots.
More Information
Still having trouble making your decision? Understandable, boots can be a big investment and you really want to make sure you get it right.
Here's a few more common questions and areas that many people get hung up on. There's so much to consider that we decided to include these sections as well.
Hiking Boots versus Hiking Shoes
When it comes time to choose the right hiking footwear, one of the biggest considerations to make is whether you prefer over the ankle boot footwear or low-top hiking shoes.
Both of these options are suitable for hiking and backpacking trips, but the biggest deciding factors come down to stability and ankle protection.
If you will be moving quickly through trails and you won't have a bag or pack to weigh you down, then you may want to opt for a lighter pair of low-top shoes.
Durability and Stability
Hiking boots are designed with stability and durability in mind – which is something you will find with each pair of hiking boots we have included on this list.
If you are looking to reduce calf fatigue, then you should find a stiff boot with a heal that will not drop on the ascent. Many of the lighter weight options for hiking boots are actually more reminiscent of a flexible hiking shoe.
Weight
With heavier packs and longer hikes, you should consider a hiking boot that provides more than adequate ankle support. The Lowa or Salomon botss above are both great picks if this is the kind of hiking you will be doing.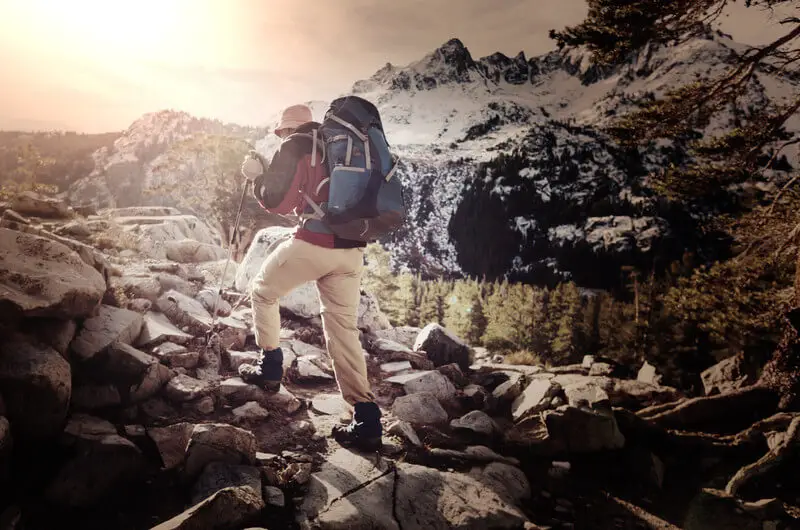 Also heavyweight boots offer the most support and are ideal for when you are faced with more treacherous and rough terrain while you are out.
Unfortunately, trading off a heavier weight for more stability and durability is usually just a choice you will have to make. It is tough to make a boot more durable without it becoming heavier as well, so it is definitely an important consideration when buying a new pair of boots.
Waterproofing
The majority of boots are waterproof, so what you are really looking for in this category is to see if Gore-Tex technology is being used and if there are breathable booties inserted into the outer fabric of the boots.
Water repellent coating may also be added to the boot. When water hits the coating, it will bead up and fall from the hiking boots keeping them nice and dry for your hike.
Breathability
While Gore-Tex definitely helps with waterproofing, it may prove to be an inconvenience when it comes to breathability.
Waterproof items are known to run warmer during the hotter months and days, so you want to make sure to find a pair of hiking boots that are well-ventilated to accommodate the warmer weather.
Lacing
A good lacing system is also important to ensure a good and comfortable fit. It is also a hiking boot feature that many people tend to overlook. Who wants to be tackling the trails only to have to stop every few minutes to readjust their footwear?
Higher end hiking boot models will more than likely have a higher-quality lacing system that causes less fuss for the hiker.
What is a Gusseted Tongue?
While you are surveying new boots to choose from, you may have come across some that have "gusseted" tongues. Many people don't know what these are, so here's a quick explanation.
A gusseted tongue is actually a very helpful feature in a hiking boot. It basically prevents dirt and water from getting into the boot, because the tongue is sewed to the insider of the boot itself.
Therefore, there isn't the gap in between the tongue and the boot, as you see with many shoes. A very useful feature to ensure that your feet remain comfortable and dry.
Conclusion
I hope you enjoyed this quick look at the best men's hiking boots of 2020 available on the market today. As you can see, there are a lot of great options to choose from.
If you're in the market for a new pair of hiking boots, you could do a lot worse than choosing one of the options listed here.
Always remember to know your requirements clearly before buying a new pair of boots. It is very possible to get too much boot or too little boot for your needs, and you can be easily disappointed.
I would suggest that it's usually better to have more boot as opposed to less, i.e. tougher boots than you need rather than boots that don't deliver enough.
If you found this post useful, please share it around your networks!