When you're out in the great outdoors, you're sure to come across some stunning scenery. Often the best sights can be quite a trek away and you'll want to take some decent photos, without weighing yourself down with a lot of extra gear.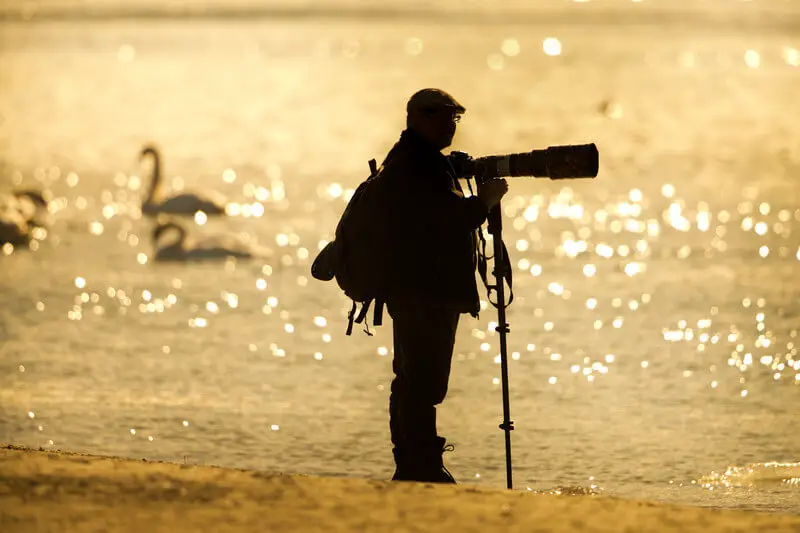 The best way to go about it is to combine trekking poles with a camera monopod, and pick up the best trekking pole monopod camera mount, for one of the ultimate multi-purpose hiking items. 
Before we begin, it's important we make a distinction in what we are reviewing here on this page. In most cases, if you came here looking for trekking poles with camera mounts, you already know the distinction, but just in case let's elaborate a bit.
If you are looking only for great hiking poles, then check out our best hiking poles article, as it focuses on the best poles for hiking purely in terms of hiking pole function.
In this article we are focusing in on trekking poles with monopod camera mount capability built into them.
We start by looking at the best trekking poles with camera mounts and then conclude with a more in depth look at the distinction, so if you'd like to learn more you can do so there. We hope that's clear 🙂
If you are in a rush and just want to know our top recommendation, we think the Canway trekking poles are the best with built in monopod capability.
So without further ado, here's a great selection of some of the best trekking poles that feature a camera mount.
1. Canway Carbon Fiber
Pros:
Extra lightweight at only 7 oz per pole
Lifetime guarantee
Telescoping poles that are rapidly and easily restored to full length
Comfortable EVA foam grip and adjustable wrist straps
Comes with an extensive accessory hit for a range of terrains and conditions
Cons:
Need to purchase a separate adapter for selfie angles
Not really suitable for large, heavy cameras with a large lense and incompatible with smartphone cameras
Canway Carbon fiber Trekking Poles Features Summary:
Built-in camera mount for any digital or standard cameras that have a bottom screw mounts
100% Carbon Fiber Material, shock-absorbent, noise- absorbable and ultralight
Poles feature telescoping "Quick Flip Lock". Retractable from 25" to 58". Perfect for men, women and even kids
Anti-slip grips adopts premium EVA Foam extensions
These poles are our favorite for plenty of good reasons. Firstly, they're strong and fantastically lightweight, coming in at only 7 oz per pole, thanks to their carbon fiber construction.
This also ensures a long product lifespan as they won't weather and their strength lends them extra durability when used over rocky or rough terrain.
Having lightweight poles reduces arm fatigue and makes for a more comfortable hike.
From a practical point of view, these poles also score highly as they feature a telescoping mechanism which reduces their length to approximately 23", making them easy to pack or store.
You can also take them with you in your carry-on luggage for hiking trips further afield. Thanks to their quick-lock mechanism, it is quick and easy to restore them to their full length and to get going.
Comfortwise, these trekking poles feature EVA foam grips which stop perspiration from building up between your hands and the pole, making for a safer, more secure grip even in hot weather.
The grips are comfortable and come with included adjustable wrist straps for a personalized fit.
What's more, they also come complete with a full set of accessories which includes a handy storage bag and several different feet and baskets so you can hike in safety no matter what the terrain.
The camera mount allows you to attach any bottom-screw standard or digital camera, note that this mount is not suitable for attaching smartphones.
While the mount seems secure, given the lightweight nature of the poles, their use with a large or heavy camera and lens is best avoided. If you're planning on using your camera for selfie shots in crowded places, you'll need to purchase a separate adaptor.
Lastly, these hiking poles come as a pair, complete with a lifetime guarantee. This demonstrates the manufacturer's confidence in the quality of their product.
All in all, a good all-rounder that is lightweight, has a camera mount that will suit most users and is comfortable and easy to use.
2. York Nordic Collapsible Poles with Camera Mount
Pros:
Strong and sturdy aircraft-grade aluminum construction
Great for wide of different heights
Telescopic folding for ease of use
Comes with storage bag, baskets and detachable feet
Complete with a five-year warranty
Cons:
Four sections fastened by three clips on each pole leaves more room for error in not tightening one quite enough
Need to purchase separate adapter for selfie angles
York Nordic Trekking Poles Features Summary:
Digital Camera Mount is compatible with standard Go Pro Models and all standard Digital Cameras
Built in camera mount for any digital or standard cameras that have a bottom screw mounts
High Quality Aircraft Grade 7075 Aluminum is more stable than carbon fiber
Expands from 22 1/4″ to 57″
Complete Set: Include 2 poles with grips and camera mount, detachable rubber feet with tungsten steel tip underneath. Screw on snow baskets
Best in Industry 5 year warranty
This pair of trekking poles are made from lightweight, durable aircraft-grade aluminum, for excellent strength and stability.
The camera mount is concealed under a screw-off cap and is compatible with any standard bottom mount camera, including GoPro models.
There is a separate adapter available for purchase if you wish to also use it for selfie style shots, note this mount cannot be used with a smartphone.
The pole grips are comfortable, although possibly not to everyone's taste as they are not ergonomically shaped. It can be a little fiddly to get them correctly set up.
These poles offer a huge variation in height, thanks to their four sections, fastened by three grips on each pole. However, you'll need to be sure that all six grips are fully tightened or else you risk them collapsing on you.
Once you've tightened everything satisfactorily, the poles are easy to collapse and extend thanks to their telescopic folding function.
Once compacted you should be able to fit them in your carry-on luggage and they're also good size to strap onto your backpack when they're not needed. All in all, these poles are a good quality item and once set up, they are easy to use.
They also come with a handy storage bag and accessories, including a pair of detachable feet to cover the tungsten steel tips and a pair of baskets.
Although the aluminum construction is slightly heavier than carbon fiber, these poles remain lightweight (8.6oz per pole) and feel very solid. This possibly inspires more confidence for use with a larger, heavier camera complete with lens.
If the unshaped handle and laborious set up don't bother you, then these could be a great choice to go for. They also come complete with a five-year warranty.
3. G2 Go2gether Trekking Poles with Camera Mount
Pros:
Features a camera mount and a smartphone holder
Sturdy and strong aircraft aluminum alloy construction
Telescopic collapse function for easy storage
Come as a pair with a storage bag, two pairs of baskets and two pairs of tip protectors
Manufacturer's one-year warranty
Cons:
Camera mount not secure enough for a large camera
Heavier than some other models at 9.7 oz per pole
G2 Go2gether Trekking Poles Features Summary:
Aerometal pipes,strong and light weight. Tungsten-cobalt-alloy tip
3 sections telescoping design with quick flip lock
Height adjustable from 25 inch to 53 inch
Camera Mount Built-in
All terrain design, with removable parts, rubber ferrules,mud/snow/sand baskets,suitable for Backpacking,Hiking,Touring, Snowshoeing
Comes with: Trekking Poles x2; Smart Phones Holder x1;Mud/Snow/Sand Baskets x2; Tip Protectors x2;Carry Bag x1; Product Directions x1
These trekking poles have the advantage of providing both a camera mount and a smartphone holder, making them suitable for a wider number of people.
Even if you're not an aspiring photographer, or you just don't want to take your expensive camera out on every hike, nearly everyone out in the great outdoors likes to capture some of the scenery to share with friends and family.
They can be used as a selfie stick for proof you did actually make it all the way to the summit 🙂 or for taking photos in busy, crowded hotspots. These trekking poles will also help to keep you balanced and secure on the trail.
Made from an aircraft aluminum alloy, these poles are sold in pairs and come complete with tungsten-cobalt alloy tips. Baskets, tip protectors and a carry bag are also included.
The poles themselves are very sturdy, weighing in around 9.7oz each, which is heavier than carbon fiber models, but not the heaviest by far. The foam padded grips are comfortable and include padded, auto-adjust straps for a comfortable day out on the trail.
These poles are easily stored thanks to their telescopic collapse function. They're also quickly and easily restored for use thanks to their quick-flip locks.
With a retracted length of approximately 25", they should fit in most carry-on luggage for trips away.
They also come complete with a one-year manufacturer's warranty, a storage bag and two pairs of baskets as well as two pairs of tip protectors, making them a great choice for a variety of terrain.
These G2 Go2gether trekking poles are solid and sturdy, they would make a great choice for anyone looking to use their smartphone or camera out and about.
Thanks to their telescopic folding they can easily be stored and would be a good choice for photos on a trip away or out on the trail. Just bear in mind that the camera mount is suited to lightweight, standard size cameras and smartphones with the holder.
If you have a large, heavy camera you might be better off looking for a different model.
4. G2 Go2gether Telescopic Hiking Stick with camera Mount
Pros:
Camera mount and smartphone holder
Sturdy aircraft aluminum alloy construction
Comfortable foam handle and padded wrist strap
Comes with built-in camera mount, smartphone holder, shooting support, basket, protective tip cover and storage bag
Manufacturer's one-year warranty
Cons:
Built-in rotating lock mechanism can be overtightened, possibly damaging the lock
Smartphone holder not compatible with some wider models
G2 Go2gether Hiking Stick Features Summary:
Aerometal pipes,strong and light weight. Tungsten-cobalt-alloy tip
4 sections telescoping design with rotating lock
Height adjustable from 25 inch to 53 inch
Camera Mount Built-in
All terrain design, with removable parts, rubber ferrules,mud/snow/sand baskets,suitable for Backpacking,Hiking,Touring, Snowshoeing
Comes with: Trekking Poles x1; Shooting Holder x1;Smart Phones Holder x1; Mud/Snow/Sand Baskets x1; Tip Protectors x1;Product Directions x1;Carry Bag x1
This hiking stick is sold individually, so if you're used to hiking with a pair of poles, check out some of our other suggestions.
For those of you who use a hiking staff, this sturdy pole could be a good choice if you're looking to combine hiking with outdoor photography.
The staff is made from an aircraft-grade aluminum alloy complete with high-abrasion resistant tungsten-cobalt tips for durability and strength.
This hiking staff comes complete with a camera mount as well as a smartphone holder. This means even if you don't have a digital camera you can still make use of it's monopod function for some excellent outdoor shots on the trail.
Note the smartphone holder is not compatible with all models, so check before you purchase. If you're into hunting, you could also use this staff as a gun rest.
Thanks to its telescopic folding mechanism, this staff is easy to store when not needed. It retracts to approximately 25", with a maximum height of 61", making it suitable for a wide range of people.
Just be careful when locking the pole at your desired height, as it is possible to overtighten the built-in rotating lock mechanism and permanently damage the lock.
Comfortwise, this pole has a foam handle to prevent perspiration building up and it also has a padded auto-adjustable wrist strap.
It comes complete with a handy storage bag, a shooting support, a basket and a tip protector, meaning you'll have everything you need to tackle a wide variety of terrain.
A good choice for those of you looking for a single hiking staff to use with a camera or smartphone.
5. Pacemaker Stix Camera Monopod Trekking Pole
Pros:
Good adjustable range for higher/lower viewpoints when photographing
Extra compact – folds to 16"1/4 for easy storage
Telescopic height adjustment function for ease of use
Comes with built-in camera mount, two protective tips and two baskets
Manufacturer's one-year warranty
Cons:
In snow or mud, the pole is prone to pulling apart as you lift it up
No information or explanatory notes
Pacemaker Stix Monopod Trekking Pole Features Summary:
Made with the durability of aerospace grade 7075 aluminum yet weighs only 9 ounces
Patented locking mechanism along with foldable sections
Adjustable: 15.5 to 52 inches
Removable tungsten tip end and Vulcanized "extra life" rubber foot
Attached adjustable wrist strap
If you are looking for a single hiking staff you can also use with your standard sized camera, then this could be just what you're looking for.
The main advantage of this particular model over other versions, is that it folds away to just 16"1/4 making it ideal to easily store or stick in your front backpack pocket when not in use.
The built-in camera mount fits all standard bottom mount models. Thanks to the range of heights available and the telescopic adjustment function it is easy to take photos from both high and low viewpoints. It is also easy to adjust afterwards to continue on with your hike.
The grip on this pole is made from a comfortable foam material with an adjustable wrist strap.
There are a variety of accessories that come with the pole, although there is no explanation as to their use in the box itself, so if you're not that clued up on trekking poles, you may need to do some research to make best use of these included accessories, or just have some fun figuring it out 🙂
This hiking pole is made from an aircraft-grade quality aluminum alloy, weighing in at approximately 9oz. This is a decent weight, not too heavy, yet with enough solidity that you can put a good amount of weight on it.
One thing that lets this pole down is when you use it in mud, sand, snow or soil it can pull apart at the joints, revealing the internal elastic.
This, unfortunately, makes it unsuitable for hiking year round, although you could use it in an urban environment or on paved trails for extra support.
On dry, solid ground, it is fine, but if you're hiking anywhere else, you may want to choose a different model or to purchase it solely for use as a camera monopod.
What it is a Trekking Pole Monopod Camera Mount?
A trekking pole monopod camera mount combines a standard trekking pole or poles with the added feature of an in-built camera mount.
The mount is usually a standard screw mount that will fit all standard bottom mount cameras and digital cameras.
Why you Might Need One
A trekking pole monopod camera mount can provide great stability for unbeatable outdoor shots.
When you're out on the trail, especially headed far away, you want to keep things light and won't want to have to carry a tripod in addition to your hiking gear.
As a lot of the best beauty spots are often far from the beaten track, you'll need to find a way of getting by without a cumbersome tripod.
Using a trekking pole monopod camera mount allows you to cut back on the amount of gear you need for great outdoor photos.
When you've spent hours trekking somewhere or to visit a special site, you'll want to take some photos as souvenirs.
Even if you're not an aspiring photographer, being able to shoot better photos without needing extra accessories is a great option.
Some trekking pole monopod camera mounts also come with smartphone holders so you can simply use your smartphone. This also gives you the option to angle them like a selfie stick for those all-important summit climb shots.
Even if you don't end up making an awful lot of use of the camera mount itself, trekking poles can come in use in a variety of situations and they are well known to help to reduce strain on your knees when coming down steep descents.
They can also help with ascents and when contouring hills. Need to cross a creek, a rock area or slippery mud? Trekking poles can help to gauge depth, secure your footing and provide support.
They can also be used as part of a shelter, for scaring off aggressive animals or removing snakes, hanging up bear canisters and many more scenarios where you don't want to risk your hand. 
Main Features
Trekking poles with camera mounts may have a variety of different features, either related to their photographic elements or for hiking. Here's what you should look out for in terms of main features.
Camera Mount
Without this, they're just plain old trekking poles 🙂 For extra stability, the camera mount will be in-built and generally feature a screw-on base that will be compatible with all standard bottom-mounted cameras.
Smartphone Holder
Not everyone who enjoys taking photos has a dedicated camera. Thanks to the high quality of today's smartphone cameras you can also take great photos and share them instantly.
If you do have expensive camera equipment and don't want to take it on every hiking trip, a smartphone holder can also come in handy for those occasions too.
Folding/Telescopic Retraction Mechanism
It can be useful to have poles that either fold or collapse telescopically, making them easy to transport and store.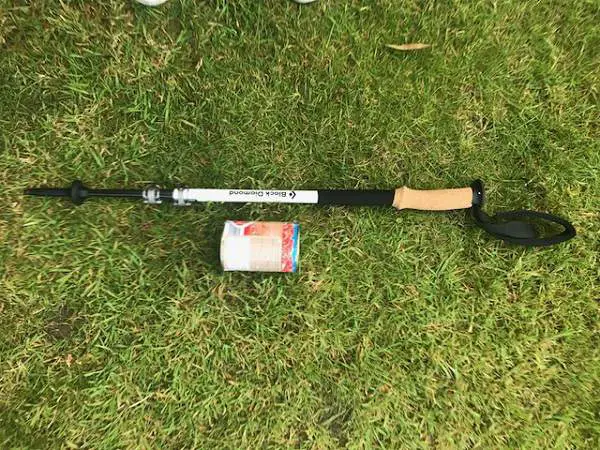 Just check how the poles perform when extended for use, you don't want to get stuck with a pair that doesn't lock correctly in place or even worse, one that collapses when you're relying upon them for support on a steep descent.
Height Adjustment Range
If your shorter or taller than average, it makes sense to go for trekking poles that have a wide height range.
This will also be good for taking photos at both high and low viewpoints which can help to portray a wider variety of terrain and scenery.
Trekking Pole Grips
Grips should be comfortable to use and come with adjustable wrist straps, although I personally don't use the wrist straps on poles, some folks like to use them.
Foam or cork grips are not only comfortable, they can also help to improve your grip during hot weather by preventing a build up of perspiration between your hands and the poles.
Lightweight Construction
Trekking poles that are lightweight make a long day's hiking easier. You don't want lightweight to be a trade off for stability and durability though.
Also if you're going to be using your trekking poles in harsh environments such as in creeks, other rocky environments and /or on steep descents, you want to be extra sure that they are solid enough to support a decent amount of weight.
Carbon fiber is known for its strength and for being lightweight, whereas aluminum alloys typically used in aircraft construction are slightly heavier but remain lightweight enough and possibly more sturdy.
Something to bear in mind if you are looking for a trekking pole that can also support a large, expensive camera and lens.
Accessories
Accessories can come in use for various different types of terrain. Some trekking poles may come with baskets for mud, sand or snow, as well as protective feet for protecting your hiking pole tips. If not, you can usually purchase these add-ons at an additional relatively small cost.
Average price range
As with a lot of hiking products, prices tend to fluctuate greatly between one brand and another. They also depend upon construction materials and design features.
In general the average price range for trekking poles with a camera mount is between $25 and $100.
Your best bet is probably to go for somewhere mid-range, although bear in mind that if you are looking for a pair of trekking poles as opposed to a single staff, the price will also vary accordingly.
You'll find a good variety of prices and sizes, including ones that are designed to fit in carry-on luggage.
Conclusion
Using a camera mount on a trekking pole is a great way to improve your hiking souvenir shots. It could also inspire you to take your photographic skills to the next level.
So rather than carrying out masses of extra equipment to far-flung locations, choose trekking poles with a built-in camera mount and improve your wilderness photos without the hassle of carrying extra kit.
They can also make excellent travel companions and if you use one with a smart phone holder, you can also take photos with ease over heads in busy tourist areas, as well as killer selfie shots 🙂