In this post we preview the best hiking sandals for women available on the market today. When you are choosing your hiking sandals, whether you are an experienced hiker or trekker or not, there are a some key things that you need to consider.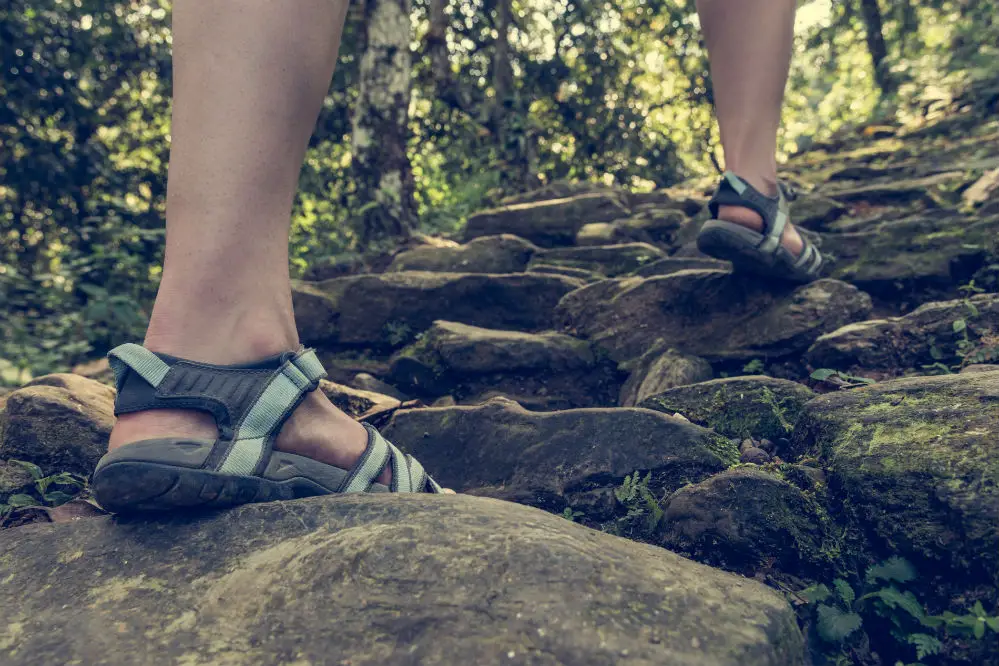 Getting a poor quality hiking sandal, as with any other piece of footwear, can result in a lot of pain and potentially even blisters. So it's worth spending a bit of time learning about what you need to look for to get a good fit. To help with that, we link to our sandals buying guide at the end of this post.
If you don't have time to go through the list and just want to know our top hiking sandals recommendation, we love the Astral Rosa Sandals, they are excellent!
So without further ado, let's take a look at the best hiking sandals for women!
1. Astral Rosa
Pros:
Razor-siped Flip Grip Outsole and super sticky rubber provides excellent traction
Very comfortable to wear and walk in
Level footbed provides a balanced fit and feel
Vegan: all materials used are recycled and sustainable
Cons:
Some user reports of straps rubbing the arches while walking
Astral Rosa Sandals Features Summary:
Available in a varied selection of colors
Super comfy and converts to an action sandal with the ankle strap attachment
Cushioned synthetic leather with a soft, wicking knit liner and soft nylon toe post
G.15 rubber outsole is flexible, extra grippy and super sticky
Razor-siped Flip Grip Outsole maximizes sole-to-surface contact for a premium grip on smooth surfaces
Lug pattern sheds debris to keep it looking and feeling fresh
Level footbed promotes balance and agility
Wide forefoot lets your feet and toes spread out for stability
Lightweight
Constructed using recycled polyester and source materials as sustainably as possible
Best Uses: light trail hiking, campsite use, river walking, general outdoor and day-to-day use
Preview
Astral are a popular maker of quality footwear that was established in 2002. They are well known and loved for producing high quality, well-designed outdoor footwear with a focus on sustainability and the environment, which is of course admirable and to be commended.
The Astral Rosa Sandal is perfect for a wide range of activities in good weather. They are easily transformed from a nice flip flop to a sandal by attaching the "super strap". This works well and it's nice to have this versatility.
The straps on the sandals are easily adjusted using their hook-and-loop closures, so it's easy to get a comfortable and secure fit. 
The outsole is 'super-grippy, non-marking and siped and made with G.15™compound'. Yes, that sounds a bit technical but we can cut to the chase by summarizing that, as it means it grips really well on a wide variety of surfaces, whether dry or wet. The Lug pattern on the outsole also sheds debris as you walk, so you won't gather clogged up dirt and so on either.
The midsole is constructed using dual density EVA which helps to ensure that these are a pair of strong and robust sandals to walk about in.
The uppers are made using cushioned synthetic leather with embroidery and emboss details on the material, which is attractive to look at. They feature a soft wicking knit liner and a soft nylon webbing toe post. They also have a reflective star at the front center.
Ideal in any outdoor setting, these sandals are great for casual use, water activities, boat trips, travel and short hikes on hot days. They will perform well in a variety of conditions.
It's also worth noting that they look really nice too! So they will also work great with a pair of shorts or jeans, just chilling about town or at home at the BBQ.
The Astral Rosa sandals come in a wide selection of sizes and colors, so you should be able to easily find something to suit your tastes and needs.
2. Teva Women's Tirra Athletic
Pros:
Excellent traction whatever the terrain with rubber outsole
Extremely durable thanks to their nylon stability shank
Good looking with wide range of colors
Cushioned heel and top sole for optimum comfort
Cons:
Open design doesn't provide toe protection
Teva Tirra Athletic Sandals Features Summary:
Available in a wide selection of different colors
Water-ready synthetic and polyester webbing
Sporty sandal featuring logo and multiple straps with hook-and-loop closures
Nylon stability shank
EVA topsole with Microban zinc
Compression-molded EVA midsole
Shock Pad heel
Traction outsole with water-channeling lugs
Best Uses: Standard hiking sandal use: light trail hiking, campsite use, river walking, general outdoor and day-to-day use
Preview
Teva was established in 1984 by a Colorado river guide who struggled to find footwear that would grip well in wet conditions yet remain comfortable and dry quickly. Today, Teva has grown to become a top footwear brand that produces high quality, well-designed outdoor footwear with a cult following.
The Tirra Athletic Sandal is perfect for all warm-weather sporting activities, with its cushioned heel Shoc Pad making it ideally suited to hiking. Its multiple straps adjust quickly and easily with their hook-and-loop closures, meaning your feet, and your grip, will stay secure. 
Made from compression-molded EVA, these popular, robust sandals have a rubber Spider Original outsole complete with water-channeling lugs and excellent traction, while the nylon stability shank ensures your Tirras remain in perfect shape whatever the terrain.
Ideal in any outdoor setting, these sandals grip whatever the conditions, and really come into their own in wet, slippery places.
Aside from their remarkable traction, they also dry quickly and are extremely durable. Added bonus, Tirra sandals are treated with Microban, a zinc-based technology that is antimicrobial in action.
These sport sandals are renowned for their comfort, with a cushioned sponge EVA topsole that provides comfort and shock absorption. Lightweight and easy to wear, Teva's Tirra sandals are undoubtedly one of the best women's sandals you can buy for hiking.
Thanks to their good looks, many choose to wear them for daily life as well as on the trail, a true indicator of their comfort and practicality.
Let's face it, hiking sandals generally compromise looks for performance, so the Tirra really is a rare find. Available in a large variety of sizes and colors, you're sure to find one to your liking.
3. KEEN Clearwater CNX
Pros:
Lightweight design makes it a great choice for hiking in hot summer weather
Neoprene-lined webbing straps for a comfortable fit, wet or dry
Excellent traction, even on slimy rocks
Rubber toe area prevents toe stubbing
Cons:
Thin, lightweight sole makes this sandal less suitable for long-distance hiking especially with a heavy pack
KEEN Clearwater CNX Sandals Features Summary:
Available in a wide selection of attractive colors
Rubber sole
Water sandal with stretchy lining and signature closed rubber toe
Ghillie lacing with quick-adjust bungee cord
AEGIS microbe shield hydrophobic mesh lining
Anti-odor anatomic footbed
Dual pull-on loops
Non-marking outsole with razor siping
Best Uses: Light hiking, campsite use, river walking, excellent for general outdoor use
Preview
Popular and well-respected brand KEEN has developed the women's Clearwater CNX to provide a comfortable, lightweight outdoor sandal that's suited to both dry land and water. This sandal offers excellent traction, a covered toe area and makes a great choice for light to medium summer hikes.
The KEEN Clearwater CNX features a non-marking rubber sole complete with flex grooves for enhanced grip. There's also a durable TPU shank for extra stability, with a PU midsole that keeps the sandals lightweight and fast drying.
For support and comfort there's contoured arches and a metatarsal ridge. The sandal's upper-layer consists of polyester webbing with a bungee cord fastening system which is easily adjusted on the go.
In terms of comfort, the Clearwater CNX rates very highly. It is easy to put on with dual pull-on loops and the bungee cord system allows you to adjust the top for a perfect fit. Light and flexible, it is comfortable even after several hours wear.
The inside of the webbing has a soft layer of neoprene, so your feet won't get rubbed by the straps, while the covered toe area ensures you won't suffer if you stub your foot against a rock. To keep your feet smelling fresh, the footbed is anti-odor treated.
Designed primarily as a water sandal, you won't get much better grip and traction than that offered by the Clearwater CNX, it handles even slimy rocks with ease thanks to its grooved rubber sole complete with razor siping.
Fast-drying and lightweight, we think this sandal looks pretty sleek and is available in a variety of colors.
It performs well both on the trail and in the water, although the flexible footbed and its lightweight construction make it ideally suited to short to medium distance hikes and creek exploration, as well as general day-to-day outdoor activities.
4. Teva Original Universal
Pros:
Excellent value for money, Teva's lowest priced sandal
Easy to adjust straps with padded heel strap
Lightweight, durable outsole
Cons:
More of a leisure sandal than a hiking one, recommended for hikes on easy-going terrain
Teva Original Universal Sandals Features Summary:
Available in wide choice of colors
Rubber sole
Classic athletic sandal featuring hook-and-loop webbing straps with padded heel strap
Contoured EVA footbed and midsole
Microban zinc-based anti-microbial lining
Antimicrobial application for odor control
Durabrasion rubber outsole
Best Uses: Better suited for general and day-to-day use, but a light trail will be no problem too
Preview
The Original Universal Sandal from leading outdoor footwear specialists Teva, is a basic yet well-designed sandal that's perfect for those looking for a great all-rounder that's suitable light hiking and everyday wear.
These sandals are made from polyester, known for its durability and fast-drying qualities, with a Durabrasion Rubber™ outsole that makes them long-lasting and lightweight.
Traction and grip are enhanced by the outsole's construction, but its flexibility prevents it from becoming a top contender in this respect. The Original Universal also features an EVA footbed and midsole with contouring for extra comfort and support.
With three adjustable straps, the Original Universal offers a good fit for comfort and stability. The classic hook-and-loop webbing fastenings hold the foot comfortably stable and feature a padded heel strap.
Like other sandals in the Teva range, the lining is treated with Microban, an anti-microbial product that will keep your sandals smelling fresh.
The Original Universal is a strong and sturdy sandal that is extremely versatile. It comes in a wide range of colors and is lightweight and comfortable.
However, as Teva's lowest priced sandal, if you are looking for more support or durability for more intensive use than short hikes over easy terrain, you may be better looking at other sandals in the range.
The Original Universal represents great value for money and is an excellent all-rounder, having become an iconic outdoor sandal that has been worn the world over.
5. Chaco Zcloud 2 Athletic
Pros:
Sandals are easily adjusted to get a comfortable fit for your feet
Outsole provides good grip and traction on the trail / ground as you walk
Sandals dry quickly so can be used for shallow river walking
Lightweight and easy to pack e.g. in a backpack for backpacking or in a standard case
Supportive construction with the LUVSEAT dual-density PU midsole
Cons:
Some confusion on the sizing with reports of the sandals running both small and large
Some user reports of the circulation to the big toe getting choked with regular strap adjustment needed
Chaco ZCloud 2 Athletic Sandals Features Summary:
Available in an extensive selection of different colors / patterns
Synthetic sole
Double-strapped polyester jacquard webbing upper
Adjustable fit with durable high-tensile webbing heel risers
Injection-molded ladder lock buckle
Antimicrobial application for odor control
Women's specific LUVSEAT dual-density PU midsole
Non-marking ChacoGrip rubber compound with 3mm lug depth
Best Uses: Light trail hiking, campsite use, river walking, general outdoor and day-to-day use
Preview
The Chaco Women's Zcloud 2 Sandals are an excellent pick as they are a versatile sandal with a lot of good user experience across the board. Chaco has been around for close to three decades making excellent footwear, and the Z loud series is a worthy addition to their long line of functional and comfortable products over the years.
The sandals are secured snugly and comfortably around the feet using double-strapped polyester webbing in the upper, and through the mid sole ensuring it stays comfortable in place as you walk. This is secured in place using a functional and easy to use ladder buckle.
The sandals also feature a women specific 'LUVSEAT' dual density PU (Polyurethane) midsole, which works with the feet to provide a lot of comfort.
The outsole is synthetic and features a non-marking ChacoGrip rubber with lugs that have a 3mm depth, providing good grip and traction on the ground.
Finally, the sandals have an antimicrobial application which helps with odor control over an extended period of use. They're also pretty stylish too which never hurts!
Verdict; Overall a really top notch sandal that ticks all the boxes in terms of comfort and functionality. They've also got a very stylish look about them too with their cross toe design which we like a lot.
6. KEEN Newport H2
Pros:
Complete toe bumper providing a good amount of protection
Slight molding to ensure your feet do not slip when they are wet
A very rugged shoe with a comfortable footbed and good cushioning
A quick drying wide shoe offering you all around support
Supportive arch with bungee strings to adjust the fitting
Cons:
There have been instances of the side straps fraying and stitches coming loose on some occasions
The quality of the production of the shoe has been questioned
Watch the sizing if you are buying online
KEEN Newport H2 Sandals Features Summary:
Available in an multiple different colors
Flat webbing made from polyester
Sole made from synthetics
Lugs which are multi-directional
The leather upper on the shoe is washable as is the webbing
The outsole is made from non-marking rubber
Shoe contains a rubber toe bumper
Mesh lining which is breathable
Machine washable
Metatomical footbed with adjustable straps
Best Uses: Light summer hiking, campsite use, river walking, general outdoor use, general day-to-day use
Preview
Keen are a very well-known brand of shoe that has a great reputation. The Keen Newport H2 sandal has a very popular toe guard that completely protects your toes. The Metatomical footbed provides comfort for your feet no matter how long you are hiking.
The mesh lining gives you breathable comfort, allowing complete ventilation throughout the day. The adjustable straps give you the opportunity to make sure the fit is as snug as possible. If you do get the shoes dirty, they are machine washable and dry quickly.
A great shoe for protecting your toes, especially in water. Great molding in the flatbed to give you additional comfort with the shoe, as well as stopping your feet from slipping when they are wet. Washable and quick drying to keep them looking as good as new.
Verdict; This is a very solid shoe that protects your toes extremely well. However, there have been several instances of poor finishing and quality, so be sure you have good guarantees in place before you purchase.
Conclusion
We hope you found this post on the best hiking sandals for women useful. As you can see these are some of the best women's hiking sandal options available. We'll be updating this over time, so do check back regularly to see what other excellent models we add.
It's true that normally, we associate hiking boots or trail shoes when it comes to hiking, however, good sandals have their place too and can be a great addition to any hikers gear list.
If you're new to hiking sandals, be sure to check out the guide on how to choose the best hiking sandals. It goes over the main things you need to consider when buying a pair of good hiking sandals to meet your needs.