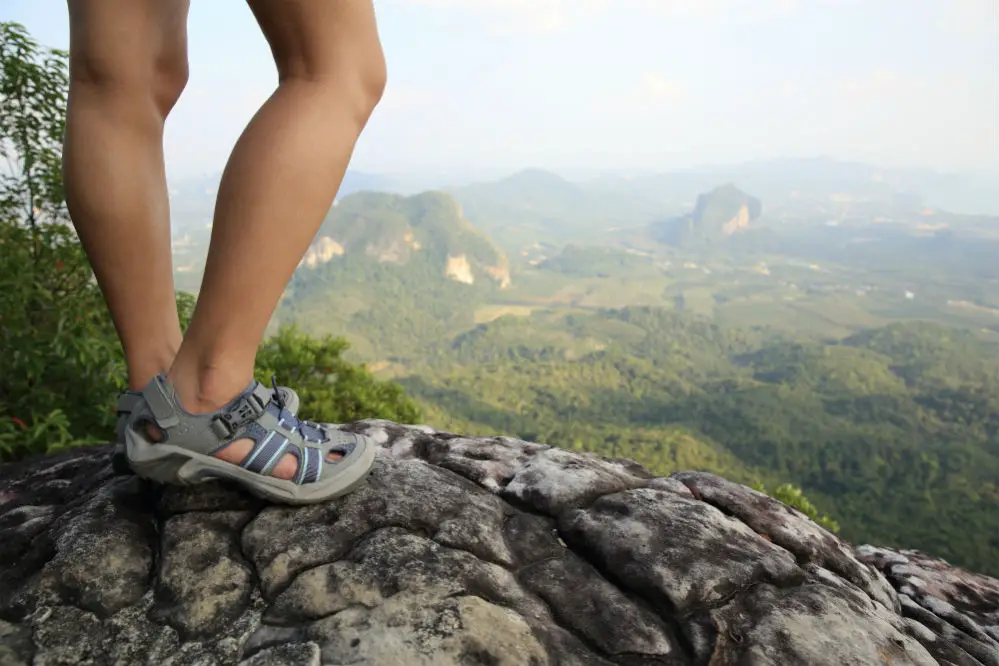 When you go hiking there are several choices you need to make. The obvious one is where you are going hiking, and then you must choose which backpack, and what you are putting in it. Needless to say you carefully choose the most appropriate clothing, and then we come to your footwear.
There are many scenarios where only hiking boots are suitable, but there are many where hiking sandals are a better option. If you've never considered wearing sandals when you go hiking, this article will explain how to choose hiking sandals and give you the best advice on when and where to use them instead of boots.
If you are on the look out for some excellent hiking sandals, you can get our top hiking sandal picks for women and our top hiking sandal picks for men. There are lots of great options available there.
Terrain
The first matter we need to clarify is when and where hiking boots might be the more appropriate footwear for hiking on certain terrain, than hiking sandals.
There are lots of varying terrain and locations where hiking boots are the safe and better option, and in which hiking sandals would not only be irresponsible, but downright dangerous.
One terrain where boots should be worn is where you walk across, up and over rough or very rocky ground. When you are walking on that kind of surface your feet need the protection that boots afford you.
Another part of the great outdoors where boots are strongly recommended is where there is very dense or tall foliage. It is often the case that as you walk through this you are unable to see the ground.
This could lead to your exposed feet catching something sharp or hard, or the possibility of you walking through nettles or other wild plants which can scratch or sting you.
Sandals are ideal when the surface you plan to walk on is relatively flat, firm, and the route you'll follow does not pose any significant hurdles such as very steep inclines.
Sweating and Blisters
When you wear hiking boots, you will normally wear hiking socks too, which reduces the chance of blistering. A problem arises when you are walking in very hot conditions wearing boots and your feet overheat resulting in excessive sweating.
This can be a real issue if you wear cotton socks, not advised, as these retain sweat, and as a result you can develop the very blisters you were trying to avoid.
Sandals are the perfect solution to this as they are more open than boots and allow air to circulate around your feet. This keeps them cool and reduces the amount of sweat produced, which obviously means that the risk of blisters is significantly curtailed.
The choice you may have to make is how open you want your hiking sandals to be. Some come with closed toes which give some protection to the front of your foot.
These are advised if the trails you tend to walk are a bit challenging. On the other hand, if you tend to walk on well-tended walks with very few difficulties, then open toes will be fine.
Support for Your Ankles
The closed nature of hiking boots gives your ankles the maximum amount of support and if you suffer from weak ankles, you may need to consider whether sandals are suitable.
Even if you decide that they will be, the variation in how sandals are designed means that some will offer more support around the ankle area than others.
Those which not only have a strap that goes behind your heel, but also side straps that are connected to the sole of the sandal are best. Better still, if that back strap can be adjusted, it allows you to easily adjust and get as tight a fit as needed, so it adds a bit more support.
Fastening
Hiking sandals are normally designed with one of three different types of fastening. In terms of which is the best, this will very much depend on how comfortable your feet are with each of them, plus whether you feel they fasten to the tightness level you want.
It is important that when you fasten your sandals they feel snug, and there is not too much movement from the heel area.
The first type of fastening is good old-fashioned laces. These are fine, although some hikers get annoyed if they come undone, and on a serious note, this could be a tripping hazard. The second type is Velcro, where the top strap is stuck to the bottom strap.
On some sandals there is more than one place where the Velcro fastens. The third fastener is a simple buckle where the strap can be adjusted and fastened.
Grip Underfoot
Given the almost infinite number of ways footwear manufacturers can design the grip pattern on the sole of a pair of hiking sandals, it is impossible to say which is the best.
However, there are many cases where a sandal has been described as suitable for hiking when the grip underneath is not. These sandals are more suitable for leisure and while okay for strolling on the beach, they are not suitable for walking on surfaces you are more likely to encounter when you go hiking.
Suitable For Water
One big advantage of wearing sandals when you go hiking is that you can walk through streams and other shallow water without worrying too much about your footwear getting wet. Obviously, this is not the case with boots which are less than comfortable if water has leaked in.
The other great thing about sandals is they dry quickly so there is no real need to take them off after they've become wet.
Lightweight
Sandals are far more lightweight than boots and are ideal when you are trying to minimize the amount of weight you are carrying when you go hiking. There is hardly any difference between the weight of one type of sandal to another, but if you really want to check it, most manufacturers will have the information on their website.
Just make sure they have not sacrificed quality materials for inferior ones, simply to be able to say their sandals are lightweight. A couple of extra ounces of weight are worth it to have a pair of quality sandals that are durable, versus lighter ones which are going to fall apart before too long.
Conclusion
In the right conditions, hiking sandals are perfect footwear for hikers to wear. They are lightweight and allow the air to circulate around your feet, way more than when you are wearing hiking boots.
Common sense will tell you that a quality pair of sandals has good support around the heel and ankle, a fastener that is secure and snug, and good grip on the outsole underneath that will keep your feet firmly on the ground.