Some time back I did a post on hiking socks and how they are so very important to having a comfortable experience on the trail. Some time after that I also wrote a post about how I normally wear my hiking socks using two pairs.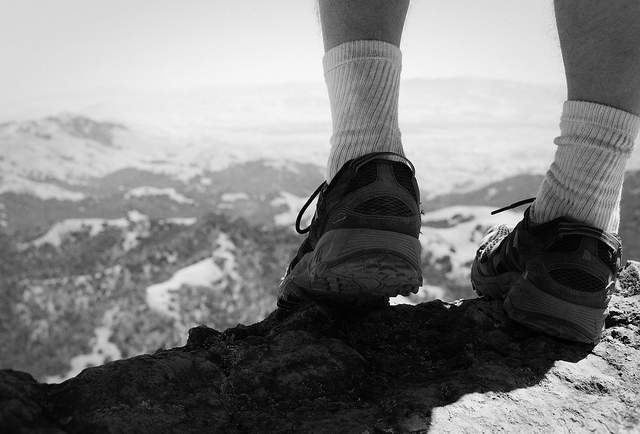 Photo Credit: Lisa Williams
The two pairs of socks strategy works well in winter time but it is not as sensible in warmer times of the year. I was recently reminded of this when I had a rash on my ankle after a long hike with the two pairs of socks on. However, truth be told, I have got that rash once or twice before, even at colder times of year.
Perhaps it was a question of the detergent I was using and / or the material the hiking socks are made of, not 100% sure just yet.
Either way, I decided recently that I wanted to revisit the subject of hiking socks for myself and do a bit more in depth research before I venture into trying something different with what I have and / or purchasing more pairs. With that in mind I thought a guide on how to choose hiking socks might be useful.
I've said it many times before but I'll say it again,. You can have the best hiking boots in the world but if you've got crap socks, you will not have a fun time and blister central is probably not far away … the nemesis of all hikers!
Choosing Hiking Socks
When looking at choosing hiking socks, I thought the first place to start would be to look at what specifically hiking socks need to be able to do as part of your footwear system.
The primary functions of your hiking socks are:
To wick sweat away from your feet
Provide cushioning and protection
Provide warmth
Help with the fit of a hiking boot
Types of Hiking Socks
There are different types of hiking socks that, broadly speaking, serve different purposes although some of them can compliment one another. Note that within each of these main categories below there are different material levels and make-ups involved.
There may be several different types of thickness available in one sock category for example.
Wicking Socks
These are a lightweight inner sock made from a wicking fabric. The fabric draws moisture away from your feet and so helps to prevent blisters. Common materials that these socks are made from are lightweight wool and polypropylene as they are smooth against the skin and so cause less friction on your skin. They are therefore more comfortable and so also help stop our old friend mister blister from calling round.
I've put a picture of a pair of my inner socks below.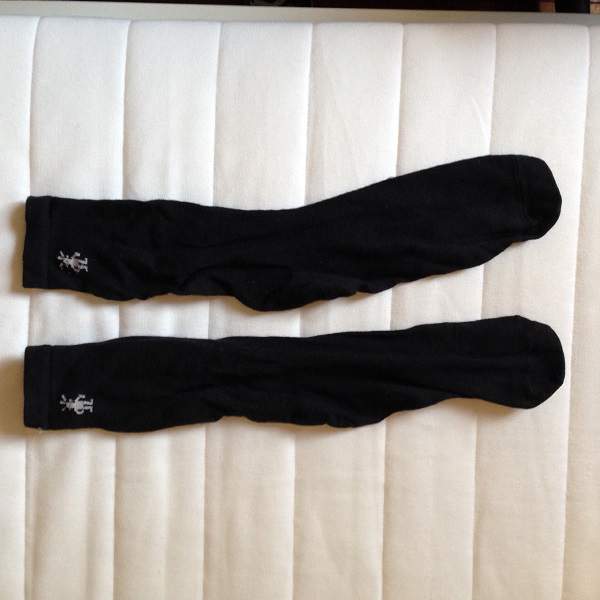 Summer Socks
Summer socks are normally made from wool or a wool / nylon mix. Oddly, although it may seem contrary to common sense, wool works well in warm weather as it has the ability to wick moisture away from your feet. Wool also tends to be more comfortable than synthetic materials like nylon however the trade-off is longevity.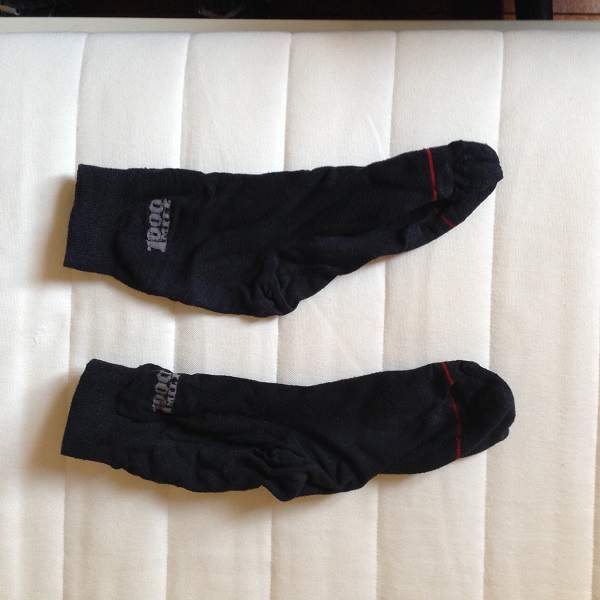 A pair of mixed blend socks will last longer than wool alone but may not  be as comfortable on your skin. Wool socks are normally accompanied by wearing an inner lightweight wicking sock although you may find this too much  in Summer.
My ones above are 1000 miles socks and they have two layers built into one sock so you have your wicking sock against your skin and the outer sock together as one sock.
Three Season Socks
Well, the name gives it away really 🙂
Yes indeed, these are socks that are suitable to hike in for three seasons in the year, Spring, Summer and Autumn (and winter in many countries too) assuming you're in a relatively temperate climate. The difference between these and summer socks will be that that they are thicker. The same materials, as with summer socks, apply.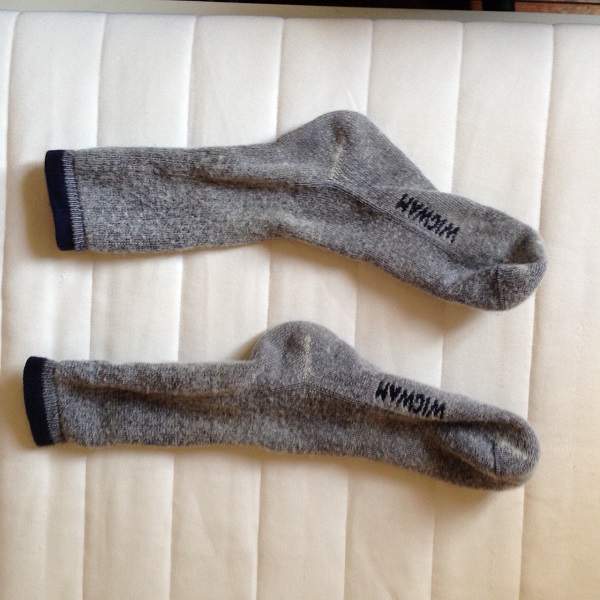 As already mentioned, you can use these in summer too. So, why have separate summer socks then? Well, it really comes down to what is comfortable for you and nothing much more than that really. If you're hiking in very hot conditions, you might find the lighter summer sock a better option. However, it's trade-off time again, and if you choose the lighter summer sock option you will lose a bit of the comfort and blister protection that the extra cushioning a thicker three season sock would give you.
These socks are also longer lasting than the aforementioned summer ones, mainly as they're thicker. As with summer socks, using an inner liner sock in tandem with these is best.
Winter Socks
And now to our final guest at the party. Winter socks are, you guessed it, heavier and thicker than the three season socks for obvious reasons. They are designed to provide more warmth in colder conditions but still perform the wicking duties as required.
You definitely need to have a pair of inner liner wicking socks to accompany these in Winter. These provide wicking and much more warmth and protection. To be honest, when you're using winter socks, you are probably hiking in temperatures well below freezing.
Three season socks with a good inner line wicking sock should work fine in winter in many countries. If you're hitting the big freeze temperatures on the mercury, then you need these bad boys for sure. You probably also need very tough winter mountaineering boots to go with them but that's for another post 🙂
It's worth noting that when you're choosing hiking boots, you should take both your lightest / thinnest and heaviest / thickest socks with you to try on with your boots. The reason for this is that there is a significant difference between wearing a summer hiking sock combination and a winter hiking sock combination.
While you may have a great fit with your summer sock, the extra thickness of the winter sock may cause issues. The last thing you want is any restriction on blood circulation. I think it is reasonable to expect to have a pair of hiking boots that can work well with both.

Summary
So, as you can see, there is a bit of thought needed when choosing your hiking socks, it isn't totally black and white when making a choice for what works best for you and your hiking boots. As with anything related to hiking, what the conditions you will be hiking in are should be key to your decision making process. Inevitably you will end up with a mix of all the above in some form.
As mentioned at the start of this post, I have been getting a bit of a rash on my ankles from using my two pairs of socks, inner wicking socks and outer three season socks, together so I think I need to revisit what I am doing.
I assume it's just that it's too warm in there so either the inner wicking socks ain't doing their wicking or the outer three season socks are just too warm. That wouldn't seem to make much sense to me though as they're three season socks and they didn't cause me problems before.
I'm tempted just to head out with only the three season socks this weekend and see how I get on. Might work just fine. So, as you can see, even after my many years of hiking it's still a process of trial and error to eventually come to something that works for me. It can always change as you get new boots, maybe your skin changes somewhat as you get older, who knows! I'll drop an update back to this post on how I got on with my experiment!
Conclusion
I hope this rough guide on how to choose hiking socks, gives you some help in understanding which socks you should choose and what general options you have available to you. Socks are crucial to your comfort so it is worth spending a bit of time getting it right I feel.
What hiking sock combination do you use? I'd love to hear thoughts in the comments below. If you found this post useful, please like it and share it out, thanks :-)