It can be quite a challenge finding the best daypack for the trail. For a start, there is an almost bewildering amount of choice.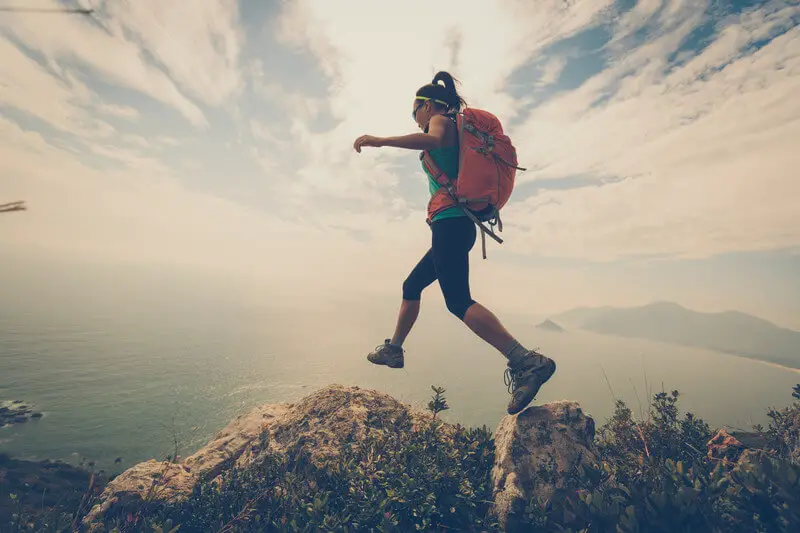 Then you need to take into account the capacity, features and comfort levels of each respective daypack. What's more, we don't all have the same needs and what's best for one person may be far from ideal for the next.
So, to help make things easier, we've taken a look at a huge number of different daypacks to come up with the following selection.
We've done our very best to be as inclusive as possible, so while you'll find top-level, premium hiking daypacks, you'll also find budget options that can also be suitable for general travel and leisure alike.
If you don't have time to go through the list, then we can tell you that our top pick is the Osprey Sirrus 24. A really functional daypack that will meet the hikers needs for a day out on the trail.
Whether you're looking for a daypack to explore the fringes of the backcountry or to accompany you down your local rails-to-trail hike, there's an ideal match for all needs and budgets in our best daypacks for women picks!
1. Osprey Sirrus 24
Pros:
AirSpeed – suspended back mesh panel for superior ventilation
Stow-on-the-Go trekking pole attachment
Integrated and detachable raincover
Hipbelt with zippered pockets
Covered by Osprey's All Mighty lifetime guarantee
Cons:
Larger phones won't fit in hipbelt pockets
Need to empty top pocket for hydration sleeve access
Osprey Sirrus 24 Pack Features Summary:
Adjustable AirSpeed™ ventilated trampoline suspended mesh backpanel
Adjustable torso length
Designed for women
Integrated & detachable raincover
Internal hydration sleeve
Internal key attachment clip
Side compression straps
Single ice ax loop
Sternum strap with emergency whistle
Stow-on-the-Go™ trekking pole attachment
Twin zippered hip belt pockets
Vertical centred zippered pocket
Zippered panel access
Gear capacity: 24 liters (1,465 cubic inches)
Weight: 2 lbs. 9 oz.
Material: Nylon, LightWire alloy frame
Dimensions: 49 x 30 x 30 cms / 19 x 12 x 12 inches
Best Uses: Day hiking, general use
At 24 liters, the Osprey Sirrus has the space for everything you might need during your average day hike, while keeping your load compact. Made from 210 denier nylon with a ripstop 420 denier bottom, this pack is designed with durability in mind.
It also comes complete with an integrated, detachable raincover, so you can quickly get it covered in the event of a sudden downpour. It is a little on the heavy side, however, its comfort and padding make the extra weight less noticeable.
The Sirrus is adjustable by up to four inches, allowing for optimal adjustment to get a comfortable fit. The padded hipbelt is effective at transferring weight to your center of gravity, offsetting some of that extra weight.
The shoulder straps are extremely comfortable with plenty of padding. One of this backpack's main advantages is its suspended open mesh panel, that keeps air circulating along your back preventing a buildup of perspiration as you hike.
It also ensures that any bulky items sitting in your pack don't hamper your movement or dig into your back.
The Sirrus 24 has all of the features you need and more in a daypack. Aside from the handy raincover, there are also side and top compression straps which are especially useful when you're taking shorter hikes with less gear.
If you use trekking poles, you'll probably already be familiar with Osprey's renowned Stow-on-the-Go pole attachment system, allowing you to quickly and easily stow and access your poles.
In addition, there is also an ice ax holder loop, five external pockets and a hydration bladder sleeve. So, you'll have plenty of options when it comes down to organizing your gear. As an Osprey product, it is covered by the All Mighty lifetime guarantee for repair or replacement.
On the whole we were thoroughly impressed with this daypack's comfort, feature set and adjustability. If you are thinking of purchasing this daypack, just be aware that the hipbelt pockets are too small for most larger model phones.
Another slight issue is the location of the hydration bladder means that you'll need to empty the stash pocket above it in order to access it for refilling.
However, these slight imperfections do not detract from this daypack's excellent construction, functionality and performance.
2. Osprey Tempest 30
Pros:
Designed with hiking in mind
Lot's of functional features
Lightweight with a comfortable size and fit
Osprey Tempest 30 Pack Features Summary:
Designed for women
Adjustable torso length
AirScape™ mesh covered accordion foam backpanel for comfort and fit
External hydration access
Internal key attachment clip
Internal top load compression strap
LED light attachment point
Seamless lumbar to hipbelt body wrap
Sternum strap with emergency whistle
Stow-on-the-Go™ trekking pole attachment
Pockets: Stretch front pocket; stretch mesh side pockets with InsideOut™ compression; stretch pocket on harness
Top lid access
Twin ice ax loops
Twin zippered hip belt pockets
Gear capacity: 30 L / 1831 cu in
Weight: 0.86 kg / 30 oz
Dimensions: 57 (l) x 28 (w) x 27 (d) cms / 22.4 x 11 x 10.6 in
Best Uses: Day hiking, camping, travel, general outdoor use
Made using 70 and 100D nylon the Tempest 30 pack is designed and constructed specifically for women with the trail in mind.
It provides a comfortable fit which can be easily adjusted to your body using the seamless lumbar to hipbelt body wrap and sternum strap. The lumbar strap is padded providing further comfort.
The 30 liter capacity offers plenty of space for carrying gear for those longer day hikes on the trail, and you should be able to get a sleeping bag in there if you are staying over in a mountain lodge or the like and so don't need to bring a tent.
As mentioned, it is designed with the female body shape in mind and offers a lot of functional capability. It is also lightweight and easy to wear.
A specific design feature of note is the AirScape™ mesh covered accordion foam backpanel which allows your back to breathe as you move.
The Tempest 30 has nearly all of the trail specific features you would look for in a good daypack. However, it does not come with an integrated rain cover.
It has a functional hydration sleeve, reservoir not included, so you can drink your water as you move.
There is an internal key attachment clip to keep your car or house keys securely locked away in your pack. If you like to use trekking poles, these can be attached using the Stow-on-the-Go™ attachments.
The Tempest comes with ample functional storage options. As well as the main compartment and top lid pocket, there is 1 Stretch front pocket, 2 stretch mesh side pockets with InsideOut™ compression, 1 stretch pocket on the harness and 2 zippered hip belt pockets which are perfect for easy access on the move while wearing your pack.
The Tempest 30 is another really nice offering from Osprey, one of the best backpack makers in the business. It has that bit more space for a longer trip on the trail and comes with nearly all the hiking specific features you need.
3. Gregory Jade 28
Pros:
CrossFlo Suspension – ventilation & breathability
Enhanced lumbar foam layering
Trekking pole/ice ax attachment system
Integrated rain cover
Dual hip belt pockets
Cons:
On the large side for your average day hike
U-shaped zipper can make bottom-of-pack access difficult
Gregory Mountain Jade 28 Pack Features Summary:
Full body U-zip main opening
Dual side stretch mesh pockets
Adjustable attachment loop
Custom fitted raincover
Oversized hipbelt pockets
Sunglass quickstow system
Front heavy duty stretch mesh stash pocket
Bottom side compression with pass through for uninhibited use of the side mesh pocket
Zippered top pocket with reflective webbing attachment loops for finding your pack at night
Custom Comfort Grip molded zipper pulls
Sternum strap buckle with integrated safety whistle
Gear capacity: 28 liters (1707 cubic inches)
Weight: 1.17 kg / 41 oz
Material: Body: 210D Honeycomb Cryptorip HD Nylon & 210D High Tenacity Nylon; Base: 630D High Density Nylon / 420D High Density Nylon; Harness / hipbelt: Dual-Density Lifespan EVA Foam; Lining:
135D high-density embossed polyester
Dimensions: 20 x 60 x 35 cm / 7.9 x 23.6 x 13.8 inches
Best Uses: Day hiking, camping, travel, general use
The Gregory Mountain Jade 28-liter backpack is made from a robust 210 denier nylon, making it hard wearing and durable. At 28 liters it provides all the capacity, and possibly more, that you will need for a day's hiking.
Although it is on the bigger side, in terms of capacity, for your average day hike, if you pack light it could be a good overnighter or a good choice for a day if you need a lot of extra gear e.g. if you are expecting tougher weather and you need to carry more back-up layers.
Thanks to its extra capacity and comfort it's also a good choice for hiking with kids, giving you the extra space for added clothes, snacks and even the odd toy.  
The Jade 28L is available in two sizes and is a comfortable fit. The weight suspension provided by the internal frame transfers weight down to your hips, so you can pack those extras without struggling.
The CrossFlo suspension system also uses a layer of mesh, allowing air to flow between your back and your pack preventing you from getting hot and sweaty. Both the hip belt and the shoulder straps are comfortable with plenty of extra padding.
The Jade 28L has plenty of features, including no less than seven exterior pockets. This includes an extremely useful front stash stuff-it pocket which also provides a top compression buckle, as well as two easy-access large hipbelt pockets.
Crossover side compression straps allow you to cinch down this pack when you're not using it at full capacity and the integrated rain cover pulls out in a flash.
There are also trekking pole attachment points that double as ice ax loops and in case you were wondering, this backpack is also hydration bladder compatible.
One thing we were less keen on, is the main compartment U-shaped zippered access. As the zipper only reaches halfway down each side of the pack, it can make access a little on the tight side when you need to reach items at the bottom of your pack.
Although this pack may be a little roomier and heavier than your average day hike needs, it is a fantastically comfortable backpack that makes an excellent choice for slightly longer hiking trips or when you need to carry extra equipment or supplies.
4. CamelBak Sequoia 22
Pros:
Air support back panel
S-shaped shoulder straps
Dual wing cargo hipbelt
Comes with Crux 3L reservoir
Covered by the Bak Lifetime Guarantee
Cons:
No rain cover included
Not very adjustable
Camelbak Sequoia 22 Pack Features Summary:
Women specific design
3L CRUX™ Reservoir: Faster flow rate
Air Support™ Back Panel: Innnovative air tunnels maximize ventilation
Dual Wing Belt: Seamlessly integrated cargo compression offers a variety of options for additional essentials storage
Stretch Overflow Pocket: Quickly stash or shed a layer or rain shell
Trekking Pole Carry: Easily attach and remove poles
Soft-Lined Pocket: Keep sunglasses or electronics safe and easy to access
Side-Stretch Pockets: Extra storage when you need it
Adjustable Sternum Strap: Comfortable fit for a wide variety of chest sizes
Features a Load Bearing Hip Belt
Gear capacity: 19L / 1150 cu in
Weight: 1.0 kg / 2 lbs 3 oz
Dimensions: 50 x 30 x 26.5 cm / 19.7 x 11.8 x 10.4 in
Best Uses: Day hiking, camping, general outdoor use
Made from a durable 200 denier nylon with ripstop 400 denier high-use area patches, the Sequoia 22 is designed to last through even the toughest of your outdoor adventures.
The updated Sequoia 22 by CamelBak is one of the most comfortable daypacks on the market, specially designed for women.
The 22 liter capacity is a decent size for your average day hiking needs, while the exterior mesh pocket allows you to pack in a few extras if needs be.
Few other daypacks rival the comfort and fit of the Sequoia 22. Its specially formed, S-shaped shoulder straps are designed to work with, not against, the contours of your body.
Aside from the enhanced fit, both the straps and lumbar area offer exceptionally comfortable padding. Although the Sequoia does have ventilation along the back to help keep you cool, understandably with extra padding and no internal frame, you do get less air flow.
So, for extra comfort and padding the Sequoia is your best option, however, if you prefer extra ventilation and slightly less padding, you may be better off with the Sirrus 24.
The Sequoia 22 has plenty of useful features, although it does not come with a rain cover. You can, however, purchase one at an additional cost.
Seeing as this is one of the more expensive models, we would have expected this to have been included in the price, although there is 3L Crux reservoir that comes with this pack.
We were particularly impressed with the separate insulated and zippered pocket for your hydration bladder, keeping it protected and cool. The hip-belt has cargo zippered pockets that are large enough to accommodate all of your essentials, including bulky cell phones.
There's also a handy stretch overflow pocket on the front that's ideal for stashing extra layers or rainwear. Other features include easy access trekking pole stow points, numerous internal and external pockets as well as a magnetic trap to keep your hydration tube secure.
For a comfortable day's hiking with optimized cushioning and an unbeatable hydration bladder system, we thoroughly recommend the Sequoia 22.
However, the ability to adjust the pack could work better, so if it is not quite a perfect fit for your body, you might be better off with another more adjustable model.
5. Lowe Alpine Aeon ND25
Pros:
Very comfortable and easily adjustable to get a good fit
AirContour™ carry system, comprised of a molded back panel for maximum air flow
Lightweight yet tough fabric
Cons:
Hydration sleeve not the best for larger reservoir sizes
Lowe Alpine Aeon ND25 Pack Features Summary:
AirContour™ carry system, comprised of a molded back panel for maximum air flow
Anatomically shaped back system ensures stability with adjustability
Hydration compatible
Ice ax loop
Key clip
Secure TipGripper walking pole attachments
SOS panel
Sternum strap with whistle
AirContour
Gear capacity: 25L (1525 Cubic inches)
Weight: 0.84kg / 1lb 14oz
Dimensions: 51 x 26 x 21 cms / 20 x 10 x 8.2 inches
Best Uses: Day hiking, travel, general use
Note: The video above shows the Aeon ND18 but the key features are the same in the entire Aeon range.
The Aeon ND25 offers a technical daypack designed for women that is perfect for hitting the trail. It's capacity of 25 liters is perfect for a day hike, allowing you to pack all you need for a long day out on the hills.
It is constructed using lightweight but tough nylon TriShield fabric so it is durable and abrasion resistant to protect your gear inside.
A really great feature in the Aeon is the AirContour™ carry system which is comprised of a molded back panel for maximum air flow, and adjustable back length.
This pack is excellent for getting a comfortable fit, between the material technology used in the construction and the design, it is easy to adjust it to suit.
The pack features the Flexion™ shoulder harness and hip belt. This works exceptionally well given that it appears so thin and light. The belts and harness all offer micro stretching, further supporting the spread of the pack load for more comfort and breathability.
This pack has nearly all the features you need for a day out hiking. It does not come with an integrated raincover though.
You can easily and securely attach trekking poles to the pack when you don't need them, and the pack has a sturdy ice ax loop.
Aside from the main compartment there is a generous provision for pocket storage in the pack. As well as a zipped pocket in the lid, there is a large front stretch stash pocket and easy reach side stretch pockets, perfect for a water bottle.
There is also an internal security pocket to put your keys or such into before you head out on the trail.
The Lowe Alpine ND25 pack is a pack that is designed by outdoor experts with the hiker in mind. One other minor critique of the pack is that the hydration sleeve could have been designed a bit better to more comfortably accommodate a larger hydration bladder.
Overall though, this is a really quality daypack that will meet most lady hikers needs when out on the trail.
6. Deuter Futura Pro 34 SL
Pros:
Aircomfort Sensic mesh back system for enhanced ventilation
Conical-shaped Variflex hipbelt and S-shaped harness
Spring frame transfers load to center of gravity
Integrated, detachable raincover
Limited lifetime warranty
Cons:
Heavier than some of tis peers
Larger than needed for an average day hike
Deuter Futura Pro 34 SL Pack Features Summary:
Women specific design
Patented Aircomfort Sensic Pro ergonomic back system
Padded Variflex hipbelt pivots at the center of your lower back
Spring steel wire design combined with a horizontal stay effectively transfers load weight to your hips
Height and width adjustable chest strap; load-adjustment straps at shoulders provide stability
Pull-Forward construction makes the hipbelt easy to fasten and tighten even with heavier loads
Extendable 10-liter pack collar adds optional volume expansion
Top lid pocket holds your map, compass or GPS, spare batteries and other small equipment items
Interior valuables pocket secures important items
Front stash pocket and large bellowed side pockets help organize gear
Dual zippered pockets on hipbelt
Side compression straps cinch down loads for jostle-free carrying
Attachment points allow you to lash trekking poles and ice tools to pack exterior
Integrated, removable raincover protects pack contents
Top-loading main compartment features zippered front access and a 3-liter reservoir sleeve with a drink tube exit port for on-the-go hydration (reservoir sold separately)
SOS label
Gear capacity: 34 liters / 2074 cubic inches
Weight: 1559 g / 3 lbs. 7 oz.
Material: Body: Dynajin 210-denier nylon/closed-cell foam
Dimensions: 68 x 28 x 24 cms / 27 x 11 x 9 inches
Best Uses: Day hiking, light backpacking, camping
The Deuter Futura Pro 34 liter SL (Slimline) version has been specifically designed for women. While its 34 liter capacity may be larger than your average daypack needs, if you're looking to carry a lot of equipment or supplies for the whole family, then this makes for a perfect size.
Made from a strong rip-stop nylon with plenty of pockets and features, the Futura Pro is made to stand up to even the harshest hiking environments whilst providing outstanding comfort.
For its larger size, the Futura Pro remains one of the most comfortable backpacks we've reviewed. Its S-shaped shoulder harness and pivoting, conical-shaped Variflex hipbelt are designed to accommodate your curves and provide extra ease of movement.
The chest strap is both height and width adjustable, making it easy to achieve a customized fit. While the extra padding provides great cushioning, the internal spring frame effectively transfers weight down to your hips and center of gravity.
Comfort is also greatly enhanced by improved ventilation and breathability from the Aircomfort Sensic mesh back system, preventing your back from getting hot and sweaty when you are on the move.
As you might expect from such a high quality backpack, there are plenty of features including eight internal and exterior pockets, in addition to the main compartment.
Our favorite features include: hiking pole and accessory attachment loops, a large stretch front pocket, handy for extra layers, dual zippered hipbelt pockets and the integrated detachable raincover.
This backpack is also hydration bladder compatible. Side compression straps help to keep the Futura compact when you're not using it at its full capacity, which is more than likely on your average day hike.
The only real negative is that the Futura Pro is pretty heavy for just a daypack and with all of the extra space, unless you need a lot of extra equipment or are carrying for multiple persons, then you could be better off selecting a more compact model.
However, when you need the extra space, for whatever reason, the Futura Pro is undoubtedly one of the top, most comfortable backpacks around.
7. REI Co-Op Flash 18 Pack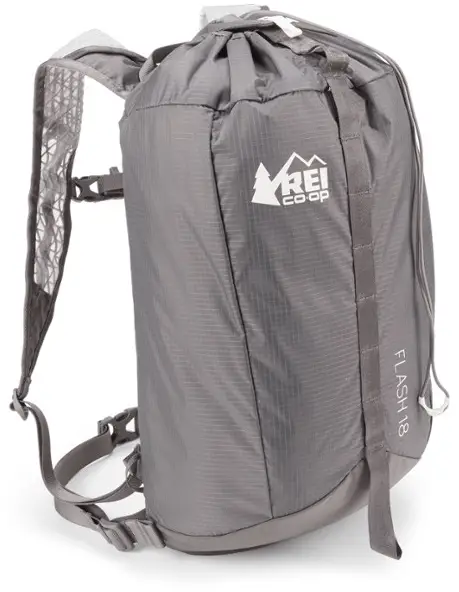 Pros:
Lightweight
Very easy access cinch top
Very accessible price
REI Co-Op Flash 18 Pack Features Summary:
Breathable, stretch-mesh shoulder straps have fold-over padding that softens contact with your neck and shoulders
Back panel is lightly padded; pad slips out for use as a sit pad
Hipbelt and sternum strap can be detached to save weight
Updated pack shape makes loading and access easier
Hydration-compatible design includes a hose exit port and an internal sleeve for a reservoir (reservoir not included)
Single-handed, quick-pull drawcord with small weather flap seals top
Pack exterior has a zippered pocket and daisy chain with ice-axe loop
Exterior loops can be used to lash on extra gear, add compression or tie the Flash 18 to a larger pack
Gear capacity: 18 liters / 1,100 cubic inches
Weight: 255 g / 9 oz
Dimensions: 43 x 25 x 18 cms / 17 x 10 x 7 inches
Material: Ripstop nylon, frameless
Best Uses: Day hiking, travel, general use
The REI Co-op Flash 18 backpack for women is a basic but versatile pack that is a nice choice for anyone looking for a basic and inexpensive backpack for hiking.
It's 18 liter capacity, which is a bit small in our opinion, still makes it a reasonable size for a day's trek, although if you tend to cover many miles with more than just the bare essentials, then you may prefer more capacity.
Comfort wise, the Flash 18 could do better. While it's fine for light loads and short hikes, if you're planning on hiking with a fully loaded pack, then you will probably find that the thin webbing hipbelt leaves most of the weight pulling back on your shoulders.
While the shoulder straps are padded the pack is frameless, so we wouldn't recommend this pack for carrying much more than the lightest of loads for a few hours.
The pack has one main compartment which is easily and quickly accessible via the cinch closure. There is a side zipped pocket in the pack as well but aside from that, there are no other pockets.
The pack has a trekking pole attachment point that can also accommodate an ice axe. There is also an internal hydration bladder sleeve and tube port.
The Flash 18 comes with all the very basic features you'll need for a short hike and provided that's all you're looking to do with it, it should serve you well.
While the Flash 18 is a nice, lightweight and minimalist option at a very accessible price, it really is only suitable for short hikes with light loads. That said, if you are looking for an inexpensive backpack for short day hikes without carrying much, then this could be an ideal choice for you.
However, if you're looking to carry a little more or for a daypack you could load up and use on the occasional overnighter, then you should look at another model with a fully functional, padded hipbelt.
8. Teton Sports Oasis 1100
Pros:
Mesh back panel for improved ventilation
Adjustable shoulder, chest and hip straps
Integrated rain cover
Includes 2L hydration bladder
Multiple compression straps
Cons:
No padding on hipbelt
Poor quality zippers
Teton Sports Oasis 1100 Pack Features Summary:
18-Liter day pack that comes with its own 2-Liter hydration bladder
Lightweight, durable, kink-free sip tube and innovative push-lock cushioned bite valve
Large 5 cm (2-inch) opening for ice that also makes cleaning easy
Adjustable shoulder, chest, and waist band
Shock-absorbing chest strap
Waist Belt: Expandable up to 152 cm / 60″
Gear capacity: 18 L / 1100 cubic inches
Weight: Unfilled: 0.9 kg / 2 lbs
Material: Shell: Honeycomb Ripstop | 600D PU
Best Uses: Day hiking, travel, cycling, general use
The Teton Sports Oasis has an 18-liter capacity making it suitable for short day hikes or long all-day hikes if you don't tend to pack much gear.
It is made from a 600 denier PU fabric, which makes it fairly weather resistant, although when it rains you will need to use the integrated, sewn-in raincover. Bear in mind that PU fabrics tend to be less durable than nylon fabrics of a lower denier.
So, this is not going to be an extremely durable backpack that will last for years.
As this is an inexpensive, one-size-fits-all backpack, it cannot really compete with the majority of backpacks priced over three times its price. However, even though it is not specifically tailored for women, it does feature adjustable shoulder, chest and hip straps for a customizable fit.
As there is no frame or structure to the backpack, you will feel whatever you put in it against your back. The mesh back panel does provide limited ventilation, although this is understandably nothing like the air flow from a framed backpack with an air circulation mesh corridor.
The hipbelt is very much just a strap, with no padding. While the hipbelt ensures that the backpack doesn't bounce about so much, it does not aid in transferring any weight to your hips, so your shoulders will take all of the weight.
If you're just looking for a light backpack for carrying a very light load, this could still be suitable for your needs though.
Feature wise, this budget backpack comes with a two-liter hydration bladder. It has an integrated raincover, multiple compression straps and several zippered compartments and pockets.
The main compartment is full length and the front pocket also features a bungee cord system where you can attach various items as needed. Unfortunately, while some of the zippers feature storm guards, the zipper quality itself is not first rate and they do not appear very durable.
While this daypack has plenty of shortcomings, it is inexpensive and if you are taking a one-off short hike it will definitely serve its purpose. However, if you're planning on hiking regularly with it, you may be better off purchasing a more comfortable daypack.
For lightweight travelling or the occasional short hike though, it could be a good choice. It's also has the top slot for our best budget daypack for women.
9. Hikpro 20L Backpack
Pros:
Adjustable shoulder straps
Very lightweight
Double fabric bottom
Folds up into its own inner pocket for storage
Water resistant
Cons:
No structured panels or frame
No chest strap or hipbelt
Hikpro 20L Pack Features Summary:
Minimalist design, ultra-lightweight, reduced excess shoulder load
Gear Capacity: 20L internal Space
Three zippered compartments
Two large sides mesh pockets for water bottles
Made with high quality water resistant nylon material – stays dry for 40 minutes – 1 hour in the rain
Comfortable wide breathable mesh shoulder straps
Tear resistant and durable
Double fabric at the bottom, reinforced in numerous places for extra strength
Gear Capacity: 20L Internal Space
Weight: 213 g / 7.5 oz
Material: Nylon

Best Uses: Light day hiking, travel, city visits, general use
This 20-liter backpack from Hikepro is a budget, lightweight backpack that has the capacity for all of your day hiking needs. It is made from a lightweight, water resistant fabric, which is doubled at the bottom for enhanced durability.
Considering its low price and lack of hiking specific features, this backpack would be suited to traveling with short hikes, possibly not too far out into the wilderness though! However, for short hikes in well maintained areas, this backpack could be useful.
While it is very lightweight, this backpack could be uncomfortable fully loaded and it has no hip belt or chest strap. As it folds up into its own pocket, there is no frame or structure.
This leaves you feeling everything you pack inside directly against your back. If you just want to pack some waterproofs and a light layer for an hour's stroll then this backpack will be great.
Just note that there is no rain cover, although the fabric is water resistant so you should be fine using it in the damp. The shoulder straps are adjustable giving you the ability to customize your fit a little.
If you are looking for an inexpensive backpack that you can foldaway for light, very occasional use, then this daypack would make a good bargain buy.
However, if you are intending to head off on a full day's hiking, then we recommend spending a bit more and opting for a more hiking specific model further up this list.
10. Gregory Sula 24
Pros:
Suspended mesh back panel
Side extendible mesh pockets
Side and bottom compression straps with quick-release buckles
Dual zippered hipbelt pockets
Internal hydration sleeve with hose management
Cons:
No rain cover included
Angular bottom section means it can tip over when placed down
Gregory Sula 24 Pack Features Summary:
EVAP moisture wicking technology: Incredibly cool and comfortable back panel performance in all weather conditions
Breathable cushioned straps: Ultra-cush shoulder harness with top tier EVA foam and ventilated design for long lasting comfort
Internal hydration sleeve: With SpeedClip integration system for easy use with Gregory's 3D Hydro Reservoir
Stretch mesh storage pockets: Front & side stretch mesh pockets for quick access to water bottles and an extra layer
Zippered mesh accessory pocket and key clip located inside main pocket
Bottom compression straps with surface mounted quick-release buckles
Dual zippered hipbelt pockets
Side-pull 38mm hipbelt adjustment
Sunglass stash on shoulder harness
Safety light lash
Gear capacity: 24 liters / 2074 cubic inches
Weight: 979 g / 2.16 lbs
Dimensions: 51 x 30 x 20 cms / 20 x 12 x 8 inches
Best Uses: Day hiking, camping, travel, general use
The Gregory Sula 24-liter backpack is made with a durable 210 denier nylon outer fabric and an internal frame. At 24 liters you'll have plenty of space for all of your essentials and more.
Unfortunately, due to its tapered off design, this backpack does have a tendency to fall over when placed down. While this doesn't detract from its performance, it is something to bear in mind, especially in damp, muddy conditions.
The Sula 24 fits fairly well, and it is available in other sizes e.g. 28 L. It doesn't have as much adjustability as other packs, so it can be a little hit-and-miss, either it fits you or it doesn't.
For comfort, there is a suspended mesh panel that helps to keep the air circulating between your back and your backpack. The hipbelt and the shoulder straps are comfortably padded and if the backpack is a good length for your torso it has a comfortable, ergonomic fit.
Feature wise, the Sula 24 has everything you need, although we would have liked to see a rain cover included. This backpack is hydration bladder compatible and includes hose management features.
The shoulder straps also feature a useful sunglass stash. The main compartment has plenty of space and the padded hipbelt contains two pockets for your essentials. Webbing keepers prevent the side and bottom compression straps from dangling.
While the Sula 24 is a good, compact daypack, for the price, there are plenty of other models available and we feel that for what it is, it is slightly overpriced.
However, if it fulfils your day hiking needs and is a good fit for your body, then it makes a great choice. Although, if you're hesitating, you could go for greater comfort and suspension for not that much more in terms of price.
Conclusion
Finding the best daypacks for women can be a little overwhelming given the huge amount of choice available.
When you're looking for a new daypack it's important to pick a model that is correctly sized for your body, so make sure you check out the specific measurements and measuring guides provided by the manufacturer.
If you have difficulty finding a daypack that fits, there are options available with extra adjustability.
Aside from the fit, you'll also need to consider your comfort level. This is also dictated by what kind of load you want to be carrying, and in what kind of conditions, as well as distances.
For example if you frequently go hiking in the heat, over long distances, you'll need to carry plenty of water and you'll really appreciate the extra breathability from an air corridor along your back with a good internal frame and padded hipbelt.
Alternatively you may need a good waterproof rain cover and space for an ice ax, if your winter day hikes are more of the extreme cold type. Check out our daypack buying guide for further advice on what to look for when choosing a daypack.
Whatever your needs are, be sure to thoroughly explore all of the features on offer and verify that your daypack will still provide you with optimal comfort levels, when loaded up to take on your average day hike weight.
We really hope you found this useful, please link to and / or share it round your networks if you did 🙂