Hiking day packs are a member of the extended family of backpacks. They're the smaller cousins of backpacks that are used for day hikes or for short hiking trips, maybe one or two days.
When choosing a day pack for hiking, you first need to think about what you want to use the day pack for. Yes, this is a hiking website so of course using it for hiking is a given but there are a range of other uses for your hiking day pack that you may want to consider.
Whether that's just utilizing your day pack for going to the store for groceries and carrying your college books in, or if you want to use it for other outdoor recreational activities, you should take all that into consideration.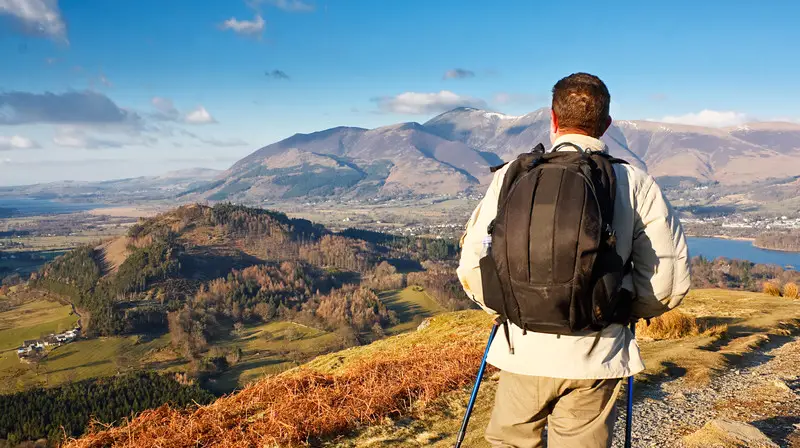 This hiking day pack buying guide will show you what key things you should think about when trying to find a suitable day pack to meet your needs.
Capacity / Volume
Most day packs will fall between roughly 20 – 35 liters capacity and many models will have several size options. Whether you aim for the lower or higher end of the volume spectrum will again depend on your needs. If you only ever go out for shorter day hikes, 4-5 hours, you might be just fine with a lower volume day pack. For longer hikes you may need that extra bit of capacity to store a few more supplies. Similarly, if it's the middle of winter, you may need a bit more space to carry extra layers to be sure you stay warm.
Weight
Packs can vary in weight quite a bit. This is largely down to the capacity you choose and the number of features, looked at in more detail below, you require on your day pack.
Overall, for most average day hikers, any purpose built hiking day pack will be a suitable weight as not to of concern.
Ventilation
Today, most packs are built with ventilation features similar to their larger backpack cousins. That is, when you have a lot of stuff in your day pack, it can be quite heavy and most modern day packs have a firm mesh type padding, as pictured below, that rests the pack itself slightly off your back.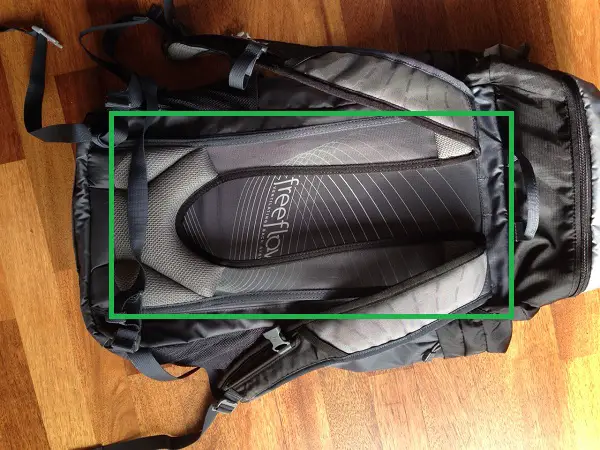 This enables air to get in and around your back and so prevents hot spots from forming. Without these, your back can get very hot and sweaty, especially on a hot day, very quickly which is not ideal.
Fit
Packs can come in styles that are built specifically for men and for women. However, I can't really see why most of these shouldn't be able to fit either sex. Now, I can't see a man wanting to wear a pink slender shaped pack designed for a lady. However, I think it is feasible that a very functional pack in the male category should be able to be utilized by a woman. I do stand to be corrected on that though. Either way, most day packs will clearly indicate if they are built specifically for a particular body type.
You of course want a pack that fits well and this is no different to getting a large back pack for a longer trek. As a quick fitting tip, you should loosen all relevant straps before putting the day pack on. Then, when you have it on, adjust the straps, buckles etc. to your desired fit. If you can pop something into the pack to add some weight to it, even better. Basically, you want to be sure it feels good when you have it on and fully adjusted to your body size and type in as realistic a manner as possible.
Some packs will have a waist band that adjusts round your hips. If your day pack has this feature, be sure it fits around your hips well when fully adjusted and doesn't block any access to pockets you need e.g. on your hiking jacket.
Features
As mentioned above, this is an area where you trade off weight for extra utilities. As a general rule, the more utilities and features on your pack, the heavier it will be. Personally, I like to have a good range of features, compartments and pockets on a day pack so I am fine with more a day pack that is a bit heavier but has more features. As mentioned above, the difference in weight is negligible for most.
Some features to think about are:
Compartments:
These aren't pockets but rather are the main capacity areas of your day pack. A day pack can have normally have anywhere from one to three of these. I prefer to have one main compartment, as pictured in my day pack below, in the body of the pack and a smaller zip compartment on the top. This is pretty standard in most day packs.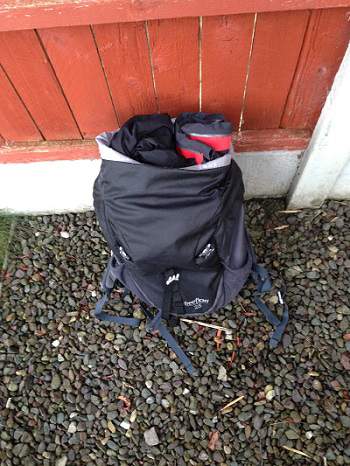 While having more than one compartment in the main body of the pack, can mean you can separate your gear and supplies out easily in your pack, I prefer to do this with dry bags or bin liners. So, I will store my extra hiking layers and food in the main compartment of my day pack and then things like in the next one and maybe gloves, hat, compass and so on in the compartment on the top of the pack. Again though, it depends on your needs.
The compartments will normally be accessible either from the top or from the front and sides in u-shaped zips.
Pockets:
As opposed to compartments, pockets are smaller and are used for specific storage. It's best to think of pockets in terms of internal and external. For example, internally most day packs will have a pocket for storing your vital bits and pieces like your mobile phone, keys and so on. Some pockets will have special key pockets or clips to attach your keys to. You can also get specialized pockets e.g. soft lined pockets for sunglasses. Externally, water bottle mesh pockets are a good example of a standard pocket you can expect to see on a day pack.
I like a good range of pockets in a day pack. I think it's easier to separate stuff out for easier access and recollection for that matter … that's probably just me and my simple male brain but I find it much easier to remember where I put things if they're in separate pockets and compartments 🙂
Hydration:
A common feature a good hiking day pack will have, is a compartment that is compatible with a hydration pack. When looking at this, you need to check on the capacity of the hydration pack it can take as well as an outlet for the tube from the pack. If you only use water bottles, then this shouldn't be a concern for you.
Clips and Loops:
Most day packs will come with some clips and loops that can be used to attach various hiking tools. For example, some will have walking pole loops where you can attach your poles when not in use. Loops can also be used to attached critical tools like an ice ax. So, if you plan to be doing a lot of day hiking in very cold and icy environments then that is something you need to think about. Similarly if you like to use walking poles but don't like to carry them when not in use, these little features are important to consider.
Rain Cover:
This is another one to think about. You don't want to get your hiking layers or smart phone drenched in a deluge of rain. Nor is a soggy sandwich very appetizing when you finally get to sit down for a snack after a hard morning on the trail!
A rain cover can be built into your day pack. If so, it will usually be stored in a zip pocket at the top or bottom of the pack and will have an adjustable cord around the edge of it as in the picture below.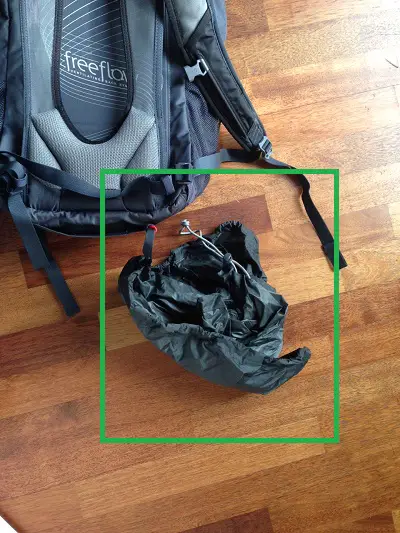 When the weather gets nasty you simply open up the rain cover pocket, pull it out over the day pack and adjust the cord to securely surround the cover over all of the pack. Now, if you find a pack that you really like but it doesn't have a rain cover, don't panic, you can buy these separately to your pack. Just be sure you get the right size.
In my opinion, a rain cover is of limited value. To keep stuff inside try I highly recommend using Dry Bags.
As a final note in this section, some packs will have the material treated with some kind of DWR (durable water repellent) coating too which can be another nice thing to have with regards to helping to keeping the inside of your day pack dry.
Conclusion
A day pack is an important part of your hiking gear and, as you can see, there is a fair bit to consider when choosing one that will meet all of your needs. The best piece of advice I can give is to get very clear on what you expect from your day pack before choosing one as that will largely decide all the above factors for you pretty quickly which will in turn decide on the price you will pay.
If you're on the look out for a new day pack, check out my day pack recommendations.
Have you any tips for choosing a day pack for the trail? I'd love to hear them in the comments below.