In this post we preview the best men's hiking sandals available on the market today. When you are choosing your hiking sandals, whether you are an experienced hiker or trekker or not, there are a few key things that you need to consider.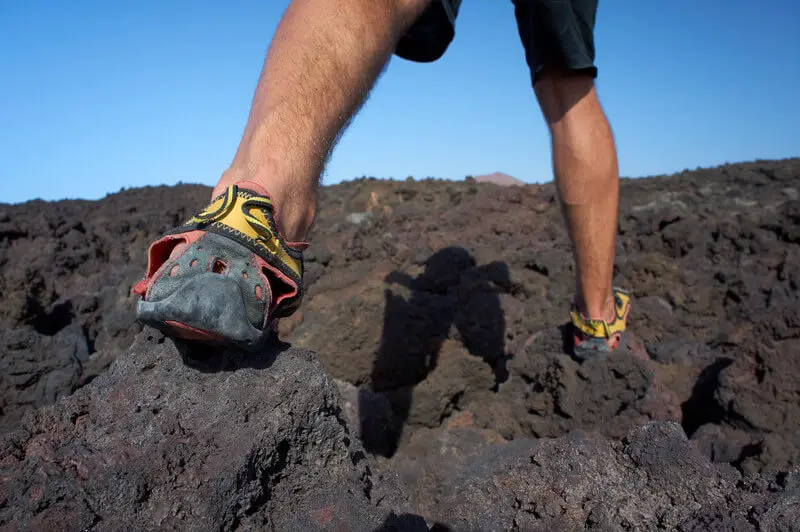 Getting the wrong pair of sandals, as with any other piece of footwear, can lead to a whole world of pain and quite probably an awful lot of blisters. To help avoid that, we link to our buying advice at the end of this article.
Before we get to that, let's take a look at the best hiking sandals for men! If you don't have time to go through the full list and just want to know our top choice for men, we recommend the KEEN Newport H2, they are excellent!
There are oodles of options available, so we've honed in some of the top performers which are also the most popular with lot's of excellent reviews and user love.
1. KEEN Newport H2
Pros:
Neoprene backed webbing for comfort and fit, wet or dry
Comfortable and supportive fit
Excellent traction
Fast-drying and machine washable
Cons:
Closed toe means sand and small stones can get trapped inside the sandal
KEEN Newport H2 Features Summary:
Washable polyester webbing
Non-marking rubber outsole with razor siping sole
Metatomical EVA footbed
Removable metatomical PU footbed
Multi directional lug pattern for increased traction
PFC Free materials
Secure fit lace capture system
TPU stability shank
Cleansport NXT for natural odor control
Best Uses: River walking, light hiking on trails, camp shoes, general outdoor use, general day-to-day use
The Newport H2 by KEEN, one of the leading brands in outdoor footwear, is a hybrid model that combines the grip and versatility of a water sandal with the toe protection and secure fit of a shoe.
Ideal for any outside activity and robust enough for even moderate hikes, the KEEN Newport H2 is extra-supportive and makes transitions from wet to dry with ease thanks to its excellent traction and fast-drying construction.
This KEEN sandal has a non-marking rubber outsole with multi-directional lug pattern and razor siping for excellent traction. The Newport H2 grips well on both wet and dry surfaces, making it an excellent choice for hiking over more rugged terrain, especially with water crossings.
The TPU stability shank further adds to its support, while its anatomical EVA footbed molds to the shape of your foot for a personalized fit and unrivaled support and comfort.
The density of the footbed makes the sole springy and helps to absorb shocks while preventing your foot from slipping, even when wet.
The Newport H2 features a neoprene lined webbing upper that is durable, comfortable and quick drying. The neoprene prevents chafing and improves performance and stability in wet conditions.
Complete with durable rubber toe area to prevent stubbing and an efficient lace secure-fit fastening system, the KEEN Newport H2 provides a secure fit with enhanced protection not usually found in a sandal.
Fast-drying and machine washable, this sandal is extremely practical. The upper is also treated with an odor-reducing Aegis Microbe Shield® to keep your sandals smelling fresh between washes. The Newport H2 is available in several colors with a range of contrasting color accents.
In short, this is a fantastically versatile sandal with great traction. It is as suitable for trail hiking as it is for creek exploration and general outdoor activities, thanks to its comfortable fit, great support and covered toe area.
2. Chaco Z/2 Cloud 2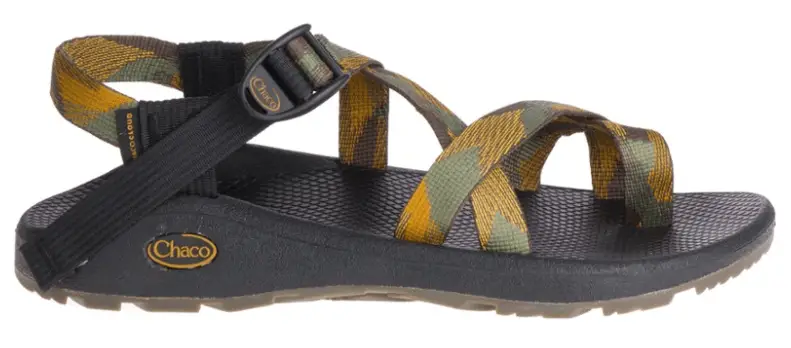 Pros:
Very comfortable sandal that fits snugly around your feet
Great traction works well on flat and rocky terrain
Excellent molding on the shoe with built in ankle protection
Adjustable and easy to clean, machine washable
Very good in the water and quick drying
Cons:
Expensive
A little on the heavy side
Chaco Z/2 Cloud 2 Sandals For Men Features Summary:
Toe loops offer additional forefoot control
Podiatrist-certified Luvseat polyurethane footbeds for all-day comfort and support
3.5mm lug depth for great traction
Antimicrobial application for odor control
Best Uses: River walking, water sports, light hiking on trails, camp shoes, general outdoor use, general day-to-day use
These Chaco Z/2 Cloud 2 are a really comfortable and functional pair of sandals. Excellent on land or in the wet stuff, they're a top all around performer. They are also ideal for almost all other types of trickier terrain including rocks and boulders.
The shoes are machine washable if they do get dirty on one of your exciting adventures.
The Dual-density polyurethane midsole in conjunction with the Polyester jaquard webbing upper, gives you that extra bit of support when you are walking. The ChacoGrip rubber outsoles and ultrasoft top layers for cushioning underfoot make you feel like you aren't actually wearing any shoes at all.
This is a really comfortable sandal that you can wear all day and night, should you so choose. It is a fantastic water shoe that provides you with great comfort and it will perform just as well when you are hiking on a light trail on a hot summers day too.
The sandals are very easily cleaned, and are great in the water, so there are no concerns about permanent water damage. The ability to dry the shoe quickly means that you are ready to wear them again in just a few hours.
Overall verdict; brilliant sandals, easily adaptable to any terrain. You may need to wear these sandals in a bit before your first real test out in the elements of nature.
3. Teva Hurricane XLT2
Pros:
Great adjustability in the sandal
Really good fitting and very comfortable shoe
Sturdy, rugged, and durable
Quick to wear in and be ready for extended use, ill work on varying terrain
Good in the water and very quick and hassle free to wash and dry
Cons:
There have been complaints of the glue coming away from the shoe leaving the shoe to fall apart. This has been reported by several customers
The quality of the product has diminished over the years with loyal customers expressing their concerns with the quality of the latest versions
Hard outsole with very little padding on the straps and no toe protection
Teva Men's Hurricane XLT2 Sandal Features Summary:
Available in 18 colors/styles
Made with polyester flat webbing
Contoured footbed and the sole is made from rubber
Rugged sandal
Straps are made from nylon
Best Uses: Campsite use, general outdoor use, general day-to-day use
Next on our list, A very simple yet effective sandal that has been developed so that every strap is adjustable to enable you to find the perfect fit.
With many different colors to choose from, you can absolutely guarantee that you will find something to suit your needs. The lack of material means that this particular sandal is very easy to clean and extremely fast drying.
Because the shoes are basically straps, you are able to pack them easily and they will take up very little room in your bag.
This is a comfortable shoe that is produced by one of the forerunners in hiking sandals. Years of development have gone into this shoe to make it one of the very best on the market.
This is a very simple sandal that provides great adjustability to ensure the most comfort for you. There is a large selection of colors available to make sure you can purchase the best option that meets your requirements.
These are very quick and easy to wash and dry, which is a wonderful benefit when you are hiking / trekking.
Verdict; This is a rugged sandal that has very loyal followers. However, note that the more regular customers are now complaining that the quality of the shoe has dropped dramatically over the last couple of years.
4. Chaco Z1 Classic Sport
Pros:
Sturdy footbed for support and comfort even on extended hiking trips
Great shock-absorbing outsole for comfortable feet whatever the terrain
Sturdy and durable, these sandals are made to last
Intuitive, highly-adjustable straps for a custom fit
Cons:
If you're looking for a lightweight sandal for occasional use you may find the Z1 on the heavy side
Chaco Z1 Classic Sport Sandal For Men Features Summary:
Available in 20+ different color styles
Polyester jacquard webbing upper wraps around the foot and through the midsole for a customized fit
Adjustable and durable high-tensile webbing heel risers
Adjustable fit with durable high-tensile webbing heel risers
LUVSEAT PU midsole
Antimicrobial application for odor control
Non-marking ChacoGrip rubber outsole with 3.5mm deep lug
Best Uses: Light trail hiking, campsite use, river walking, general outdoor and day-to-day use
The Z1 Classic Athletic by Chaco has become an iconic sport sandal, renowned for its comfort and durability since its creation in 1989. Streamlined and fuss-free, its solid sole and superb grip make this robust sandal ideal summer hiking footwear, even out on rough terrain.
Made from a bespoke non-marking rubber, ChacoGrip, this sandal's thick outsole protects your feet and is an excellent shock absorber, making easy work of difficult terrain.
The Z1's outsole provides enhanced performance and grip thanks to a 3.5 mm deep lug that is optimized for extreme conditions and wet traction.
Performance and traction are further enhanced by the Z1's LUVSEAT PU stiff and sturdy midsole, which provides contoured arch support. These midsoles do not compress nor break down with wear and are central to Chaco's practical design.
The upper consists of durable polyester jacquard webbing. Not only does this webbing wrap around the foot, for fit and comfort, it also wraps through the midsole itself, ensuring an unparalleled fit and increasing longevity.
The straps can be adjusted to a custom-fit, although it can take a little trial and error to get used to Chaco's excellent system if you're trying it out for the first time.
In terms of comfort, the Z1 is hard to beat, especially for long days on the trail. Its LUVSEAT midsole is podiatrist certified, offering day-long support and keeping your feet comfortable no matter how many hours you're out hiking for.
The upper straps are quick drying and intuitively placed, preventing rubbing and ensuring your feet are secure. An antimicrobial treatment application ensures the Z1 remains odor-free, even after long periods of wear.
For intensive use, durability and extreme terrain, it's hard to find a sandal that's an improvement on the Chaco Z1 Classic. It's streamlined, timeless design provides the protection and traction you need out on the trail without compromising on comfort.
5. Ecco Yucatan
Pros:
Durable, molded EVA footbed offering stability and cushioning
Agion treated footbed to prevent bacterial growth
PU foam midsole for outstanding comfort
Superior grip and traction on outdoor terrain
Cons:
Some may find the front strap doesn't adapt adequately to their feet as it only offers minimal adjustment
More expensive than many other quality hiking sandals
Ecco Yucatan Sandal For Men Features Summary:
Available in a wide variety of color combinations and pattern styles
Pull-up leathers on a classic silhouette for a rich look and feel
Lightweight moulded EVA footbed with soft microfibre cover for supreme cushioning and superior stability
A direct-injected PU midsole foam provides long-lasting cushioning and outstanding everyday walking comfort
RECEPTOR technology for excellent stability and dynamic support from ground impact to toe-off
urable rubber outsole for outstanding grip and traction on varied terrain
Overall versatile design and construction
Best Uses: Light trail hiking, campsite use, river walking, general outdoor and day-to-day use
The Ecco Yucatan is a classic sandal with a huge fan base, having sold over 10 million pairs.
Famous for its outstanding comfort, this popular sandal is a great all-rounder, suitable for light to moderate hiking although its traditional looks mean many chose it as their go-to summer sandal for daily wear
The outsole is made from durable rubber and with its deep lugs it offers outstanding grip and traction on varied terrain, including slippery rocks and loose-underfoot trails.
With its midsole consisting of directly injected PU foam for long-lasting cushioning, the Yucatan provides great comfort for the everyday walker. Receptor technology ensures that the foot remains stable and supported from ground impact.
This performance sports sandal features an Agion-treated EVA footbed to inhibit bacterial growth and maintain healthy feet and odor-free sandals.
The soft microfiber covering combines supreme comfort with excellent stability, keeping feet fresh. The Yucatan has a comfortable, flexible nubuck leather upper in a classic silhouette, complete with three-point adjustability and a neoprene lining for even more added comfort.
The Yucatan's versatile design, great comfort and grip make it an ideal sandal to wear out on the trail, although its lightweight classic design make it equally suited to an urban lifestyle and day-to-day non-intensive sports use. These sandals are extremely popular and keep feet comfortable mile after mile.
Conclusion
We hope you found this post on the best hiking sandals for men useful. As you can see these are some of these options are available at very affordable prices. We'll be adding to this over time, so refer back often to see what other excellent sandals we add.
If you're new to hiking sandals, be sure to check out guide on how to choose hiking sandals. It goes over the main things you need to consider when buying a pair of good hiking sandals to meet your needs.
Happy hiking!