In this article I wanted to lay out 10 of the best hiking rain jackets For men available on the market today. I have not listed these in any particular order. They have all the things you should be looking for in a rain shell jacket and they all score well across multiple review sites and multiple user reviews so if you're in the market for a new waterproof jacket, they'll give you plenty of food for thought.

#1 Marmot PreCip Rain Jacket For Men
The Marmot Precip rain jacket for men is a top performer all across the web. From gear review sites to user reviews it performs consistently well and has lots of great reports on its functional capability. It looks sleek and provides a comfortable fit allowing angel wing movement i.e. it doesn't ride up your back when you swing your arms. It's waterproof and breathable and performs well in both of these key areas.
The Precip is lightweight, durable and packs away in its own pocket to be easily stowed away. The hood is fully adjustable, performs well and offers a stiff brim which is always handy to help maintain visibility in bad weather. Some other features of note are the DriClime® chin guard, the Velcro cuffs and the storm flap which all lend themselves to keeping you secure and dry. The Precip also features two zippered hand pockets.
Pros: Great breathability and ventilation, functional hood, pit zips, good price
Cons: No Napoleon chest pocket
Best Uses: Day hiking, general outdoor use, day-to-day use

When you're heading out on the trail, one thing you always need to have in your pack is rain gear. At some point you will get caught in a downpour and / or rain showers. A key part of keeping you good in terms of rain gear is, of course, a hiking rain jacket.
Now, this is one of the areas I think there can be a lot of confusion in as when you go to the outdoor store or you look online you will see a massive price differential between different types of waterproof jackets. There are a lot of reasons for that but if I was to summarize it in a sentence, people can often buy much more capability than they probably need and they would be fine with a basic rain shell jacket.
This is one of the good news stories in terms of hiking gear, as it can be quite expensive getting good gear. For most average hikers, a rain shell jacket made using 2 or 2.5 Layer construction combined with good layering will more than meet their needs for rain and wet protection.
You can go all out and get a tougher hard shell jacket but in truth, that isn't necessary for most. The 'good news' I refer to is that, in terms of waterproof protection, rain shells are probably the most accessible in terms of price and you can get a reasonable one from anywhere between $50.00 at the lower end to $300.00 at the higher end.
As always, you need to be clear on your needs for your rain jacket. In some cases, maybe a more expensive hard shell is the right option. To learn more about what to be thinking about when buying a rain jacket, check out the post on how to buy a waterproof hiking jacket.
I am keeping the descriptions brief enough but where you want to learn more, just click on the 'Learn more here' link at the end of each preview, you'll be taken through to a review here on the site or another external link.
Note, that any mention of prices listed here are only retail guide prices. Prices chop and change all the time and so these are only meant to give you a ballpark idea of the actual cost. Please also note that there are coupons on the side bar here, so if you see anything you like, be sure to check them out to see if you can get any further discount.
OK, so with that all done and dusted, let's get moving and take a closer look at some more top men's Rain Shell Jackets.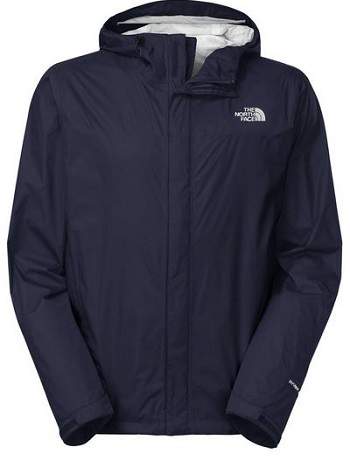 #2 The North Face Venture Rain Jacket For Men
The North Face Venture jacket for men has been about for a long time. It's a bestselling rain jacket from the North Face with a claim to fame as editors of Backpacker Magazine awarded it for its eco-conscious construction. Made from 100% recycled nylon 40D ripstop the Venture ticks most of the boxes you would want it to in terms of a rain shell jacket.
It is waterproof and breathable and has the extra feature of pit zips to help ensure good ventilation in and around the chest and torso area. The hood is fully adjustable and while it is not peaked or stiff brimmed it does close up well. The Venture is lightweight and stows away in its own pocket, of which there are two hand pockets. The Venture scores well in terms of price as at around $100.00, normally, if you shop around you should get a further discount.
Pros: Lightweight, good ventilation, good price
Cons: Hood is basic
Best Uses: Day hiking, general outdoor use, day-to-day use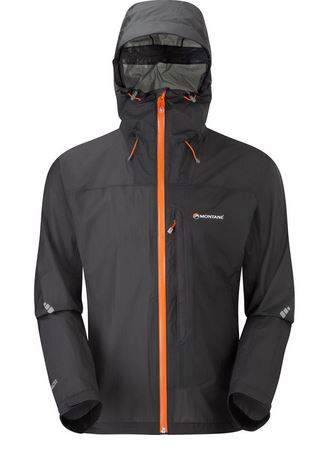 #3 Montane Minimus Rain Jacket For Men
The Montane Minimus jacket is an ultra-light rain shell jacket. It performs very well in terms of ventilation and its waterproof capabilities also are listed be users to work very well. Some notable feature on the Minimus are the moldable hood which is very handy to be able to shape to fit, excellent to fit to a helmet. The hood also performs well in terms of rain protection, keeping it off your face.
Some other features which work well on this jacket are the Velcro cuffs which can be sealed tight to help provide a secure internal area. The zippers and a lot of the features on the jacket are workable with gloves on which, I think, is a major plus for colder conditions. The jacket is designed to be very lightweight yet very functional.
There is only one large chest pocket on the chest, so no hand pockets. Personally, I like having hand pockets but if weight is a key factor in your hiking, then you may be happy to lose them. The Minimus is stowable but in a separate stuff sack. The jacket has lots of reflective bits all over it so great in terms of visibility. I see this jacket as meeting the needs of a more specialist hiker or runner e.g. backpacking, fast packing. Still a pretty cool rain shell though.
Pros: Good ventilation, chest pocket, 360 reflectivity, light weight
Cons: No hand pockets, stuff sack for stowing is separate to jacket
Best Uses: Hiking, backpacking, fastpacking, running, cycling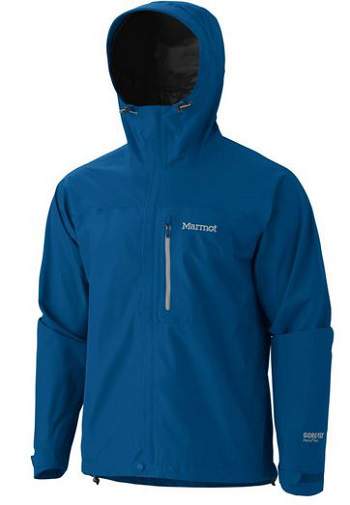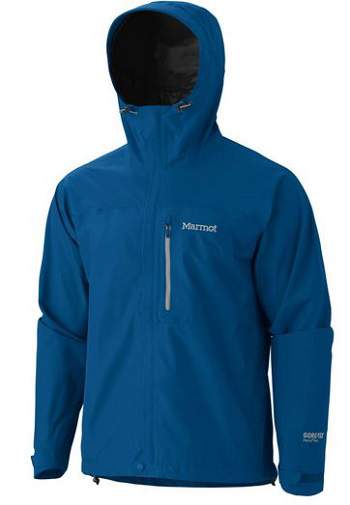 #4 Marmot Minimalist Rain Jacket For Men
The Matmot Minimalist jacket is another very functional jacket from Marmot. The first stand out thing of note is that the jacket uses Gore-tex in its construction. As everyone knows, Gore-tex is an industry standard in terms of waterproof protection and breathability so we're off to a great start here and it scores high in the waterproof and breathability departments.
The next stand out feature is the hood, it has a stiffened brim which is always a good thing to have and is fully adjustable via two elastic cinch cords, one to adjust the hood on the face and one to adjust the brow. The toggles are all usable with gloves on, yaay! The style and cut is athletic and a good fit is mentioned by most users. The minimalist also has pit zips for extra ventilation, one chest pocket and two hand pockets. The Minimalist is in fact more like a hard shell jacket but in the price range of a rain shell jacket, so definitely one you should add to your review list!
Pros: Excellent breathability and ventilation, excellent water resistance, functional hood, very durable construction using Gore-tex
Cons: Heavier than a standard rain shell
Best Uses: Backpacking, hiking, biking, camping, skiing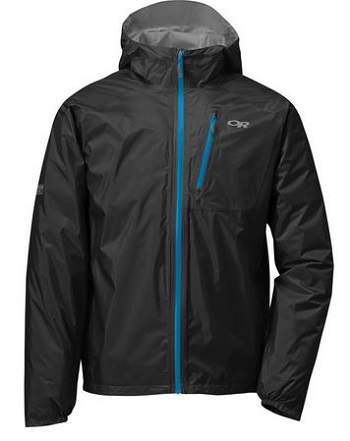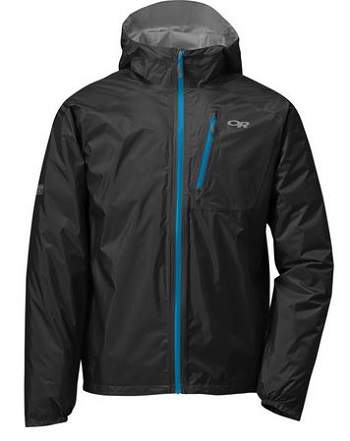 #5 Outdoor Research Helium II Rain Jacket For Men
A jacket with the name Helium more or less tells you from the start what the main purpose of the design is. Yes indeed, the Outdoor Research Helium II Rain Jacket comes up trumps in the lightweight department while offering a decent amount of rain and wind protection. The Helium II is a standard 2.5 layer construction and offers breathability via its Pertex Shield+ technology which by all accounts performs very well. There are no other venting features on the jacket though except for the cuffs.
Water resistance is offered via a DWR coating on the outside of the jacket which performs well. The Helium II has a stiffened hood than also is noted by users to perform well and is easy to adjust. The Helium features only two pockets, one inside stuff pocket and one on the chest, with the internal pocket being where the jacket can be packed away. Overall, the Helium II is probably more suited to a runner than a hiker, but if weight is a big issue it could be a great option for emergency rain protection in a heavy pack.
Pros: Very light, stuffs into its own pocket, offers good mobility
Cons: No hand pockets, wrist cuffs don't close
Best Uses: Running, climbing, fastpacking, emergency rain protection on the trail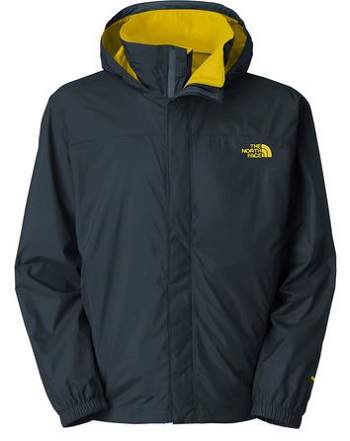 #6 The North Face Resolve Rain Jacket For Men
The second jacket featured from the North Face, the Resolve, is one that sits at the lower end of the price range for a rain shell. It's a two layered construction jacket. The Resolve offers pretty good waterproof protection but not as much as some of its peers. This jacket is at the lower end of the price range though so you can naturally expect a bit less. In terms of breathability, the Resolves 2 layer construction utilizes The North Face Hy-vent technology. This offers a basic enough solution and so again isn't as functional as its peers.
There are no extra venting options like pit zips. The jacket is one of the heavier options listed here and isn't stowable in its pocket by design. The hood is adjustable and performs well and the hand cuffs are elastic. Now, this all sounds very so-so, but it isn't really the case. The Resolve is very accessible in terms of price and it will offer a sturdy enough option for day hiking and general day-to-day use. For someone just testing the waters with hiking or who just enjoys a good hike  in the hills with their dog at the weekend, the Resolve should suit them just fine without breaking the bank!
Pros: Comfortable, accessible in terms of price, durable,
Cons: Minimal breathability, heavier than its peers
Best Uses: Day hiking, general outdoor use
#7 Patagonia Torrentshell Rain Jacket For Men
The Torrentshell is a very popular option from Patagonia with lots of great reviews across the web. Its 2.5 layer construction is tough using 50D nylon ripstop and it performs very well in the 'protecting from the elements' department. It is very water resistant with a rating of 20,000 mm which is high scoring and most user reviews fully support this assertion. The waterproofness of the jacket is further enhanced with DWR treated zippers, a storm flap as well as waterproof pockets.
The breathability of the Torrentshell performs pretty well from user accounts and the pit zips add an additional quick venting option which works well. One of the best features of the Torrentshell is the hood with various reports that it fits well and its stiffened brim holds up exceptionally well under tough conditions enabling a good line of sight. The Torrentshell has two hand pockets and overall the fit of the jacket reports back as true to size and comfortable. In terms of weight, the Torrentshell is about average in relation to its peers. The tough construction means it is durable and it is also packable in its own pocket with a handy clip in loop to attach to a pack. Overall, a very fitting option for every kind of hiking!
Pros: Waterproof, good breathability, great hood, durable
Cons: Zipper pulls and cord locks are small and fiddly
Best Uses: Day hiking, backpacking, mountaineering, general outdoor use, day-to-day use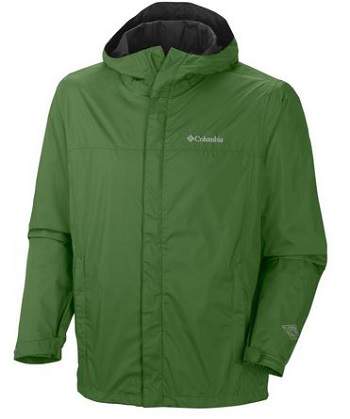 #8 Columbia Watertight II Rain Jacket For Men
The Watertight II is probably at the lower end of the price scale department when it comes to a basic rain shell jacket. Retailing in at about $59.99, it is very accessible in terms of price which is certainly a very attractive point of note. Constructed using two layers and a mesh lining, the Watertight II offers a reasonable level of water resistance and the DWR coating will keep you good in a rain shower.
The breathability is limited as it's a two layer construction and there are no pit zips for quick ventilation. However, the two hand pockets are mesh so when left open, they do serve as ventilation ducts. Overall, the general reports back are that the Watertight II is a comfortable enough fit. The hood is roomy and fits comfortably enough but it isn't brimmed and so it will tend to flap about in the wind.
In terms of weight, the Watertight is heavier than many of its peers listed on this page and it won't be as durable either. The Watertight II has two hand pockets and does stuff into one of them by design. Overall, the Watertight II is perfect for someone who wants to give hiking a go and have the option to utilize their rain shell elsewhere e.g. heading to the shops etc. It's a basic but functional enough 3 season entry level rain shell hiking jacket but not much more than that. However, at sixty bucks, you could do a lot worse!
Pros: Comfortable, very accessible in terms of price, athletic fit,
Cons: Bulkier / heavier than its peers, minimal ventilation options, minimal hood adjustment options
Best Uses: Day hiking, general day-to-day use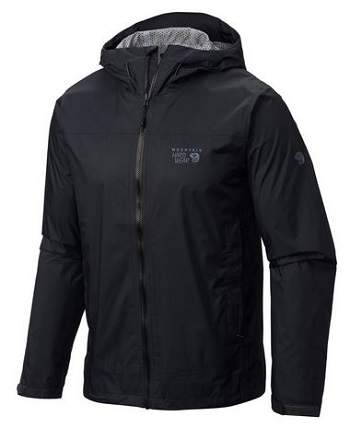 #9 Mountain Hardwear Plasmic Ion Rain Jacket For Men
With a name like Plasmic Ion, this rain jacket sounds like it should be standard kit on the Starship Enterprise 🙂 However, it is a very nice rain shell option from Mountain Hardwear. Featuring its Dry.Q Evap 2.5L waterproof and breathable membrane, the Plasmic Ion offers good waterproof protection and breathability. The hook and loop cuffs, Aquaguard zippers as well as a fully adjustable hood further support the waterproof capabilities of this jacket and the underarm pit zips enhance its venting options in terms of breathability.
There are two hand pockets on the Plasmic Ion jacket and the jacket weighs in at about 10 oz. Available in and around $120.00, the Plasmic Ion sits in the middle of the range in terms of price for a rain shell. Overall, the Mountain Hardwear Plasmic Ion offers most of what you need from a rain shell jacket for the trail at a decent price so it is worth taking a closer look at it for sure.
Pros: Affordable 2.5 layer jacket, Lightweight, Good waterproof and breathable capabilities
Cons: No chest pocket
Best Uses: Hiking, camping, general day-to-day use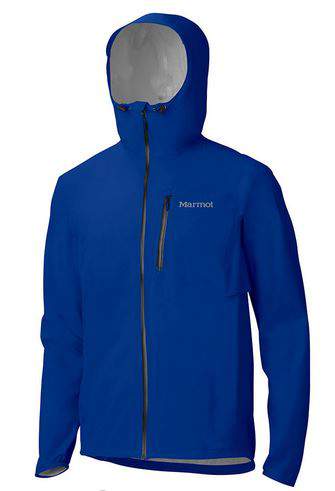 #10 Marmot Essence Rain Jacket For Men
This is the third jacket that appears from Marmot on this top 10 list. That in itself says a lot in terms of the quality you can expect from Marmot, they make some pretty sweet jackets. The Essence is a 2.5 layer construction that utilizes Marmot's NanoPro 2.5-layer laminate technology to offer very good waterproof and breathable capabilities. In terms of user experience with its water resistance, the DWR coating performs very well and breathability is further enhanced with a quick venting option supplied by underarm vents.
The Essence is ultralight and so is easy to carry in a pack however it doesn't pack away in its own pocket, not by design anyway. The first stand out feature is the hood on the Essence. It is a brimmed fully adjustable hood that performs very well by user accounts. When you utilize that in conjunction with its waterproof zippers and Velcro cuffs, it's easy to get a protective but comfortable cocoon around your torso. Numerous user reviews commented on how good mobility is with the Essence fully on and zipped up etc. There are no hand pockets, just one chest pocket. Overall a lightweight, versatile and functional performer from Marmot.
Pros: Ultralight, very breathable, comfortable and good mobility
Cons: No hand pockets, 15D nylon fabric isn't the toughest (the trade-off for it being so lightweight)
Best Uses: Hiking, climbing, backpacking, trail running
Learn more here.


Conclusion
I hope you enjoyed this quick look at 10 Of The Best Hiking Rain Jackets For Men. There is no shortage of great options to choose from. If you're on the hunt for a new rain jacket for the trail, definitely check some of these options out.
Always remember to know your requirements clearly before buying a new rain jacket. It is very possible to get more functionality than you need and there's no point spending more to buy more capability than you really need. For most average hikers, a basic rain shell jacket, like the ones listed here, combined with layering should more than meet their needs.
Finally, if you're in the market for a new rain shell jacket, be sure to check out my top rain shell jacket recommendations.
If you found this post useful, please share it around your networks 🙂