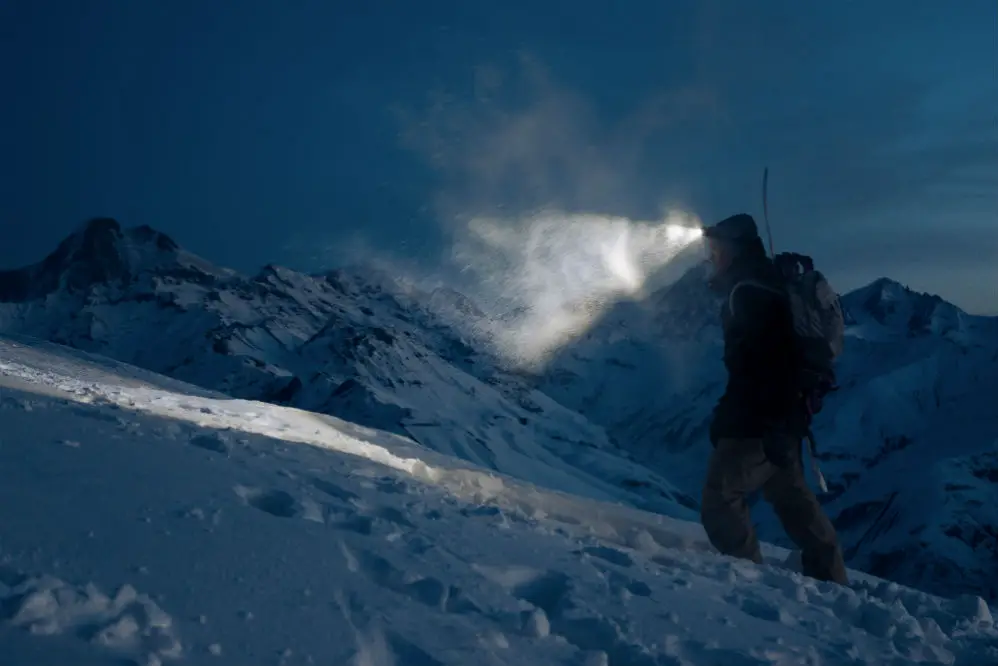 Upgrading your hiking activity is as simple as upgrading your gear. With the right tools, you can turn short day trips into overnight journeys, and one key thing that you will need when making this transition is the best hiking headlamp.
A headlamp is great for more than just night time use. If you end up in a dark area, need to find something around the campsite, or get stuck out later than expected, a headlamp can make all the difference in what kind of experience you will have.
Therefore, we've gathered up three hiking headlamp options on the market for you to see which one will work best for you. So, let's get a look at the best hiking headlamps: The Contenders!
#1 Black Diamond Storm Headlamp
Available in aluminum, dark olive, octane, matte black, and nightshade colors, the Black Diamond Storm Headlamp is one of the top hiking headlamps on the market because of its price, size, power, and durability. Let's learn more about it.
Features
One of the great things about the Black Diamond Storm Headlamp is that it has a simple strap that can be adjusted to tightly but comfortably fit your head, so that the lamp doesn't slide around or fall off while you are crossing various types of terrain.
Another thing worth noting is the fact that the LED light produces up to 250 lumens of light, so a powerful light is produced from this lamp.
There are also integrated green and red LED lights that you can use when it is dark or during nighttime, these lights are typically useful for hunting as to the best of our knowledge, they do not spook animals.
Decreasing and increasing the brightness of the lamp to save battery power or make sure that you use an intensity that is ideal for you and your companions will also not be much of a hassle since the product is equipped with easy to use buttons to adjust the strength of the beam.
The lamp also features Power Tap Technology, which enables you to simply tap the lamp and the headlamp will come on at the level of beam and the type of beam etc. you have previously used and saved.
Enclosing the light bulbs is a tightly sealed, dust-proof, and IP67 waterproofed casing with a sturdy latch. Black Diamond also made sure that you would know how much battery energy is left by incorporating a three-level power meter.
This will light up for three seconds once you switch the headlamp on and is very handy to see how much power you have left before you need to add new batteries.
Pros:
Compact
Lightweight
Durable
Secure fit
Easy to adjust and use
Multiple colors available
Resistant to water splashes and dust
Cons:
Full brightness uses up battery power quickly
Tapping through the various lights can be hard while wearing gloves
Summary
All in all, the Black Diamond Storm Headlamp stands out for its simple yet necessary features. No matter what type of hiking activity you will need a lamp for, this headlamp is sure to fit the bill.
#2 Lighting Ever LED Headlamp
The Lighting Ever LED Headlamp Kit is sold in packs of one, two, and four headlamps. Let's find out what else this product has to offer.
Features
The set will come with a pair of trial batteries, and ideally these should be switched out to a higher quality battery brand, although they will do as a stopgap at the start. Once changed, you'll find that the headlamp has a great battery life and will last for many hours.
One of the great things about this headlamp is the way that you adjust it to fit your head. It has two different adjustable straps, one around the top of your head, and another around the circumference.
This enables you to make sure that it fits on your head, over any hats, etc.; therefore, a snug fit is possible no matter how you are trying to wear the headlamp.
Do take note that this is not the brightest headlamp on the market, but it does get bright enough for you to see your way around a campsite or at the end of the trail.
So, if you plan to be doing a lot of night hiking, you will probably want something that can get brighter than this particular model. Nonetheless, it comes with four lighting modes namely low, mid, high, and red flash.
Pros:
Lightweight
Very affordable
Fits most head sizes
Resistant to water splashes
Cons:
Poor-quality batteries come with it so they will need replaced
Not too bright
Summary
With an intelligently designed strap plus the freedom to choose between multiple sets, this kit is the perfect choice for any solo, duo, or group hoping to start exploring caves, mountains, and the likes.
However, you get what you pay for, and although this is a popular headlamp and does a specific job, it is not in the same league as the Black Diamond Storm above.
#3 Cobiz LED Work Headlight
With a power of 6000 lumens, the key feature of this particular headlamp is as super bright as it can get! But what else can it offer besides that?
Features
The brightness of this headlamp can be adjusted to four different levels including low, medium, high, and strobe. What is more interesting is that the headlamp will remember what level you used when you turned it off so that you can consistently use one level.
It's a bit heavy for a hiking headlamp, but that extra weight is where you get the extra brightness, so most won't mind this payoff. Similarly, it has two easy-to-adjust straps to ensure you get a perfect, secure fit while using the headlamp.
The headlamp can also be rotated at a maximum angle of 90 degrees, giving you the opportunity to direct the light towards a path object easily.
Even after many uses and trips, you won't see any noticeable wear on the lamp since it is made of waterproof and high-quality materials. Upon purchase, you will also get a bag so that you can simply wrap it up and toss it in your pack when not in use.
Pros:
High level of brightness
Fits most head sizes
Very durable
Resistant to water splashes
Cons:
Heavier than similar products
Brightest setting consumes batteries quickly
Summary
This super bright headlight is for those who are going to be in very dark spaces and need to be able to see every detail of the path. It has a lot of good user reviews too, so it is certainly a good option to consider.
Verdict
We've presented you with three of the best hiking headlamp options, but which one will be best for your situation?
Most will find that the Black Diamond Storm Headlamp offers the perfect combination of bright light, light weight, and accessibility. As compared to other headlamps, this one seems perfectly built for the most hikers or those who just intend to use a headlamp during camping activities.
However, if you are a hiker who cares more about brightness than the heavy weight on your head, then, stick to the Cobiz Work Headlight as it offers the brightest light of any of these three models.
If budget is your main concern but you still want a reliable headlamp, the Lighting Ever LED Headlamp is a great option to consider.
Conclusion
We hope you found this article on the best hiking headlamps useful. These are our top three picks for now but we will be reviewing this on an ongoing basis and possibly adding more options to choose from that catch our eye.
A headlamp is a key part of your day hiking checklist. even if you don't intend to hike at night, you just never know when you might it if you get lost or held up in some way on the trail, and get caught stuck out on the side of a mountain with the sun going down and darkness on its way. It's not only a really practical and useful tool, but also an essential safety item!
If you have any questions on any of this, please leave a comment and we will do out best to answer as quickly as possible. Also, if you enjoyed this article and found it useful, please share it out with your networks, as always, we would be really grateful if you did 🙂