Today I wanted to do a review on a new piece of kit I bought about 6 weeks back. I've had the chance to use it a fair bit now and I have to say I am very happy with it. Ladies and Gentlemen, please let me introduce The Black Diamond Spot Headlamp.
A very functional and easy to work headlamp, the Black Diamond spot is also very accessible in terms of price. Definitely worth a look if you're considering buying a headlamp.
Pros:
Good light capabilities and functions
Easy to operate and use
Cons:
Some questions on battery life so be sure to pack some spares (You should do that regardless 🙂 )
The Black Diamond Spot Features Summary
1 Triple Power LED, 2 Single Power white LEDs and 2 Single Power red LEDs emit 130 lumens (max setting)
Power Tap Technology allows fast, simple transitioning between full and dimmed power, momentarily increase illumination distance and proximity modes
Red night vision mode has proximity and strobe settings, activates without cycling through white mode; Sleek, low profile design uses 3 AAA batteries
Three-level power meter shows remaining battery life for 3 seconds after switching on headlamp
Protected against splashing or sprayed water from any angle (IPX 4)
Available colors: Matte black, Titanium, Revolution Green, Fire Red, Ultra White, Ultra Blue
Weight: 95 grams (3.3 ounces)
Overview
The Black Diamond Spot Headlamp has seen a few iterations as a model so it is a successful model that has been tweaked to improve capability, functionality, etc.as time has went on. That is normally a good sign as long as it isn't tweaked to the point where you can no longer recognize it. I'm thinking of some car models when I mention that. Sometimes, when it ain't broke, just don't try and fix it lol 🙂 I digress …
So, to give some brief context, I needed to get a new headlamp as I was planning to be doing a lot more night hiking as I had a navigation assessment coming up where a large chunk of it would be done while navigating at night. I of course had a reasonable headlamp but it wasn't a really good one. My old energizer headlamp had a nasty accident so I was resorting to a very old non-brand model I had as a spare.
It was fine for emergency use but for more intricate use i.e. night navigation, I needed to get something new for sure. Incidentally, I thing a headlamp is a vital piece of your hiking kit and you should always have it on your day hike checklist. You just never know when circumstances will arise that mean you need to walk off the hills in the dark and light from a headlamp is a must.
Headlamps in General
Anyway, I had a fair bit of knowledge on good headlamps from what is currently available on the market. There were a lot of good options to choose from but I settled on The Black Diamond Spot for the reasons I will outline below.
The Spot comes in multiple colors (Matte black, Titanium, Revolution Green, Fire Red, Ultra White, Ultra Blue) so you should be able to find something in there to suit your taste. Sticking with my normal color of choice, I went with black.
Spot Features
To provide a brief overview, The Spot comes with 1 Triple Power LED, 2 Single Power white LEDs and 2 Single Power red LEDs. These are operated using a single power button on the top of the headlamp. This was one of the things I really liked about the headlamp so I'll try and walk you through how it works.
First off, the headlamp can be locked. By that I mean when you hold down the power button, from the headlamp being 'on', for 5 seconds, the battery power light, on the right side of the headlamp shown in the picture below, on the side will flash blue and go off. This means you've locked the headlamp out of active mode. What's so good about that?
Well, it is very possible that when your headlamp is in your pack, it get's tossed around and the power switch can be hit. The lock feature ensures that your headlamp won't come on by accident with one unfortunate bump of the button. As you need to hold it down for 5 seconds, it is unlikely that it will come on by accident and drain your batteries unbeknownst to you.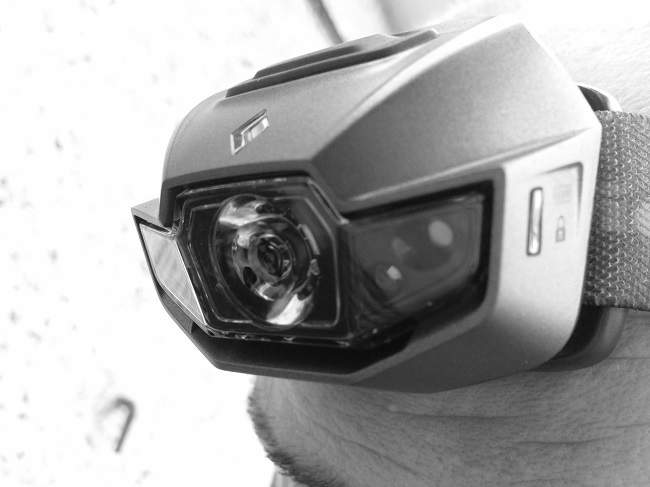 Active Mode
To continue on with the way this works, if I want to turn the torch into active mode, I again, hold the power button down for 5 seconds. The blue power light at the side flashes again indicating it is locked but by holding it down the headlamp eventually flashes once indicating the headlamp is in active mode.
Now that I'm in active mode, if I hit the power button once more, the main headlamp spot will turn on. The headlamp will automatically go into 75% of power. Hit it once again and it will go off. It won't lockout unless I again hold the power button down for 5 seconds and get the blue power light to flash. This is handy as I want to be able to use it with one touch when I am actually using it. I like this feature as it is very practical and sensible.
Continuing on from that, in active mode, nearly all the settings to the various light features are all operated from that one power button on top of the headlamp. I'll run through them now briefly one after another.
If I turn the headlamp on by clicking the power button once and then hold the power button down again, the strength of the spot beam moves up and down. When I find the desired beam strength, I just let go of the power button and the main spot beam will stay at that strength.
Proximity Lighting
Next up, If I want to access proximity lighting, the two lamps at the side of the main spot, I hit the power button twice and the two lamps on either side of the main beam turn on. These also activate at 75% power and, as with the main spot beam, the strength of the proximity lights is adjusted by holding the power button down until the desired brightness is reached. Again, one tap on the power button and the proximity light goes off.
To access the red night vision function, click the power button and hold down for 3 seconds. When the red light comes on, release the power button. To change the power of the beam, again hold the power button down while in night vision mode and it will move up and down in brightness. To turn off and go out of night vision, you guessed it 🙂 , hit the power button once.
Strobe
There is a strobe feature which is available in either of the main spot or red night vision settings above. From an off position in the desired mode, tap the power button three times in quick succession and the strobe feature will turn on. Handy for emergencies or to draw attention to your position.
Now, I don't mean for this to sound like an instruction booklet 🙂 The point I am trying to illustrate is that most of the functions on the headlamp are operated from the one main power button at the top. I like this and found it very easy to use. A couple of quick practices out of the box and I was good to go! You can get an idea of this further in the video below.
Power Tap Tech
The next thing I should mention is something called 'Power Tap Technology'. The idea behind this is that on the right side of the lamp itself, there is a little button which is activated by touch. When the light is on and you tap it and release, the lamp will be brought to 100% brightness.
Tap it again and it will revert to the previous brightness. This is handy if you only need 50% light on a very clear and open trail but then maybe hit a more difficult piece of terrain and want to switch to full power easily and quickly.
Now, this is the one thing about the headlamp which I am a little critical of. It wasn't really that easy to operate and didn't feel intuitive in the same way the power button on the top works. However, there could be a large element of getting used to using it which I didn't really do.
Generally, the one main setting at a pre-defined brightness for me was enough for most of my needs so I didn't need to fiddle with it too much. My understanding is that previous models did not have this feature so it is new and so may be something that will get further tweaked in the future. I will try practicing with it more when I am out using it again to see if I get more comfortable with it.
Fit
The Black Diamond Spot Headlamp sits on a stretchable band / strap that can be adjusted to fit your head size. I generally found this comfortable with a hat but did chaff my ears a bit when wearing it with no hat, just a hood from my rain jacket. I didn't notice as it was night time, pouring rain and in very strong winds 🙂 I am not keen on saying it was the strap as I think it was more my awkward positioning than anything else.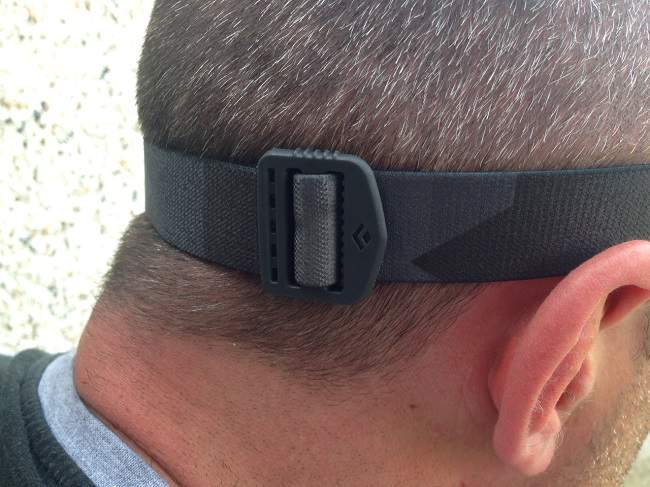 The headlamp also sits on a pivot which has four positions, the first being totally horizontal and the fourth, pictured below, pointing more downwards, handy to focus on a map or the ground immediately at your feet.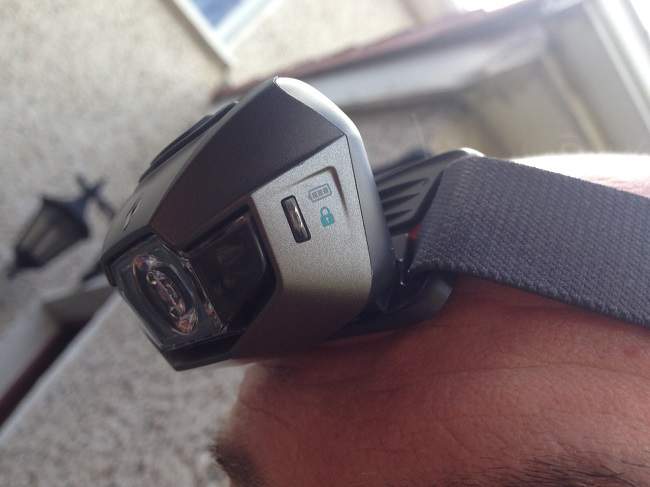 Usability
Overall, I found the Spot Headlamp very usable and easy to work with. The fact that everything is operated through one main power button is neat and easy to pick-up. As mentioned, it took me only a couple of run throughs with it and I was happy to take it into the field knowing how to operate it. Nothing complicated or confusing so in terms of brightness and functional use I found it very usable.
In terms of trail finding, it was great. Never had any problems finding what I was looking for and could pick out detail from the map to match to features in heavy darkness. as an example, I was looking for a summit in the bad weather mentioned above, marked by some stones, and my bearing took me about three meters to the side of it but the proximity of the beam meant I was able to spot it in my peripheral vision. Excellent!
The two main issues I have with the Spot are the aforementioned power tap button, that could just be me not getting in tune with it though, and the fact that accessing the main power button with gloves isn't 100% easy. However, I have had that problem with most headlamps I have had. Headlamps and ski gloves, for warmth on the trail, aren't usually good bedfellows 🙂
The spot weighs in at about 95 grams (3.3 ounces) so it is pretty lightweight for what you get out of it in terms of performance. Easy to carry in your pack so a good score there for sure.
Battery Life and Brightness
The brightness on the spot runs from a range of 4 lumens to 130 lumens. Now, it is hard to say for sure how long the batteries will last as I was moving through the levels of brightness a lot. However, from reading many user reviews on the Spot, it seems that it holds its own when it comes to battery life.
Note, you should always have a spare set of batteries in your pack and possibly even a spare headlamp 😉
In terms of battery power, it takes 3 AAA batteries. The claimed battery life is 200 hours at 4 lumens and 60 hours at maximum capacity of 130 lumens. The batteries can be easily changed by opening the main lamp casing. The charge left in the torch is indicated by a meter, highlighted by the red box below, on the side of the headlamp.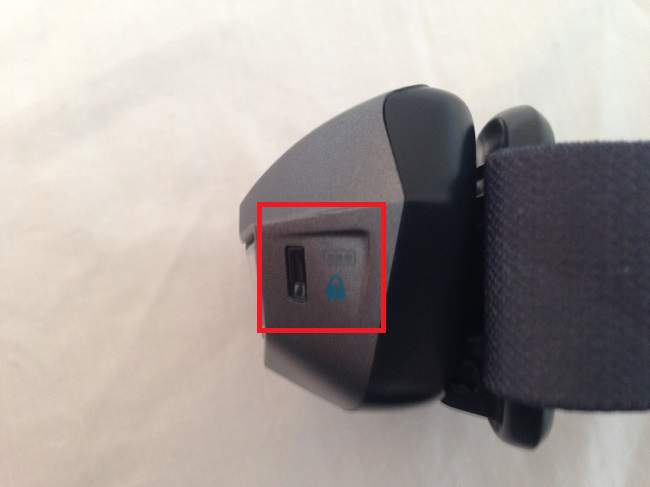 The claimed distance of the beam is 8 meters at 4 lumens and 75 meters at 130 lumens. I was comfortably using it for 60 to 70 meter distances so I won't argue with this. It sounds about right from my experience of it.
Price and Value for Money
I have to say that I was happy with the price for the Spot headlamp, I got it at on sale and I was pleased with the price. However, I would have been happy paying the normal retail for it. It was the headlamp I wanted and so getting a bargain was just a happy coincidence 🙂 Click on any of the product links in this post to get a live price.
I think the price is very reasonable for a functional and sturdy piece of kit like the Spot. The Spot also comes with a 3 year manufacturers warranty which is always comforting to have. Prices are always changing, so click on one of the links on this page to check out the price on Amazon.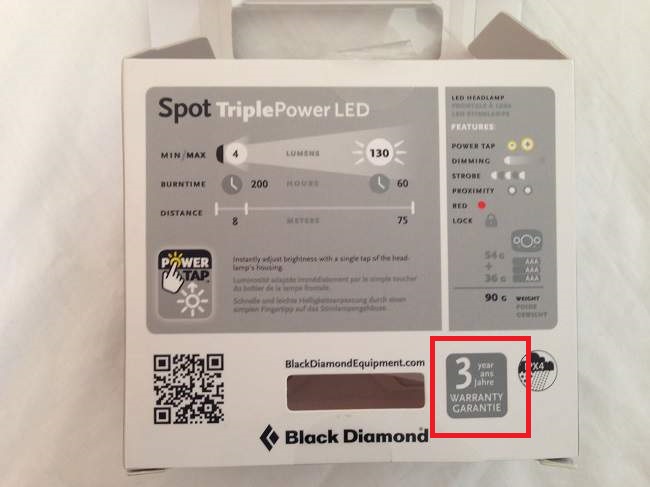 Best Uses
In terms of hiking, I thing the Black Diamond Spot Headlamp comes up to the mark with regards to functionality. There isn't any hiking situation that I can think of that I wouldn't be happy using the spot for. So, whether it's night hiking, backpacking or camping, the Spot will be in my pack for sure.
It's powerful enough, bright enough, light enough and versatile enough to fit the bill and meet the needs of all of those situations as far as I am concerned.
User Reviews
As of the date of this post, from about 480 reviews I totaled across various retailers, 71% of people gave the Spot 5 stars and 88% 4 stars or more! That's pretty impressive in anyone's language so they are doing the business for many folks, not just myself, for sure.
Our Rating: 4.5 out of 5
Conclusion
I have to say that the Black Diamond Spot headlamp has been one of my dead cert hiking gear purchases in the last while. What I mean by that is that I was pretty confident that it would be a winner from the get go and it didn't disappoint.
I am very happy with more or less every aspect of the Spot. The price was good for the quality I got. In terms of usability it's great, easy to get the hang of it and use it on the trail. It's functional capabilities are what I would need and expect, and finally it did the business when I needed it while doing some intricate night navigation at my assessment a month or so ago.
Overall, I highly recommend the Black Diamond Spot so if you're in the market for a headlamp for the trail, you could do a lot worse than getting it. If you're new to buying a headlamp, check out the head lamp buying guide which runs through everything you need to think about before buying one. You can also find our top hiking headlamp recommendations here.
I hope you found this review useful. Please comment and / or share it around your networks if you did.
Do you use the Black Diamond Spot Headlamp? What is your experience with it?