About three years back, I did something completely new for me in terms of hiking, I went hiking at night. Although I have been hiking most of my life, for some reason, it had never really occurred to me to go out on the mountains when the sun went down.
Sure, I'd been camping plenty of times before so I was out in the mountains as such, but I never really went hiking. I found my spot for night, pitched camp and that was it till the sun came up.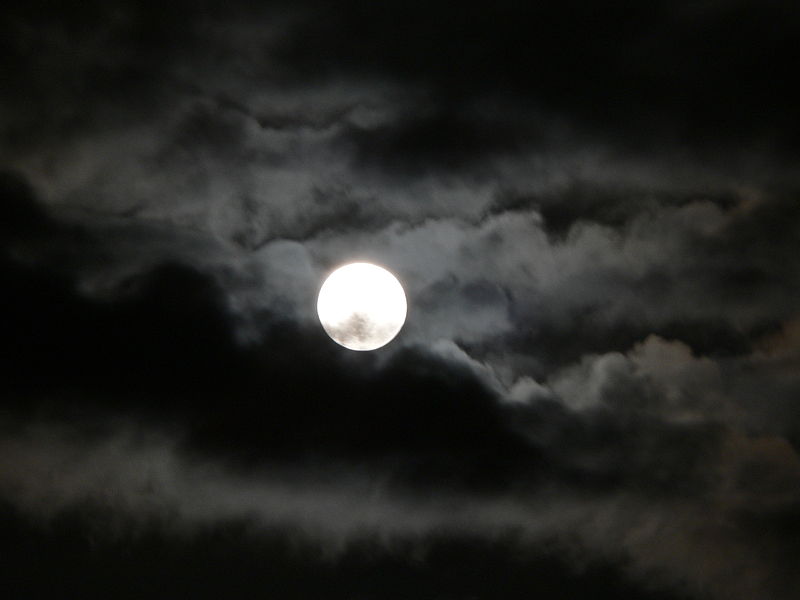 Now, I am not really sure why it never occurred to me to not just head out for a hike, even while camping. I just never really bothered with it. So when someone suggested a night hike a few years back, I was excited to try it out.
Just to be clear, what is Hiking at Night? Well, it's pretty much exactly what it says, a hike at night. Yes, this sounds a bit simplistic but I am referring to hiking in mountains at night, so no big light as such except for natural light that might be coming from the stars and the moon in the night sky.
So, how did I get on? …
I Really Enjoyed It …
That first time I went out, I have to say that it was pretty cool. We hiked into some mountains close to Dublin city and it was a lot of fun. The Guys I went with were regular night hikers so they had a good route that was suitable for night hiking. One I knew well by day but not by night.
It was an easy route, we stuck to well marked paths and trails for most of that hike so it wasn't like we needed to do tough night navigation deep into the mountains or anything like that, not on my first time out anyway.
However, in saying that we did need to keep our eye's on the ground a lot, as there were places where there were a lot of loose rocks and some dangerous holes in the path along the way.
We crossed a river at one point on that first night out, one I have crossed many, many times. However, seeing the reflections of the light of the moon bouncing off the water was really pretty and special. It's a great spot during the day but in the quiet of the mountains at night, it added a whole new dimension to it.
We also got some sweet views of the city lights from the mountain that night.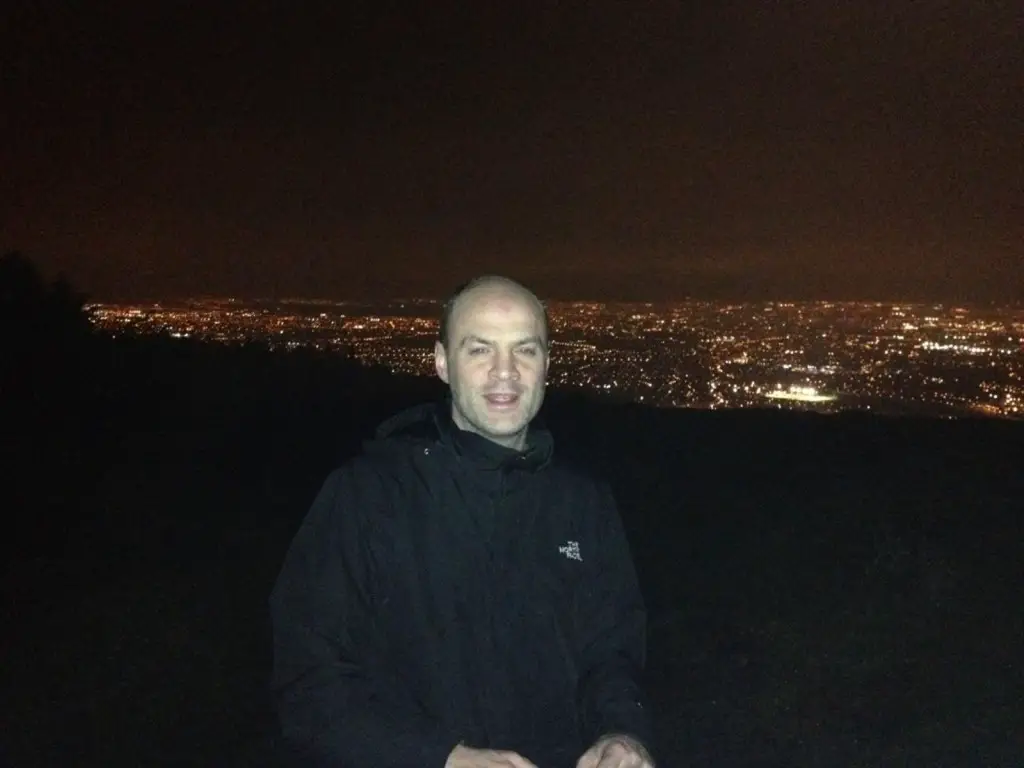 As I mentioned, I've done this hike before many times in all sorts of weather, from pelting rain to sunny blue skies. I thought I'd seen it all but no, this was a new and unique experience on those same trails I've hiked many times before. Really beautiful.
What was really interesting about it all too was that, at the lower parts of the mountain, normal folks were out with head torches just walking their dogs or running. Now I would never really have thought of this for general recreational purposes.
I would kind have thought that, OK it's November, it's cold and very dark, I guess we stay indoors in the evening or walk in well lit public areas or the like. Not so, as I found. It was like a whole new world of possibility was opened up to me lol 🙂
Since that time, I've hiked at night, many, many times. I have of course also ventured much deeper into the mountains at night sine then as well, but I was sure to learn how to navigate at night first. You definitely need to take your time getting comfortable finding your way around easier parts of the mountains in the dark before going further and deeper into them at night.
So, what more can I say about hiking at night?
Well, of course, it is night time so you can't see a whole pile, at least not in the way you normally would. However, there is a beautiful ambiance at times when you find yourself in places where there is enough natural light, from the moon etc., to be able to hike without our headlamps (more about those below). It was very serene and oddly calming. Pleasantly haunting in a nice way, if there can be such a thing.
Hiking at night, can definitely add a really beautiful dimension to hiking. Everyone has seen a clear night sky where the stars are shining and the moon is up, it's a beautiful thing to gaze upon. If you're on a mountain away from the hustle and bustle of the city, you of course have no street lights, car lights, etc. What does that mean?
Well, on a clear night, you'll get to see the night sky in a truly beautiful way minus the normal light pollution that usually blocks the view. It is generally a lot lower in the mountains and at the right time of the month, in the right place and if the weather is favorable, you can get some awesome views of the night sky and yes, even the land.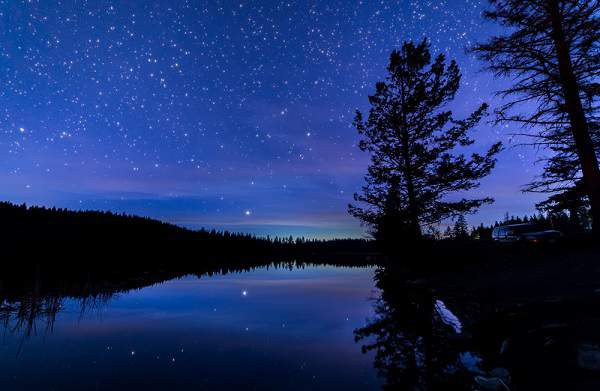 The dark rolling hills in the mountains can have a unique beauty under a clear night sky dappled with spots of light from the stars and the moon. Throw in a couple of clouds and the shadows moving across them can be fantastic to stop for a bit and watch.
If you're a keen photographer, you can get a lot of great shots too … if you know how to take night shots that is 🙂 Something I have most definitely have no idea how to do.
So, with the scene set as such, it is probably a  good idea to move on to more practical matters
How Can you Stay Safe Hiking at Night?
As always, when you hit the trail, your safety is the number 1 priority. The same things that apply in a day hike, apply at night too. Tell people were you're going, bring the right gear with you, water and snacks, leave a map of your route with someone who'll notice if you don't return, etc.
However, there are a few extra little things you can do to be sure you stay safe …
If it's your first time going hiking at night, keep it simple. Stay on well marked trails and paths you're very familiar with, especially if you're not a great navigator. If you have difficulty finding your way in daylight, you can imagine what trouble you might get into at night 🙂
Hiking in a group or with a few people is sensible. As in the daytime, if someone gets into difficulty you have more people to help out. On your own at night and you take a tumble and go unconscious, you're going to be much harder for any passer by to spot. If you're with a few friends, they'll of course act immediately.
If you can, head out with some folks who were well used to hiking at night, like I did on my first time out. That bit of extra experience is always going to help keep you that bit safer.
You need a good source artificial light. While there can often times be great light from the moon and the stars, it is still night time of course. Only on a rare occasion will that kind of light be enough to see you safely round the mountains on a hike. A lot of the time, light from the moon and stars is entirely absent if enough clouds come in or at certain times of the lunar cycle.
So with that in mind, if you fancy giving night hiking a go, one of the key things you will need in terms of gear is some artificial light, a headlamp to be precise. I figured I'd go into this part, in a bit more detail as it is important.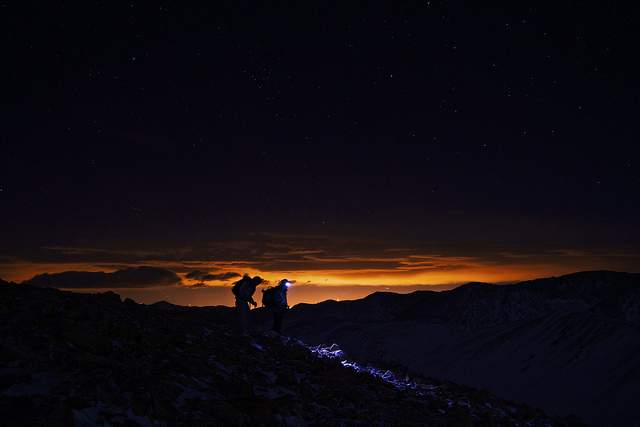 So, let's have a quick look at a headlamp …
What is a Headlamp?
A headlamp is effectively a lamp that wraps around your head and rests on your forehead. A good headlamp will usually have different power settings so you can make it brighter or more targeted as required.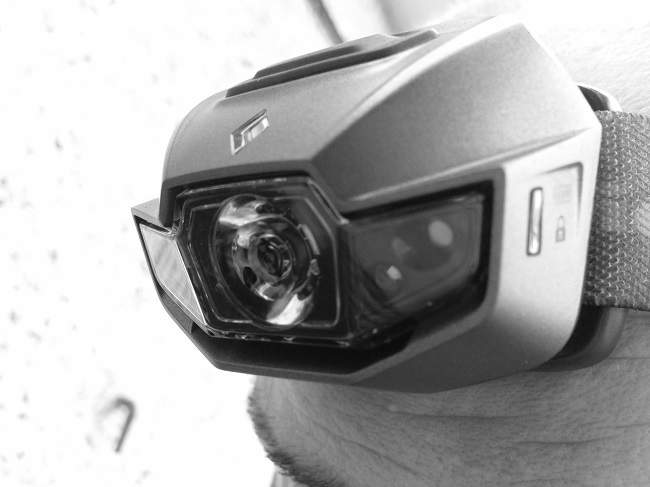 A headlamp is an absolute must for night hiking and useful to keep in your pack at all times just in case. You never know when you might get stuck on a mountain and not get off it in daylight. For example, if you get injured and your ability to move is significantly decreased, night time may fall before you can get off and if you have no headlamp with you, you're more or less wandering in the dark.
Similarly, simply getting your timing wrong or taking a wrong turn on your route could add an extra few hours to your hike. That delay could result in your being stuck out on the mountain into the night and again, with no light to guide your way, it's not going to be easy to get off safely.
There's a fair bit to think about when getting a good headlamp. There are a lot of not so great ones available, and some very good ones. Same as anything of course 🙂 I'm currently writing a more detailed buying guide which I will link to from here when it's published.
At the minute, I use the Black Diamond Storm Headlamp. It works very well and I am a big fan of it. I won't relist the settings here, click on the link or the picture above to read a detailed review on it's capabilities. Suffice it to say, I am very pleased with it's performance with the only downside possibly being that it can be a bit heavy on juice. Not the end of the world though.
Conclusion
Overall, hiking at night is something I highly recommend trying out. It's a lot of fun and definitely adds a different dimension to things. I still fondly remember that first night hike, it was a great success and I had a blast.
It was really cool to see the lights of the city by night, very pretty. The nicest thing though, was that in places, as mentioned above, you could just switch off the headlamp and walk in the dark as there was enough light coming from the sky from the moon and the stars. Really beautiful and one of the coolest things to experience while out night hiking.
Remember, as with any time you're going out hiking, safety comes first. Therefore, if you're planning to go out hiking at night be sure you have the appropriate gear, especially a good headlamp! As mentioned above, the same safety things you should check off for a day hike, you need to do at night as well. I also recommend going out in numbers, especially if you're going into deeper mountainous areas.
Do you like to go hiking at night? I'd love to hear about it in the comments below.