When you're looking to buy a waterproof jacket for the trail, you will no doubt come up against a whole bunch of Jargon explaining the functional capabilities of the jacket in question.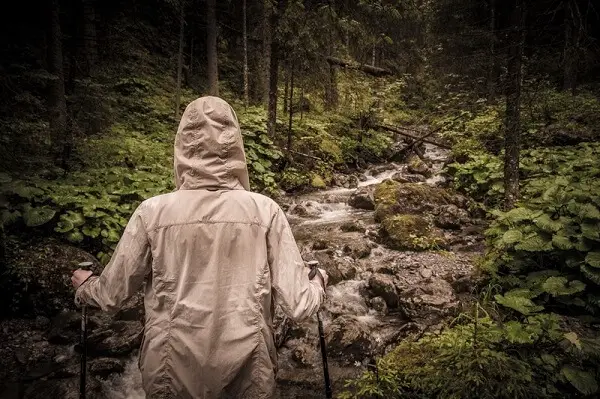 One common phrase in the context of waterproof hiking jackets is that they are either 2, 2.5 or 3 layer (Aka ply). Today I want to try and delve into that a bit more to try and explain what exactly those three descriptions mean.
Water Repellency and Breathability
The first place to start is with what a good outdoor rain jacket is trying to achieve. There are two core functions, the first is that the jacket of course needs to be waterproof to keep any nasty weather at bay.
The second key element is that the jacket should ideally have some level of breathability.
This means that the material in the jacket is made in such a way so large molecules like water can't get in but smaller vapor molecules, from your sweat, can get out.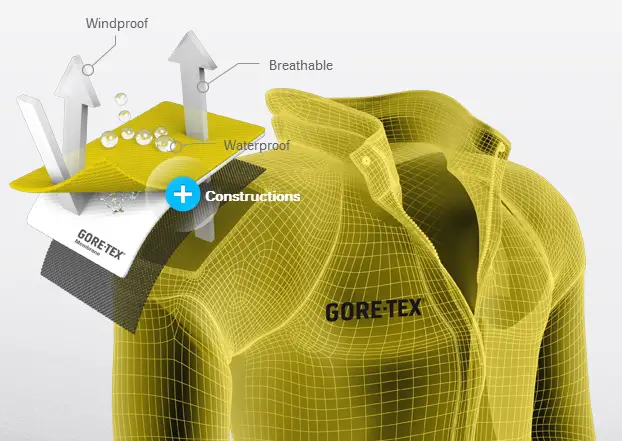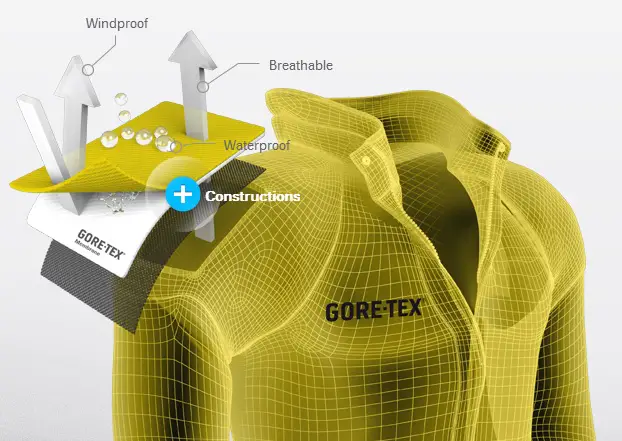 In terms of a rain jacket, it will utilize a technology like Gore-tex (Microporous PTFE (polytetrafluorethylene) laminate), pictured above, in some form.
2 layer
When a jacket is two layer, it means that a protective inner coating is bonded to a face fabric like nylon or polyester.
A 2 layer jacket is usually treated with a DWR coating. This provides what is referred to as Durable Water Repellency (DWR). DWR enables water to bead on your jacket and roll off.
A DWR protective coating is usually used in conjunction with a breathable fabric like Gore-Tex. The purpose of the Gore-tex is to stop water from getting into the interior of a jacket, while the DWR element aims to repel water from the outside by the aforementioned beading process.
The jacket therefore has two layers as such. The outer fabric with the protective DWR coating and then an inner layer, usually made with some kind of sewn-in lining like mesh or nylon.
As there are two layers, the jacket is usually quite flexible.
Pros:
Flexible Material
Probably the cheapest option
Comfortable
Cons:
Not as breathable as 3-ply​​​​​​
Not as durable as 3-ply jackets
Won't give the same level of protection as 3-ply
2.5 Layer​​​​​
When a jacket is 2.5 layer, the first layer employs a similar fabric, as used in a 2 layer jacket, with a coating applied inside that outer layer as the second layer. The half layer refers to a printed or sprayed-on partially protective layer that is applied over the second layer, all in all looking like one complete layer. 
This sprayed on layer provides the DWR capability to enable the water to bead on your jacket and roll off.
A 2.5 layer jacket should be quite flexible and comfortable to wear. This option is probably the standard make-up of most average rain jackets.
Pros:
Flexible Material
Lightest option
Probably the most packable option
Cheaper than 3 layer
Most quality in relation to price
Cons:
Not as breathable as 3 layer
Not as durable as 3 layer​
Won't give the same level of protection as 3-ply
3 Layer
When a jacket is three Layer, it means that the PTFE membrane is laminated between the face fabric and a protective knit backing as opposed to on top of it with two layer.
The jacket then has three layers as such, the outer fabric, the protective coating in the middle and then an inner layer usually made with some kind of sewn-in lining like mesh or nylon. However it should all still broadly work, look and feel like one layer.
As there are more layers in the fabric, the 3 layer jacket is usually stiffer and crispier than 2 or 2.5 layer jackets. Jackets made from 3 layer usually offer much tougher protection from the elements and they have a longer life.
Pros:
Very durable​​​​​
High level of protection from the elements
Long life
Cons:
Most expensive option​​​​​
Usually bulkier and heavier
Which One Should I Go With?
I think as general rule, for most average hikers, a standard rain jacket made with a 2.5 layer construction should provide more than enough waterproof protection.
If however, you require a jacket that needs to take a lot of punishment on a daily basis, say if you work in the outdoors leisure industry and regular inclement weather is a regular occurrence, the more expensive 3 layer might be the better option.
It is worth noting though, that no jacket is invincible and even a 3 layer jacket will wet out. A jacket 'Wets' out' when it ceases to vent your sweat and perspiration as the humidity in the environment outside your jacket is greater than the inside.
As a final note on that matter, how you protect your rain jacket, whether it's 2, 2.5 or 3 layer is critical to how long it will last. In short, look after it!
Conclusion
I suggest that most hikers should be fine with a standard 2.5 layer rain jacket. They're probably the most economical and you get the most bang for your buck! You can check out our top-rated hiking rain jackets for men here and our top rated hiking rain jackets for women here.
Don't get me wrong though, if you have the money and you would like to invest in a really tough jacket that should last you a very long time, 3-ply is a grand option. It will give you a lot of protection and the jacket will have a very long life. Remember though, none of them are invincible and if the rain is heavy enough you will still likely get wet at some point.
I hope you found this post useful and are a bit clearer on what the difference is between 2, 2.5 and 3 layer jackets are.
Any comments or thoughts on this, please leave them in the comments below!