I recently purchased the Marmot Minimalist Jacket for Men. After using it for many months, I figured it was time to put a review up on the site regarding my experience with it.
A really nice rain jacket for the trail from the rain shell category. Functional and versatile, it is an excellent choice that will meet most needs of most hikers.
Pros and Cons
Pros:
Waterproof utilizing Gore-tex construction – Gore-tex is a mainstay in rain protection
Breathable with pit zips to provide an extra ventilation options if required – they work well
Very comfortable fit with lots of room for layering underneath
Functional hood that can comfortably fit a helmet / hiking hat
Adjustable Velcro cuffs, hem-cinch cord, waterproof zips and storm flap enable a cocoon around the upper body to protect you from the nastiest of weather
Nice roomy zippered hand pockets which are accessible with a pack on – Napoleon chest pocket is roomy too – ideal for a compass and map
Very functional jacket overall and I think good value for the price
Cons:
A little bulkier / heavier than other rain jackets in the class – that's the price of the better Gore-tex construction though I feel
At the higher end of price in the rain jacket category but worth it in my opinion
The Marmot Men's Minimalist Rain Jacket Features Summary
Polyester shell, fully taped seams and Gore-Tex Paclite membrane
Adjustable hood, hem, and hook-and-loop cuffs
Zippered underarm air vents (pit zips)
Roomy hand pockets that are easily accessible while wearing a pack or harness
Water-resistant zippers and front storm flap
DriClime-lined chin guard
Angel-Wing movement ensures coverage no matter how you stretch and contort your body
Available colors: 10+ (plenty of choice!)
Overview
The Marmot Minimalist jacket caught my eye late last year. It was a little different from many other jackets in the same rain shell category in that it was made from Gore-tex. That is not to say that there aren't many rain jackets made with Gore-tex, there are of course many of them. However, in the light rain shell jacket, $60 to $200 category, Gore-tex isn't as prevalent there as in the higher priced hard shell jacket category.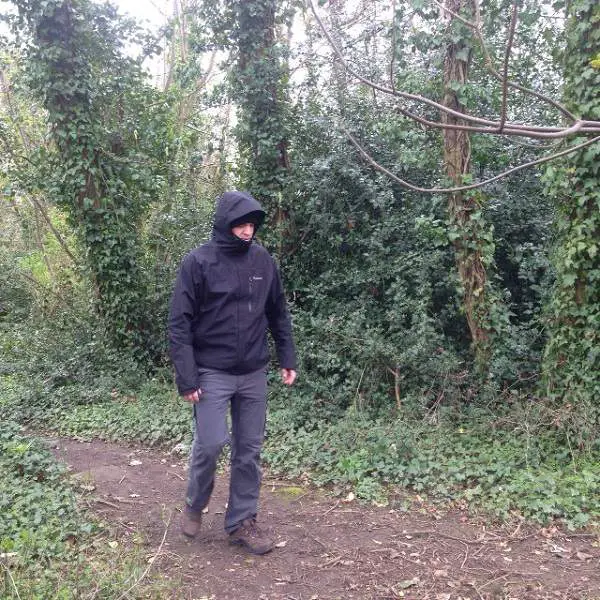 After looking into it, the signs were good. Decent user reviews were common and overall it seemed to be a hit on the market. Marmot, have scored some home runs in the rain shell jacket category over the last few years. From the Aegis to the Precip, they seem adept at creating a decent rain shell that is a hit with many folks.
In brief summary, while the Minimalist is a rain shell jacket, I think it definitely sits at the higher end of that category. This is mainly due, from what I can see, to the tougher Gore-tex construction.
While it is pricier than some other jackets in the same family, e.g. the Marmot Precip, it does still fall into the rain shell category, which I feel is the most suitable for hiking jackets. In saying that, the Minimalist is still affordable and very functional. While it may cost some extra bucks, it comes with a lot of very nice features that I would look for in a good rain jacket.
Update After a Lot of Use
Overall, I have been really pleased with the Minimalist. I have only used it for hiking purposes and so it gets a day or two of use most weeks, although I do alternate use between other jackets I have as well. All in all, I would estimate that I've used it about 50 to 60 times over the last year and I have been very pleased with how it has performed.
I have taken good care of it throughout. The only criticism I have is that the breathability could be better. I have found moisture building up inside the jacket at times. The pit zips help with this but the breathability could definitely perform better I feel. Overall though, I am happy with the performance of the jacket for the price I paid and it is still going strong.
Waterproof Capability
The Minimalist is of course waterproof but I couldn't find a specific rating … not that, that means a great deal in my opinion. Interestingly though, some promotional material I saw read 'guaranteed waterproof'. Now, when looking at waterproof fabric for hiking rain gear, I don't really think anything is guaranteed 100% waterproof. Given enough of a watery battering, it will eventually wet out.
However, in saying that, the Minimalist is constructed using a polyester shell and a Gore-tex pac-lite membrane. Gore-tex is of course an industry standard when it comes to waterproof and breathable material for making waterproof gear. Now, I've had pretty good experiences with Gore-tex, in various forms, to date, which goes back a fair while at this stage 🙂 Specifcally Gore-tex Paclite is also a well known and trusted technology. So all in all, that tried and trusted vibe did provide a comfort factor for me.
The jacket is fully tape seamed, so between that and the Paclite membrane, moisture is kept out. I have tested the waterproof capabilities of the Minimalist in the best way I know how, by taking it out on three separate and very wet day hikes. So far, it has come up trumps and kept me dry and comfortable.
In the photo's below you can see the water beading in pretty crappy conditions. Beading is where the water forms little beads on the surface of the jacket and rolls off. This is the membrane at work. It's a bit of a hazy shot of my arm in a heavy shower but it gives you the idea 🙂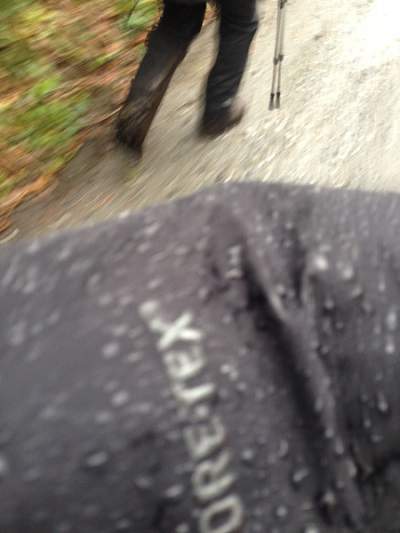 The Minimalist jacket features waterproof zippers covered with a storm flap on the front which secures with Velcro patches and a button at the bottom of the flap.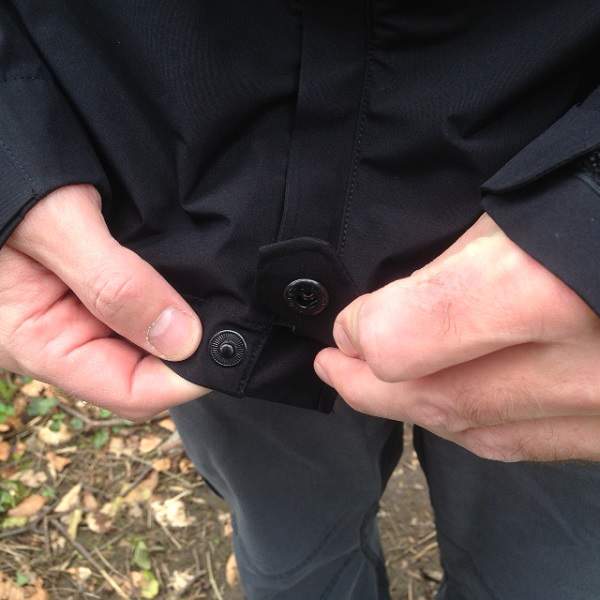 Hood
The hood, which I'll talk about in more detail below, is fully adjustable and fit's very well. It is peaked with a stiff brim. Again, it adds another nice water protection element to the jacket.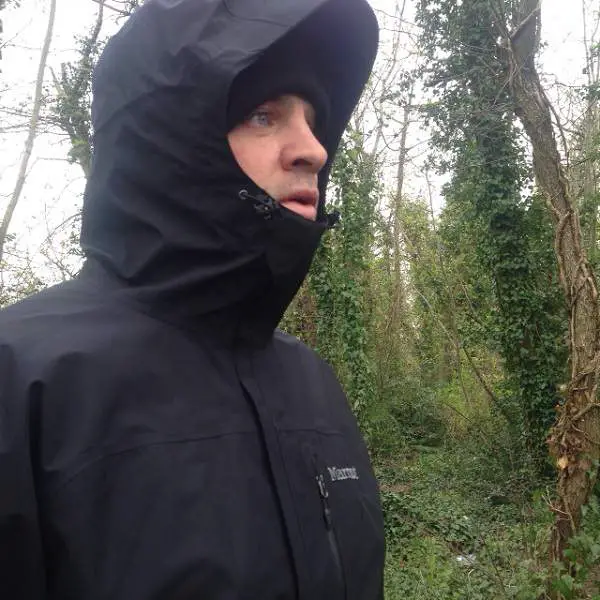 In summary, to date, I have been very, very happy with the rain protection provided by the Minimalist. It definitely performs well in tough conditions providing good protection from external moisture. In fact, on a recent hike, the one from the selfie above and the shot below, I was exposed to rain, hail, sleet and snow as I made my way higher up to the summit of a mountain! Pretty much excellent testing grounds and I have to say, I was very pleased with the performance of the Marmot Minimalist Jacket.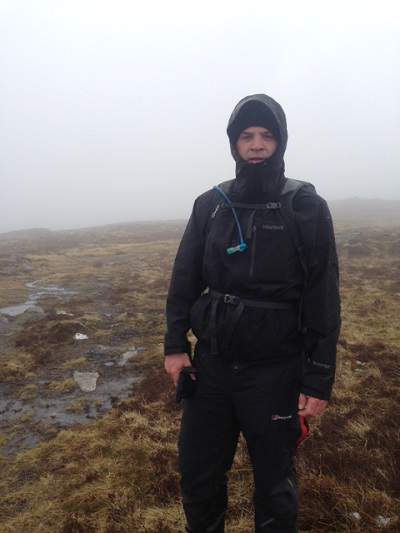 My final comment on this performance element is that the real test will come over a longer time period. After I've put this jacket through it's paces in the wind and rain over 6 months, i'd be interested to see how well it performs. Hopefully it will do good but I'll have to wait and see. I'll check back here with an update.
Breathability
Looking at breathability, again I couldn't find any exact numbers, with the Gore-tex membrane I expected the breathability to be reasonably better than a standard rain shell. However, before getting too far into detail, I should state that I think breathability of fabric can be a bit misleading.
Of course, a rain jacket like the Minimalist will have better breathability than some kind of PVC jacket, that's a given. However, I find that broadly speaking, I prefer cooling down using the direct ventilation features such as opening the main front zipper or utilizing pit zips.
In case you're reading this and aren't sure what I'm referring to, breathability just means how much air can get out from the internal environment while still keeping the rain out. So, condensation in the form of sweat vapor versus water in the form of rain and so on. Think of temperature regulation as well.
Pit Zips
I don't mean to totally dispel the functional use of breathability in rain shell jacket materials, I think it does play it's part to some degree. However, it's hard to beat pit zips for a quick let out of air. Pit zips are zips underneath your arm pits and they offer a quick and efficient way to let hot air out from the internal environment around your body. I'm happy to say the Minimalist has these, see below, and they're very easy to use and I also found them effective.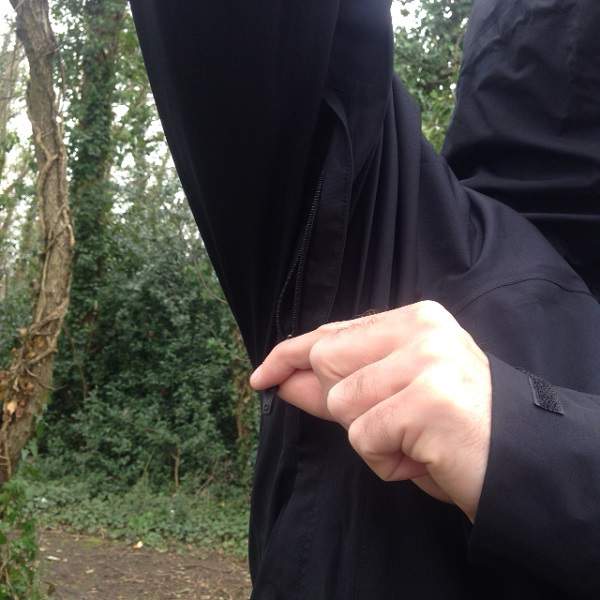 So far, I have found the Minimalist to be very comfortable in terms of breathability. However, I've only really tested it out in cooler conditions. I'd be interested to see how it would feel on a hot summers day in a muggy downpour. The jacket does feel sturdy so it would be interesting to put it through it's paces in those conditions to see how it would fair.
Comfort
I have to simply say that the Minimalist jacket from Marmot is an all round comfortable jacket. This is borne out in most of the user reviews I read as well as my own experience.
I referenced the hood above and it fits very well on the Minimalist. The hood has a stiff peaked brim which both fits and works very well.
There is room to wear for a helmet or a hat in the hood and it fits very snugly. It can be easily adjusted using the little adjustment tabs on the side of the hood. As with all hoods on hiking jackets, these are a bit fiddly and so you would need to take your gloves off in colder weather to work with them. Nothing new there. While they are a bit fiddly, they do work well and they're definitely one of the better set of adjusters I've worked with over the years.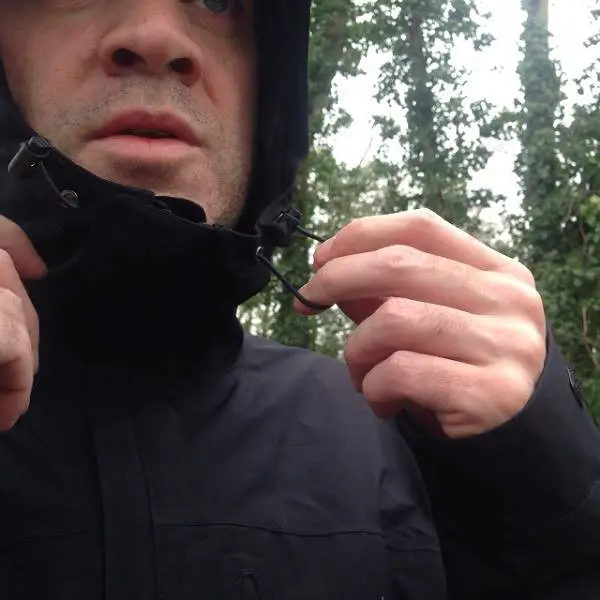 Also as mentioned above, the jacket is roomy enough to take several layers underneath should you need to layer up at a colder time of year, while at the same time not feeling odd and uncomfortable if you've only a layer or two on. Overall, a good mix for a year round rain jacket for the trail. The usual size ranges are catered for and from my experience as well as the multiple reviews I read, the Marmot Minimalist jacket does fit true to size for most.
The jacket also features a DriClime-lined chin guard to 'provide comfort and a little insulation for your face during mountain storms', as the promotional material suggests. However, I have to say that I have found this to be the case and the chin guard is very comfortable and does the business in bad conditions.
Movement
Finally, in terms of comfort, it's worth noting that the Minimalist jacket allows Angel Wing Movement so you can spin your arms in circles and the jacket will stay relatively stationary and not ride up your back. This feature does work really well and I have been very comfortable at times when I had to overly stretch upwards or downwards e.g. scrambling over steep rocky terrain. The jacket didn't ride up my back I am happy to say.
Overall, the Marmot Minimalist rain jacket is a very comfortable fit while hiking. Thumbs up!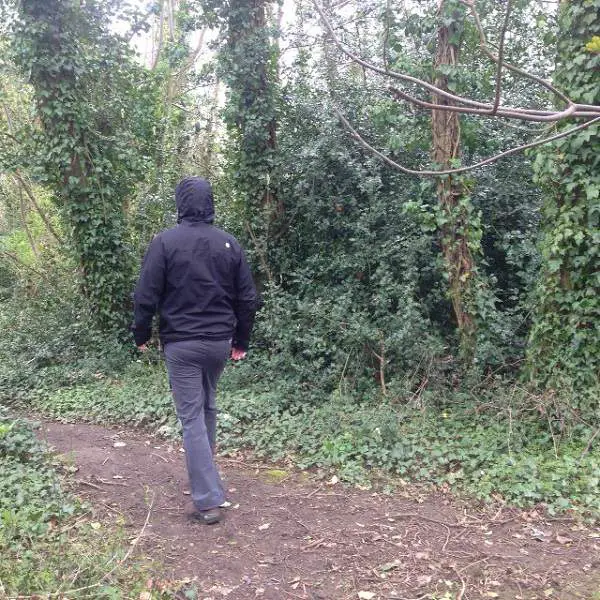 Weight, Durability and Packability
The claimed weight of the Minimalist is in and around 15 oz, give or take for the size considerations i.e. a small size will be lighter than an xtra Large size. For a hiking rain shell jacket, weight is always something to consider. Too bulky and heavy and it can be a pain to carry, never mind wear, for longer periods of time.
While there are definitely other rain jackets in the same class that are lighter in terms of weight, I think you get more in terms of functional performance which the extra weight of the material make-up allows. In the broad scheme of things, for average day hiking and backpacking, it is not a heavy jacket and I'm really talking about splitting hairs, but it is an important factor for some more than others.
In terms of packability, the jacket doesn't pack into it's own pocket. Not a big deal for me as I just roll in up into the hood.
Features
In terms of features, the Minimalist has pretty much everything I personally look for a hiking rain shell. The hood, which we've already touched on, is fully adjustable and closes tight in a stuff brim to protect you from the worst weather.
The Driclime chin guard lining, also touched on above, is a nice feature which again I have found works very well. When I've had the hood secured and the jacket zipped up fully primed with storm flaps etc. it feels very comfortable. No edgy or sticky out annoying bits on the skin which is of course what we're after.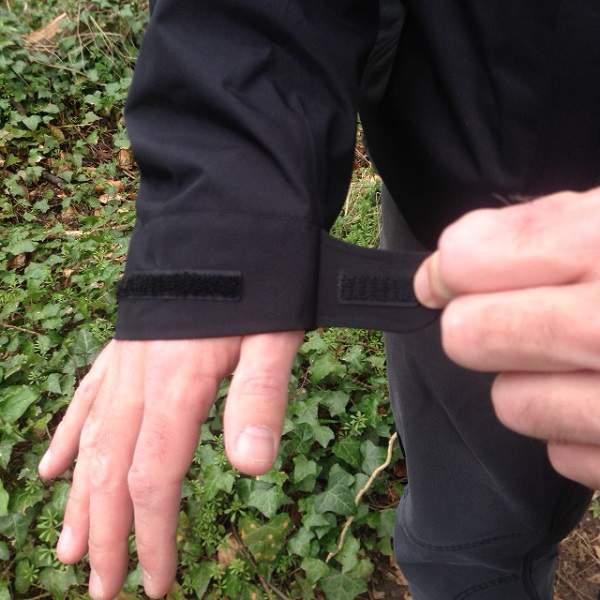 The cuffs, pictured above, are adjustable via a Velcro strap which works pretty well. As with any rain shell jacket, the aim is to create a protective layer and keep you as comfortable as possible inside it. All these straps and adjusters enable you to do that around your particular body shape.
In terms of pockets, I really like what the Minimalist has to offer. There are the 2 standard zippered hand pockets but man are they sweet. Big and roomy, you can get a lot in them and they can be secured with a zip-up closure as well as a Velcro seal. They are also easily accessible while wearing a pack which is a really good thing to have which many rain jackets either don't have of if they do, they don't work that well.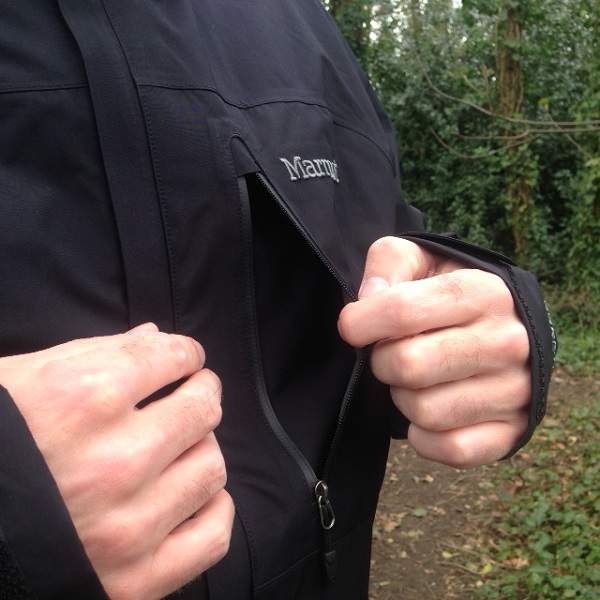 There is also a Napoleon Chest pocket which I am a big fan of. Handy to store your compass and map. Functional and easy to access without having to go into your pack or your hand pockets. All in all, I am really happy with the pockets on the Marmot Minimalist, very functional and convenient for hiking purposes.
Price
As referenced at the start of this review, the Marmot Minimalist Rain Shell Jacket does sit at the pricier end of the scale of rain shell jackets but I think, as in a lot of things, you get what you pay for. As always though, if you shop around, you will likely probably get a deal and knock a chunk off the list price. Click on the link above and you will be taken through to Amazon where you can check for a live price. 
I think for functional capability and features, the Marmot Minimalist is a really top level jacket that can be used all year round. However, in saying that it might be a bit bulky for some for a hot humid day, I need to test that out myself though. I've been very pleased with it's performance to date and all the features work very well, So I think it is fairly priced.
Best Uses
The Minimalist is a tougher option in the rain shell jacket category. It performs well in tough conditions and fits comfortably protecting you from the wind, rain, etc. and should accommodate most hikers needs
I think combined with good layering, you'll get 4 season use on the trail, barring extreme conditions of course. Whether day hiking, trekking or backpacking the minimalist should meet the challenges presented by inclement weather. It is definitely a bit bulkier and heavier than other rain shell jackets but that's due to the Gore-tex construction which I think works great.
In summary, I think the Marmot Minimalist Jacket will work for practically all hiking needs and most outdoor activities. It will also be great for day-to-day use too should you need a sturdy jacket for the normal day-to-day run of things.
Customer Reviews
As of the date of this post, from about 190+ reviews I totaled across five retailers, 71% of people gave the Minimalist Jacket 5 stars and 86% 4 stars or more! They're excellent scores and I would wholeheartedly agree with that from my own personal experience.
Our Rating: 4.5 (Out of 5)
The Marmot Minimalist Jacket for men is one of the purchases I have been more pleased with in the recent past. To be honest, I was in an REI store in Santa Barbara when I first saw it, tried it on and liked it. After checking into it some more, I decided I wanted to try it out and so got myself one while staying in REI Henderson near Las Vegas on my recent trip to the West Coast of the US.
Conclusion
I was pleased with the purchase and having tried and tested it out in the field now on several occasions in pretty tough conditions, so far I am a happy camper. It's a good buy for sure.
As alluded to in the review above, I am curious to see how it holds out over a longer time, say in 6 months. Will I still be getting an optimal performance from it? I'll have to wait and see but I'll be sure to add a note here on how it gets on.
Aside from my own experience with the Minimalist, it has lot's of good customer ratings over a decent period of time so that seems to hold true to my experience as well. In conclusion, if you're a hiker in the market for a new rain shell jacket, you could do a lot worse than purchasing the Marmot Minimalist.
Finally, if you are just starting on the road to buying a good rain jacket, check out the rain jacket buying guide, that will walk you through all the things you need to think about before buying a rain jacket to meet your needs. Also, you can check out some of the best hiking rain jacket recommendations here.
Have you used the Marmot Minimalist Jacket? What's your experience with it? I've love to hear about it in the comments below.
I hope you found this review useful, please share it round your networks if you did 🙂