Last weekend I was lucky enough to get out on a beautiful hike. It had been raining all week but the weather turned on Saturday and it turned out to be perfect weather. I was heading out with some hikers I regularly hike with and one of them had organized the route for the day.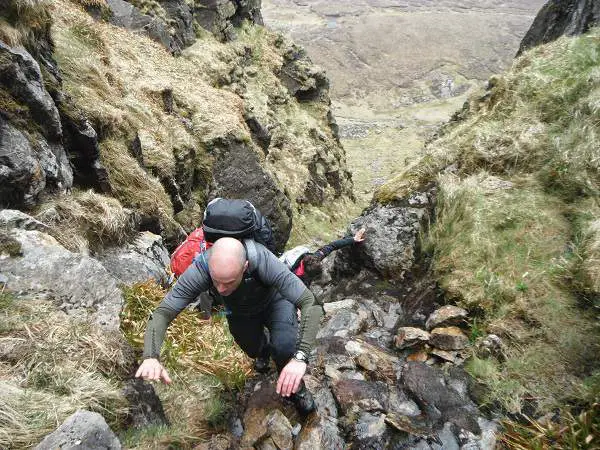 He's an experienced hiker and has been all over the world hiking but he knows the local hills and mountains really well.
Anyway, the hike we had planned was about 22 km in total with about 1 km in elevation, give or take a hundred meters or so. It was over pretty varied terrain, boggy in parts and rocky in others with some pleasant rises and steep ascents.
There were two steep ascents both of which were up to the mountain peak, we went to the top twice. We came up one side ducked down another to enable us to head up the other steep part. You can see me on one of those ascents in the picture above.
Why on Earth do That?
Well, both of the steep climbs involved 'scrambling'.
So Scrambling is?
Well, scrambling is when you have to use your hands to enable you to get up the mountain as the path is too steep to do it on your feet alone i.e. you'd probably fall and hurt yourself if you didn't use them. Normally, it will be over tougher terrain where there are rocks, ledges and so on to grab on to. Now, it is important to note that this isn't 'climbing' in the sense of pitching and using ropes, nothing like that at all.
However, I guess scrambling does move further away from hiking in the direction of climbing. I recall when I went to the top of Mont Blanc, I asked the head guide what the difference between hiking and mountaineering was. His short but succinct answer was that in mountaineering, you use your hands as well as your feet to move yourself forward, whereas in hiking you only need your feet.
Now, I mentioned in the post linked just above that there is probably a lot more to it than that but I thought it was a nice and easy way to summarize it. So, going back to my Saturday hike, you could say that part of our hike was more in the sphere of mountaineering as opposed to just hiking.
Not Everyone Likes Scrambling
It's worth pointing out, that if you're a hiker and you've never scrambled, it may not be for you. I know plenty of hiking folks who if confronted by a pass where they have to scramble to get up it, they would simply look for another route to the summit. It just doesn't appeal to them as there is no doubt that it adds a bit more risk to the average hike.
However, I also know plenty of other folks, me included, who love to scramble! I find it really adds another dimension and a nice variation to a day out hiking.
That is also fascinating to me as while I love scrambling, which is moving in the direction of climbing, actual rock climbing with ropes etc. really does not appeal to me in the slightest.
Safety
As always, safety is paramount and so if you're new to scrambling, try and do it first with an experienced group and ideally in a place that isn't too challenging. Safety always should come first and too much too soon, while it may seem exciting and challenging, could end up just being dangerous.
When you do finally get out scrambling, be careful and take your time, especially if you're new to the particular area and you've never scrambled there before. When you're scrambling, things can get much more difficult quite quickly and it's very easy to get into a situation where it's very difficult to keep going up but it's even riskier to try and go back down.
First Hand Experience
I have first hand experience of this on two separate occasions. Some years back, I was with a group of about 8 hikers, we were hiking a long a rocky ridge and suddenly the weather got very bad and a white out, fog, was coming in. We decided to veer down to one side of the mountain as we couldn't see a clear way ahead where we were. However, we got about 40 feet down and it was even harder to continue across.
We could have went further down off the mountain, which may have been the wiser choice, but we went back up to a place where we could scramble to get back up to the ridge beyond the initial tricky piece we had came across. We started trying to scramble up, 4 of us got up but the other 4 couldn't!
The ledge was such that once you committed to it you had to keep going. So basically, with heavy wind, rain and fog we, the four who went up, had no visibility or contact with the other 4 who couldn't get up. With no phone coverage, it was a little concerning. We continued on, on the ridge, as did our 4 friends via a different route, and we eventually met further down the trail a couple of hours later. Thankfully the weather had improved too so visibility returned.
Planning
Overall, in truth the planning for the hike wasn't very good and for us to get into a situation like that where we had to scramble to be able to move onward, was definitely not a great idea. We were reasonably experienced at the time but with the weather changing so quickly, it just goes to show how fast even experienced hikers can potentially get themselves into a pickle.
As if that wasn't enough, the same mountain range a year later, a similar scenario happened again. A little different in that we could see clearly but the route chosen really had some very challenging scrambles, so much so that even I was a little nervy at times. In fact, one lady with us had real difficulty getting past those parts and had trouble getting off the mountain. We didn't know it at the time but, panic had set in with her and she was having a tough time of it.
It ended up fine but it was another example of where you really need to be careful when you go scrambling. You never know what the terrain will throw at you and when you commit, sometimes there's no going back!
Conclusion
With all that said though, I love scrambling 🙂 and I look forward to doing more and more of it in the future. As with anything hiking related, you have to be smart and be safe. There's no point taking unnecessary risks. If the scramble starts to get too challenging, play it safe and back out while you can.
If you do want to do a bit of hiking, be sure you pack some gloves in your day pack. They can come in very handy when you're grabbing on to sharp rocks and other things.
Do you like to do a bit of scrambling when you're out in the hills? I'd love to hear about it in the comments below.