I was thinking today about a hike I was on recently in the context of a recent post in relation to carrying an extra layer of gear when you're out hiking, especially in the colder months.
In that post I mentioned that sometimes even hiking in winter given the right conditions, like hiking up a steep mountain side out of the wind, you can actually be too warm and you may take a clothing layer off.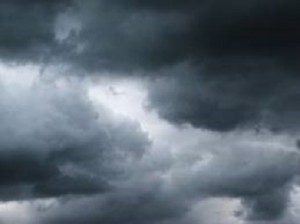 This is of course only temporary but it really got me to thinking about how changeable the weather can be out on mountain trails. I have often been hiking on a morning in low winds with a clear sky and the sun shining only to be caught in the direct opposite only a short time later.
Where you hike, the climate and so on, of course will have a major impact on this but as a general rule mountain weather can sometimes change very quickly.
As a given, when you hike in mountains, you are exposing yourself to the elements more and more as you go upwards. It is not always apparent but at lower altitudes, even distant land masses, mountains and so on often act as wind breaks and provide shelter and protection from the worst of the weather. This is of course diminished as you go upwards.
I'm no expert on meteorology but it certainly does seem that the conditions higher up are prone to change much faster and to much wider extremes in a relatively short period of time.
Again, I assume this is, among other meteorological factors, due to the air patterns and so on having much more room to move about and mix it up with less obstacles in the way. I am thinking in particular of valleys here which can often act as a shield from the wind while providing optimal conditions for rain.
On a Different but Related Note
Actually, and this has just popped into my head, last weekend I was flying back from the Alps in Austria. The weather was fine for flying, a bit windy and some rain. There had been some very bad storms in the previous days, but nothing to be concerned about on the day.
All was on track but just as we were making our approach to land at our destination, the wind picked up and the landing wasn't possible so we got diverted to another airport. A right pain in the a** as we had to then get coaches, provided by the airline, back to our original destination. It added at least 4 hours to the journey 🙁
The main point of that observation was that when we set out, there was no indication of there being any weather problems. However, even with the powerful weather forecasting technologies we have today, in no time at all, the weather turned, albeit only for a short time, and our plans were scuppered.
This helps to illustrate what you need to prepare for when hiking in the mountains. Even with good forecasts for the day ahead, well documented weather patterns and all the best laid plans, the weather in the mountains is notorious for turning, and turning fast.
Conclusion
I hope you found this short post / reflection useful. The weather is of course something you always need to keep front and center in your mind for all your hiking adventures, especially if you're setting out to hike in areas prone to extreme and dangerous weather conditions. However, even with the best information available to you before you set out, things can change unexpectedly.
Always Do your utmost to plan ahead for your hikes and of course check the weather in advance, and always keep in mind that things can change very quickly.
Having the right hiking gear with you, good rain gear and an awareness of escape routes off your hike are musts. Plan as much as you can in advance for the unexpected and always do as much as you can to stay safe!
Have you ever had the weather go against forecasts and turn on you while out on a hike? Please leave a comment to let me know, I'd love to hear your story.