In this post I wanted to take a look today at some hiking food ideas that you can take with you on your hikes.
I started to think about this last night while I was buying some of my usual hiking supplies in the store for the trail. Of course the more I thought about it the more options seemed to present themselves.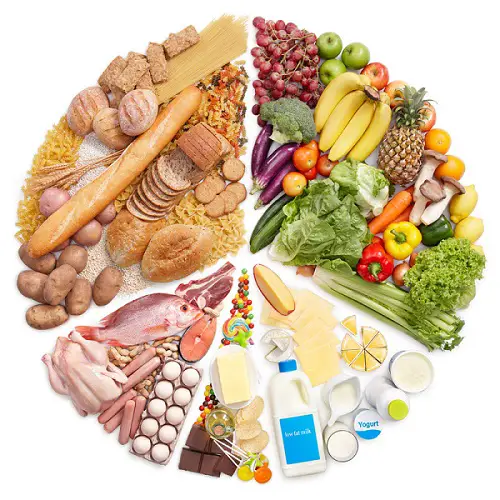 So rather than starting with an exhaustive list of the many food possibilities for day or multi day hiking, I figured I would just start with what I know best i.e. what I take with me on my hikes.
I am focusing on day hikes in this post and I will list out some of the general food ideas I regularly utilise.
Water
OK, so technically, not food but absolutely critical all the same. When you're heading out on a hike water is of course of the utmost importance,  it is critical to have a good supply with you so I feel I should put it in here at the start. There are various ways to carry water on the trail but if nothing else a basic water bottle from the store will do the trick.
Always be sure you have an adequate supply with you, you don't want to run out. You can get by for a long time without food with the only consequence being hungry and probably a bit grumpy 🙂 Not so with water as you can imagine.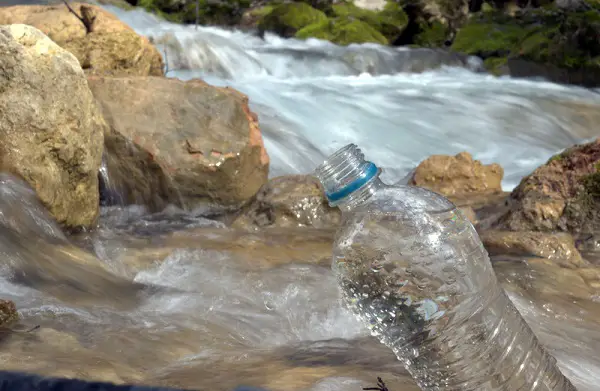 Remember water can be heavy to carry so if you're going out on a longer hike, you could look to utilize water spots along way like rivers and so on. Always be careful when you drink water from a river or in the mountains. I have drank water straight from source in many of the places I regularly hike in but as general rule, you should always purify water found on the trail before drinking it.
Fruit
Moving on, I then look to things that are convenient and easy to carry. I also try to only consume healthy stuff as much as possible. I think fruit is great for a day hike. Easy to carry and great for a short snack aka as a 'banana stop'. 5 minute break, some water and banana, happy days!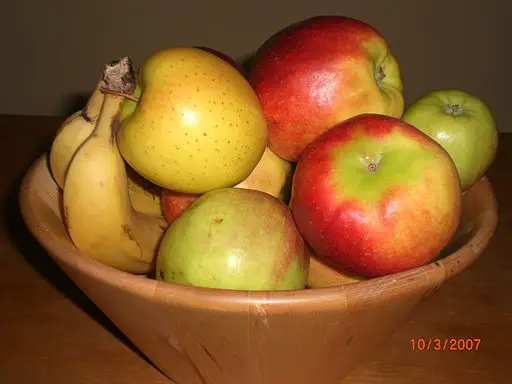 Banana's and apples are regular companions with me on my day hikes. Two of each is my usual stockpile. They are  great and they can also be easily munched on the move. They also provide some water and a some sugar with fiber to top up on energy needs. You can of course pick your favorite fruits if bananas and apples aren't your thing.
Always remember that if you take fruits into the mountains, take your waste back out. Many people mistakenly throw the cores of apples and banana skins on the ground believing this is fine as they're biodegradable. This just isn't so and unless the fruit is native to that specific area i.e. it grows alongside the trail you're on, you need to pack it out!
There are lot's of sound reasons for that which I won't delve into here. Check out this post on leave no trace to learn more.
Nuts or Trail Mix
For quick, convenient and healthy snacking I find nuts to be perfect. I usually have a nice mix of almonds, a few Brazil nuts, some cashews and walnuts. I am big fan of walnuts and they pack a healthy and filling energy punch for their size.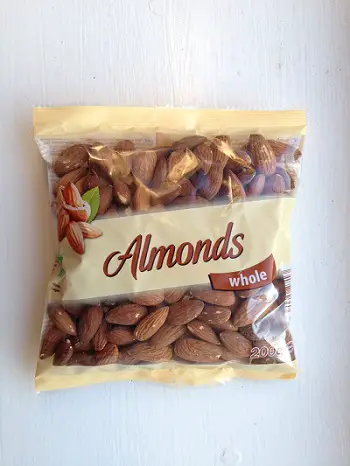 Trail mix is another good option which can be easily purchased in any large grocery store. While trail mix will have nuts too it will usually also have dried fruit, grains and sometimes even chocolate. I prefer to keep it down to my own selection of nuts, almonds 🙂 , but trail mix is a fine and popular choice too.
Note: Just a small note of caution with regard to nuts. Stick to the recommended daily portion sizes as taking more than that of some nuts can have adverse effects if done too regularly. Don't let this minor note of caution dissuade you from nuts though, they're healthy and awesome but like anything, it's all about the balance! I love them 🙂
The Main Event
What I like to call the main event is your main meal while out on your day hike, generally speaking this is normally lunch. Up until about two months back I was a big fan of the good old fashioned sandwich or baguette!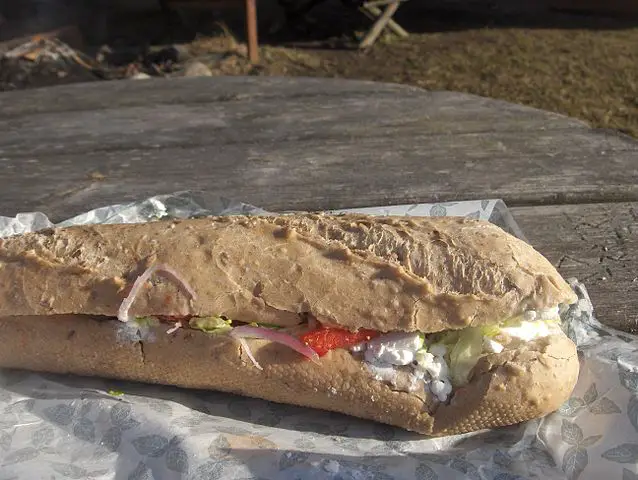 I of course tried to keep it as healthy as possible with some lean meat like boiled or grilled organic chicken, salad mix and mayonnaise on whole grain bread or in a baguette. The options for a sandwich are of course endless and you can adapt it to whatever your tastes are.
However, about two months back I cut bread out of my diet completely as part of a new strength and conditioning program I started. Part of that was also to only eat, what are defined as, 'clean' carbs. While I had taken cold pasta and white rice meals with me on my hikes before, and again the options for pasta and rice are many e.g. a nice tuna pasta salad works very well on the trail, these aren't classed as clean carbs.
So I had a quick rethink and experimented with brown rice, a little finely chopped onion, chopped peppers, some boiled or grilled chicken, some herbs topped with some light seasoning. It was delicious and that, or a variation of it, has been my main staple on my recent hikes the last month or two. Again, I'm all for experimentation so mix whatever ingredients you like to see what you come up with.
Overall, any of the options reviewed above are good for your main event.
Note: If you're taking a rice or pasta dish with you on your day hike, be sure to pack a fork or some other eating utensil, check out the Spork on this page, in your day pack! There's nothing more frustrating than trying to eat rice or pasta with your fingers and yes, this has happened to me 🙂
Tea / Coffee
I did a post recently on taking a Thermos water bottle or flask for the trail. To me having a hot Thermos flask with hot tea or coffee in it is a wonderful luxury to have with me on my day hikes. This is even more important for me as we move further into the colder months.
A hot drink is a great thing to have with you, not only functional as it's hot and so warms you up, but also a great morale booster if you're cold and standing in pelting rain! You can of course take whatever hot beverage that tickles your fancy e.g. any variety of tea, soup, etc.
Chocolate Bar
Next up, something I always have with me in my day pack is a chocolate bar. This is more for emergencies and so therefore I don't always eat it while out on a day hike but it is wise to have one or two tucked away in the kit for an energy boost if required. I normally have a  70% cocoa dark chocolate bar but you can of course have your chocolate nibble of choice. Try keep it as a chocolate bar though, I don't recommend carrying a box of chocolates on the trail!
Cereal Bars
Personally, I think these are just bars of sugar. It confuses me when they're marketed as being part of a healthy breakfast on a normal day. If you look at the nutritional label on the standard cereal bar, it's usually loaded with sugar which I don't think is a great idea for a normal breakfast.
However, if you're out hiking on the trail and burning lot's of energy, cereal bars can really work a treat for giving you a quick boost on the move. So, for hiking I think they're a winner! I usually have one or two packed away, alongside my chocolate bars, in my pack.
Remember, some bars are much worse than others, in terms of sugar. Take a few minutes and read the nutritional labels on the packet boxes and try and find something that has a bit less on the sugar side with a reasonable amount of grains, seeds and / or nuts in them.
Chips and High Fat Snacks
Now, this is one I don't normally use on the trail, especially for day hikes, but I wanted to mention it for any hiker who is thinking about longer hiking trips, more ultra hiking type of stuff. Some of the stuff that you normally are not supposed to be munching, like high fat potato or corn chips e.g. Doritos, can be useful on the trail for longer hikes.
Why is that? Well the high calorie count can come in useful. If you are ultra hiking, you're hiking very fast and probably moving at 3 to 5 miles an hour. Now, that is serious speed on the trail and it means you will burn a lot of energy fast.
Some, not all I hasten to add, junk food can be a quick way to get a quick dose of calories. If you're ultra hiking, you're probably already skinny as a rake anyway so when you eat this stuff on a multi day trek, you just burn it right back off. The other advantage, it's lightweight and relatively easy to pack away to carry.
I hasten to add that I do not know that this scientifically sound but, from the once or twice I have used it, it seems to have worked. The higher fat carbs gave me an energy store of sorts. Again, for most hikers this one doesn't apply but I thought I'd mention it.
Conclusion
So that's really it for this post. I think I will expand on this topic in future as there must be any amount of nice, as well as handy, food ideas you can take with you on a day hike. Just thinking about this now, while I have cooked and ate hot meals camping out many times while hiking, I have never ever brought hot food, aside from soup in a Thermos flask once or twice, with me on a day hike! There could be room there for experimentation, especially as we move into winter. Eating a hot meal on a peak would be a nice treat, definitely some food (excuse the pun) for thought!
Finally, when you're thinking of food ideas for your day hike, keep it convenient, healthy and tasty! Lunch is a welcome break on the trail and as well as being a necessary thing to keep your energy levels up, similar to hot tea for me, it's a nice morale booster to get some tasty food into you while chatting with your fellow hikers over lunch on the trail!
Do you have any tasty, healthy and convenient food ideas that you like to make and take on the trail with you? I'd love to hear about it in the comments below.
I added another related post on the 10 best day hike foods which is also worth a look. Similar stuff to this but some more nutritional information is available there.