Today I wanted to look into something that probably comes up for every regular hiker at some point either on a day hike or, more likely, on a multi-day trek.
So, let's set the scene. you're on the trail and, for a myriad of reasons, you have ran out of water and you need to drink water from a river in the mountains. The first thing that probably comes to mind is, is this water safe to drink?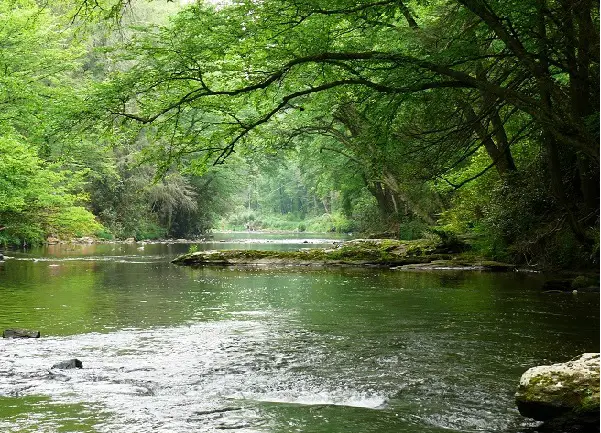 In this article I want to review:
Knowledge and Preparation
What options you have to help purify river water to help ensure it' safe to drink
What should you look out for if you have no means of purifying water with you
Knowledge and Preparation
As with any hiking trip be it for a day or for a week, you need to your research in advance to ensure you have a safe and enjoyable experience. One simple thing you should check before starting out hiking, especially in an area that you're not familiar with, is if the river water is, relatively, safe to drink.
Now, I should add here that as a general rule, you shouldn't drink water straight from a river. However, many times in the wilderness, if you're desperate you may be able to drink the water straight from a river without doing yourself too much harm.
It will of course depend on where you're hiking so always check this out in advance. Even in good areas, there could be a dead animal in the river further upstream though so it is never 100% fail safe. If you're hiking glacial mountains there's a fair chance the water should be good to drink. If you're hiking in a humid jungle, probably not so and you shouldn't drink from the river directly.
Even if the river water is relatively safe to drink, there are some precautions you should take e.g. where to drink from. We'll look at some of those in more detail further below.
As part of your preparation, always educate yourself in advance and if you know the water isn't safe, it is advisable to have a back-up alternative emergency solution with you.
Finally, if you're using any of the methods reviewed below it is always a good idea to filter the water to remove gross material, using a t-shirt or something similar, before you start to treat it. Sometimes some river water will just has too much crap floating in it that you need to get those bits out first.
Similarly, too many 'bits' in the water, then you're probably better leaving it and looking elsewhere for a better part of the river with less stuff floating in it. With that in mind, what are your options? Let's take a look …
Water Purification Options
1. Boil your Water
The traditional and best way of purifying your drinking water. Bring it to boil for at least a minute or so. This will kill most pathogens and bacteria.
This method of course depends on you having a stove or cooking system with you, or a means to start a fire as well as a couple of accessories e.g. something to boil your water in. Pictured below is a jet boil, a very efficient and easy to use way to boil water.
If you're out on a day hike, this will probably not be the case. that is, you're unlikely to carry a stove with you unless you're out for a longer trek.
However, if you carry a flint and fire starter pack with you, you may be able to fashion a fire from tree branches or the like. Again though, it's a lot of hassle to be going to for a one off.
Pros
Kills most pathogens and bacteria
Probably the best way to purify water
Cons
Have to carry a stove and a billy can of some kind that can take boiling water
If you don't have a stove, you will need a pre-prepared flint and fire starter pack to start a fire. Not the easiest in certain conditions and locations and could be very dependent on the weather e.g. if you're trying to start a weather using kindling from a wet forest, it probably won't be easy unless you know what you're doing
2. Purify Water Using Iodine
This is probably the easiest method to use and possibly the most efficient. You can purify water using Tincture of Iodine 2%. Water purification tablets are another option that usually use iodine as their main active purification ingredient but they're a bit more expensive.
You simply pop a few drops of the tincture or a purification tablet into the water and it takes care of any nasties in the water. Pictured above is Lugols Solutionof Iodine 2%.
Pros
Easy to carry – either option shouldn't take up too much space in your pack
Easy to use
Probably the most economical
Cons
There might be some minor taste issue but if you need water, this isn't really a genuine concern and big downside. It hardly matters if you're bursting for a drink, and if it's a matter of keeping you alive to be able to walk out.
3. Water filtration System
There are any number of these available, picture below is the Katadyn Hiker Pro Microfilter. Broadly speaking there are two kinds. The first uses carbon or a ceramic filter to remove unwanted stuff and bacteria. The second uses a chemical such as iodine to treat the water.
These filters usually come in things that look like flasks and the filter is built into them. They're not the cheapest option and they look to be very bulky. I don't use one but I assume they do the trick
Pros
Depending on the filter, it should clean the water pretty good
Will take care of gross material in the water as well as nasty stuff you can't see
Cons
Expensive
Bulky and more weight to carry
3. UV Lights
There are Steripens, pictured below is the Steripen Classic 3, and battery powered devices available that treat water with UV light which kills most bacteria and pathogens. You of course need to do a basic filtering of the water in some way first to remove any gross material.
I've never actually used this method but have read it works very well. I have also read that if you're really stuck, you can also leave water in a plastic bottle in direct sunlight, one day if sunny and two days if cloudy and the natural UV light from the sun will purify the water.
This is interesting but I guess in an emergency you may not be able to wait a couple of days to get water. Still good to know though. I think I will research this a bit more and do another post on it to see how viable it is and link to it from here.
Pros
Effective, it should clean the water pretty easily
Handy enough to carry – not too big
Cons
One of the more expensive options
Relying on anything battery powered for an emergency always runs risks of failure e.g. it breaks for some reason
What if I have No purification method with me?
It could happen that you take a slip and maybe lose your pack over a cliff edge or something like that. Assuming that you're still mobile but you've just lost your means of purifying water, what can you do to get you by till you get to safety?
Well, if your pack is definitely irretrievably gone and there's no chance of rain in the foreseeable future, there are a few tips you can try and use to keep you going.
First off, look for a fast flowing part of a river. If you need to drink water from a river directly, drink it from there.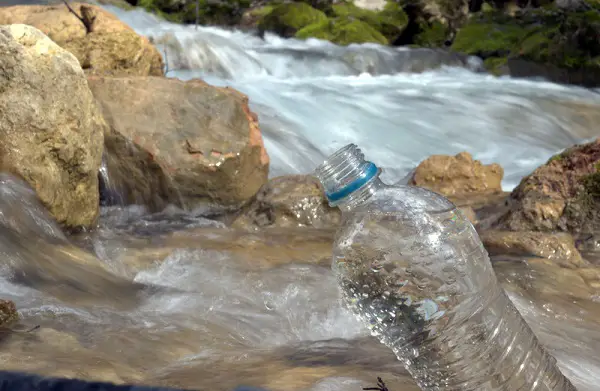 As much as possible, look for good flowing accessible streams, not full on river charges. Avoid stagnant pools and lakes, and look for any other dangers like dead animals in the water.
Where possible avoid flood water and also, if applicable, be mindful of any population centers. People further upstream can often, sadly, mean pollution.
Find a manageable part of the river to work with. That is, don't choose a really wide part of it. Choose a part of it you can access without fear of hurting yourself or getting swept away. We don't need to make a bad situation any worse now do we 🙂
Start up the river and walk alongside it, keep your eyes peeled for anything untoward in the river e.g. a dead animal. When you've found a good stretch that you're happy is as clean and clear as possible, walk back down about 50 meters to a suitable drinking spot. Look for a place where the water is fast moving. Be careful as you lean in to fill your bottle.
Now, I need to stress here that this just isn't as applicable in certain parts of the world as others. In jungle areas and so on, the water is probably full of all sorts of exotic microbes and bacteria. Put it this way, if I had to I'd rather drink water straight from an Alpine glacial stream than a river in a humid jungle 🙂
However, this is last ditch emergency stuff though and considering that you will die if you don't drink water within 48 hours, you may not have a choice and just have to take the risk.
To summarize, look for fast flowing accessible streams rather then big rivers and take your water from there, be careful doing so.
Finally, clean your hands as best you can when working with your water, especially if you've had to do a number two recently. You will possibly have a lot of bacteria from that alone, so having some sanitary wipes stuffed in your day pack is always a winner of an idea!
Conclusion
All the options listed here are viable options for making river water safe to drink. The key thing, as with most things on the trail, is preparation. Ask yourself these questions:
Where am I going hiking?
For how long?
Are there fresh water streams?
If you know these answers, you can prepare accordingly. For example, if it's Spring and there are fresh water streams higher up in the hills, odds are on that you're going to be good to go and could be able to drink it directly should the need arise. Be sure check in advance though.
If you're going to be hiking in a jungle for a week, you most likely can't drink any river water. So, whats your plan for that length of time?
If you're hiking and backpacking for a week, you will likely be cooking along the way so you have the boiling option. As a back-up though, you could opt for iodine or other types of purification tablets. Be sure to confirm that it's a suitable method for that environment though. Also, be sure you bring enough back-up with you.
You get the idea. It's always about preparation. Sometimes, no matter how careful you are, you might just get unlucky. Them's the breaks as they say, but if you do your best to prepare you should be just fine 99.99% of the time.
Remember, you can survive without food for weeks. You can't survive without water, and you can't survive much longer than 48 hours without it.
Remember, and this is important to stress one last time, always do suitable research in advance. If you think you could end up having to drink river water in an emergency, in a particular location, try and get expert advice from local knowledgeable resources in advance, about whether or not water is drinkable. If not, be sure to know how best you can make it potable, and have the appropriate equipment with you.
I hope you found this post on how to make river water safe to drink useful. If you've any comments or thoughts on this topic, please do add them in the comments below.