Last week I took a look at how to make river water safe to drink. One of the main methods mentioned in that post was to use iodine to purify water.
Today I thought I would take a closer look at the actual steps you would take to use this method when out on the trail. This is fresh in my mind as last weekend I did a challenge hike and there were fell runners at it.
One guy was talking about how he carries minimal water with him but instead takes enough to get him to pools of water that are dotted across the mountains.
When he gets there he fills up a certain amount and that does him till the next one. He doesn't treat the water in any way which is fair enough, just drinks it straight from the pools. I don't recommend doing this but it should be safe enough to drink it that particular location.
I don't know if he experienced any problems but either way, a little bit of iodine would ensure he would have none.
What you will need
A Water Bottle – this can be a standard plastic bottle from the store or any container you use for carrying water.
Iodine Tincture (Pictured above) – This is a small bottle of iodine that you can mix with your water. This is important, you want to be sure you get a solution that is suitable for purifying water. Ideally you need an eyedropper with it so you can easily put droplets into the water.
Step One – Find a Good Water Source
I mentioned above that the Guy was drinking water from pools on the mountains. That can be fine depending on the location but pools can also be ripe for stagnant water, something you should avoid.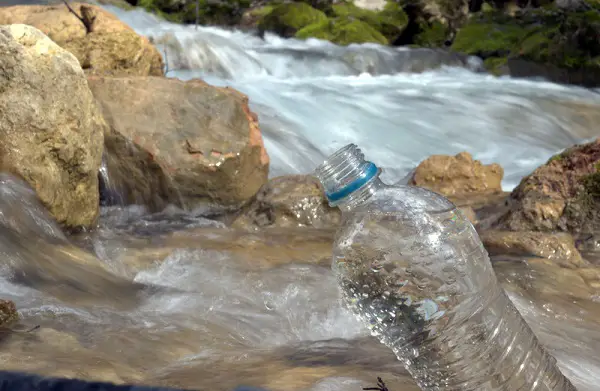 If possible, fill your water bottle up with water from a fast flowing stream as pictured above. The clearer the water, the better.
Step Two – Remove any Gross Matter
This may or may not be required, depending on how clear your water is from dirt, stones etc.
A do it yourself way of filtering water is to run it through a tee shirt to ensure there is no lumps of dirt etc. in it. you may need another water container for this though, one to filter into. Remember, if there's too much stuff in the water, it is probably not suitable.
Step Three – Add the Iodine Tincture into the Water
This should only require 5 or so drops for about 1 Liter (35 oz) of water. However, be sure to read the application instructions on your tincture bottle to get the exact quantity to volume ratio correct and apply accordingly.
This is why you need a dropper which, if it is appropriate for water purification, should come as standard with the tincture bottle.
Note: Mentioning this again … make sure you get iodine tincture that is suitable for water purification. There are other variations which are just not suitable for this purpose and could cause other issues.
Step Four – Leave to Work For a few Minutes
When you have your bottle of water mixed with iodine, put the top on, give it a shake and leave it for a few minutes. The iodine will start killing off any unwanted bacteria.
Step Five – Drink and Enjoy (Kinda)
The final step is to drink your water. My experience of water with iodine is a chlorine type taste which I wouldn't class as enjoyable lol 🙂 However, it is fine and does the trick for the main purpose of ensuring you have water to drink with no nasty's in it!
Conclusion
So that's it for how to use iodine to purify water. As you can see, it's pretty easy to do. It is also quite economical too as a bottle is pretty cheap. Another great advantage of this method of water purification is that technology is not required and it isn't bulky or heavy.
Water purification tablets work in pretty much the same way, you just follow the instructions and add them to water to purify.
There is one final thing I want to add here for folks in the EU. To the best of my knowledge, this method has been banned in Europe so trying to get your hands on iodine tincture for water purification purposes within Europe could be tricky.
It seems the folks in Brussels are recommending to use chlorine tablets instead of Iodine for some, no doubt overly protective, reason.
I hope you found this post on how to use iodine to purify water useful. If you're going out on the trail for a long trek, and you will have suitable water sources on the way (and you can get your hands on suitable iodine), it is a viable and easy way in which to purify your drinking water.