I recently purchased the Vakuum GTX Hiking Boots from Meindl and I was excited to try them out. They're a sturdy 3 season (But they will work well for 4 seasons for many) boot and after checking them out, I realized I had a serious contender for my favorite hiking boots on my hands!
What can I say except that I am seriously impressed with these hiking boots. German engineering for your feet is always going to be hard to beat. These are seriously impressive hiking boots.
Pros and Cons
Pros:
Sturdy Nubuck leather / Goretex construction means most hikers will get year round use out of these boots
Excellent Vibram soles provide good grip over all types of terrain
Great for all types of hiking and backpacking
Classic style and look works well
Cons:
Some comments that they could breathe better
May not be an ideal choice for lighter hiking in hotter weather
Meindl Vakuum GTX Hiking Boot's For Men Features Summary
Gore-Tex performance membrane
Nubuck Leather upper
GORE-TEX® Lining
Air-active Sole
VIBRAM® Outsole
Best uses: Nearly all types of year round hiking and backpacking
Overview
So, where to begin. I've often heard the name Meindl and I have seen plenty of their hiking boots around while out on the trail. The basic assumption I always had, or the underlying message I got from people when we spoke about Meindl, was quite simply 'Quality'.
With that in mind I was looking forward to getting my hands on a pair of Meindl boots. I needed hiking boots that would do me all year round, with a leaning towards something sturdy and tough for the harder times of year in Winter. After reviewing the many excellent options on offer from Meindl, I settled on the Vakuum GTX.
Why these? Well, I was initially looking into a different pair of Meindl boots, the Burma's, but when I actually saw the Vakuum's, I was impressed. They really caught my eye as they just looked tough, stable and secure so I quickly changed my mind to run with them.
They come in the classic hiking boot look and in only one color, dark brown. I am a fan of the classic leather hiking boot look and style so this was immediately a positive for me. You can see them fresh out of the box in the image below.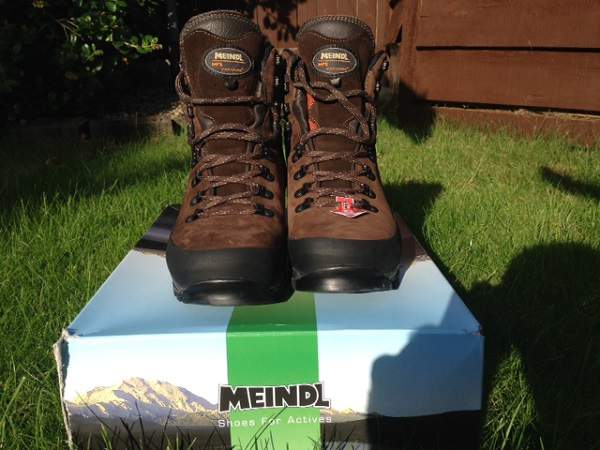 The Meindl logo is on the side of the boots and on the tongue at the top but it is quite tastefully done and the gold on dark brown is actually really nice to the eye.
My primary aim with these boots was to get a tough year round hiking boot that could take on any terrain and be versatile enough to be used in whatever weather, excluding extreme weather of course, the seasons could through at them while out on the trail.​
Update July 2017 – after 10 months of use: I thought I'd add a short update after using these hiking boots for about 10 months. Overall I am really, really happy with them and give them the coveted title of the best pair of hiking boots I have ever owned.
They really are excellent. I am happy with them across the board, the only one criticism I would give them is that they could breathe a bit better.
It's not a big issue for me as I just wear a lighter pair of hiking boots in warmer temperatures, so it is a small thing. As said, overall, they are a truly awesome pair of hiking boots!
Check Out The Best Men's Hiking Boots Here!
Comfort
Starting with the insoles, they were very comfortable when I first put the boots on. Not too soft and not too hard so a good start! The insoles are removable and breathable using an 'air-active sole'.
It's worth noting that specific insoles for these boots are available separately. How about that for a vote of confidence in the construction, they know you're going to want new insoles long before the boots wear out.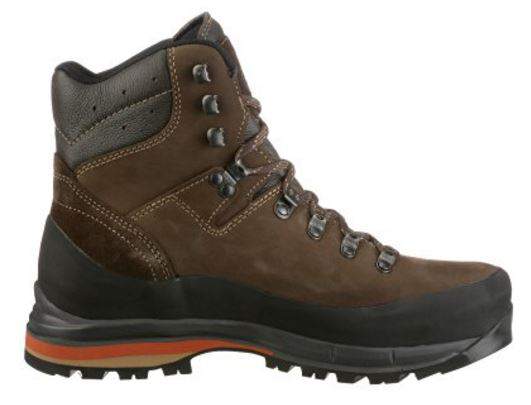 The boots have a padded collar, as shown in the picture above, which rests comfortably against the ankle when the boots are on. The tongue of the boots is also well padded to provide protection for the tops of your feet.
The tongue is also gusseted and feels sturdy when you lace the boots up so you have confidence that unwanted debris will be kept out of your boots.
In terms of a secure fit, I can safely say that the Meindl Vakuum hiking boots not only look very secure and sturdy from the outside, but feel that way too as soon as you put them on.
I was seriously impressed with the construction and how the boots felt on my feet. Really sturdy and secure without sacrificing anything in comfort.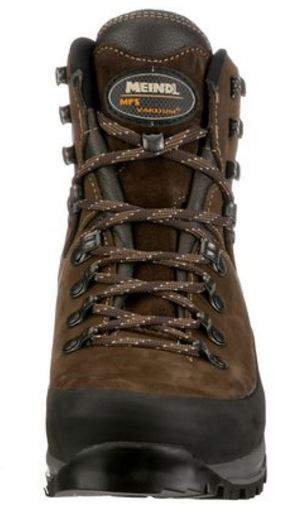 Moving on to the lacing system, the Meindl Vakuum boots are fitted with laces that can easily take three knots in them, my standard way of tying my boots.
So many other pairs of boots I feel fall short when it comes to lace size and you are lucky if you can get two knots in. Not a big thing but it's nice that this wasn't an issue.
The lace eyelets are tough metal and the lace hooks, as with everything else in these boots, feel very secure and tough when you tie them up.
The Meindl Vakuum boots are waterproof and breathable via a combination of Nubuck leather and Gore-tex lining.
Having taken these out on some serious test runs, two of which were in a very wet bog in Connemara in the West of Ireland, I have to say that I am really pleased with the waterproof capabilities.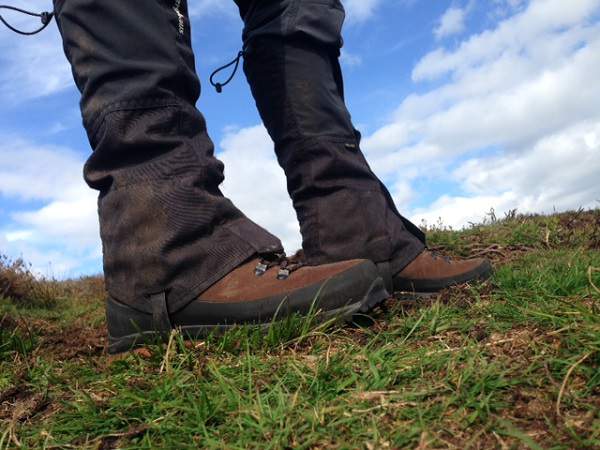 In terms of breathability, I've also found the Meindl Vakuum hiking boots to be excellent. However, I've only used them in Autumn so far. The boots are thick and a bit heavy so I would need to see how they would perform in hotter weather in summer.
It is possible they could be too heavy for that type of climate. No issue for me though as I tend to wear a lighter pair of hiking boots like the Lowa Renegade GTX at hotter times of year.​
When it comes to weight, these are sturdy and tough boots so they do weigh a bit heavier than other similar types of hiking boots. I weighed the pair in at about 2.3 kg (Pair of size 10 US / 9 UK / 43 EU).
I haven't found their weight to be an issue for anything I need to do on the trail but mention it here just for reference in case it is an important factor for you. ​
The boots are chunky by design but I have found this to be really comforting, especially when hiking over scree or in rocky terrain. I just feel like I have more protection on my feet!​
Next up, let's take a look at sizing. I had no issues and they fit true to size. One thing that is worth noting though is that I had a significant break-in period with these boots. I had to go through a few blisters as they molded to my feet but I could tell it would be worthwhile.​
Of course these blisters could have been avoided but what can I say, I got lazy 🙂 With that in mind, I do recommend you take the time and break these boots in properly​, it will likely save you some pain!
Of course they may fit you perfectly right out of the box too of course. My experience has always been that really good long term leather hiking boots take me a while to break in. Somehow, that seems to be a sign that I am going to get serious longevity out of them.
Support, Stability and Grip
We started the last section with insoles so lets start this one with outsoles! The outsoles on the Meindl Vakuum GTX Hiking Boots are Vibram. I am a fan of Vibram soles, have been for a long time now.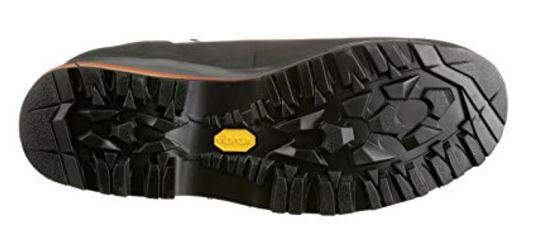 I have taken these boots out over rocky terrain, muddy ground, bog and in heavy rain and to date, all good on the grip front. I am not surprised by this given that I have such faith in Vibram. I've never had any issues with Vibram soles, so I have confidence in them.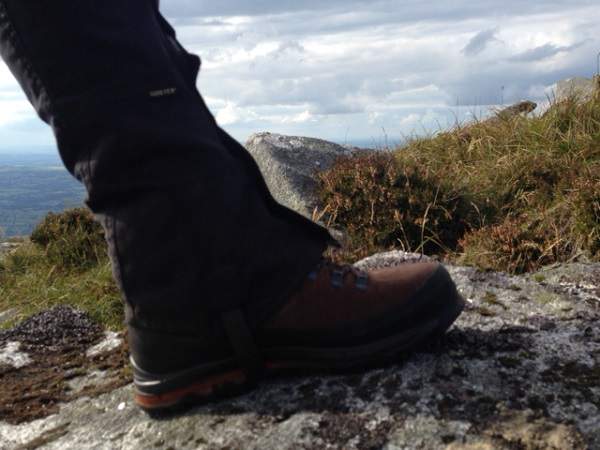 Support on these boots is frankly just awesome. They are seriously tough and durable. the outer wrapping from outsole runs about an inch up onto the boots. This is really secure and snug and you know it adds a lot to the waterproof capabilities of the boots.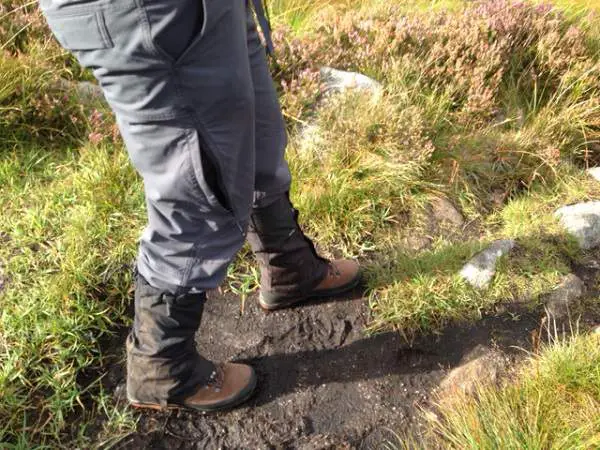 I could waffle on about the stability and durability of the boots but I don't really see how valuable that would be. They are just really stable and provide excellent support across all types of terrain and in all conditions. Enough said!
Price
The Meindl Vakuum Hiking Boots are definitely at the higher end of the scale when it comes to price. If you hunt around, you might get a discount. They are truly worth it, a seriously good investment in my opinion!
It's worth noting here as well, as I alluded to above, that I feel these boots are for the long haul. If you look after them, the uppers and so on, you can ship them back to Meindl and they will resole them.
Having hiked in them 10+ times now, I really can see how these boots can last the pace if you play your part and clean them after every use, and give them some good TLC in terms of reproofing and so on.
It's worth noting that Meindl have a seriously good customer service reputation. Kind of like, any problems at all with the performance of the boots and they will take them off your hands and replace them with minimal questions asked.
I don't know about you, but that's the type of customer service I expect from quality brands so I wanted to give that a nod here as I think it's important to mention.
Best Uses
So far I have used them on all types of hiking and a few short backpacking trips and they have performed exceptionally well.
With that in mind, the Meindl Vakuum Hiking Boots are excellent for all types of hiking, backpacking across the whole year … Within reason of course … if you are hiking in heavy snow in Winter you probably need something much tougher 🙂 .
They are great all rounders and I love them however, it is worth noting that they could be too much boot for light hiking in fine weather. ​
Customer Reviews
Interestingly enough, I get the impression that Meindl aren't a huge name in the States, I could be wrong though. They are well known and respected in Europe though.
With that in mind I could only find a few user reviews for these boots in the US. That doesn't mean anything negative I hasten to add as my first hand experience with them is that they are truly excellent boots. I did of course find some user reviews though.
Our Rating 5 (Out of 5)
​I started this review with a picture of the boots fresh out of the box, so I thought I'd add a picture of them after 10 or so tough hikes as I draw the review to a close. They have lightened in color pretty quickly but that's cool 🙂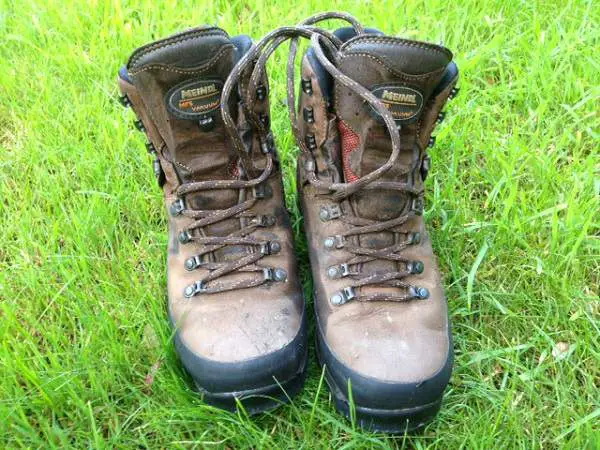 Conclusion
What can I say except that I think I may have found a new favorite pair of hiking boots! Yes indeed, I think the Meindl Vakuum GTX Hiking Boots are a tough act to follow and so far, I'm very pleased with them.
They are exceptionally well designed and constructed, and to date I have found them very comfortable in all sorts of conditions and over all types of terrains.
I've been pleased with the waterproof capabilities so far, usually a bug bear of mine, and in terms of comfort, they are starting to really work nicely for me after a bit of a break in period.
Their breathability may be one thing that I would like to check more on but I'll have to hike in some hotter conditions to really test them, as my hiking in Autumn has been in relatively mild temperatures.​ One final thing to mention is longevity.
I really feel that these boots are for the long haul but I guess I won't really know that until some months and years down the line 🙂 I'll add an update on how things progress in that regard.
If you're on the lookout for a pair of new hiking boots, you could do a lot worse that purchasing the Meindl Vakuum GTX Hiking Boots, they really are excellent and I expect many miles of good and comfortable use from them!
If you're still unsure what type of hiking boots you should get, check out the hiking boot buying guide and my top hiking boot recommendations. I hope you found this review useful. Please comment and / or share it around your networks if you did.