Recently I was out hiking with my regular hiking group in the West of Ireland, in the twelve Ben's (or pins) as they are known. We did six of them known as the Connemara Horseshoe on a day hike. The six in question form a nice horseshoe shape and while it is a tough hike, it is a beautiful one and we were blessed with the weather too.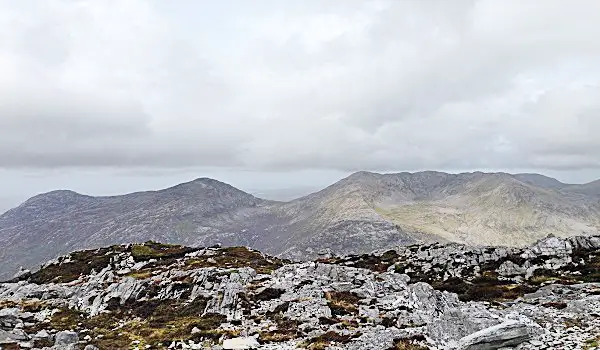 I did the very same hike last year and this year we actually did it much faster. By the time we finished last year my knees were in pretty bad shape and I was so grateful to get back onto flat land lol 🙂 This year, my knees were actually pretty good at the end.
While some of that could be down to being more used to it than last year, I think another part was due to how I approached some of the terrain on the hike.
The terrain on the Ben's is quite challenging. Very steep and rocky in general and there is a lot of scree in places. One of the six in particular has a lot of scree when going down it. Another one of them has a lot of scree when going up it but, as I found out this year, by going another route that bit can be avoided. Hiking up scree is definitely much harder than hiking down on it.
With all this in mind I thought doing a post on how best to approach the scree type of terrain, from my experience to date, might be useful. If you find scree terrain difficult to hike over then read on.
What is Scree?
In brief, scree is a lot of small stones and rock debris that piles up in large quantities on the slope or base of a mountain. I don't know too much about the geological aspect of scree i.e. how it got there but I think it might be something to so with remnants left over after volcanic activity and periodic rock fall over time.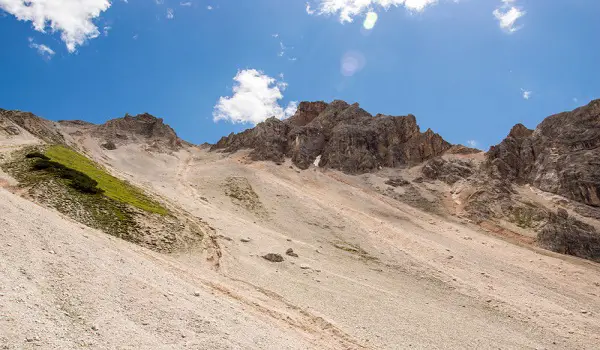 Scree itself can be anything from very small stones to larger rocks and, more or less, any mix in between. When you stand on it, your hiking boots will naturally sink quite deeply into it.
Hiking On Scree
Of course as scree is a very unique and different terrain to hike on, there a few ways to approach how you traverse it, depending on which way you're going. Below, I split it down into the main challenges you will face while hiking on scree.
Hiking Down Over Scree
The main way I can suggest as the best way to hike down over scree is to almost surf on it. What I mean by that, is that when you put your feet onto it you will, naturally enough slide into the scree and down the mountain.
As mentioned above, one of the reasons I think my knees were so sore last year on the same hike on the same scree was that when I went down it I fought against the naturally flowing motion of it and tried very hard to stabilize myself every time I took a step. This is very hard on the knees!
By the time I was approaching the bottom of that mountain last year, what I had figured out was that if I simply went with the flow of the scree, it was much easier on my knees and my body in general.
So, when you set off downwards on scree, put your foot out straight and as you put your down when you take a step, let your weight go into your heel. You will feel a bit like your sliding and might feel a bit out of control at first but if the weight is on your heel, it will naturally bring you a stop.
Do this slowly at first and gradually you will get the hang of it and will gain the confidence to pick up speed. When you get going you can actually move quite quickly with minimal effort downwards over scree.
Now, a key point to add here is that this approach only works if the scree is of the right depth and the stones are small enough to allow the movement. If the scree is not deep enough, do not take this approach as you could quite easily twist an ankle or trip over as the ground holds steady below your sliding foot.
If the depth and quality of the scree isn't suitable for this approach, look to see if you can get to the edge of the scree where it might be more stable and so easier to hike down on. If that's not an option, you just need to take your time going down and be very careful.
As with all things with hiking, especially with terrain, you need to exercise good judgment on the approach you take. Safety always comes first.
Hiking Up Over Scree
Not surprisingly, going up over scree is much harder than going down over it. It takes a lot of effort and can be very frustrating as you put a foot into the scree and start to slide downwards. It can feel like you're not making any progress at all and even like you're going backwards at times!
The best way I found to walk up it was to make your feet as wide as possible by turning them horizontally to the mountain and leaning in ever so slightly. This should give you a wider base area to spread weight over the scree and so prevent you from sliding down into it.
Then, when you're going upwards, if possible a zig-zag path is probably the best option. By having your feet horizontal and ascending in a zig-zag fashion, you should be that bit more stable and not experience slides downward as much as if you took a direct approach with feet pointed directly at the mountain.
Hiking Across Scree
Similar to going up over scree, I would approach this with your feet in a horizontal position towards the mountain. As you're not going upwards, you just leave he zig-zag path out and move directly across in a, more or less, straight line.
Other Tips
I highly recommend that if you are about to walk on scree, you put your gaiters on. If you don't, as you slide in the scree your boots will get filled with little stones which is a pain. I can assure you than stopping on scree to take your boots off to empty them is not an easy thing to do 😉
Conclusion
I hope you found this brief guide useful. Scree is a very unique type of terrain which, as a hiker, you will probably come into contact with at some point.
If you're lucky and you're going down scree, it can actually be quite a lot of fun 'surfing' down through it. It can nearly be a welcome relief on the muscles on a hard hike as if done correctly, you should probably expend less energy that if you were walking normally. It takes a while to get confident on it though so if you're feeling unstable and uneasy, always take your time to negotiate it as best required for you.
Do you have any tips for hiking on scree? I'd love to hear about them in the comments below.