When you head out hiking, typically you wear your gear in layers. For example, you will have an outer layer which usually consists of your rain gear.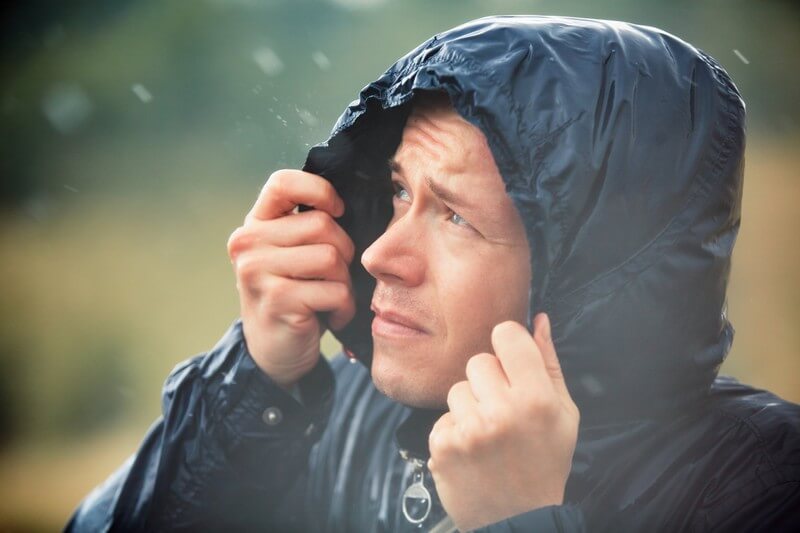 This is the outer layer as it faces the outside. This layer typically involves protection from the outside in. So it protects you from the elements such as rain, snow, etc.
As well as keeping you dry, it is also typically has a level of breathability, so any humidity inside, can get out to keep your mid layer, the next one, dry.
Moving further inwards, typically you will have one, possibly two, mid layers. These sit under your outer layer and above, you guessed it, your base layer. A mid layer's primary function is to provide warmth.
If your outer layer is rain gear, think of your mid layers as hiking pants, a hiking tee and a fleece as an example. Their main job is to keep you warm and comfortable. They may have some venting capability but their purpose is to keep you warm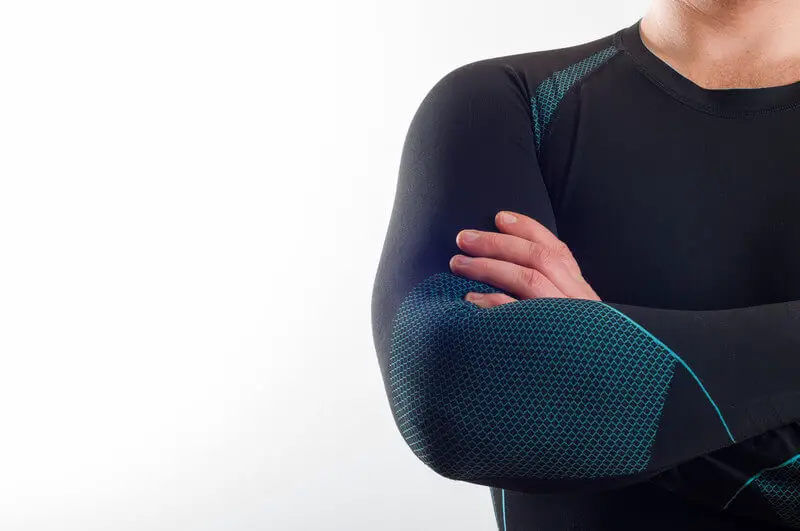 Finally then, as we move another layer down, right next to your skin, we come to the base layer. An example of a base layer, is shown in the image above.
What is the Purpose of a Base Layer?
The base layer has two main functions. The first function, is to wick moisture away from your body. In brief, as you hike along, your body will typically heat up from your exertion.
Your body will react to cool you down by sweating. This sweat then has to be able to get away from your skin, otherwise it will cool you down too much as you will have cold damp sweat on your skin.
That's where the wicking capability of a base layer comes in. The function here is to provide an easy vehicle for the moisture, your sweat, to move away from your skin.
Wicking fabric, typically merino wool or synthetic fibers like Polyester, in base layers are excellent at helping this process along. We delve more into base layer materials further below.
What Forms a Base Layer?
Normally, base layers are used to cover your torso and your legs. They also usually fit nice and snug to your skin to help the two main functions we touched on above.
Personally, I never use a base layer for my legs, even when I was skiing in the Alps in Winter, I tried them one morning but they were far too warm for me.
However, that is my personal preference only. Some people, who may feel the cold that bit more than me, may love to have the additional warmth of base layer leggings.
What's the Best Base Layer Material?
The best material make-up for a base layer varies from one individual and one set of circumstances to the next. Let's take a look at the following popular base layer materials and their pros and cons to find out which one is best suited to your needs.
Merino Wool
Natural merino wool is surprisingly soft compared to some other types of wool, thanks to its super-fine fibers. It also has excellent thermoregulatory properties, meaning it will help you to maintain a comfortable temperature.
If you're planning on wearing a base layer over several days on a trip it can be the best choice thanks to its natural odor-resistance.
As well as wicking away perspiration fairly well, merino wool can also provide extra warmth. It dries less quickly than synthetic fibers and can have a slight dampness to it after high intensity activities, although it continues to insulate even when damp.
On the downside, it can be rather expensive and needs a certain amount of care, being less durable than your average synthetic base layer.
Pros:
Natural material with a soft cashmere-like touch
Excellent thermoregulatory properties so you won't suddenly feel cold or too hot when stopping or starting a more strenuous section of your hike
Wicks well keeping you dry
Naturally odor-resistant, suitable for several days wear on extended backpacking trips without odor retention
Cons:
Not quite as dry nor as fast drying as synthetics
Can be less durable, especially if worn as a stand-alone piece of clothing
Synthetic
Polyester is the most common synthetic material found in base layers, although you'll also find nylon, rayon and polypropylene (I think that is a type of polyester :-). Synthetic base layers often consist of blends of two or more different synthetics to improve stretch, breathability and insulation.
The addition of spandex and elastane creates closefitting, elastic base layers that move with your body for a "second skin" sensation.
Often recommended for more intense activities, synthetic base layers tend to dry quicker than wool and are highly breathable, as well as more durable. However, they do tend to retain odor, over time even treated versions will start to smell.
They also insulate less well than merino wool base layers and some versions can leave you feeling a little cold once you stop exercising, making them less practical for time spent around camp if you're backpacking or hiking slower, say on more leisurely hikes.
Pros:
Quick drying – suitable for high intensity activities
Available in a range of blends so you can choose a base layer that suits your personal needs and preferences
Body hugging with "second skin" ease of movement
Excellent wicking and highly breathable
Cons:
Even treated versions can still eventually have odor buildup problems
Can leave you feeling cold after you stop exercising
Synthetic / Wool Blend
Synthetic and wool combined create versatile base layers that improve the durability and drying time of wool, while adding a luxuriously soft and cozy sensation as well as extra insulation to synthetic fibers.
Offering the best of both worlds, this is a popular choice among hikers when looking for a long lasting base layer to see them through more challenging hiking trips.
With improved durability and less snagging potential, synthetic and wool blend base layers can also be worn as a stand alone piece during milder months.
However, if you're looking for more warmth and true odor resistance, you may be better off with a full merino base layer, or for maximum breathability and fastest drying times, a full synthetic one.
Pros:
Qualities of merino wool e.g. warmth, combined with the durability of synthetics
Highly versatile base layer that can be worn year round for a variety of activities
Excellent wicking and fast drying
Soft close to skin and offers increased insulation compared to synthetic only base layers
Cons:
Faster paced activities may be better matched by a fully synthetic base layer
Less warmth and odor-resistance than a full merino base layer
Silk
People often question silk's suitability as a base layer. While it's true that it is comfortable and lightweight, it does not really make for a great base layer for outdoor activities.
Unless specially treated, it does not wick as well and it tends to retain odor. Silk can also be difficult to launder, meaning you'll have to spend time and effort to keep it in good shape.
So, unless you are planning on hiking with a very minimum of exertion, think more a gentle stroll, then we don't recommend silk as an appropriate base layer.
Pros:
Lightweight
Soft to the touch and outer layers will slip on easily over
All natural product
Cons:
Does not wick as well
Hard to launder
How to Choose the Best Base Layer
In this section we take a look at what to consider when buying a new base layer. When you're looking for the best base layer, you need to bear in mind that what works for somebody else, will not necessarily be the best choice for you.
We list out the main considerations you should take into account, to help you find one that will perform appropriately for your needs.
It can also help to have various different base layers to wear at different times of year on different types of hiking excursions, so you may in fact decide to purchase two very different types of base layer to keep you dry and comfortable throughout the year.
I think both merino and synthetic base layers are excellent, I use both, so there is plenty of choice available to you. Merino wool base layers are usually pricier than their synthetic counterparts, but they are excellent in terms of warmth and functionality. Let's take a closer look at specifics.
Activity Levels
If your hikes tend to take you far and wide, with plenty of uphill sections and a fast pace, then you're going to need a base layer that has very fast drying times and excellent wicking.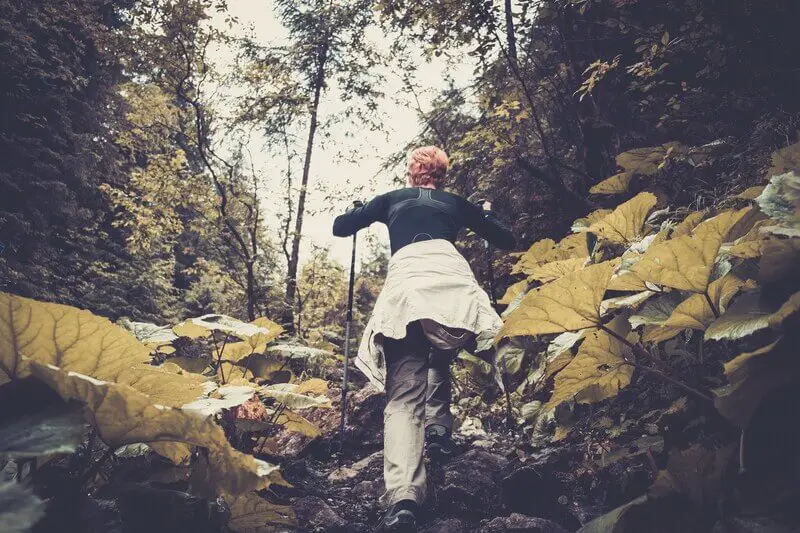 Synthetics often are classed as the most appropriate, however, you'll also need to bear in mind some other factors before making your decision.
A wool and synthetic blend might be more suitable for longer trips or a lightweight wool base layer if you're not overexerting yourself too much and the weather is very cold.
Climate
You'll need to consider the climate and time of year as well as the weather types that you tend to encounter. Dressing for cold and dry is very different from dressing for cold and wet.
A lot of the time you may be dressing for a variety of different weather types in one trip, and it also helps to have versatile base layers that can double up as stand-alone pieces during milder months.
Damper climates favor the wearing of synthetics, as the more humid it is, the more difficult it becomes for perspiration to evaporate. With infra-red heat from the sun, on dry, cold days, you can still feel surprisingly warm in the sun even though the surrounding air is very cold.
Cost
Natural fibers such as merino wool and silk tend to come at a premium, whereas man-made fibers are, for the most part, more economically priced.
You should also bear in mind that a well designed base layer garment from a reputable outdoor wear brand, will probably cost considerably more than what you will pay for elsewhere with a non branded item.
However, such a branded garment will be designed specifically to stand up to the wear and tear of life on the trail, and this is naturally reflected in the price.
Such base layers will probably include useful features such as shoulder panels, to avoid uncomfortable chaffing of shoulder seams with a backpack, and maybe thumbholes or elasticated cuffs, and underarm gussets.
Comfort
You also need to consider your own comfort levels. If you tend to feel the cold, you may prefer to opt for a heavyweight wool base layer. If you always feel on the warm side, you may feel better with a synthetic base layer even when temperatures plummet.
Some people don't like the sensation of wool against their skin, even though merino wool is nothing like wearing a standard woolen sweater. Other people prefer natural fibers as an ecological choice, knowing that their synthetic clothes could still be around for years after they are finished with them.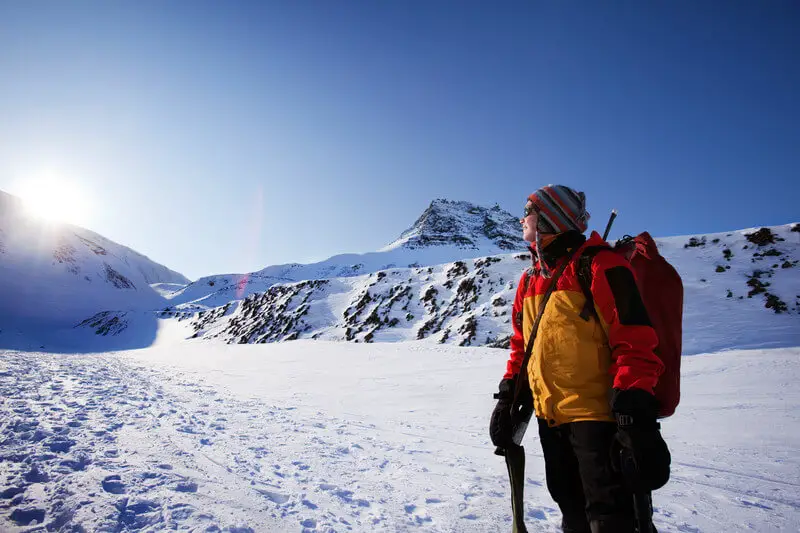 As already touched on, the second main function of a base layer is to also provide warmth by not only keeping your skin dry from damp, but also to help keep your body heat in.
So, as mentioned earlier in this article, base layers encourage humidity, sweat, to move out and away from your skin, while also keeping warmth in.
Now, you may not always want to keep heat in when using a base layer. For example, maybe you would like to keep your body a bit cooler as opposed to trapping heat in.
This is where the differences between merino and synthetic base layers come into their own. From my experience, Merino wool is very warm and snug and so not only wicks moisture away from your skin to keep you dry, but also provides a very nice layer of warmth.
I also have synthetic polypropylene base layers. These are also excellent at wicking moisture away from my skin but they aren't as efficient at keeping warmth in, in my experience.
I find these can be better for use while hiking in Autumn, while the Merino ones are best for hiking in Winter, when I want that bit of extra warmth. That's my experience with them anyway.
Odor Control
One final personal note to mention is about odor control. Typically, people find merino base layers easier to keep clean and fresh, synthetic base layers have a reputation for storing and holding odor from sweat, etc.
Personally, I haven't found this to be a big issue with my synthetic base layers but some folks do mention it as a problem so I wanted to flag it here. You will often see base layers that will have some form of odor resistance listed as a function of the material.
Conclusion
So, if you were wondering what a base layer is, I hope you found this short post giving a brief overview on it useful. If you are looking to purchase base layers, take your time to consider the items listed above, and find out what you need them for to match up suitable ones to meet your needs.
Also, check out our top base layer recommendations for men and our top base layer recommendations for women. There you can find a good mix of some of the best base layers available on the market today, of all types, synthetic, merino wool, etc.
If you're having difficulty deciding, for average hiking try out a lightweight or medium weight merino wool base layer.
If you later decide to look for a synthetic version for more intense hikes, then you can always make use of a good quality merino undergarment around the house and to wear to work, whereas synthetic garments tend to be more sports orientated with less versatility for daily use.
So, that's it for today. I hope you found this post useful, please share it around your networks if you did 🙂