Today I want to continue further into the world of camping. In some previous posts into this very broad and exciting area, we started from the ground up, so to speak, and looked at what you need to have for a good camping sleep system.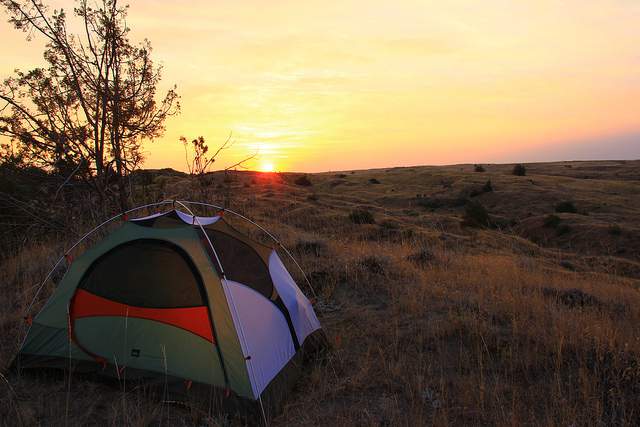 Photo Credit: Bureau of Land Management Oregon
Prior to that we had deep dived further into the elements of your sleep system by reviewing how to choose a sleeping bag and some accessories you can utilize to have to enable you to have a good night's sleep in the Great Outdoors, namely a camping roll mat (foam or air mattress) and a sleeping bag liner.
With those things in mind I wanted to continue moving upward and outward, as such, as we look at the next key element of your camping kit. A great sleep system isn't much use to you unless you have a decent roof over your head so today I want to look at your tent. A brief look at what they are and how best to go about choosing one.
What is a Tent?
OK, yes, that is a dumb question 🙂 everyone knows what a tent is, surely? Well, yes I would certainly think that most people do know what a tent is. However it's worth writing a couple of short lines on it just for completeness.
A tent is a portable shelter. It is made from fabric and cloth and is supported by a combination of poles, cords and pegs to keep it upright.  A tent has an outer layer which is waterproof and an inner flysheet section. That's basically it.
Types of Tent
There are basically two main Types of tent 1. The Cabin Tent and 2. The Dome Tent.
A Cabin Tent, pictured below, will have normally have more space than a dome tent as it is usually bigger than a dome tent as they have, more or less, vertical walls.
A dome tent, pictured below, is usually the smaller option of the two with curved walls and less space than a cabin tent but has an advantage in being very quick and easy to assemble.
Both the Cabin and Dome tents have their place and each can be the better option depending on what your needs are. In addition to tents you, it's worth noting that you have the option to go with a more basic shelter.
Other Types of Shelter
We have already looked at the two main tents above but as this site is all about hiking, it's worth adding in a note on some other notable shelter options than can be used on the trail in place of a tent.
First up, we have a bivi Bag. To me, typically a bivi bag refers to an emergency blanket which is used as an emergency shelter / protection if you or someone else gets hurt and needs to stay protected till help arrives.
However, you can get more elaborate variations of them which are designed to be used as a lightweight and basic shelter / tent (kind of) for an avid backpacker. They have the advantage of being lightweight and easy to pack and carry.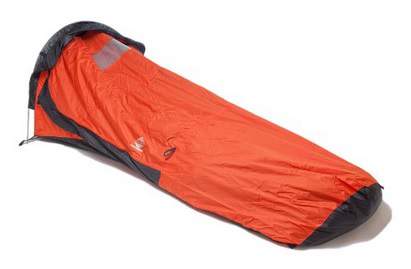 Next up, shelters and tarps are a really lightweight option which can be employed on the trail. Now, you need to be sure the conditions are right if you're going to use one of these as your main protection from the elements but they are a viable option and super lightweight to carry.
As with the bivi bag tent above, the shelter is more for what I would term an ultra hiker. someone who needs to move very fast and light
What to Look for When Choosing a Tent?
OK, so now we get into the meaty stuff 🙂 There are a lot of things you need to consider when starting out on the purchase process of picking a tent. I'll list out each one in the order that I approach it and based on that you can then decide on whether a cabin or dome tent is your best option.
What Kind of Camping Trip are You Going on?
This site is of course all about hiking so logically, when it comes to tents, we would most likely be looking at smaller tents that can be carried for trekking and backpacking purposes. That more or less puts us firmly into the dome camp, no pun intended 🙂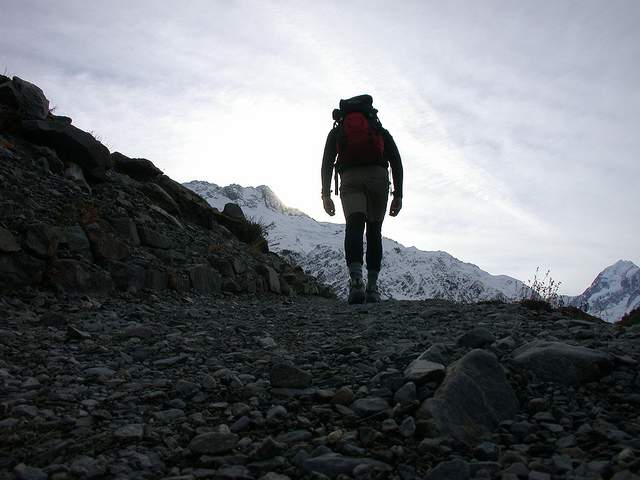 Photo Credit: True New Zealand Adventures
However, this point still applies. What do you need your tent for? Are you going backpacking on a solo trip? If so, A dome will probably be the ticket. Or, are you trekking with a larger group and need to set up a base-camp kind of deal? If you can drive to it, a larger cabin tent may be the better option.
You get the idea, confirm what you need your tent for. I know it sounds like stating the obvious but that will also have an impact on our next point.
Where and when are you Planning to Camp?
Similar to knowing the type of camping trip you're going on, you obviously need to be very clear on where you plan to do most of your camping. Will you be camping in temperate zones in North America? Do you plan to go camping in mid-winter in much harsher conditions? Depending on where you are camping, the climate and time of year will play a big part in your choice.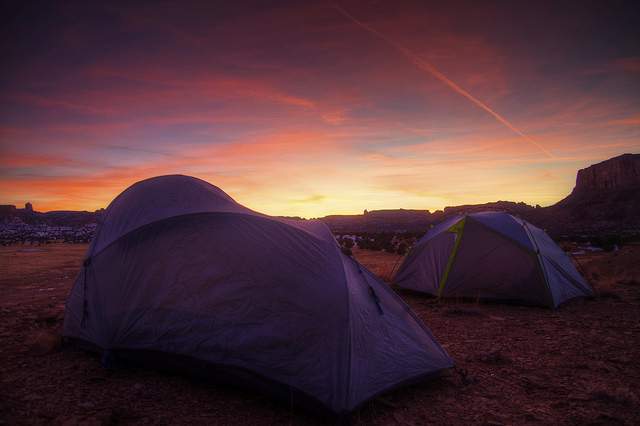 Photo Credit: Zach Dischner
As with when you choose sleeping bags, tents are rated along the lines of seasons. Below is a brief summary of the main ratings:
3 Season Tent
As per the name, this tent is suitable for 3 season use, meaning from mid Spring to early Fall in temperate conditions. A 3 season tent will protect you from a downpour but it is not designed to take on heavy storms.
These tents are used to protect you from bugs, via the flysheet, protect you from a downpour or two and of course, provide you with some privacy.
3+ Season Tents
These tents are really an extension of the 3 season tent. That is, their usage would extend out to early Spring and late Fall in cooler temperatures. They do this by having less air ventilation and so are a bit warmer than a 3 season tent. They also have more support in the form of poles to ensure a sturdier structure if tougher weather is encountered e.g. heavy blasts of wind.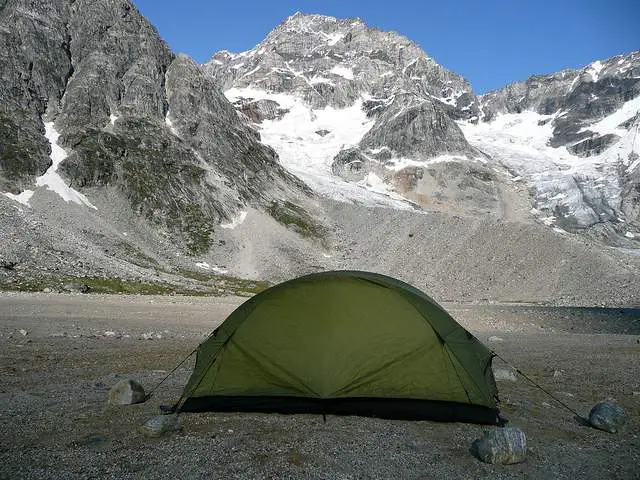 Photo Credit: Kitty Terwolbeck
As well as these tents being for people who want to camp at these times of year, they may be a better option if you are planning to camp at a high elevation in Summer. The higher up, the colder it gets so you may well need more protection that a standard 3 season can give you.
4 Season Tents
OK, so now you're moving into tough territory with a 4 season tent. As the name implies, it is good to use all year round including the depths of winter or at very high elevations where it's really cold. Therefore its makeup and build has to be tough enough and strong enough to withstand heavy snowfall and much heavier winds.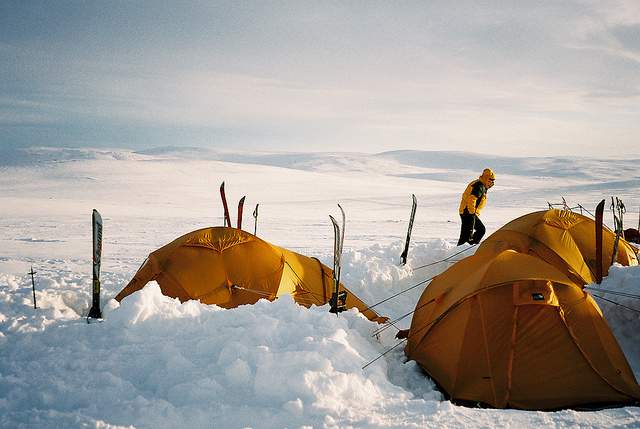 Photo Credit: Kitty Terwolbeck
A 4 Season tent will always be a domed tent as that design withstands the weather much better than a cabin style. If you're in conditions where you need to utilize a 4 season tent, the practicalities of survival of course take priority, so things like luxurious space options are just not practical.
While a 4 season tent is technically usable in summer, in reality it isn't really practical. At lower altitudes in any kind of summer temperatures, you'll cook in one of these and it will be stuffy inside. Not a pleasant environment to try and sleep in. These bad boys are for tough conditions not a summer stroll in the hills.
Where you will be camping coupled with the time of year should have a large bearing on confirming this part of the decision process but, unless you're planning going very high above the treeline or heading out into hard Winter conditions, broadly speaking a 3 or 3+ season tent should meet most people's needs.
How much Space do you need?
As with the example listed out above, if you're going on a solo backpacking / hiking trip, carrying a tent for two people obviously isn't necessary and will only add extra weight to your pack.
If however you are setting up a camp at a spot you can drive to and then take day hikes from, you have the option to have a much larger tent either for space for yourself or for more people.
Added into the mix of the points we've already covered, you need to get clear on how many people will be camping. In terms of space, tents are listed based on how many people can fit into it. So they are 'one person', 'two person', 'three person' etc. Person is also sometimes interchanged with the word 'man' i.e. 'one man tent' etc.
Yes, it does sound pretty simple to understand but it can be a little misleading. There are no specific standards per se as everyone is different. The same two man tent to sleep two average sized women vs. two large men will probably be much more comfortable for the two women in terms of space.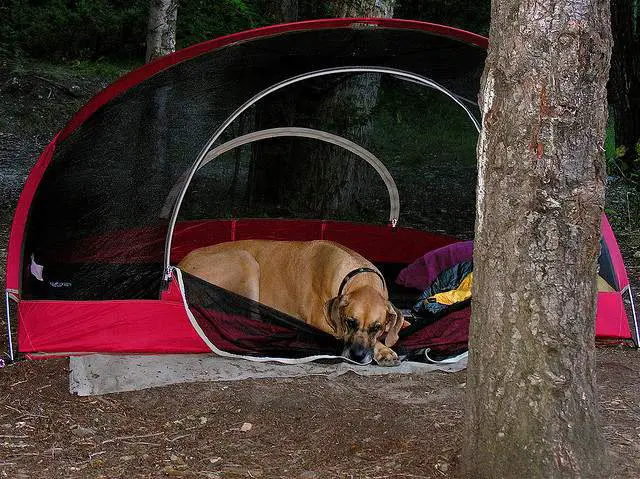 Photo Credit: Jon Hurd
Even if you're a one man show you may still need extra room in your tent e.g. say you brought your dog along with you for the trip or maybe you're claustrophobic and need a bit more space. You get the idea, everyone's spacing needs can be very different for a whole host of reasons.
Overall, I have found the '<number> person' system to work pretty good, which means it was easy enough for me to zone in on my available options when purchasing.
Personal Requirements
However, if there are more people or extra requirements you need to take all that into account. If you're still not sure, you can always check out a video on the tent you are thinking of getting to see if you can get some perspective on it's size from that. Or, if you can, go to the outdoor store. Many times, the tent will be set up in the store so you can see exactly how much space is available.
As a hiker, my needs are for limited personal use and backpacking so I run with a one man tent as I carry it on my back. Being lightweight is high on my list of requirements of course so the smaller to pack and the lighter it is, all the better. I had no extra requirements in terms of extra space though.
It's worth noting that you can also opt to carry a two or three person tent between two or three people. That can sometimes be even more efficient in terms of weight but you need to get the scales and the calculator out to work all that out but it is a reasonable option for longer backpacking trips and short camping trips that I have used once or twice.
There is an argument that you should carry your own tent and sleeping kit in case of an emergency i.e. if two people are backpacking together and one lost their pack, you still have the kit in the other persons pack to keep you both dry. It will be snug with two people in a one man tent but hey, in an emergency it's a whole lot better than getting hypothermia 🙂
Weight
OK, so I've kind already touched on this one in the last section but it is something you need to consider depending on what your needs are so it should be singled out.
As a hiker, normally I drive to a parking area and hike up into the mountains carrying all that I need with me. That's the norm for me. Therefore, I need something sensible in terms of weight.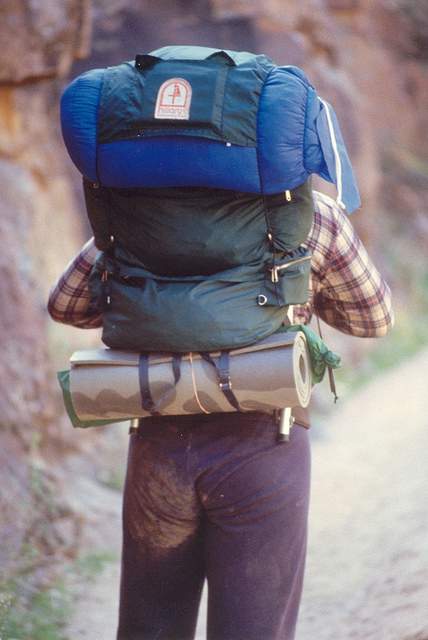 Photo Credit: Kevin Dooley
If we go back to the base-camp type idea, weight shouldn't be an issue as you're driving to your camp to set it up or you may not have too far to carry it, so it is reasonable that a larger tent could be carried by splitting the parts up among a group till you reach your campsite.
Work out what you need and pay attention to the weight accordingly.
Features to Look out for
Height
In terms of hiking, assuming we're carrying all our gear on our back, I don't personally think this is a big one. Height comes into play more with Cabin style tents. As there are near vertical walls, this means that in a tent for multiple people, you can more or less stand up and walk about inside it.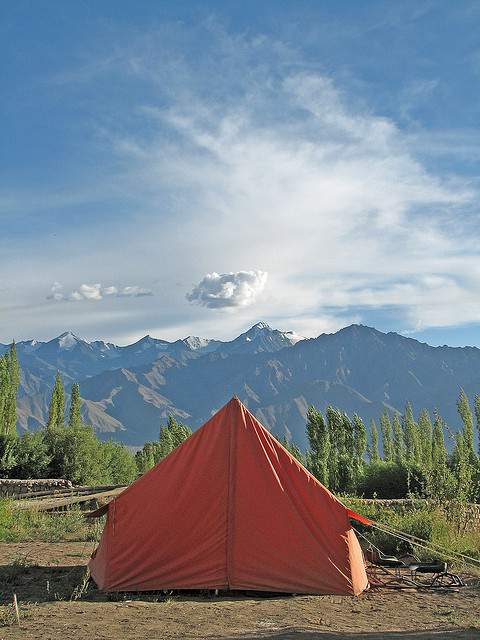 Photo Credit: Karunakar Rayker
Handy if you are holidaying with the family or you can drive your tent to your campsite to set it up. However, in terms of hiking, I think the dome is the better option. You can get small cabin tents but the shape of the dome style tent is better suited to stand against tougher conditions so in my opinion, it's the better choice for the hiker / backpacker.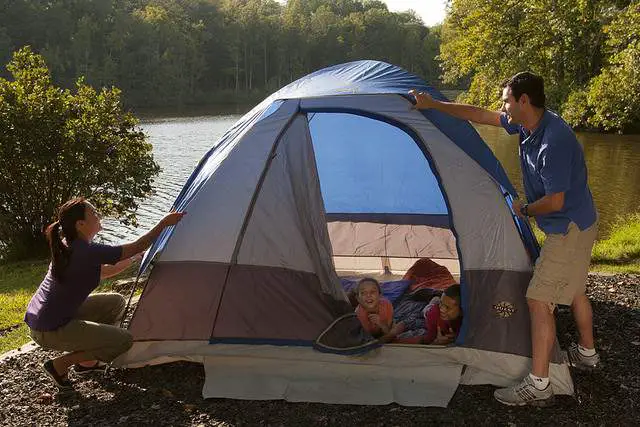 Photo Credit: Vastateparkstaff
The Dome style tent is tallest in the center but slopes away from that point down. Remember the primary aim of the Dome is greater protection and shelter. To check the height on your tent when purchasing, look for something called 'Peak Height' in the specs. This is the highest height of the tent.
Length
The length of the base of your tent is of course important, especially if you're above average height. Similarly if for some reason you need more space in your tent you will likely need more length. Tent length, as with height, will vary e.g. 86", 88", 90″ etc.
Again, if this is something you need to think about, be sure to get the measuring tape out and do what you need to do to work it out.
Doors
Every tent of course has a door or doors to get in and out. These will be more pronounced in cabin style tents where more space and, potentially, walking internally is required. In short, the bigger the tent, the more doors there should be.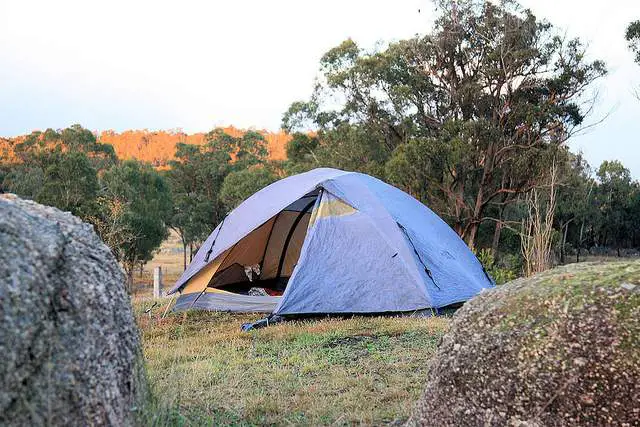 Photo Credit: DanLoaTmba
If there are more than two people in a tent, it is good to have at the very least two doors, it would be very unusual if there wasn't. The reason for this is that if you need to get up in the middle of the night for a nature call, you can exit from one side, the most convenient one, disturbing as few people as possible in the process.
It's worth looking for good zippers for doors too and preferably ones that aren't overly noisy.
Tent Poles
This is one area that has really came along in leaps and bounds over the years I think. Most modern tents are first and foremost freestanding. What does that mean?
Well, I can pop my tent up and then once it is in the desired shape, I can simply lift it up and move it about to my preferred spot before I pitch it in the final location with pegs. This is really handy and although this is the norm these days, it wasn't always so 🙂 I can remember struggling with tents as a kid when I was out camping with my older brother.
Another cool thing that has really came on leaps and bounds is the option to clip-in poles in as opposed to slide them through lots of slots. A mix of the two is quite common to provide the best level of stability. In short this makes the whole setting up and pitching process that much easier and faster. Finally, as a last general rule, the fewer the poles the better.
It's worth taking a look at how the poles work with the tent you're purchasing. Try and imagine this, you've been out hiking all day, planning to camp for a few days. You've just got to your camp later than you planned, it's really windy, it's pouring rain and you just want to get a hot drink and get wrapped up in bed. The last thing you need is to have to wrestle and fiddle with a complicated pole set-up in your tent, trust me 🙂
The Rainfly
Next up we have the Rainfly. This is a separate cover that basically keeps all the nasty stuff out. It fits over your tent to provide extra protection from rain or other damp conditions.
There are two main types, roof only and full coverage. The latter of course provides the most protection so again, based on all the previous factors, have a think on what you need it for. For me, the full coverage is the better option but whatever suits you best.
Material and Fabric
When looking at this area there are two things to think about 1. Denier fabric and 2. Seam taping. The higher Denier the fabric, the tougher the weather the tent can withstand. Seam taping is probably the strongest way that seams on your tent can be sealed again ensuring you're protected inside.
You want your tent to be tough and strong even in good weather so check out the fabric and materials on all the areas of your tent in particular the base of your tent and rain flies.
Vestibules
A vestibule is exactly what it says on the tin. A small porch type area in your tent. In bigger cabin tents these are very substantial and you can comfortably walk about them before entering the main tent proper.
In smaller domes tents, these are usually to the side of the tent beside the door and are small with only enough space to store your stuff e.g. leave your dirty hiking boots in to be protected from the rain but not to be taken inside to muddy the inside of the tent.
The vestibule in a dome tent can also be a nice little thing to have shelter to cook up a hot drink. Now, as a general rule, you should always cook well away from your tent as if a naked flame catches it, the tent will be eradicated very quickly. I kid you not, I have seen one being set alight as a test and it was obliterated in seconds once the flame caught hold.
However, I have been camping in conditions where the rain was so bad that it would have been highly unpleasant to get a hot drink together in it. The benefit of the hot drink would have been wiped out by the soaking. In those cases I have used the edge of the vestibule as a cooking spot.
Far enough away from the tent, on a two person tent, but close enough so my whole body doesn't have to sit in the rain. In fairness, that's where something like Barocook flameless cooking can really come in handy so you don't have to use any naked flames to cook.
Air Vents
These will normally be in the roof of the tent and the door. In bigger tents they can also be added in as part of the windows.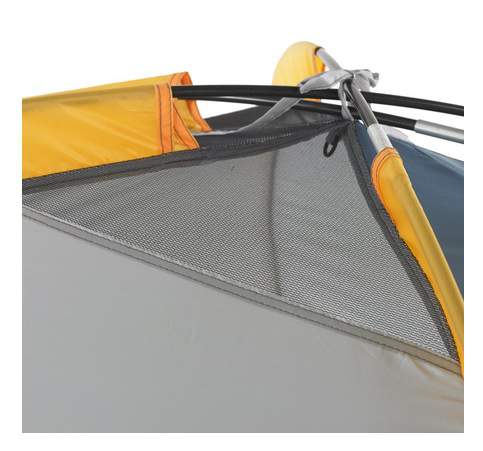 The general rule here, the hotter the conditions you will be camping in, the more air vents you will want.
Storage Space and Hooks
Most tents will have some kind of storage space built into the tent. For example, pockets along the side of the inside of the tent are common as are nifty little lofts at the top for putting stuff onto or hanging something on.
These are very handy, especially in smaller tents where you can put a few critical items where they are easily accessible, for example a headlamp. These are definitely worth looking out for.
Guy Out Loops
These are important for very bad weather as they enable you to tie the tent down effectively and stop any part of it from flapping in the wind. In terms of hiking and backpacking, look out for good ones.
Accessories
There are all sorts of tent accessories you can opt for. Again it really depends on what kind of camping you're planning on doing. If you're in a big cabin tent on a leisurely trekking holiday in a big campsite, having things like a ventilation unit, table and chairs, etc. are surely a fine thing to have.
In terms of hiking / backpacking, most of these types of things aren't necessary and are not practical to carry. The one thing that is worth considering is getting a tent repair kit.
If you're going out into the wilderness for a week and your tent gets damaged three days into it, it is of course a good option to be able to fix it.
Conclusion
Wow, I started writing this and it just seemed to go on and on lol. Buying a tent is something that it is worth taking time on. You're probably not planning to head away camping tomorrow morning do you likely have time to do some proper research and I strongly recommend that.
I will be adding up some good tent options onto the site in the coming weeks and months in the form of reviews. They will give a very specific set of product recommendations but in the meantime, I hope this guide gets you started on the process of picking a good tent to ensure you have many happy and comfortable nights out underneath the stars.
What do you think, have I missed anything in this post? Are there other key functionality you like a tent to have? I'd love to hear about it in the comments below and please feel free to share this post.