Last week I heading off on some mountain training, which, as I publish this, I am now currently be in the middle of. As part of the preparation for the training I had to get a few extra bits of gear which I didn't currently have.
A few of these are in the world of camping. As part of the training I needed to get a sleeping mattress, cooking stove, sleeping bag, etc.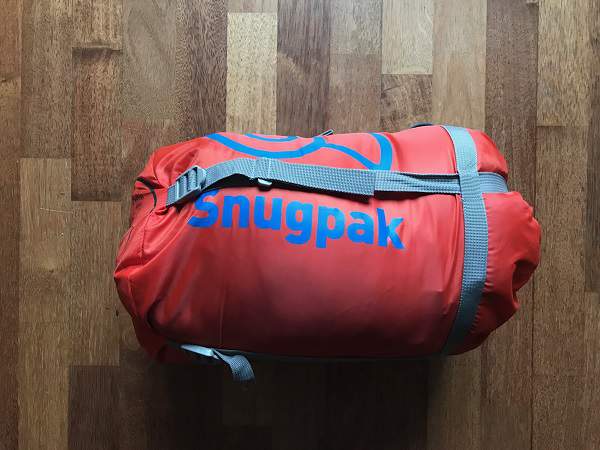 Now this is very interesting for me as my knowledge of camping is pretty good but I am always keen to learn more if I can. I of course camped many times before but normally only ever for one night here and there over the years, and never in the context of a true full on backpacking experience over a few days.
This is something I really think I would like to do more of but I guess I need to see how I get on this week and learn some more about what's involved for longer trips first.
Anyway, as I was recently trying to sort some different bits of gear I thought a guide on how I got on while buying a sleeping bag could be useful for you.
I'll do a few posts on the various bits I had to get and the research I did on them, but with the above in mind, today I wanted to start by looking at how to select a sleeping bag.
What to Look for When Buying a Sleeping Bag?
Overall, there is a pretty easy guide to follow and, to the best of my knowledge, most quality sleeping bags should be rated in the same or in a similar way.
Season Ratings
Basically there are 5 sleeping bag season ratings to consider:
1 season

– This is a one season bag. Ideal for Summer camping in warm weather

2 season

 – This is a two season bag. Ideal for Summer, Late Spring and Early Autumn

3 season

– This is a three season bag. Can be used in summer (might be too warm in hotter climates), spring, Autumn and a warmer winters night

4 season

– As you probably guessed 😉 this is a 4 season bag and so can be used all year round

5 season

– This is a bag for extremely cold conditions so extra warm. This is expedition type stuff so may not be suitable for standard use in Spring and Summer
As with all things, these are only guidelines but they definitely serve as a reasonable way to get an idea of where to start when deciding on what you should get to meet your needs.
Moving on …
Comfort Rating
Again this is another rating which looks at 'Comfort', 'Limit' and 'Risk'. These three are shown in the picture below from my bag and are explained below.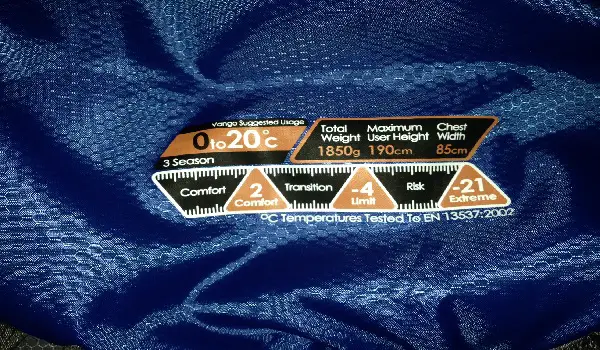 Comfort
The higher the rating, in theory the more comfortable the bag. If you tend to feel the cold more, choose a higher rating.
Limit
This is the comfortable temperature limit the bag can be used in.
Extreme
This is the absolute outside extremity of temperature that the bag can be used in.
The three things above are again, only guidelines but combined with the season rating, you should be able to pick a pretty good bag for your needs relatively easily.My recommendation is to stay comfortably, pun intended, within the comfort temperature rating.
Weight, User Height, Width and Bulk
On a hiking trip you will quite possibly be carrying your sleeping bag in your back pack so it is a good idea to take the weight of it into consideration.
Also, if you're particularly tall, you may also want to pay extra attention to the user height. Finally, if you're quite broad, special attention should be paid to the width of the bag. All of these should also be available on a further tag on the bag itself.
If you have to carry a tent, cooking gear, etc. bulk is a really important factor to add to your list for consideration. as a bigger bag, takes up more room in your pack. A good sleeping bag will have straps on the side of it that can be used to squeeze all the air out of the bag and so provide a much more compact bag to carry. Another option is to unravel the sleeping bag and wrap it inside a dry bag inside your pack.
Anyway, I digress … you get the idea, bulk is important.
Material
There are more or less a couple of choices here. You can go Synthetic or you can choose the road of Down type material i.e. goose feathers and that sort of thing.
Synthetic holds warmth better if it gets damp and a Down bag is really used for colder Winter type conditions. Other than that, I think it's really down to your own personal choice. Functionally, the ratings above still apply.
I think this is something that is a factor if you will be camping for longer periods in tougher conditions. That is, if your hiking trek or expedition is into the extreme cold of Winter, Down might be the best way to go and so this may play more of an important role in your decision making.
However, if you do choose Down material for your sleeping bag, you will need to store it in a dry bag as you cannot afford to get it wet. If you do, it will be damp and cold to sleep in and so most likely not fit for purpose. You should store all your gear in dry bags anyway, whether made of Down material or not.
Shape
Broadly speaking there are three main shapes 1. Rectangular 2. Mummy and 3. Sleeping Pod.
Rectangular
These are, of course, shaped in a rectangle. I guess the main benefit of this type is you probably have more room to move your legs and feet around so if you move more in your sleep, this could be a better option for you.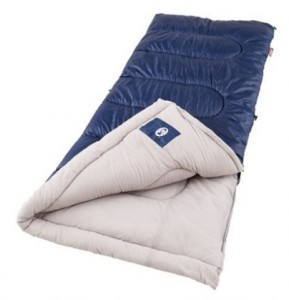 Mummy
This shape funnels down from a wider space at the top to a narrower bottom end. The main advantage is that it's closer to your body and so that should help retain warmth (see featured bag above for what a mummy shaped bag looks like).
Sleeping Pod
These bags are normally as half as wide as they are long. The main advantage I see in these is that you have even more room to move around in that in a rectangular bag. Not practical for backpacking though.
Finally, there are options for getting some bags for more than one person e.g. if you want to sleep with your partner. The shapes still apply but they'll just bigger in weight and width.
Overall, I think it is really down to your personal choice as to which you prefer the look of, how you sleep, the conditions, etc.
Zips
In my research before buying my bag, I read somewhere that a handy tip to look for is that if you're left handed, ideally the zip should be on the right hand side and if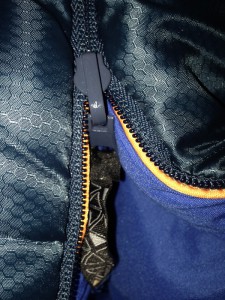 you're right handed, it should be on the left hand side. I assume this is for ease of opening.
Also, with regards to zips, it can also be good to look for a double zip i.e. the zip is accessible from both the inside and outside of the sleeping bag.
Price
This will of course vary based on what options you choose and what you need it for, but for a good sleeping bag for average use I think you will be looking somewhere between $60.00 to $80.00. I paid approximately $60.00 for my 3 season bag.
Now, if you need something for more extreme conditions, you can easily be moving up into the hundreds of dollars for a high performing bag. If you're going to sleep out in extreme environments, this isn't optional and you need to have the top level of performance both functionally and quality wise.
Sleeping Bag Extras
While you are well on your way to a good night's sleep with a good sleeping bag that's not really the whole story. It is a good idea to have a few other accessories like some kind of sleeping pad / mat, sleeping bag liner and a pillow.
A sleeping pad or mat acts as a layer of insulation between you and the ground and is very important for a good night's sleep in a tent. While you can fashion a pillow out of a rolled bunch of clothes, there are camping specific pillow options available.
For today though I just wanted to look at sleeping bags. I'll add up separate guides on sleeping pads / mats, liners and pillows in the coming weeks and link to them from here.
Conclusion
I found the process of buying a sleeping bag, pretty easy to get my head around. The categorization and labeling is very well set up and pretty easy to follow once you understand how it works.
Overall, I think you could probably just read the categories and labels alone and have a pretty good idea of what bag you should go for. I hope you found this guide on how to select a sleeping bag useful.
Do you use a sleeping bag for your treks and hiking trips? Do you have any tips to look out for when buying one? I'd love to hear about them in the comments below.