The Therm-a-Rest ProLite Plus mattress is an excellent mattress for camping and backpacking. In this review I explain my experience with the Therm-a-Rest ProLite Plus mattress and what I think is good about it.
I've been upping my camping activity over the last few months, it being summer it's been good to get out. As a camper (I mean more like a backpacker carrying all your gear) I generally go out for 1 to 2 nights camping, adding in some nice hiking too of course.
There are of course numerous aspects you need to get right to have a comfortable nights camping. From getting your cooking equipment and food right, to having a good tent to keep the elements at bay and protect you during the night.
Another one of those key things is of course, your sleep system. In brief summary, what you take with you to ensure you have a good nights sleep. So your sleeping bag to keep you warm, your sleeping bag liner, etc. Another key component of your sleep system is what you sleep on.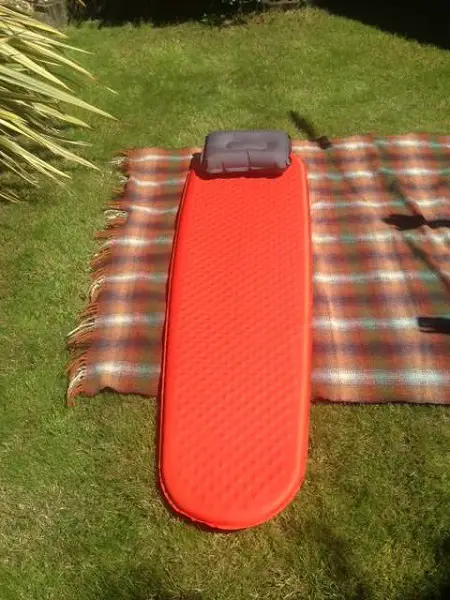 Traditionally, I have went with the trusty camping roll mat. It's basic, but it does the job. However, as I have camped more and more I have come to accept the fact that a foam roll mat, while certainly cheap, is not always cheerful 🙂
The last time I went out camping, I specifically went out hiking at night to practice night navigation. Although it was summer, the weather was not good in terms of 'good weather'. It was wet and misty which although not good for lazing around in, it was perfect to add to a night navigation session.
Finally!
Anyway, after trudging about in the dark for 3 hours, I finished up at 1:30am. It's summer of course so I had to stay out late to get the full night in.
When I got back to my tent I was tired and very wet. I got into my sleeping bag and thought I'd be out like a light. I was, for about 5 hours but I woke up early enough and every part of my body ached lol 🙂
It was not only the contortions of the previous nights activity, I also realized that I just had not had a comfortable nights sleep, as I have noted before, due to the foam roll mat. It's basic and does a job, but I would not call it comfortable.
So, with that in mind, I decided it was time to look into the wonderful world of Thermarest sleeping pads / mattresses. These are a different beast to the basic foam mat. They usually inflate with air and can be mixed with a combination of internal foam which expands.
After looking around, I came across the Thermarest Pro Lite Plus and I liked the look of it. Let's run through the features to give you a better idea.
Summary
The Thermarest Pro Lite Plus is a self inflating sleeping pad. It's a well put together piece of kit and so far I have been impressed with it, certainly a world away from a roll mat!
It features a non-slip surface to help keep you in position on it during your slumber. It is a neat bit of kit that fits in my backpack and so is a welcome addition to my gear.
Size and Weight
As mentioned, there are several sizes available, from small to xtra-large. Depending on the size, you will of course have more or less weight and a larger or smaller size when in use and when packed into it's carry case.
My one is the large and it comes in at 183 x 51 x 3.8 (cm's). It's a good size for me, I'm 6 feet tall and to give you an idea of size when rolled out, you can see me lying on it below.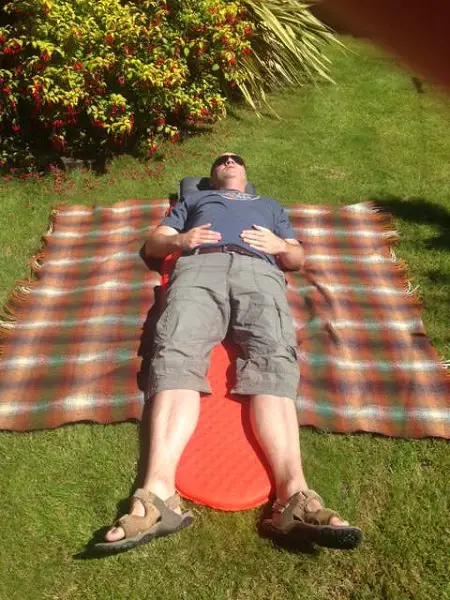 In terms of carrying it, it's fits down into a nice little 10 x 28 cm / 2.2 L package as pictured below.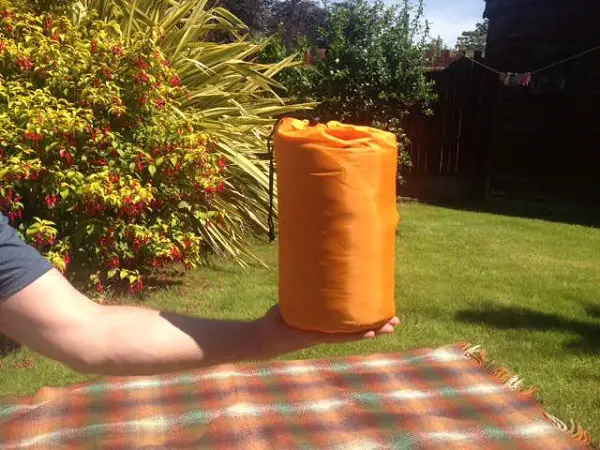 This is definitely one of the main attractions for me. My foam Roll Mat, is bulky. Using this, I would estimate it takes up 40 to 50% less area / space.
As it's so compact when packed away, I can just pop it into a dry bag and store inside my backpack, or attach it to the outside of my pack. It's much easier to move about, not as bulky and clunky as my foam mat … Happy days!
In terms of weight, it comes in at 670 grams. I think this is a good weight. Now, I did find options that are even lighter and more compact than this, but for my budget, this one fitted the bill well.
Comfort, Warmth and Durability
The outer of the Therm-a-Rest ProLite Plus Mattress is made from 70D nylon with an inner constructed using polyester which is a tough construction and by all accounts this pad is durable and so you should get good use out of it for the longer term.
The filling within the pad, the secret behind it's self inflation, is urethane foam. As best as I understand the science behind how this works, the combination of air with the urethane foam enables a cushion of air to form between your body and the ground.
Not only is this very comfortable to lie and sleep on, but very practical in terms of heat retention i.e. keeping the cold of the ground away from your body. Thermarest pads are exceptionally effective at this and the Prolite Plus no different and is an excellent insulator from the ground.
Ease of Use
The Therm-a-Rest ProLite Plus is self inflating. This is very easy to utilize. Basically, you just take the pad out of it's carry bag …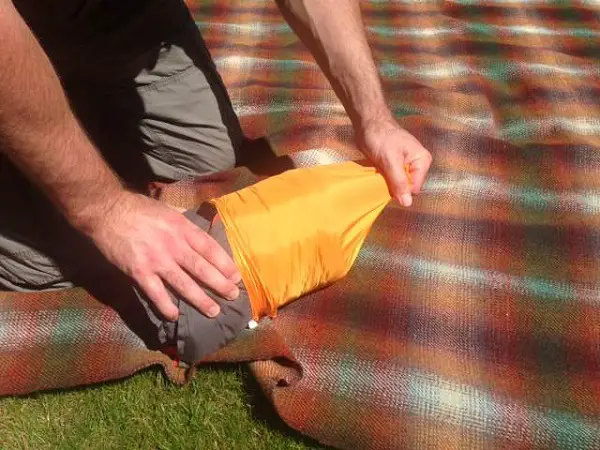 And then roll it out.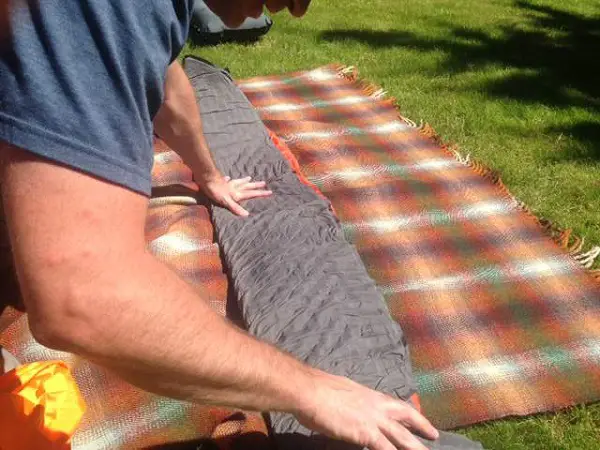 As you open the mattress up and roll it out flat, the foam within the mattress expands as air gets into it.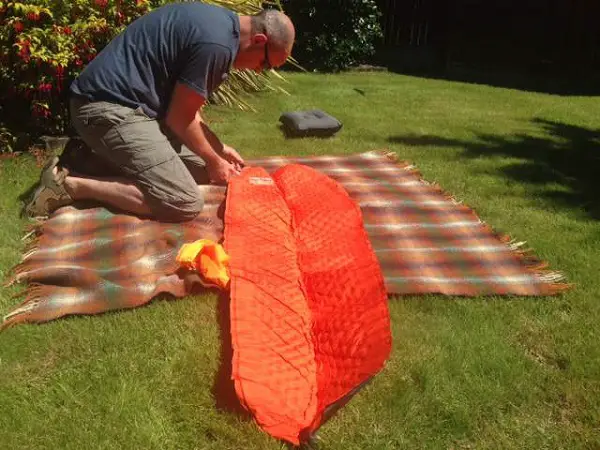 So, basically, you roll the mat out, open the screw valve at the top of the pad and leave it for a bit!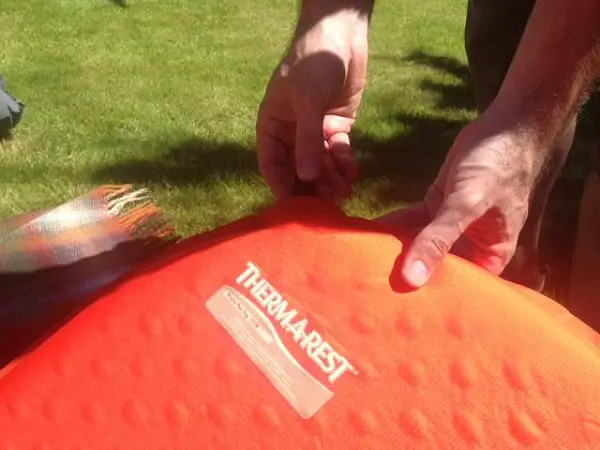 It inflates itself, more or less, and you can top it up with a couple of puffs of air should you need to before closing the valve shut.
Easy peasy and I have to say very effective. It really is comfortable to lie on!
Packing Down and Carrying
To pack it down, you just open the valve at the top of the pad and roll the mat up squeezing the air out of it. you can use your body weight to help with this. I recommend doing this a couple of times to get all the air out of it.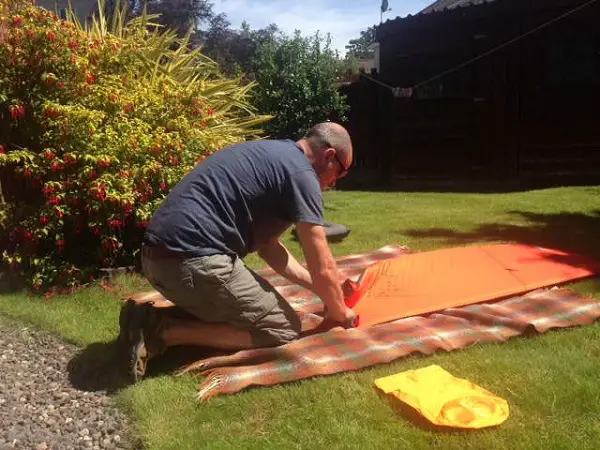 When you have that done, simply roll it up snug …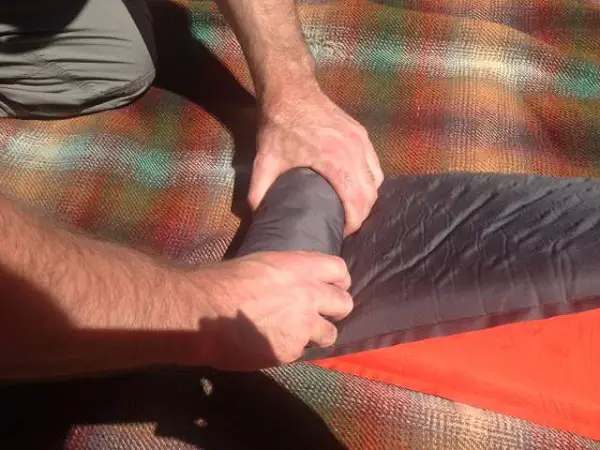 and when you get it into a circular size and shape as in the picture below …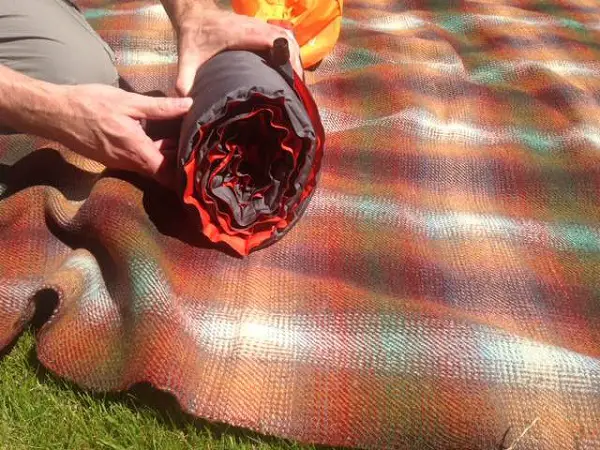 … put it back it it's carry case which comes with the pad.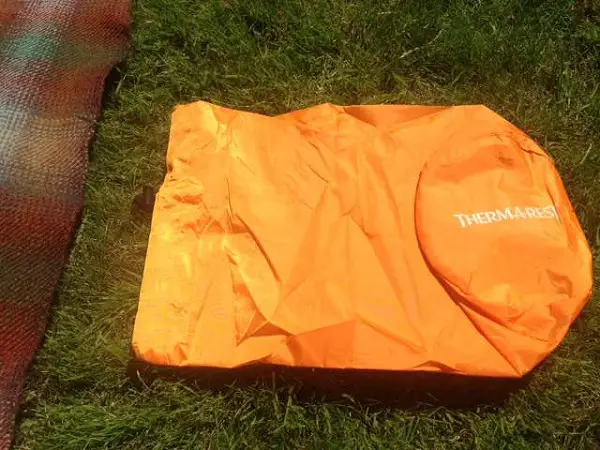 Again, I have found the dismantling process pretty easy. Be sure to get all the air out of the mattress or it could be a bit of a squeeze to stow it into it's carry bag.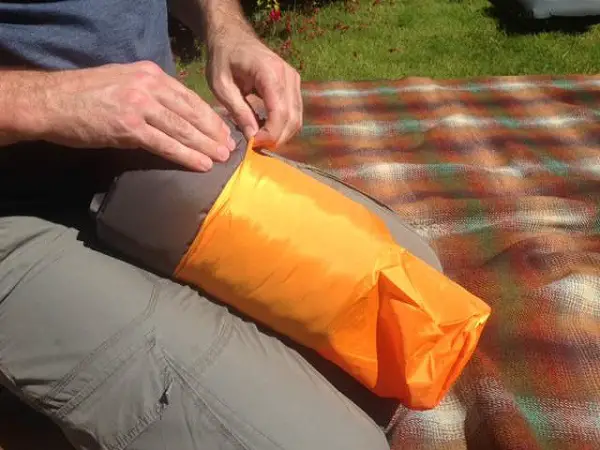 It's compact when you do though and you can seal it nice and tight with the closure fitting at the top of the bag.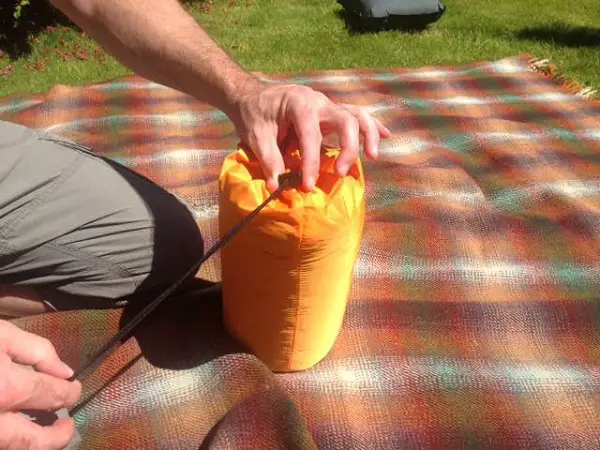 Storage
It's worth adding a quick note on storage. This is clearly listed with the instructions that accompany the ProLite Plus but just for completeness I'll mention it here.
To store the Thermarest ProLite Plus Mattress, you leave the mattress fully folded out leaving the valve open. You then store it in an upright position as shown in the photo below.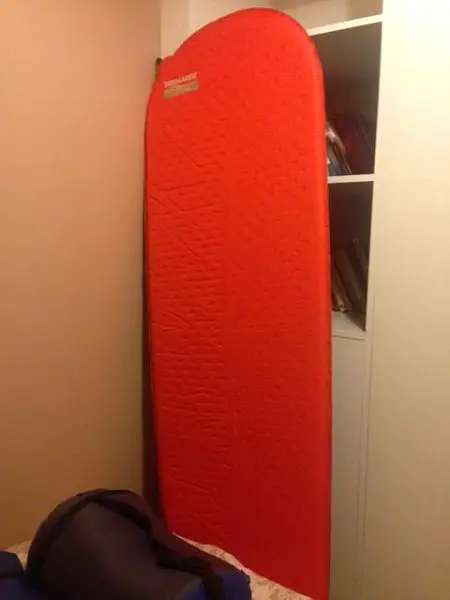 If you leave it in your carry case for extended periods of time, the urethane foam can get damaged and the mattress may not then inflate correctly. So, with that in mind, it is important to store it correctly.
Also, when you first get it, you need to inflate it fully and leave it overnight with the valve shut. I think this is like the initiation of the matress before use as such. Again, just check the instructions when you get the ProLite Plus or any other Thermarest mattress and follow them accordingly.
Customer Reviews
From about 40+ customer reviews from various retailers, the Therm-a-Rest ProLite Plus scored a very decent 4.5 stars out of 5. Of those reviews 92% gave 4 stars or more. Overall, a pretty  good score by anyone's standards.
From the qualitative experience and comments perspective, the general sentiment from users was positive so this did sway me to lean towards picking it and I am glad I did! I am pleased with the ProLite Plus and the positive comments I read about it before I got my hands on it has borne out.
Our Rating: 4.5
Price
It comes in at a reasonable price, depending on size. I was pretty happy with the price for the quality I was getting so no complaints on that front from me.
Mine also came with a 2 year warranty which is nice to have. You may need to check on that if you choose to purchase one just to confirm as it may vary it different parts of the world.
Check out any of the product links on this page for an up to date price on Amazon for the Thermarest Pro Lite Plus as well as some other good Thermarest mattress options.
Conclusion
If, like I was not too long ago, you're still using a roll mat for your backpacking trips and hikes, I highly recommend the switch over to a sleeping pad like the Thermarest Prolite Plus.
They are significantly more comfortable in my opinion and much easier to carry than a basic foam mat. Granted, it is probably 10 times plus more expensive but I think it is a worthwhile investment in comfort that you are unlikely to regret.
I do have a hiking friend who just loves his old foam roll mat. He's a hardened backpacker though so I am pretty sure he could sleep on the ground and still be pretty comfortable lol 🙂 Me on the other hand, I definitely lean towards that bit more comfort that the sleeping pad provides.
I think the Thermarest Prolite Plus Mattress is a good a year round sleeping pad that will perform well in Winter and in cooler locations in the world year round.
It is probably best suited for short camping trips (1 to 3 nights) as opposed to long backpacking trips. For that, I think you probably want something that packs even smaller and probably even that bit lighter in terms of weight.
I am a big fan of the Thermarest Prolite Plus but there are many other sleeping pad options available. Be sure to get clear on where you plan to use your pad before buying. That is, if you're planning to camp in Winter you probably need something that provides that bit more insulation.
I hope you found this review useful, please share and leave a comment if you did 🙂