I was out hiking last Sunday and it was a cold Winter's day. The first snows had finally fallen after our unseasonal warm period throughout December. It was bizarrely mild in many parts of the world, that are typically much cooler in December, I believe.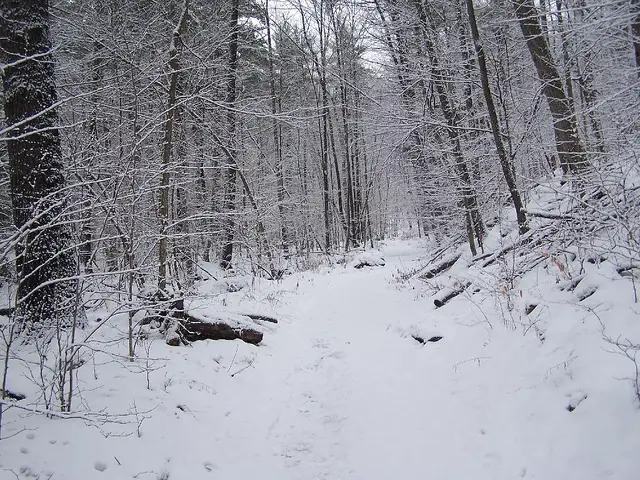 Well, I was doing a recce on a route I am hoping to help take an experienced group of hikers out on in a few weeks so it was a decent enough hike. Probably about 11 miles (18 km's) with roughly about half a mile (900 meters) in ascent, approximately.
At ground level, where the car park was, the ground was wet but it was also a really beautiful day with the sun out and shining across the sky. A really crisp and beautiful day was to be expected in the mountains if it held up like that.
Anyway, I made my way off following the route on my map. After travelling about 2 to 3km's up well marked forest paths, I came to the first main leg of the hike. At this point I left the nice paths and headed onto open-mountain up towards a ridge that ran for about three km's.
I noticed that the ground had some serious snow on it and definitely got thicker as it went upwards towards the ridge. As I started to make my way further up a strong biting wind was picking up too. To be expected as I approached the ridge.
At this point I decided to get my gaiters and rain pants on as I was going to be walking through deep snow. I also got hat and gloves out too and for the first time this year I used my neck gaiter.
What is a Neck Gaiter?
Well similar to gaiters for your feet and legs, a neck gaiter is basically a column of warm material that you put over your head which slides down to cover your neck. Pictured below is the Turtle Fur DoubleLayer Neck Warmer Chelonia 150 Fleece, a popular and very functional neck gaiter.
They're very handy and very effective at keeping a cold draft out from that space between your head and your rain jacket and other layers below.
I first used one when hiking up Mont Blanc, definitely a must there as the temperatures can get really biting very quickly when the sun goes behind the clouds and the wind picks up a bit. They cover your neck but can also slide up to cover half your face, handy to keep your mouth and nose covered if needs be.
A Workable Hat
Another thing that is very handy with them is that you can slide one up as a temporary hat as well. What I mean by that is that, for example, when I came off the ridge on Sunday down into a col, the wind died down and it stayed that way for the next leg to the summit of another peak.
At this point the neck gaiter, combined with a beanie cap, was too warm. In short, as soon as I was out of the wind, I didn't need as much protection.
So, I took the beanie off and slid the neck gaiter up over my head, exposing my neck area again and allowing some air in and around the top of my head without totally exposing it. This allowed me to regulate my temperature a bit more as I went up the next peak. When I moved towards the next peak and the wind picked up again, I simply slid the neck gaiter back down over my neck and dawned my beanie cap again. All good!
Conclusion
So today I thought I'd do a quick post on this handy gear item that often goes unmentioned. If you're planning to go out hiking in Winter, a buying a good neck gaiter is a really good investment.
They won't break the bank and they are very effective. As always, when hiking, you will be adding and removing layers as you go. As illustrated above, a neck gaiter is no different but you can easily change its position to double as a temporary hat when you need to let a bit of heat off e.g. when climbing a steep peak. It can also act as good face protection in high winds.
If you're new to hiking and starting to get your kit together, this gear item can often go unnoticed. So if you're planning to head out into the hills in the cold, it's definitely worth a look, it's a good investment for sure.
Don't forget to like and share this post 🙂