I'm just back from a really nice hike, the weather wasn't bad and visibility was pretty good. In saying that though, we did have a few heavy bursts of rain while we were out. This is never a problem if you have the right hiking gear.
A good hiking rain jacket and pair of hiking boots go a long way to keeping you dry but realistically, you need to have the full gambit of appropriate gear. I'm talking proper hiking trousers, waterproof trousers, base-layers, breathable tee's etc.
However, today I saw again what I so regularly see when I'm out on the trail. That is, people wearing cotton clothes. Whatever you do, one simple tip you should always abide by is don't wear cotton when you go hiking!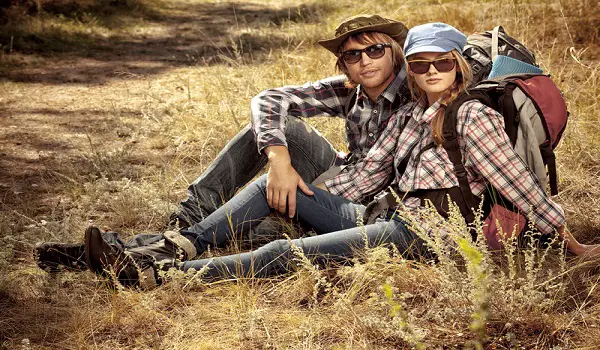 With that in mind, looking at the picture of our hiking couple above, can you guess what the problem is? That's it indeed. While you have to admit our two hikers look pretty cool, they are wearing jeans and shirts which are of course made from cotton and are therefore a big no-no on the trail.
Now, this may seem like stating the obvious but I can't count how many times I have seen people out hiking wearing jeans and normal clothes. This is a recipe for disaster. I assume that this is generally from people not realizing the hassle and even danger they may be causing themselves by not wearing the right gear.
So What's So Bad About Cotton?
Well, in short cotton absorbs moisture. This moisture makes your clothes damp, or even worse, wet. So where does this moisture come from? Well look at it like this.
Sweating
When you're hiking you're of course expending effort and energy. That effort and energy generates heat which in turn releases sweat from your body in an effort to cool you down.
That sweat then turns into vapor and tries to evaporate off and away from your body. However, your cotton clothes don't have the capability to let that vapor out and so they catch that moisture, and so get damp and wet.
What makes this so much worse is that when you are putting the effort in, your body temperature is of course higher as you are spending the energy, that in turn generates the heat which leads to the sweating.
Now, at some point you will stop exerting the same level of energy and so your body temperature will go back down. What does that mean in lay man terms? In short, you cool down. You are also now effectively wearing a wet towel i.e. your now damp cotton clothes.
Suitable hiking gear, made from appropriate material, would prevent this as they would have the ability to wick the moisture safely away from your skin.
Rain, Snow, etc.
When you're out hiking, you're of course out in the hills and so it is very likely that a rain shower or two will cross your path at some point. Therefore, if you're wearing cotton clothes, you will get wet. The same problem as listed above, getting cold etc., ensues but this time from the outside in.
In all likelihood though, you will have to contend with both of these, moisture from the inside in the form of sweat and moisture from the outside in, in the form of rain, etc.
How to Avoid this?
Well, simply put, you need to wear the right gear for hiking. This will be gear made from suitable materials such as synthetic fabric or merino wool.
If you want to learn specifically what you need to wear, check out the complete day hiking checklist list. Among other things, this lists the essential gear items you need for hiking all year round.
Conclusion
Wearing cotton on the trail is simply not advisable. A big part of hiking is safety. A large part of hiking safely is ensuring you have the appropriate gear on and with you before you ever set foot out on the trail.
Accidents will always happen but you can go along way to prevent them from happening and / or protect yourself in the case that they do, by having the right gear.
Let's end this post with a very possible scenario which has happened many times before …
You're wearing cotton jeans, tee shirt and wearing a cotton jacket; you get into difficulty on the top of a mountain on a cold day, you twist your ankle, and you can't walk out; it starts to pour with rain and you have no emergency shelter; well assuming you can at least get in touch with rescue services, you need to get ready for a long and cold wait until help can finally get to you and pray hypothermia doesn't set in!
If you can't contact outside help in this scenario, well you can imagine how quickly things will go from bad to much, much worse!
Prevention is always better than cure so prepare appropriately and wear the right kit!