A while back I needed a new tent. I was looking for something I could take with me on hikes so my main requirement was for backpacking.
A decent three season, one person tent ideal for short backpacking trips, the Zephyros 1 is functional and easy to use.
Please note, this product may no longer be available.
Pros:
Affordable price
Easy to pack
Easy to assemble to use
Decent stability and weather protection
Cons:
Not many features e.g. storage pockets etc.
Supporting end poles aren't great
May be too warm for camping in hotter summer temperatures
Wild Country Zephyros 1 Features Summary
​Season Rating Spec: 3 season backpacking
Free standing?: No (tent requires guy lines to be pitched)
Minimum Weight: 1.41Kg (3lb 2oz)
Packed Weight: 1.57Kg (3lb 7oz)
Pitch Time (estimate): 5 mins
Number of Porches: 1
Number of Doors: 1
Pitch Type: Fly and Inner pitch together
Pack size: 52cm x 14cm
Range: 3 Season Backpacking
Flysheet: Stormtex P4000mm FR
Floor: Aqua Stop P6000mm
Poles: 8.5mm Superflex Alloy
Pegs: 10 x Alloy V-Angle
Guylines: 4 x Black Reflective
Inner Door: Half Mesh
Best Uses: Backpacking and weekend hiking trips
Overview
As mentioned above, I typically do a bit of camping throughout the year, but I would not class myself as a hardcore camper. So, I didn't want to spend a fortune.
With that in mind, it made sense that I was looking for a basic but functional one person tent. I started to research options and I eventually came across the Zephyros 1 and liked the look of it, and the price. It seemed to tick all the boxes.
The Zephyros 1, as already alluded to is a 1 person tent, so it sleeps 1 person. It's 3 season, meaning that it is recommended to only be used between spring and Autumn, however I did use it in winter, see the picture below, and it was fine. It really depends on the severity of the winter climate you are using it in.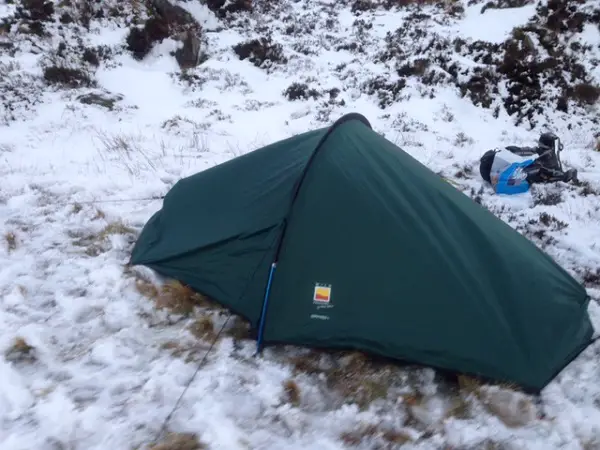 Overall, it has been a good buy for my needs. In this review, I will outline more detail about the Wild Country Zephyros 1 tent, the good, the bad and the ugly! Let's take a closer look.
Space
In terms of space, it is comfortable to lie down in (I am 6 feet tall) with a bit of room remaining at the end of the tent. There is some space on the inside for putting some stuff into, both at the end, of your feet as you lie down, and at the side of the tent. The image below with my sleeping kit gives you an idea.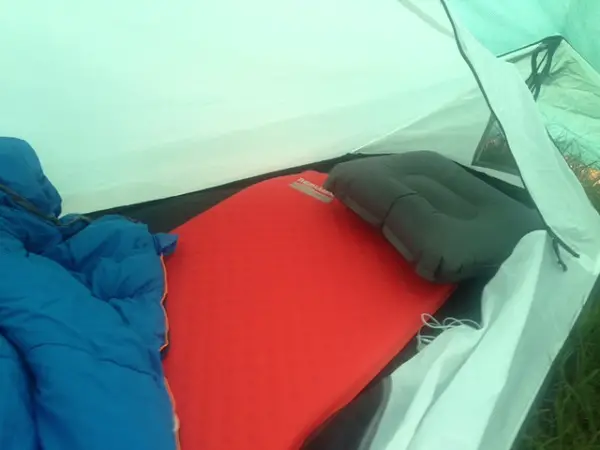 Not loads, but enough for my needs and much more may not be practical. I leave my backpack in the porch only taking in, what I need inside the tent, and there is adequate space.
Stability, Durability and Weather Protection
By now, I have used the Zephyros 1 in all types of weather from winter snow, to heavy rain and wind and I have been pleased with it. Overall it has performed well and held it's own in challenging conditions.
In terms of stability, the tent uses a main pole, image in the next section, made from 8.5mm superflex Alloy. This pole runs across the mid section of the tent as shown in the image below.
The tent is secured using standard guy lines, which are reflective so very handy to spot in bad visibility at night for a headlamp, and pegs. I have found these to be functional and easy to use. Nothing out of the ordinary but it does what it says on the tin and works well.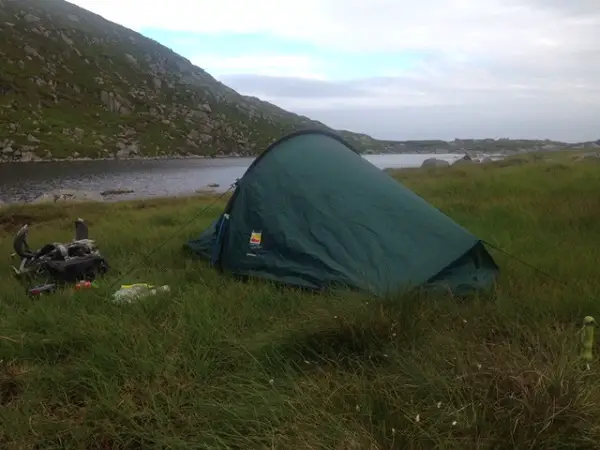 The flysheet is made using Stormtex P4000mm FR … yes, very technical sounding 🙂 I won't go into the details on that, I will only say that it works well. It has stood up well to any weather stress I have put it under.
To get my mountain guide qualification, I had to camp out in pretty crappy conditions as part of the preparation and training, and so I did put it through its paces on several occasions.
The floor is made using Aqua Stop with a P6000mm rating. Again, I have found this has worked well to date. I have used the tent on snow and very wet ground, and combined with my air mattress, I was dry and comfortable.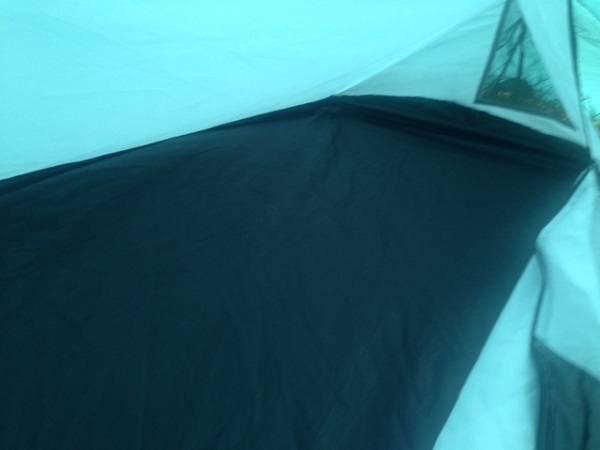 Criticism
The one criticism I have of the Zephyros 1 is the two small plastic poles, see image below, that come with the tent which are used to prop either end of the tent up.
I have found these not to be very stable in tougher conditions. However, I have come to the broad conclusion that they are not really necessary for the tent to function well.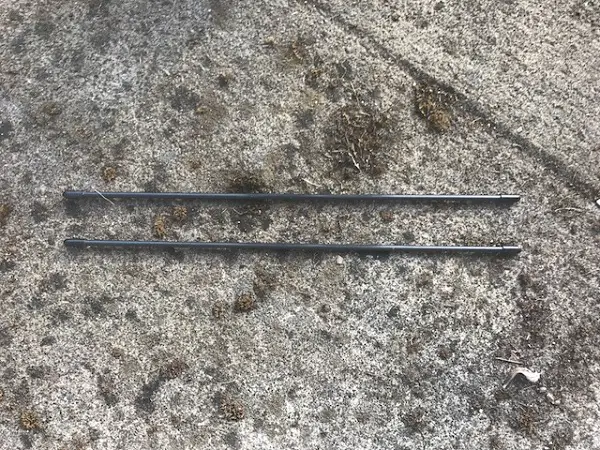 As mentioned, the tent is pitched using standard guy lines and pegs. The tent pegs are sturdy enough although you might need something to hammer them into tough ground, you can see I bent one of them on tough ground in the image below.
You get twelve in total, ten are required to put the tent up and two are spare pegs which is always handy to have.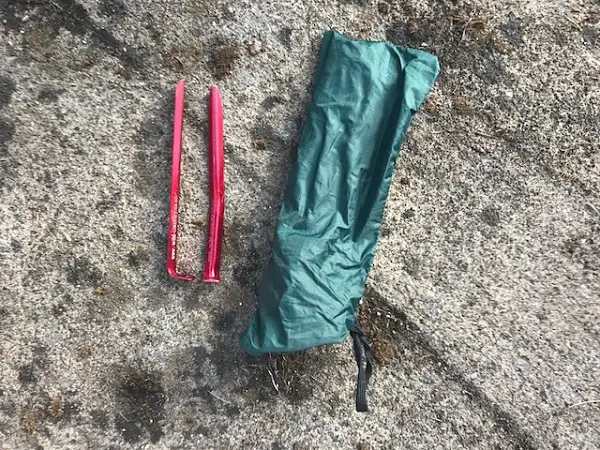 Ease of Use
The Zephyros 1 tent is easy to use. It is not a freestanding tent, so it employs one main tent pole (pictured below), guy lines, pegs and two small end poles to stay erect. However, it pitches the flysheet and inner at the same time as they are connected, which makes it very easy to work with.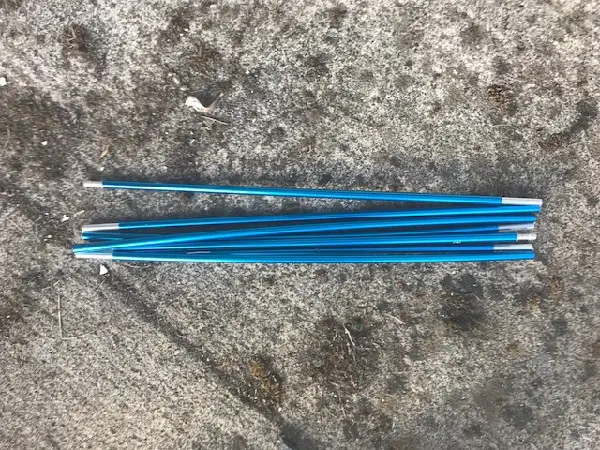 The pole runs through a sleeve at the top across the whole mid section of the tent, as shown in the last section, and is held in using the eyelets on either side of the tent as shown below.
It's simple but effective but I haven't managed to get the pole to bend beyond the first hole, too damn hard 🙂 to get it to sit in, although I have no need for that.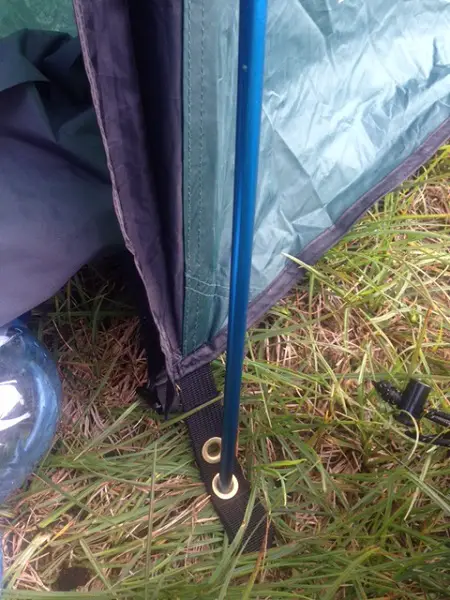 So all in all, the tent is easy to put up and if you're not used to putting a tent up, you will soon figure out how. Check the video below for some further guidance on set-up.
All in all, 5 minutes or less to put it up. As referenced above, the flysheet and the inner are attached so it is easy to to put the tent up quickly. When stretched out there is a comfortable distance between the flysheet and the inner but this can also be adjusted using the straps as shown in the image below.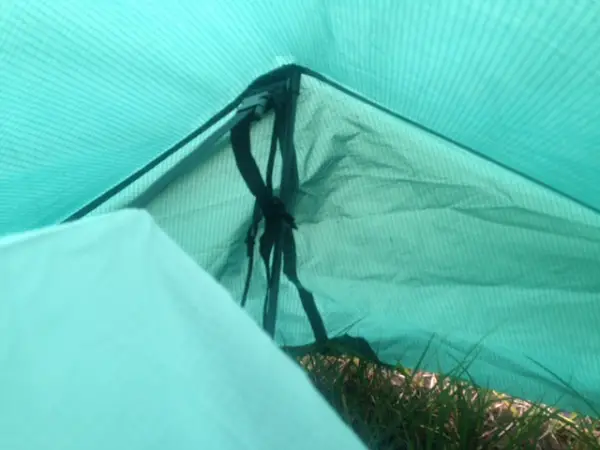 Weight
The Zephyros tent listed weight is minimum weight of 1.41Kg (3Ib 2oz) and packed weight of 1.57kg (3Ib 7oz).
I won't argue with this except to day that when I pack a tent, I do not carry it in it's normal packed form as shown in the image below. I take the bits out and stuff into my backpack, so only taking the bits that I need which minimises both weight and bulk.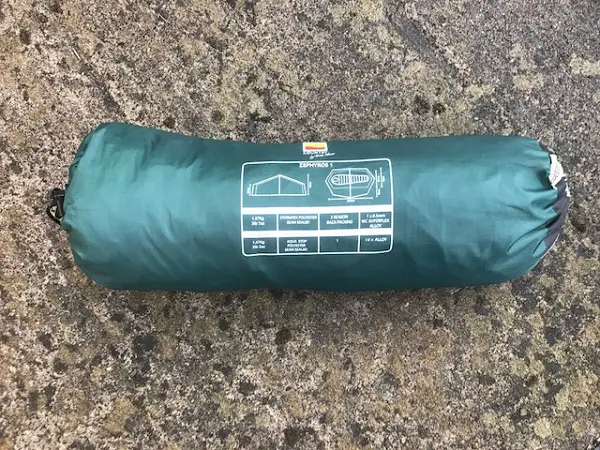 Features
In truth, there aren't many to write home about, but that is totally fine. The tent is expected to be basic and functional. The tent features a porch which I found easy enough to cook in from a sitting position in bad weather.
As always, take caution when cooking in a tent … only ever do it when you have no other option. Ideally cook outside and well away from your tent. An errant spark from a stove could send a tent into a ball of flames pretty quickly.
The zips in the Zephyros are all two way i.e. they can be moved in both directions, which is handy to have, and they work well.
The outer doorway also has velcro patches on the entrance so the doorway can be rolled up and secured to leave the main entrance open. The outer door, as in the image below, is half mesh and is easy to open and close using the zips.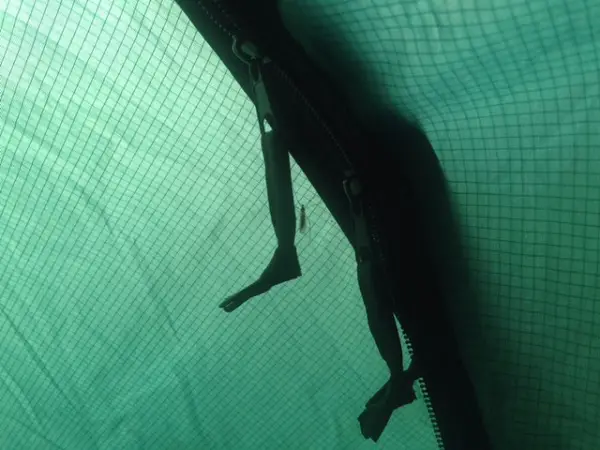 There is also mesh ventilation which works pretty well in the climate conditions I camp in, however I suspect the tent might be a bit warm if you're camping in hot summer temperatures though. Something to consider I think. The tent also comes with an owners manual and a basic repair kit as well for any emergencies.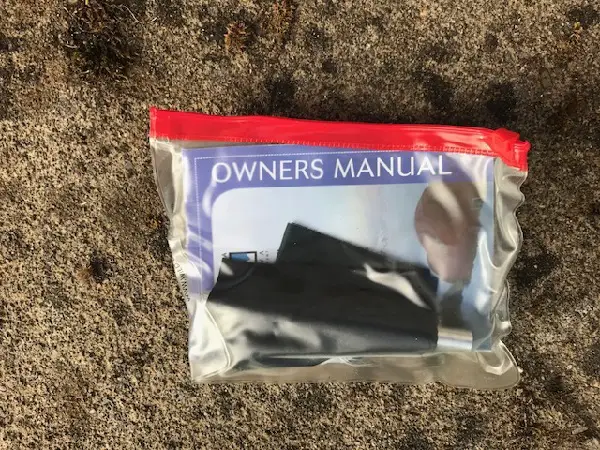 Best Uses
The Zephyros 1 is best suited for backpacking and any kind of camping where you need to camp out for a night or two with minimal fuss e.g. say on a fishing trip. It is easy to take a part and pack into a backpack. or just pack into the standard carry case that comes with it and throw it in your car.
It's compact so not hard to store either while travelling or in your house. I think it is probably best suited to cooler temperate climates i.e. I think it could be a bit stuffy inside, in hotter and drier climates.
Customer Reviews
As of the date of this post, from about 10 user reviews I checked out, 71% gave the Zephyros 1, 3 stars (out of 5) or more, 57% 4 stars or more and 43% gave 5 stars. Respectable enough scoring but nothing I wouldn't expect based on my own experience. I would give it a 3 star rating, as it does the basics of what it needs to do.
Our Rating 3 (Out of 5)
Conclusion
In conclusion, I think the Wild Country Zephyros 1 tent by Terra Nova is an OK buy for the price. It isn't the best 1 person tent in the world, but it certainly isn't the worst either.
For my needs, weekend backpacking trips across the year, mainly in spring and summer, it has worked out fine and I am happy with it. There are most definitely better options out there though.
It's easy to put up, which is always a winner while out on the hills on a tough day when you don't want to faffing about in wind and rain, and covers all the basic requirements a one person tent should.
If you're totally new to tents, check out the tent buying guide before making a decision. It covers all the things you should consider before making a purchase.
I hope you found this review useful. If you've any questions about the Zephyros 1 tent, please leave them in the comments below and I'll be happy to answer them if I can.