Mount Kilimanjaro is a popular climb that features on many a hiker's bucket list the world over. However, you shouldn't contemplate taking on such an adventure without first ensuring that you have the very best hiking boots for climbing Kilimanjaro.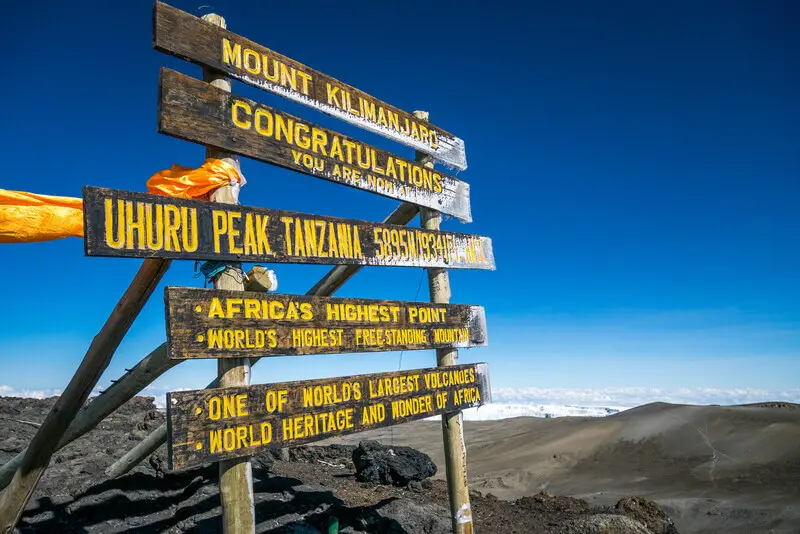 Doing so will improve your comfort, safety and overall experience. So, let's take a look at what you need from hiking boots that are fit to take on Africa's highest mountain.
If you need to buy hiking boots, you can check our our top hiking boot recommendations for men and our top hiking boot recommendations for women. Lots of great options there to choose from, many of which will be great for Kilimanjaro.
Climbing Mount Kilimanjaro
Mount Kilimanjaro is the highest mountain in Africa, situated in Tanzania, near to the Kenyan border. It is, in fact, a dormant volcano with three volcanic cones and a summit height of 19,340 feet (5,895m). Kilimanjaro is the tallest freestanding mountain and one of largest volcanoes in the world.
The mountain makes up part of Mount Kilimanjaro National Park. This protected area is well served by Kilimanjaro International Airport, and it has made climbing the famous mountain much more accessible to a greater number of visitors from the USA, Europe and beyond.
It is estimated that around 50,000 climbers attempt the summit every year on one of the seven established routes. While the climb itself is not as difficult as many would believe, the main reason for a large number of unsuccessful summit climbs is altitude sickness.
Climbing Mount Kilimanjaro involves huge variations in landscape, terrain and temperature. From the rain-forest habitat of its lower slopes to its snow and ice covered summit, your footwear will need to be able to stand up to the rigors of this expedition.
Choosing Hiking Boots for Kilimanjaro
When you're looking for hiking boots for climbing Mount Kilimanjaro, there are a couple of features that are more important than others.
Let's take a look at what you should be looking for in a pair of hiking boots for Kilimanjaro, and how when you go and which route you take can affect your choice.
Seasons
As Mount Kilimanjaro is situated near to the equator, there aren't really summer and winter seasons, rather wetter and drier ones. While trekking is possible all year round, it is highly inadvisable during the wetter seasons.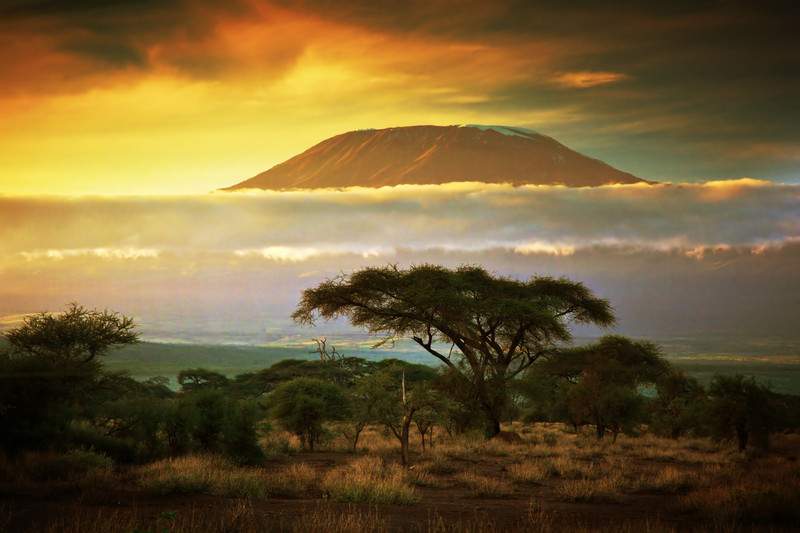 The best times of year to tackle Kilimanjaro are when there are the lowest chances of precipitation. These are generally either between December and the beginning of March, or late June through October.
As temperatures between December and March tend to be colder, you're likely to experience more snow at the summit if you choose to trek during this season.
Routes
When you're deciding upon which route to take, you should bear in mind that the southern slopes receive a lot more precipitation than the northern side.
This may affect your choice of hiking boots depending upon which route you opt for. Some routes are easier than others, while some leave less time for acclimatization.
When making your choice you'll need to consider a wide range of factors, and make sure that your hiking boots will be up to the particular challenges posed by your chosen route.
Ideal Hiking Boots for Kilimanjaro
Once you've taken your route and trekking season into consideration, the ideal hiking boots for Mount Kilimanjaro should provide all of the following:
A comfortable, secure fit
Make sure that your hiking boots are the right size and fit for your feet. While they will need breaking in, it's important to remember that your feet will swell after long periods on the trail.
On the other hand you don't want your boots to be too big, if your feet slip about inside of your boots then you're going to run the risk of injury, not to mention chafing, blisters and discomfort.
A spacious toe box
If your toes don't have sufficient space on the descent then they will end up hitting against the front of your boot. This can become extremely painful several hours in.
While people tend to think of the ascent as being the main challenge and it really is with the ice, high altitude and inhospitable conditions, remember that the descent back down is far from easy and you're going to be fatigued.
Broken toes or snapped toe nails will go a long way to ruining your 'having-reached-the-summit' euphoria, especially when you've thousands and thousands of feet in elevation left to descend.
Ankle protection
This will help to keep your feet secure in your boots, especially on the descent. It will also help to keep your feet warm by trapping in heat and prevent small shards of rock from getting inside your boots on sections of scree.
Waterproof
From the humid rain-forest to the ice covered summit, chances are you'll need protecting from humidity and precipitation even in the dry seasons.
As any experienced hiker will tell you, once hiking boots get truly wet, it can take days for them to dry out. Something that just won't be possible on the trail. Don't risk ruining your trip, make sure that your boots are fully waterproof, not just water resistant.
Medium weight
While the protection and stability offered by heavyweight mountaineering boots are ideal for Kilimanjaro, the weight can be an issue. If possible try to find a medium weight boot that offers all the protection you need without being overly heavy.
Remember, apart from the summit climb and some of the harder routes, climbing Mt Kilimanjaro is not that technically difficult. You're much more likely to struggle with acclimatization problems and altitude sickness than the trek itself.
Lugged rubber sole
For extra grip and traction across the different types of terrain that you'll encounter, as well as helping you to navigate the way back down. Lugged rubber soles will also help to prevent you from slipping in rainy, damp conditions.
Can I Wear Trail Shoes for Kilimanjaro?
While some people may have tried it, it is not recommended to wear trail shoes for climbing Mount Kilimanjaro. Their flexibility, light weight and comfort make them popular replacements for hiking boots out on the trail back home. Some hikers and trail runners even tackle some pretty difficult trails in them.
However, given the harsh environment on the higher slopes, the need for waterproofing, warmth and full protection, not forgetting the support needed for the long descent, trail shoes just aren't quite up to replacing hiking boots for Kilimanjaro in our opinion.
If you find the weight of hiking boots off putting, try wearing them out several times a week to see if you get used to their weight.
You can trade off a little less protection for a medium weight hiking boot that will tire your feet less, but still keep your toes in one piece getting back down, while also keeping your feet dry and protected.
Conclusion
When you're looking for the best hiking boots for Kilimanjaro, you'll have plenty of factors to bear in mind. However, by focusing your search upon good quality, sturdy boots you will make your trek a lot more enjoyable and safer.
Don't forget that you will need to make sure that your boots are a good fit. If you're unsure and are new to hiking, it might be best to get them professionally fitted to make sure that they are the correct size, before starting your fitness training in them.
Your hiking boots for Kilimanjaro should be as lightweight as possible without compromising your safety and protection for your feet.
Waterproofing is essential, as is a roomy toe box and a mid to high collar to help keep debris out and to allow you to securely fasten your feet into place to stop any sliding forward on the descent.
Last but not least, your hiking boots for climbing Kilimanjaro must be comfortable and well broken in. If you plan to take this amazing trip on, all the very best of luck to you!