Hiking shoes, also known as trail shoes, are a fairly recent phenomenon, although people have been hiking in lightweight sporting footwear for a long time.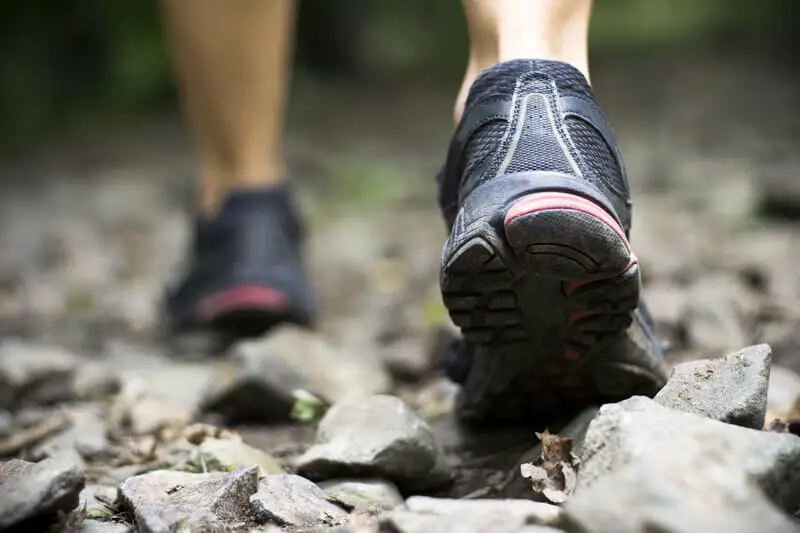 Thanks to their popularity, technological innovations and the move towards more increasingly hybrid models designed for greater versatility, experienced, new and casual hikers are increasingly turning to hiking shoes instead of traditional hiking boots.
However, as with any relatively new product, it's well worth considering how to buy hiking shoes before making your purchase. It is important to consider the different styles of hiking boots and your requirements before committing to a specific model.
Many hiking shoes can also double as work or about-town shoes, wherever you're likely to be most active and on your feet, as they are generally quite stylish.
With so many different types and models to choose from, let's take a look at some of the most important factors that determine how to buy hiking shoes.
If you would like to learn about the top hiking shoe models that we love and recommend, then please check out this post on the best hiking shoes for men an this post on the best hiking shoes for women. There are loads of great options available there!
If you are looking for advice on how to buy 'hiking boots', as opposed to shoes, please check out our hiking boot buying guide.
OK, let's get to it!
Different Styles
Hiking shoes are available in a wide variety of different styles, each intended for different types of hiking. In general two main distinctions can be made, hiking shoes that emulate a hiking boot style and those that have adopted a more lightweight, sporty aspect, with of course varying degrees in between.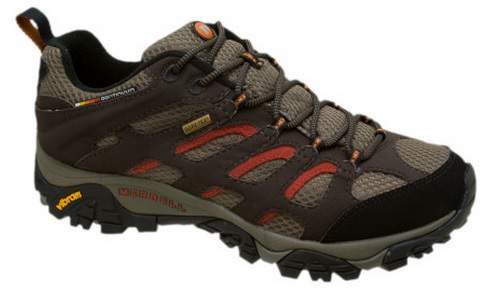 Hiking shoes have become increasingly popular thanks to their light weight, breathability, out-of-the-box-comfort and durability. Those that align themselves more closely to a traditional hiking boot style tend to offer greater protection from the elements and make for better use at colder times of the year. They are also a better choice for carrying more substantial loads and tend to have better ankle support.
Lighter weight, more sports-style hiking shoes are often compared to trail runners as they allow faster-paced hiking. However, although they may have many features in common, hiking shoes tend to have a much more rigid, durable sole in order to protect your feet from miles of uneven terrain, whilst providing the necessary grip and traction needed out on the trail.
While they are less suited to carrying a heavy pack, they do nonetheless provide good stability and a secure footing. Lighter weight hiking shoe models tend to be more breathable, to allow for quick drying and greater perspiration during faster paced and strenuous hikes.
In between these two extremes, there are many models that use aspects from both ends of the spectrum, however, whichever style and features you decide upon will need to match your needs and hiking style.
As always, you need to very clear on what you need your hiking shoes for, so getting your specific requirements down is critical before you invest.
Materials & Construction
The best type of hiking shoes feature a strong, durable rubber outsole with multi-directional lugs for extra traction. You will need a outsole that can grip to the terrain and prevent slips and falls.
Obviously depending upon your anticipated use, the importance of the outsole can vary. However, bear in mind that a good rigid outsole will provide extra comfort by protecting you from uneven trails, stones and rocks.
Vibram rubber outsoles are considered to be one of the best outsoles available, offering enhanced grip over all terrain and in all weather conditions. This has been borne out in our experience too.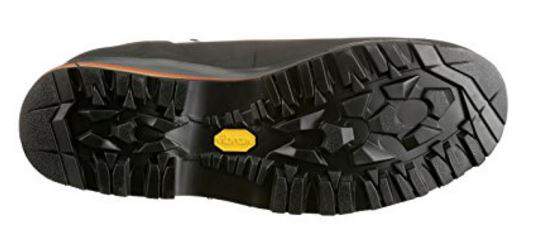 The midsole and shank, often overlooked by those with less hiking experience are also top priorities. They provide extra cushioning and protection from the terrain below. Lightweight nylon is a popular shank construction material as is EVA for the cushioned midsole.
EVA is also often used in hiking shoe footbeds, which may or may not be treated with a form of odor control, something to look out for depending upon how much your feet sweat, your anticipated level of exertion and the breathability of your shoes.
Uppers
Leather uppers are a popular choice, thanks to their fit-enhancing flexibility and long lifespan. Mesh panel inserts and mesh liners are also popular with the aim of increasing breathability.
Some hiking shoes feature an internal waterproof membrane. It's worth noting that it's very difficult, which often means expensive, to create a membrane that repels external water while allowing internal moisture to pass.
Also, waterproofed shoes have a tendency to take a long time to fully dry out once they have been soaked. Not unlike traditional hiking boots.
You'll need to carefully weigh up the pros and cons and consider which is most likely to be practical for you, more breathability and faster drying, or a shoe that is more waterproof, but takes longer to dry when it does get wet.
Breathable mesh uppers, rather like running shoes have become popular for hiking during warmer seasons as they dry quickly and allow your feet to breathe.
However, in colder, wetter seasons hiking shoes in general offer less protection from the elements. So you may wish to use boots for severe weather, and decide between a mesh shoe for fair weather and a waterproof shoe for showers.
If you are a regular hiker who enjoys mixing it up, we do advise that you have different footwear for different types of hiking, different times of year, etc. It's a good way to cover all bases.
Support
Traditionally when we think of hiking boots we tend to see the ankle collar and think of ankle support. However, support is mainly provided by the stability of your footwear.
If you have a good gripping outsole and a snug, well-fitting shoe with stability provided by an internal shank and midsole, you're less likely to sprain an ankle than by having a high collar alone.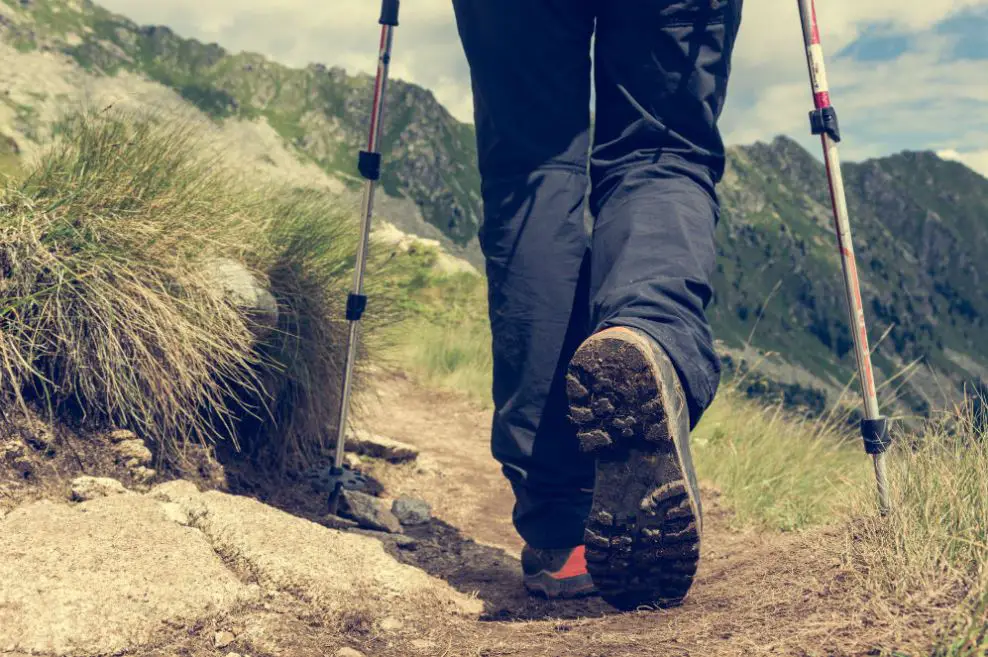 Some hiking shoes have higher collars while others are low cut, in either case it is a matter of personal preference, although higher collars are useful for waterproofed shoes, where you want to keep the water out as much as possible, they are also useful for trails where there is plenty of debris, gravel, sand, vegetation and so on.
You'll also appreciate ankle protection a bit more if you're heading out into the undergrowth. However, if you're planning to hike mostly on well-traveled trails, the choice depends mainly on your preference. One further point to note is that a higher tying lace can help prevent heel slippage in shoes that are less than a perfect fit.
Weight
Weight is another important aspect to consider. There's less advantage to wearing a hiking shoe over a boot if it's not much lighter. However, you still want a good durable pair of shoes and cutting back on weight can often mean cutting out important features or else using lighter weight, much more expensive versions.
If you're not into fast packing or ultralight backpacking, it's reasonable to assume you're going to be carrying some weight with you on extended trips, or even on a day hike and a more robust, slightly heavier hiking shoe can feel much more stable with a pack on your back.
So in summary, lightweight is good, but stability and durability are more important. You don't want to prioritize weight over comfort.
Although you may think lighter weight equals more comfort, lighter weight also equals cutbacks to cushioning and protective features. Yet more things to bare in mind depending upon your individual circumstances.
Waterproofing & Breathability
Waterproofing and breathability, as touched upon earlier, are slightly contentious issues. Unless you're prepared to spend big, it's a difficult combination to get right.
Again, as stated earlier, once you get waterproof hiking shoes thoroughly wet they then tend to take several days to fully dry out. They are also less breathable than shoes that don't have waterproofing.
On the other hand a pair of breathable mesh-upper hiking shoes will keep feet dry from perspiration and if wet through they will dry quickly. However, depending upon where you are going to be using them most, apart from in summer, you're likely to often come across mud and wet vegetation when out on the trail.
For some, the answer is to favor a waterproof membrane with breathability if you live in an area with high levels of precipitation, whereas others prefer to use hiking boots for colder, wetter periods and to use lightweight, breathable mesh hiking shoes over warmer drier periods.
As recommended above, about having more than one pair of boots or shoes for different hiking, I use a combination of this myself, so lighter boots and trail shoes in Summer, and heavier and sturdier boots in Winter. It all depends upon your individual circumstances and needs.
How to Choose the Right Hiking Shoes
Firstly, there is no one "right" pair of hiking shoes. Which pair is right for you depends upon your individual circumstances.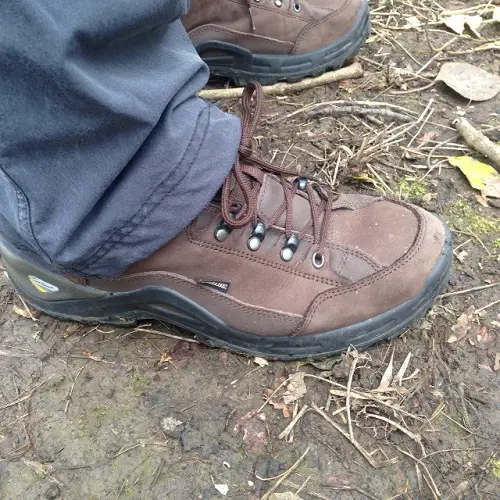 Start off with basic questions about what you need your hiking shoes for. For example, what are you looking for in a hiking shoe? What are your needs? Where and when do you intend to be wearing them most?
To find your ideal pair it's important to have your answers to these questions upmost in your mind whilst making your decision. As mentioned at the start, it's critical that you have your requirements down clearly before parting with any cash.
Requirements
Consider your requirements. Are you looking for a versatile all-rounder you can wear about town after your day hike around Yosemite Falls? Or are you looking for a durable, rigid sole to get your feet through a long distance thru-hike?
We all have different requirements, hence the huge variety of hiking shoes available. Here are some popular requirements you may wish to prioritize depending upon your circumstances and anticipated usage:
Waterproof capability
Breathability
Weight
Rigidity
Traction and grip
Lacing systems
Fast drying
Prioritize those that are important to you and add on any other particulars for your needs and situation.
Price
The price of hiking shoes and boots can vary hugely. Hiking boots are usually much more expensive than hiking shoes. There is of course more in them in terms of construction, but hiking boots tend to have more functional capabilities.
With either boots or shoes, the general rule applies i.e. normally you do tend to get what you pay for, although if there are certain features that you don't need, you can explore getting cheaper pairs without losing any quality.
If you're just starting out or are simply looking for a versatile outdoor shoe, maybe to wear on vacation hiking when around town, look at previous models that may be on sale. You can get a good pair at a better price even if you may miss out on a more recent upgrade.
By upgrade, we are referring to a further model of the same shoe e.g. Lowa Renegade GTX III. This of course implies that there is Lowa Renegade GTX II version, and usually there is, and oftentimes you can get it at a good price in comparison to the latest model. Many times the broad capability of the new model of the boots are the same as the older model.
Features
The features you'll need to look for will depend upon what you need. Here's a selection of some of the most common important features to consider.
Vibram Rubber Outsole
Designed to provide grip and traction on all terrain no matter what the weather, a Vibram rubber outsole is considered to be one of the most durable, offering above average traction.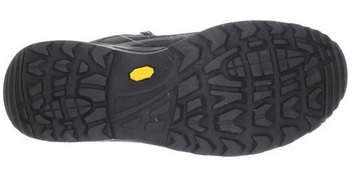 We have found this to be the case and think Vibram outsoles perform very well, in most cases. I have personally had good experiences with Vibram.
Nylon Shank
Shanks provide much needed support and rigidity to protect your feet from bruising and aching after many miles over uneven ground. Without a shank your comfort will suffer severely. Nylon is strong, durable and lightweight.
EVA Midsole
An EVA midsole provides your feet with cushioning and shock absorption for increased comfort. It will also provide foot support. EVA foam is lightweight and springy.
Contoured Footbed with/without Odor Treatment
A contoured footbed, an insole that molds to the foot, will help support your feet and improve your comfort levels. Certain foot beds provide additional arch support.
Odor protection can be useful if you have feet that are prone to sweating or waterproofed shoes with low breathability. Pictured below are an old pair of hiking boots of mine, not hiking shoes but the principle is the same, you can see how worn the soles got, but they were still quite comfortable to wear.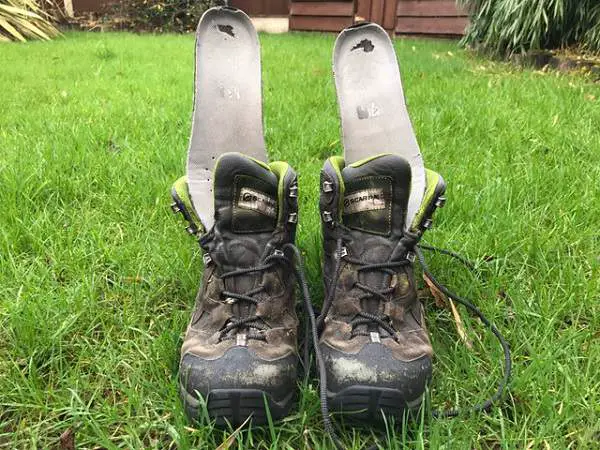 Leather (& Mesh) Upper
Leather is flexible and durable. It can be treated to repel water, although it does take some maintenance. Leather hiking shoes often have mesh panels for improved circulation.
Leather is also a good choice for colder months and travelling over rough terrain with a lot of abrasive elements.
Rubber Toe Cap
Essential for protecting your feet on rocky terrain or from sharp obstacles. Toe caps also provide protection and extend the durability of your hiking shoes.
If you plan to head into rockier terrain where you have a chance of stubbing your toes, these are a very good idea!
Bellows Tongue
A bellows tongue folds in on itself keeping dirt, debris and moisture out of your shoes. Useful for trails over sand, gravel, scree and vegetation.
Speed Lacing System
Some people like them, others prefer a traditional lacing system. Either way, it's worth checking what kind of system is used in your hiking shoes, to prevent unwelcome surprises when ordering.
Bare in mind that the majority of untraditional lacing systems offer an even hold, but are not capable of tightening one specific area, as can be done with traditional laces.
Your individual requirements will depend upon your foot shape and how well your hiking shoe fits. Personal preference plays a large part here too. I prefer the traditional lacing myself.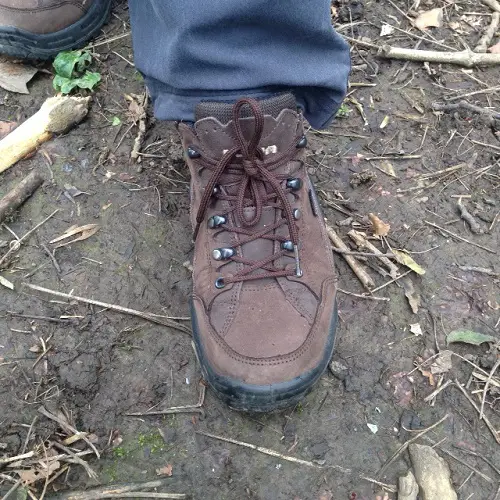 GoreTex/Other Waterproof Membrane
A waterproof membrane will allow you to keep your feet dry in wet conditions. Depending upon the quality of the membrane, some also offer enhanced breathability.
Not all membranes are equal, some struggle to keep feet dry in more than damp conditions. Most waterproof shoes take longer to dry out completely once wet than breathable mesh shoes do.
Heel Brake
This feature is useful for steep descents so if you're likely to be using your hiking shoes over mountainous terrain, this is a bonus. Make sure your outsole also offers good traction (which should always be the case anyway).
Fitting
You'll need your hiking shoes to have a good, snug fit for maximum stability. While fit can be a matter of personal preference, you need your feet to feel securely held and comfortable at the same time.
When deciding on fitting, you may be best trying more than one size. In any case, try your hiking shoes towards the end of the day when your feet are going to be slightly bigger, and remember your choice of socks will affect how your hiking shoe fits, and that is a combination you need to get right.
Style
There are a wide variety of hiking shoe styles available. Some considerations such as shoe height can have practical implications concerning which types of terrain you're likely to hike over.
Low rise styles offer less ankle protection and may be less suited for colder, wetter weather conditions.
Other style considerations may enable the occasional hiker to find a more versatile hiking shoe they can wear about town or to work, such as color and the style of the outsole.
We think style, as in how the design, etc. looks, is a big one when choosing hiking shoes, as those factors, as well as function, play a big part in choosing hiking shoes, mainly as you are far more likely to use hiking shoes for casual use, than hiking boots..
Washing & Care
Washing and maintenance is an important part of hiking shoe ownership. Unfortunately many people don't check the recommendations until several weeks or months into purchase.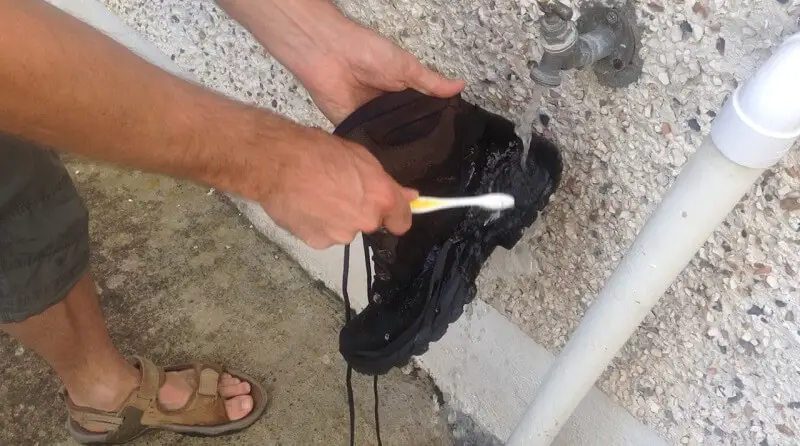 If you don't inform yourself prior to purchase, then you deny yourself the choice of low or higher maintenance hiking shoes.
Leather shoes generally require more care, and being more durable, you will probably end up cleaning them more often than say a mesh style shoe that is not likely to last as long.
Leather hiking shoes will also take longer to dry after a full clean and need specialist cleaning and reproofing products. Full grain leather shoes may require a conditioning treatment from time to time, to keep them at their best.
Conclusion
As you can see, there are many things to keep in mind when considering how to buy hiking shoes. Most importantly, you need to consider your own needs and which features and construction will be of most use to you, most of the time.
When you're planning on wearing them, where you'll be hiking and your hiking style will all influence which hiking shoes will be right for you, so plan carefully and prioritize your needs.
We'll mention it one more time as a final takeaway, but if you are regular hiker and enjoy varying terrain, all year round, hiking shoes should just be one part of your hiking footwear.
You don't have to go all Imelda Marcos on it and get oodles of pairs of shoes, but a good of hiking shoes, a lighter weight pair of hiking boots for spring and summer, and a heavier and sturdier pair of hiking boots for Autumn, Winter and backpacking, should cover most bases for most people.
We really hope you found this guide useful. If you did, we would be really grateful if would share it or link to it on your networks.
Happy Hiking 😉