Never let anyone tell you otherwise, choosing your Hiking Boots is a big deal! And part of that choice is finding the perfect fit for your feet. Hiking boots come in all shapes and sizes as do feet and you will likely be wearing them for long stretches at a time.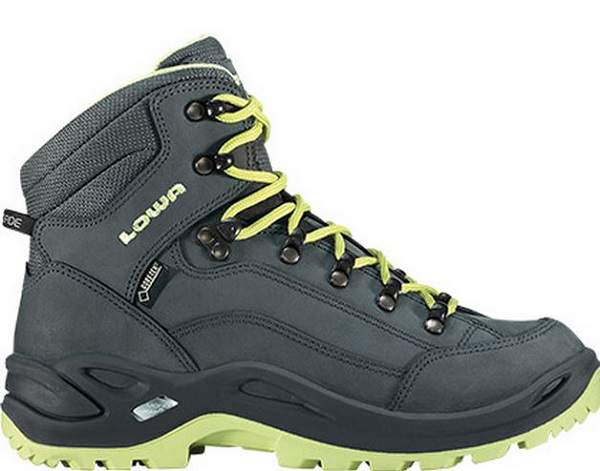 Hiking boots are also a bit more expensive than your average boots or shoes. Therefore, it is worth spending a bit of time thinking about what you need to look for when looking for your ideal boots!
As an overall guide for choosing a pair of hiking boots, check out this guide on how to choose hiking boots. In this post, I want to expand on this topic a bit further and take a look at some common sense tips you can use to help you find the perfect fit boots for your feet.
Try Hiking Boots on in the Afternoon
A hiking friend told me about this, I thought he was a bit barmy. The reasoning behind this is that your feet will naturally be a bit swollen
in the afternoon from walking most of the day so you will have a more realistic version of your feet size when trying your boots on.
Having queried this in a few places, there is apparently truth in this and your feet will be a bit bigger in the afternoon. It was a new one to me too I have to admit 😉
Wear Your Hiking Socks
Good hiking socks are really important to the overall comfort and fit of your hiking boots or shoes.  I mention this a lot but it's worth adding here again.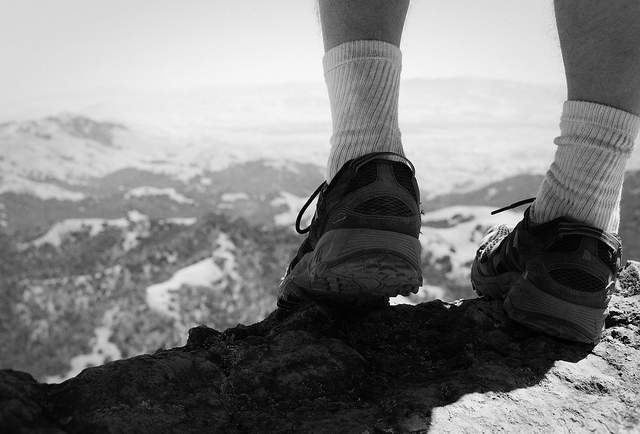 When it comes to your hiking boots or shoes, always wear your hiking socks when trying hiking boots for size as your hiking socks are always that bit bigger than standard ones. This will impact the fitting and therefore the comfort of your boots when you try them on.
Orthotics
Similar to socks, if you always wear orthotics or use any kind of foot support on a day-to-day basis, be sure to incorporate them when trying on your hiking boots. They will have a significant impact on your fit and comfort.
This will be obvious I feel to people who actually wear them but it's worth adding a note in on it all the same. If your orthotics don't work with standard hiking boots, you can always look to get custom made ones.
Boot Fit
The boot should be snug but not tight on your foot. As a general rule, there should be enough space of about a finger width between the top of your toes and the top of your boot. When you push your foot forward in your boots, you should be able to slide a finger between the back of your boot and your foot.
The boots also needs to be wide enough to let your feet move. This is a common one I notice people having issues with if they have wider sized feet. A good way to account for this when buying online is to check out other customer reviews. For a popular boot, you're bound to see some comments in there on that topic and many boot manufacturers these days offer wide feet options.
Measuring Your Feet
You likely already know your shoe size but it is worth getting your feet measured anyway. Both when you stand and when you sit just in case there are any minor deviations in size, due to more or less pressure on your feet, which could cause discomfort.
Be sure to request this from the sales person if you're in a shop or do it yourself if buying online. You will also likely be aware of any other sizing nuance your feet may have so be sure to take that into account too.
Note: Keep in mind any common sore points you may have. For example, if you regularly get hot spots and blisters on a certain part of your foot, be sure to factor that in to your fitting and decision making process.
Stand on a Slope in your Hiking Boots
Firstly, face downward. This is of course to imitate standing and facing downwards on a hill or mountainside which you will likely be doing a lot of when you're hiking. The general rule here is that you don't want your toes hitting the front of your boots. This could potentially cause a lot of very uncomfortable problems, for your toes and toenails, very quickly and you won't be able to walk long with pressure like that if it's the case.
Next, face upwards on the slope. Push your heel up as far as you can. It shouldn't come up more than 1 cm or 1/2 an inch.
Another useful thing to do, can be to walk up and down steps or stairs in the boots or shoes. This again will give you a feel for some different types and variations of foot movement. Again, the boots should remain comfortable and secure while moving.
Note: If you're buying in a shop, they should have a slope tool which is made specifically to test this on. If you're trying them on at home after buying online, standing on any kind of downward slope in your house at about a 45 degree angle should do the trick.
Wear the Boots Inside for a While Before Keeping Them
This is one of the main things I think you need to do regardless of whether you buy boots in a shop or online. Some folks think that you must try a boot on in a shop before you can decide what is best for you, so buying online may not be the best option.
However, if you get your hiking boots in a shop, granted you can do some of the above tests on the spot and you can also walk around the shop a bit to check for any issues like rubbing, tightness, etc., but you can't walk around the shop all day!
The main thing you need to do is take them home and try them on in your house, with your hiking socks, etc. on and walk around in them for more prolonged periods of time. That's the only real way you'll start to get a good feel for them. If you bought in a shop or online, either way, you will be able to send them back for a full refund or credit within a certain period, usually at least 2 to 4 weeks, if you haven't worn them outside.
This final point is the best gauge you can use to ensure you have the best chance of a winner of a hiking boot on your hands, or should I say feet 😉
Conclusion
I hope you found this short article useful. If you're buying your first pair of hiking boots and so are completely new to this, these pointers should get you started. Also be sure to check out this article on how to buy a pair of hiking boots and shoes, there's a wealth of information on what to look for in that.
Remember, that even when you get your new hiking boots home and have worn them comfortable for a while in the house, they still may well not be fully adapted to your feet. So if you get some initial sores when you finally take them out on the trail, you are quite possibly still just breaking the boots in and that can take a while, especially for tougher leather hiking boots.
If you're a seasoned hiker, it's always good to go over the basics before settling on a new pair of hiking boots. Also, like the trying the boots on in the afternoon point above, which I only learned recently, there's always something new to pick up to help with your buying choice.
As mentioned at the start of this post, good hiking boots will cost a bit more money than standard shoes and boots but they are an investment in comfort for the trail and, frankly, you don't have a choice if you want to hike regularly. Good hiking boots or shoes are simply a must in my opinion.
If you want to get the hunt started for a good pair of hiking boots, check this out to see some of the best boots available on the market today!
Do you have any other tips for finding the perfect fitting hiking boot? I'd love to hear them in the comments below 🙂