As a hiker, there are some typical injuries, or maybe inconvenient niggles and pains might be a better description, that you're going to run into at some point.
In this article I take a quick look at 5 of the most common hiking injuries a hiker can run into on the trail, and look at some preventative steps that can be taken to help get you through the initial problem as it manifests, but also help to prevent it from happening on an ongoing basis.
Now, I say 'injury' but I am aiming more towards a general area of pain or discomfort, where problems tend to manifest for a hiker. You may avoid some of these in your hiking career, but if you're a regular hiker, even with the best preparation in the world, you're unlikely to avoid all of them, all of the time!
The Dreaded Blister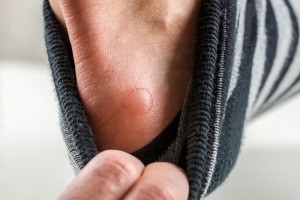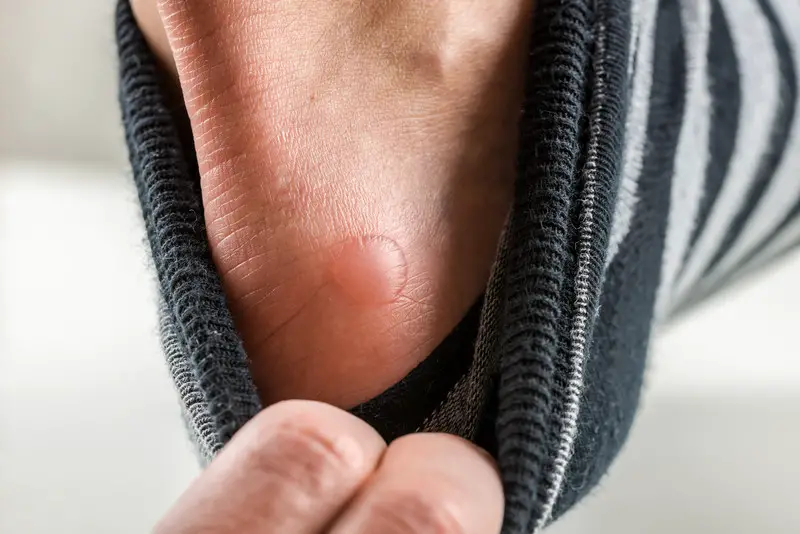 The obvious one and the hikers nemesis ha ha 🙂 It stands to reason that you have a high likelihood of encountering this one as when you hike, you do a lot of walking in hiking boots.
Of course, at some point, your lovely boots that have molded perfectly to your feet over the last few years, have to be replaced, so you need to break in a new pair of hiking boots.
And there we have it, a typical example that provides ripe ground for a blister to make an appearance 🙂 That's only one example though, and there are any number of reasons why a blister might show up, even when you are out on the trail in your favorite and well broken in hiking boots.
In fact, just a few weeks back, I was on a hike where a fellow hiker got three nasty blisters, two on one foot and one on another.
We stopped to help treat them, I gave him some blister pads, and he was very confused about this as he has been using his hiking boots for well over a year, and in that time, he never had any issues like this with blisters, after he had broken them in.
So, why did it happen!? Well, that particular group I hike with typically do a lot of off trail and open mountain hiking.
That particular hike was a 28km hike over a pilgrims trail type deal. That meant it was largely on very open trails, with sections on roads with not much uphill and predominantly flat ground. And there you have the culprit.
Terrain Type Matters
I can go out and hike 30 km's through mountains and my feet will be in grand shape after, tired of course, but no blisters. If I did that same distance walking on roads, arrghgh, I dread to think what shape my feet would be in, blisters could be the least of my problems!
My theory on this, is that when you hike over mountainous terrain, the ground is of course uneven. This means you feet, your leg muscles etc. are getting moved around in different ways as you strike the ground with you feet.
On the other hand, when you walk on flat roads, you repeat the same muscle movement, with the same parts of your feet getting impacted, again and again. So, it can lead to pain much more easily than hiking up a steep mountain with uneven ground. A little counter intuitive perhaps, but that is experience.
Anyway, you get the idea, blisters can come at anytime and usually when you least expect it. Prevention is always better when it comes to blisters but if you do get one, having some blister pads in your first aid kit are the best way to deal with them in the short term to get you to the end of your hike.
I did a full piece on how to prevent and treat blisters which has much more information on avoiding and handling this troublesome fellow, so it's worth taking a look at that to get some more ideas on prevention as well as more tips on treatment after the event.
Knee Pain
This is one I have encountered a couple of times, and in fact just a few weeks back. I was out checking a route out for a hike I am leading in a few weeks.
It's a long hike with a lot of ascent, 26kms distance and 1900m height, over very rocky terrain, so tough on the joints for sure. I was about two hours from the end of my hike, coming off the last main peak on the route, and my right knee started to feel really sore.
It was a real pain in more ways than one, as it really slowed me down to the point where eventually I had to take breaks every few minutes to give it a rest.
You also may need to factor your hiking stats in. What I mean by that, is, say typically, you hike 15 kms with 1000m ascent. Then one day, you take a notion to do 25kms with 2000m ascent.
It was gradually getting worse and worse, and I was getting concerned as it was getting late in the day. I made my way back to my car fine but this really hampered my progress, slowing me up by nearly two hours I reckon.
What can you do?
Well, the first thing I think that is worth investigating, is using trekking poles when you hike, if you don't already.
They can really help to spread the load out when going up and down steep sections, I especially find the downhill can be tough on the knees. Trekking poles can be a great help in lowering the pressure on the knee joints.
That's quite a jump and one that could make the body react by sparking knee joint pain. It is always a good idea to build up to a bigger distance over a few hikes, rather than doing it in one big jump up.
The next thing to think about, is knee sleeve supports. I know a few people who use these and they swear by them. To be honest, I am a little cautious of them, for fear of getting too used, and therefore dependent, to them. However, for many folks, it isn't optional and they need the extra support.
Finally, you can also start looking into taking a supplement that is good for the joints, like Glucosamine and or Chondroiton.
Again, I don't personally take these but I have a hiking buddy, who also loves running and skiing so does give his knees a fair run for their money, who swears by supplements like these which he takes.
It's something that could be worth experimenting with, but you need to give it a bit of time to take an effect. If you're going down this route, it is also a very good idea to talk to your physician or health professional to get some expert guidance and direction.
Back Pain
Now, this is one that is a huge issue for many people in day-to-day life, never mind when hiking. However, if you find that you only experience it after a hike, it is likely that your hiking could be having an impact. As you hike, over time, you tend to slump forward as your body gets more and more tired.
The first port of call here, is our old friend the trekking poles again! They can really help you keep your posture in a better alignment as you get tired on a long hike.
The extra support to spread the load also means you can take some of the weight of your back which can be really helpful as your body tires, giving your lower back a break.
Stretching is another one I find good for back stiffness, as opposed to pain, but stiffness can become painful so it's an easy preventative measure you can take if you feel your back starting to lock up. Some twists and stretches can help loosen things up.
Below is a video of some good stretches you can try. There are plenty more available so don't be afraid to look around online, you'll find loads of stretching routines and variations.
Now, I don't want to go too much more into giving advice or tips on back pain, as it's a very broad area where professional help should be sought if you are developing a real problem.
You will know yourself whether you're getting a mild pain from overdoing it, and a stretching session combined with using your trekking poles will do the trick, or if you need to seek professional assistance from your physician, chiropractor or other health professional. If in doubt, always get it checked out!
Foot Pain
Stands to reason really, doesn't it 🙂 If you're on your feet all day, there is probably a stronger likelihood of your feet hurting. If you've managed to avoid the dreaded blister, that doesn't necessarily mean your feet are in a dandy condition!
Foot pain, and I include the ankle in that, can come from a varying array of places. As per my blister story above, sometimes just walking on flat terrain that you're not used to, might cause a bit of upset.
In many cases though, the prime suspect could be your footwear. If you find yourself getting sore feet when hiking, it could be that your boots aren't a good fit.
Now, there is a whole host of possibilities as to why this may be. Your hiking insoles could not be the right match for your feet for example.
If you have a high arch but you are wearing flat and wide boots, it's likely you will feel discomfort and potentially pain at some point and problems like plantar fasciitis could develop.
Always spend time when choosing your hiking boots to get the right ones for your feet. Most gear shops these days have very knowledgeable staff that can help you get a pair of hiking boots that really fit your feet comfortably.
Other Options
If you're consistently experiencing problems with foot pain after trying out several different pairs of hiking boots, you could always look into getting a pair of custom made boots, that will be created to fit your feet perfectly.
However, before doing that, again it's wise to seek advice from a professional as there could be something in how you're walking that could be causing your problems.
A gait analysis should show this up pretty quickly and you might be able to learn a lot from that, which will help you either get the right type of insoles or inserts to sort out your problem, get the right pair of hiking boots, or help you work on something in the mechanics of how you're actually hiking e.g. over pronating on your feet.
Lower Leg Pain
This one usually comes in two forms, the first being stiff calf muscles which can lead to pain, the second being pain in your shins, never a pleasant experience!
If your calves are giving you problems, and are sore after a hike, getting some good stretching in before and after your hike (even during it) is a smart place to start to see if that alleviates any discomfort you may be experiencing.
Another great thing for your calves, or any muscle for that matter, is a muscle roller. Rollers are really excellent for rolling stiffness out of your muscles.
In fact, I highly recommend doing a full body roll out, all your muscles from you feet up to your upper body, on a regular basis. It is excellent and can really help keep your muscles lose. It can be a painful experience though when first doing it, so ease into it!
When it comes to your shins, thankfully that is one area I haven't experienced many problems in but I do know that pain in that area can be really painful.
For example, shin splints can be a really painful thing to develop. Typically experienced more by runners, you can still run into similar problems while hiking.
With foot pain, or any other type listed above, it is wise to start with your insoles, footwear and even your hiking socks. Examine how your feet are working with all of those to see if you perhaps have a bad fitting boot, that is causing problems.
If you are at the point where you are getting shin splints while hiking though, you would again be wise to seek professional consultation, as you don't want it to develop into anything further, as you won't fully know the underlying cause.
Conclusion
These are some of the typical hiking injuries or discomforts that many hikers will experience throughout their hiking career. That is most definitely not to say though, that this is an exhaustive list, far from it! These are some common ones though.
Many of these types of injuries, when at a minor level of discomfort, can be treated and potentially resolved on an ongoing basis by the individual. With some good research and intelligent testing of possible solutions, you can often easily find what you need to sort the issue out by yourself.
However, if any of these are causing ongoing pain or regular and persistent problems, it is unwise to continue doing what you're doing, as it could lead to longer term problems that may not be resolved so easily.
Where that is the case, it is always wise to seek good advice from a suitable health professional. Don't keep plodding on, accepting the pain and saying you will walk it off!
In all likelihood, if the pain keeps repeating, that won't be the case. Your body is trying to tell you something, so you would be wise to listen to it!
I hope you found this article on 5 of the main hiking injuries hikers experience useful. Please like, share and / or leave a comment if you did.