Since their invention and an increase in the number of people taking up hiking, trail shoes, or hiking shoes, have seen their popularity explode. However, can they really replace the tried and tested, sturdy hiking boot or are they just another fad that will pass?
Let's take a look at the advantages and disadvantages of each, to help you to find out whether you should pick hiking boots or trail shoes for backpacking.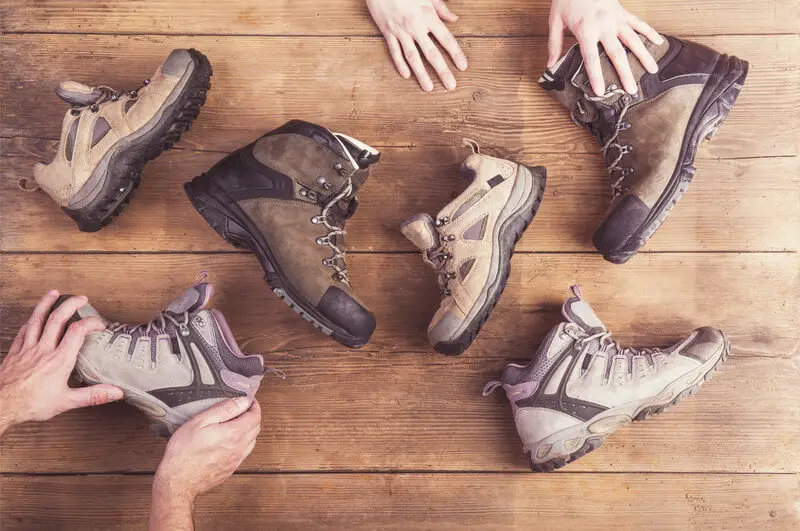 Hiking Boots
Hiking boots are the traditionally preferred choice for backpacking trips, offering all-round protection and a stable base to help you to support the extra weight on your back. Hiking boots typically offer a rugged outsole complete with lugs for grip, a rigid midsole for protection and comfort, complete with a waterproof upper for dry feet.
Their height is generally ankle high to provide extra support. Available in a wide variety of types and weights, hiking boots have made some evolutionary leaps with the times.
Although the general trend may seem to be heading more in favor of developing new types of hybrid footwear that begin to blur the distinction between an actual hiking boot and a sports shoe.
Advantages of Hiking Boots
Support
Hiking boots provide tried and tested support, essential for carrying heavy backpacks. With a good, solid pair of hiking boots that cover the ankles, you have a solid base.
This is especially important for heavy loads and those new to backpacking who may struggle with their balance while supporting the extra weight from their pack.
I think this is a big one, as I can't tell you how many times I have nearly went over on an ankle while backpacking on tricky terrain, and it's my hiking boots that have kept me good!
Comfort
Although comfort is more frequently associated with more flexible lightweight soles, hiking boots with their rigid mid and outsoles offer your foot enhanced protection and comfort.
Initially you may feel more comfortable in a more flexible shoe style type of footwear, however after several miles of lumps, bumps, roots and rocks, the soles of your feet will be aching much more than they would in a pair of more rigid boots.
Traction
Hiking boot outsoles are designed to offer excellent traction in all weather conditions and terrains. They will keep you on the trail even when there are loose underfoot conditions, slippery rocks and mud.
It is even more difficult to carry a fully-loaded backpack over difficult terrain and hiking boots provide the grip, through technologies like Vibram, that enables you to do so, minimizing the risk of a fall or loss of balance.
Protection
Ever been hiking through dense vegetation, brambles, stones, gravel, sand? Hiking boots protect your feet and ankles from vegetation and prevent stones and sand from getting into your footwear, meaning you can breeze ahead without having to stop to get out stones or sand every few yards.
This also means you're free to take different routes without worrying about scratches or underbrush, particularly on overgrown trails. They also offer excellent toe protection and are ideal in colder weather, keeping your feet nice and warm.
Waterproof Upper
With their waterproof uppers hiking boots will keep you dry through mud, puddles, damp vegetation and while crossing shallow water courses. They're also great at drier times of year when you might fancy setting out early before the sun's up but don't want to get your feet soaked with the dew.
Hiking shoes can have waterproof uppers too of course, but hiking boots generally offer more protection in this regard as they typically reach up your leg higher and under your pants/ rain pants.
Longevity
A decent pair of hiking boots will last you a long time. They will also mold to your feet over time and wear to suit your walking style. You'll be free to wander without worrying about them getting ripped or scratched, while their durable, rigid outsoles are designed to last for hundreds of miles.
Hiking boots can be expensive, but good quality ones last, making them worth the price tag over time. Their longevity also makes them highly dependable, you don't want to head out into the backcountry with a fully loaded pack and have a footwear problem, tens of miles from the nearest town.
Disadvantages of Hiking Boots
Time to Break-in
Hiking boots, especially really well constructed leather ones, are notorious for being uncomfortable the first few times that you wear them. They have to be progressively broken in, possibly earning a few blisters along the way, if you go too far too soon.
If you have a trip coming up in a hurry and no suitable footwear, you may be best looking at other options if you won't have time to wear in a pair of hiking boots.
Heavy
Hiking boots can be heavy, think about the number of times you'll be lifting their weight on a day's backpacking and it's easy to see how they add to fatigue.
Being heavier than other types of outdoor sporting footwear mean that hiking boots can also slow you down. Might seem crazy but when you're pounding hard miles over mountains, every bit of weight adds up, and it's not uncommon for boots to help make feet feel heavy and fatigued
If you're trying to build up your fitness or include some cardiovascular exercise with a little jog to your hikes where the terrain permits, hiking boots are going to make that more difficult.
Less Flexible
Hiking boots are rigid for a reason, to offer your feet greater support and to protect them from the impact underfoot. However, especially over short distances this rigidity can sometimes outweigh its protective benefits in terms of lack of comfort.
Long Time to Dry Out
Should you get water into your hiking boots, either because you have failed to reproof them or by stepping in deep water, then they will take a long time to dry out. Several days even when you're out and humidity is high.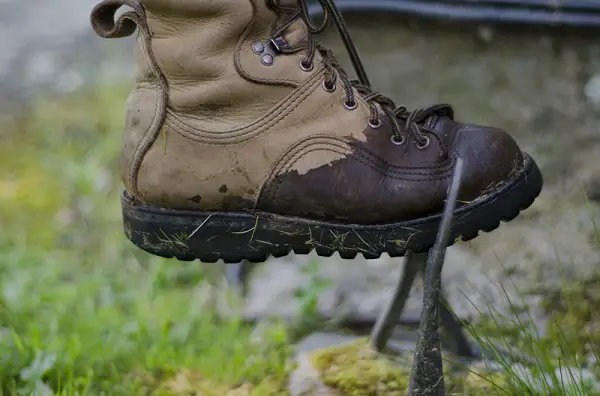 I always recommend letting your hiking boots dry naturally at room temperature if possible, and so it does take time for them to really dry out.
Poor Ventilation
If its summer, or you like a brisk pace, or even if you just have feet that tend to sweat, then you may find the lack of breathability offered by hiking boots problematic. The only solution is to keep changing your socks and try to air your feet when you stop.
This may mean more frequent stops that you'd like or else the sweat may build up too much and become uncomfortable. It's also pretty unhygienic, so be sure to take good care of your boots.
I don't really recommend this, but I have taken my boots off on the trail before, usually to dip my feet in an icy river though, can do wonders for your feet after a hard day backpacking 🙂
Trail Shoes
Trail shoes are extremely popular and are becoming increasingly used as an alternative to hiking boots. They combine good traction with a light weight, allowing them to be worn over a variety of terrain.
People looking to fastpack or clock up a lot of miles on thru-hikes often favor them for speed and completing a large number of miles over a short time. Trail shoes are available in a wide variety of styles with various specializations.
Advantages of trail shoes
Lightweight
Trail shoes are popular thanks in part to their lightweight design. As more and more people become interested in hiking, when they first try on a heavy boot it feels alien compared to their day shoes and sneakers.
A trail shoe, on the other foot so to speak, is a lot more like regular footwear and fits from the start with, usually, a minimal break in period required.
With the rise of popularity in running, fastpacking and outdoor exploration, more people are attempting longer more ambitious hikes over shorter periods of time.
Trail shoes provide a lightweight, go-to alternative that allows for greater speed while still provide a relatively good degree of stability and traction.
Breathable
For moving fast, high temperatures and sweat-prone feet, trail shoes provide a literal breath of fresh air.
They are made from breathable materials and their lower cut profile allows more heat to escape than from ankle height boots. Drier feet mean a more comfortable trek and less time rinsing and drying socks.
Quick Drying
Although they aren't waterproof if you do get your trail shoes saturated, they will dry pretty quickly thanks to their breathable upper. Meaning you can get going again sooner with less discomfort.
Little to No Break-in Period
Trail shoes are ready to go off the shelf. You won't have to worry about going slow and spending several careful hikes avoiding getting blisters while you break them in. You can pretty much put them on and you'll be ready to go.
Disadvantages of Trail Shoes
Less Traction on Slippery Surfaces
Trail shoes have a pretty decent grip, however, they are easily outperformed by hiking boots when it comes down to more treacherous conditions such as slippery rocks and mud.
Whilst they will be fine on average terrain in dry conditions, if you're heading off into the unknown then you would probably be best advised to wear a pair of hiking boots and to take it slower.
Some trail shoes have outsoles that are designed to give better traction on slippery surfaces however, they are primarily designed with speed in mind. If you use them for running over slippery rocks they should hold steady.
Try walking over them with a heavy backpack and they are not going to provide the same grip as a pair of hiking boots would at a slow pace.
Short Lifespan
While hiking boots are built to last, trail shoes are much less durable, especially if you are using them over more extreme terrain. If you're using them for long thru-hikes at speed, then it's not uncommon to go through several pairs at a pretty good clip over time.
Less Protection
With their lower profile, trail shoes understandably offer less protection, exposing your ankles to the elements and any branches, thorns and vegetation. Being lower cut, they also don't offer any ankle support.
Whereas hiking boots will keep your toes safe, you may need to watch out you don't stub them on rocks when wearing trail shoes in areas with loose rocky terrain and ascents.
As they have less durable uppers and are breathable, you will be less likely to want to use trail shoes for heading down overgrown trails or crossing over underbrush. You're also going to get bits of stone, gravel and sand as well as bit of plant in your footwear much more frequently.
As a consequence, this can mean you'll tend to keep your eyes down on the trail much more, looking for the next pebble, branch or rock, with less time spend admiring the view or catching glimpses of the local wildlife.
This one is interesting to me, as I know hikers who really prefer trail shoes as they like their feet to be more flexible and free to move. That's all well and good, but when you foot accidentally slides into a rabbit hole you didn't see, that flexibility and free movement could spell problems quite quickly.
For me, I prefer the protection of boots and I am happy to sacrifice some flexibility and freedom of movement in the ankle. Main point I want to make though is, each to their own 🙂
Not as Waterproof
Unfortunately, although some may offer a degree of water resistance, trail shoes are usually not fully waterproof.
That may be fine if you're looking for footwear for warmer weather, however, you need to bear in mind that apart from the very height of summer there are usually chances of rainfall, wet vegetation, mud and creeks, waterfalls and so on.
If you're used to having your feet protected from water then you may not realize just quite how wet it can be out on the trail, particularly in areas of dense vegetation.
And so?
As you can see, there is a lot to consider when you are considering whether to use your hiking boots or trail runners for backpacking, and which is the better option. I have a very specific preference, as most will i.e. in some cases, depending where you are backpacking, there is no definitive answer.
Before we wrap up, check out this video from the good folks at REI to hear their thoughts on this great debate.
Conclusion
In the contest of hiking boots or trail shoes for backpacking, there's no clear winner, although the odds are definitely in favor of hiking boots as the better, more reliable all-rounder.
It really depends upon several factors, namely, the time of year, the terrain, your load and speed. Personal preference also plays a significant part in this too.
If however, you're carrying a heavy backpack then without a doubt, you will benefit from the stability provided by hiking boots, and you're not likely to be travelling very fast. This is even more so the case when you factor in rough terrain and bad weather.
The only times that trail shoes really outperform hiking boots consistently, is when you are looking to travel quickly and carrying a light backpack on a well-traveled trail without mud or precipitation.
Given their easy-to-wear nature and immediate comfort, trail shoes will only continue to grow in popularity as more people take to the trail to get fit, live better and enjoy time spent away from modern life in the great outdoors.