Hiking is all the more fun and easier if you have the right hiking boots on. Not every pair of shoes and boots are ideal for hiking. So, if you are looking for the best hiking boots, then the Vasque Breeze III Hiking Boots for Men is a good option for your consideration.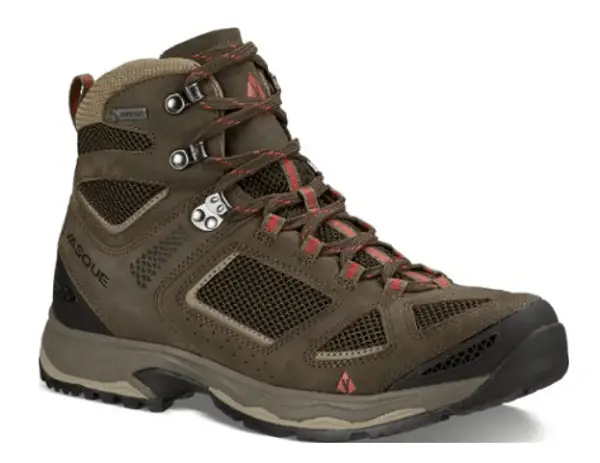 Pros:
Provides excellent support and stability
Boots feel very comfortable while hiking
Sturdy and durable materials used in the construction e.g. EVA, etc.
Excellent outsole which grips well and can take on most terrain
Lacing hooks are metal and the lacing system is snug and secure
Cons:
The boots can get quite hot after very long hikes in hotter conditions
Features Summary
High-abrasion leather uppers with mesh panels are supportive, breathable and strong
GORE-TEX® Extended Comfort waterproof breathable membranes keep feet dry, yet breathe for comfort
Dual-density midsoles with EVA cushion pods offer all-day comfort and support
Heel and toe ventilation ports increase airflow along the footbeds
Thermoplastic polyurethane Exo-plates add lateral stability and structure
Vibram® Contact Grip outsoles with Megagrip rubber compound are stickier than ever, enhancing your control in all weather and trail conditions
Overview
Vasque is a popular manufacturer of some high-quality trail running shoes and hiking boots. This brand has been operating for more than 50 years, serving up best in class performance footwear. If you are looking for an excellent pair of hiking boots which can work great on all terrain, then the Vasque Breeze III Hiking Boots for Men are worth checking into.
Besides being comfortable and sturdy in nature, this pair of hiking boots by Vasque is also very stylish. The boots come in several different colors, so you can choose your favorite one.
The colors available are – Slate Brown with Russet Orange, Bungee Cord with Pesto and Castle Rock with Solar Power. All the available color options look pretty pleasing to the eye, offering a style statement even on the trail when you are hiking.
The muscular and classy look of these boots is definitely a catch. However, first and foremost, we are interested in functionality. In that regards, these boots are loaded with some amazing features that make this pair of hiking boots very versatile.
Comfort
Of course, one of the most important factors that matter the most when it comes to hiking boots is comfort. The Vasque Breeze GTX are a pair of mid-weight hiking boots that score well in this department providing a comfortable fit and feel around the feet.
They are designed so as to maximize the easy and efficient passing of airflow to enable better breathability. When you are walking on rugged terrain, your feet can get tired and exhausted due to lack of air flow. With well-designed breathable boots though, the air will pass continuously without making your feet tired.
Thus, helping move faster and lighter on varying types of terrain. This design feature is a winner and works well in the field.
In terms of construction, the boot is made up of a combination of mesh and leather that comfortably hugs your feet and ankles. A nice part of this, again incorporated into the design, is the stock dual-density foot bed that provides extra comfort to your feet when you are hiking on rugged terrain.
Overall, the Vasque Breeze III GTX hiking boots are well padded with soft and contoured cushioning which provides an excellent level of comfort and solid protection for your feet.
Waterproof
Next up, you will be pleased with the boots waterproof capabilities. When you are hiking, you of course will encounter many of the wet elements like rain, snow, etc. and in is not uncommon to have jump or splash in some water, say when crossing a small stream. With these boots on, you don't have to worry about the water.
The promo material claims to completely keep the water out of your feet. This is because of the Gore-Tex (GTX) membrane which will keep your socks and feet dry. After checking many user accounts, it does look like the waterproof capabilities of these boots perform pretty well overall, so good scoring in that department as well.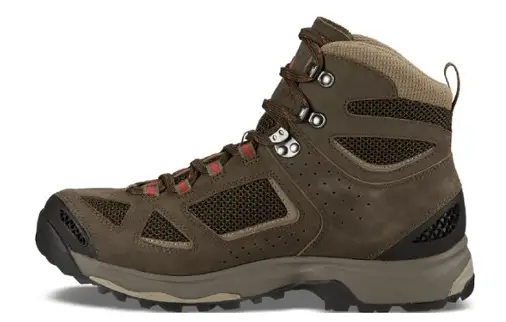 The boots are secured with a lace up closure which works well and is quite comfortable when tied. The laces also pass through the lacing hooks easily. These lacing hooks are made up of metal, our preference, for better sturdiness and durability.
All of this helps, in conjunction with the aforementioned padding and stock dual-density foot bed, enable the boots to grip your feet firmly yet comfortably, securing your feet ready to tackle the trail.
The system is simple and also easy to tighten should you need to adjust on the move. So, when it comes to comfort and easiness, the Vasque Breeze III Hiking Boots deliver a best in class service.
Support and Stability
Typical of Mid style boots, the shaft is approximately 6 inches from the arch providing enough space for the ankles and feet. The height of the heel of this hiking boot is approximately 1.25 inches, again about average and normal.
As referenced above, the leather and mesh construction of the upper portion of this boot provides top-notch stability and support to your feet. The cuff rises above your ankle which provides more control and stability to your steps when you are hiking on steep slopes.
The midsole comes with a thermoplastic urethane that further aids stability. It is made up of EVA providing a high level of stability and grip, for fast paced hiking on rugged terrain. The EVA midsole helps in giving confidence whenever you take a step, working in concert with the other key elements of the boots.
By many accounts, the performance and stability of these boots is exceptionally good, and they are versatile enough to be used for hiking in a wide range of differing terrain.
Grip
The outsole is super aggressive and strong which provides exceptional grips even on muddy, wet and slick areas. Due to the excellent grip and traction capabilities of these boots, it is easy and comfortable to walk even on loose and wet rocks, without fear of losing your balance. This greatly reduces the chances of slipping and potentially spraining your ankle.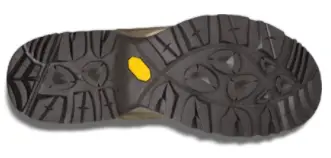 These boots are excellent for day hiking on undulating trails and can hold their own against the elements e.g. rain, etc. Many trails can be muddy and slippery making it difficult for easy hiking if you don't have the right footwear on.
But if you are wearing the Vasque Breeze hiking boots, then you should be good to go. These boots provide excellent support and stability for all your steps, gripping your feet and ankle firmly.
Best Uses
The best uses for the Vasque Breeze hiking boots are light to medium trail hiking. They are probably not the best option for tougher trekking or backpacking trips, you need something with even more sturdiness and support for that.
Their stylish design and look is also a plus, so they will go great with jeans for casual use, wearing on a day out about town or the like.
Summary
So, after this deep dive into the Vasque Breeze III Hiking Boots for Men, we think you could do a lot worse, these boots are functional and potentially an excellent purchase. In terms of functionality, they have all the things you would expect and need from a good pair of hiking boots.
They're waterproof, a 'must' feature for hiking boots and for most hikers, providing good resistance from water, keeping your socks and feet dry. Next up, they also provide good breathability to keep your feet relaxed throughout your hike.
With that type of easy flow of air in and out of this boot, it helps to eliminate tiredness for your feet, although we noted some user comments that for longer hikes in hot conditions, this functionality could work better.
Next, the comfortable EVA midsole in conjunction with the overall construction of these boots, provides great comfort to your feet which enables you to hike easily on different terrains, so excellent versatility is offered.
The Vasque Breeze Hiking Boots provide great stability and performance when it comes to light trail as well as heavier hiking.
In terms of user experience, these boots are a tried and tested pair of hiking boots, with lots of great user experience documented across multiple retailers. The price of these boots also offer value for money too.
Conclusion
So, if you're in the market for a new pair of hiking boots, these are definitely worth a look. These boots come with all the essential features you need, so they can easily tick the satisfaction box and be worth the investment.
If you're still unsure what type of hiking boots you should get, check out the hiking boot buying guide and our hiking boot recommendations. I hope you found this review useful. Please comment and / or share it around your networks if you did.