Choosing the best hiking boots for El Camino de Santiago is not an easy, straightforward decision. If you are about to take on the full Camino, it is a serious undertaking, taking up to 6 weeks on average to complete.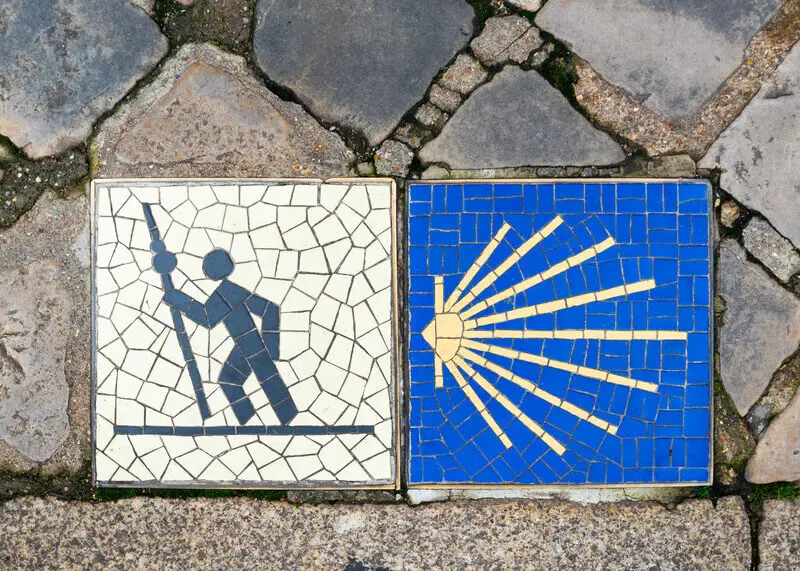 If you don't currently own a pair of hiking boots, or if you're looking to upgrade, then there are plenty of variables that need to be considered, not least of all your own personal preference.
If you're in a rush, we want to give you the best hiking boots for the Camino. We think of this in two ways. Firstly, if you're backpacking (carrying your pack yourself) the whole Camino, then a pair of very sturdy boots like the Salomon 4D GTX for men and for women, are a good choice.
Secondly, if you are planning to get most of your gear transported between places you are staying (This is another common way for people to hike the Camino), so you'll only have a light day pack when you hike, then a light pair of lighter boots are a good option. We like the Lowa Renegade hiking boots for men or for women for this, and they are an excellent pair of all round hiking boots to tackle the Camino with.
If you want some more options, check out our best hiking boots for men and our best hiking boots for women, for some more great hiking boots, all of which will cover what you need for the Camino.
El Camino de Santiago
El Camino de Santiago is one of the world's most popular long-distance trails, that is increasing in popularity year after year, with just over 300,000 recorded completions in 2017.
It consists of a huge network of paths across Europe that have been followed since the Middle Ages on the Saint James Pilgrimage. All culminate at the shrine of the apostle Saint James in the beautiful Santiago de Compostela cathedral in northwestern Spain.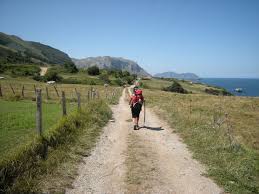 The majority of people completing El Camino de Santiago do so in northern Spain from France, or from Portugal. Although there are connecting trails that cover the majority of European countries, with Le Puy Route starting in the French Massif Central being one of the most popular extended trails.
In Spain itself there are five different caminos, plus one from Portugal. Which one you choose to take will affect your choice of footwear, as will the time of year.
The duration, length, terrain and level of difficulty can vary greatly from one to another. Let's take a look at some of the most important factors to consider when you are choosing a pair of hiking boots for your Camino.
Comfort
First and foremost, your hiking boots will have to be comfortable. For each and every one of us, that means worn in. Do not attempt to start El Camino de Santiago without having thoroughly broken in your boots first.
In all other respects, comfort depends upon the wearer's definition. Some people like lighter weight boots, others a heavy more supportive base.
Bare in mind that with the many dedicated hostels and other sleeping arrangements along the way, combined with the fact that much of the land bordering the caminos is privately owned, the vast majority of people do not camp. This may affect your choice of footwear, as with a lighter pack you may not need the full stability and support of a heavy-duty hiking boot.
The best hiking boot for El Camino de Santiago will also strongly depend upon the route that you choose. In the vast majority of cases, especially if you are intending upon doing the full Camino Francés, you will benefit from a boot with a more rigid midsole.
This will help to provide stability on the steep mountain ascents and descents, and comfort by protecting your feet from bruising and discomfort. This is true even on the flat after miles of gravel tracks. Bear in mind that a rigid midsole is going to provide your feet with much needed protection over some of the longer routes.
Traction
An outsole with good traction is essential if you're going to be undertaking a camino that covers mountainous or hilly areas.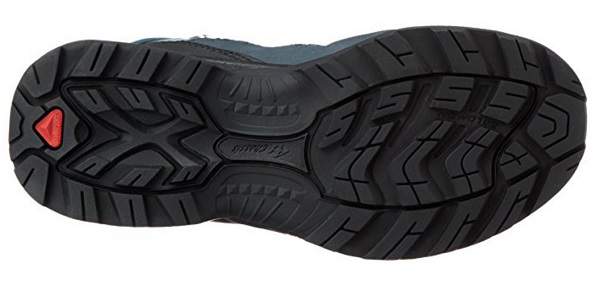 Not only the Francés and Norte Caminos involve steep ascents, you also need to bear in mind that depending upon the season and the number of other walkers, that there may be muddy, slippery sections on what would usually be classed as easy-going terrain.
Although there will be paved paths and tracks, you will also be faced with a huge variation of terrain on any route and having a solid outsole with good grip can help to prevent a slip on ascents or descents, whether short or extended, as well as providing grip in the wet and over rocky terrain.
Waterproof Upper
It is recommended to go for a decent waterproof upper for El Camino de Santiago during the wetter, colder months.
In warmer months, you may be tempted to go with a more breathable lighter weight upper, however, there are plenty of solid reasons to stick with full coverage hiking boots. Not least that when I did the Camino myself (July) there were a few downpours. Northern Spain has temperamental weather, so you can get a very sunny morning, followed by an hour long downpour over lunch!
Ankle height hiking boots will help you to make the most out of your journey by supporting your feet. They will also offer extra protection against the elements and keep any vegetation and gravel from entering your footwear.
Even the short Camino Ingles at 119 km (74 miles) features a mixture of challenging steep ascents and rocky tracks from which your feet will need adequate protection.
Marshland and beaches along the Camino Norte will likely leave you with wet feet if you don't have sufficient waterproof protection. Rain can and will fall at nearly any time of the year and when you have several hundred miles ahead of you, it's best to stay protected. 
An element of good Breathability in your boots is also important. You will be more or less walking 6 to 8 hours a day, so your feet need to breathe as well stay dry.
As a final note, the socks you use with your boots are really important as well, you will be spending a lot of time in them 🙂 so make sure they are a good compliment to your hiking boot.
Conclusion
When you're searching for the best hiking boots for El Camino de Santiago, it is important to ensure that your feet will be adequately protected for the whole of your journey.
That generally means a sturdy pair of boots that are fitted with rigid inserts for protection. However, given the huge variation of the terrain over single trails and the length of time taken, if you are considering doing a long trip, you will probably want to take more than just one pair of boots.
Depending upon the season, the state of the trail and your fitness you may decide to change footwear for different sections, especially if you wish to take an occasional "day off" with less distance to cover and a gentler pace.
In short, the best hiking boots for El Camino de Santiago are firstly well worn-in, comfortable boots that will provide support for your feet over the many miles you will cover, with adequate protection and grip to prevent accidents and make tough sections easier, for an incredible journey that will be memorable for all of the right reasons.
As mentioned at the start, if you're backpacking the whole Camino, we think the Salomon 4D GTX for men and for women, are a good choice. For travelling lighter we think the Lowa Renegade hiking boots for men or for women are the way to go. Check out our best hiking boots for men and our best hiking boots for women for some excellent options that will tick the box for the Camino.
We hope you found this useful! Buen Camino 😉