Summer can be a great time of year to hit the trail and go exploring. With long days and warmer temperatures, you can also probably get away with carrying less gear, meaning a lighter backpack.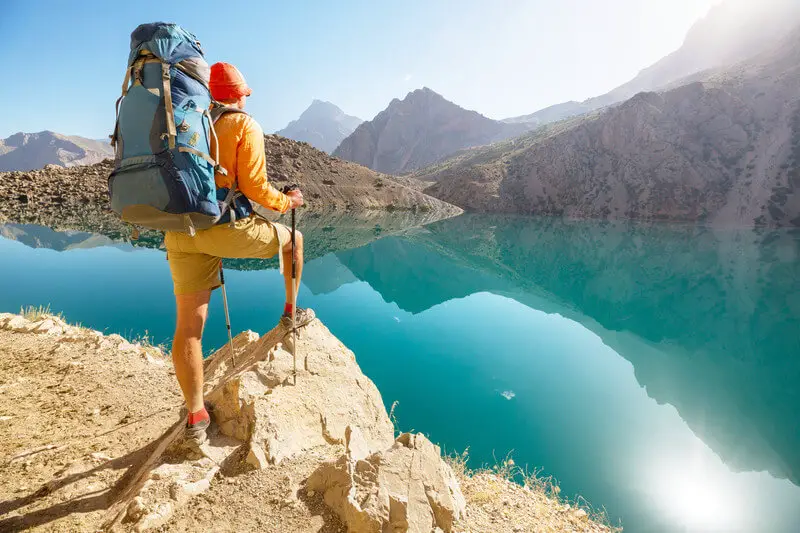 However, in spite of the good weather, it's essential to be prepared. Aside from carrying extra water and remembering other details such as sunscreen and bug spray, you'll also need to put some thought into your summer hiking wardrobe.
Here's our guide on how to dress for hiking in summer. We'll first look at some general ideas, before moving onto specific garments and accessories, so you can remain comfortable out on the trail when the mercury rises.  
Summer Hiking
When you're planning hiking trips over summer, it's essential that you plan ahead. While some items of summer hiking clothing can overlap with other seasons, others you'll need to purchase specifically for hot weather hiking.
Remember that summer can also feature storms and torrential downpours. If you're hiking at altitude then you'll still need to wrap up, and if you're hiking through mosquito areas then your clothes will also need to help to protect you from bites, as well as the sun's rays.
Basically, you'll need to get a whole range of uses from your summer hiking clothes, so let's take a quick look at some of the main features you'll need when choosing how to dress for hiking in summer.
Material
It's important to pay close attention to what your summer hiking clothes are made from. Ideally you want a light, breathable fabric, preferably UPF rated, for protection from the sun's rays.
If you're not planning on purchasing clothes with a UPF rating, then you should know that polyester and nylon are both highly rated for disrupting UV light, while silk and wool perform moderately well, with rayon, hemp and cotton providing little protection without specialized treatments.
UPF ratings aside, while cotton is generally best avoided by hikers, as it tends to retain moisture and is slow to dry, it can be useful for these very properties during hiking in very dry hot weather or desert hiking.
However, note if you do decide to wear cotton for hiking in summer, remember to take a change of clothes for evening time when a sudden dip in temperature could see you catching a chill with only a damp cotton garment.
Also bear in mind that any damp clothing is more likely to chafe. Nylon and polyester are also good hot weather hiking clothes' materials as they breathe fairly well and are both lightweight.
Fit
When you're hiking over the summer period, you'll want to wear loose fitting clothes that allow increased airflow to help your body to better regulate your temperature.
It is important to wear clothes that will keep the sun off your skin, keeping you cooler, so opt for full length sleeves over tank tops.
It's also necessary to consider where you'll be hiking as you may also need protection from overgrown vegetation or rocky terrain.
Features
Air vents, detachable lower legs, pockets there are plenty of useful features. Anything that can increase air flow, while protecting you from the sun's rays is a great option to go for.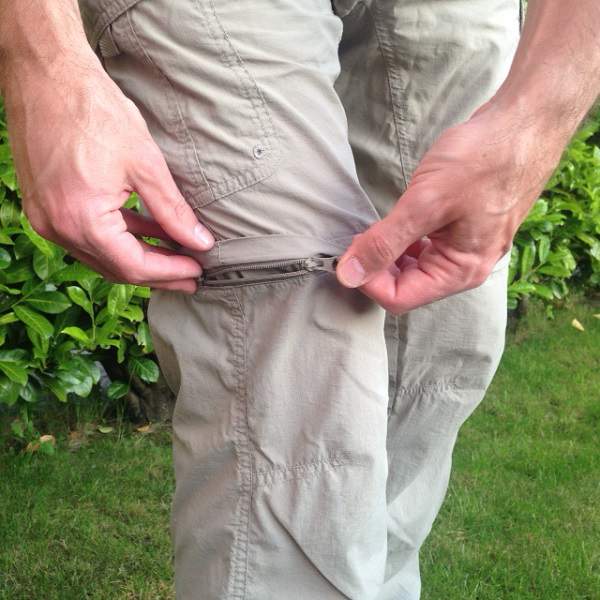 Colors
Darker colors tend to absorb the heat from the sun, while lighter colors reflect it.
So it makes sense to choose lighter colored tops for summer hiking, just be aware that it can also be useful for safety reasons to have a bright colored item of clothing spare so that you'll stand out in case of an emergency.
Summer Hiking Clothing, Footwear & Accessories
We'll take a look at what clothing footwear and accessories you'll need for summer time hiking and how these items differ from what you wear at other times of the year.
Summer Hiking Footwear
With hotter weather and less chance of mud and rain, a lot of hikers opt for lighter hiking boots, or even trail shoes.
Trail shoes have the advantage of offering excellent grip and traction, whilst being lightweight and comfortable. However, they do not provide the same level of support as hiking boots, especially if you have a fully loaded backpack to carry.
You could also try out a pair of hiking sandals, especially if you are thinking of trying any trails that involve any creek exploration or crossings.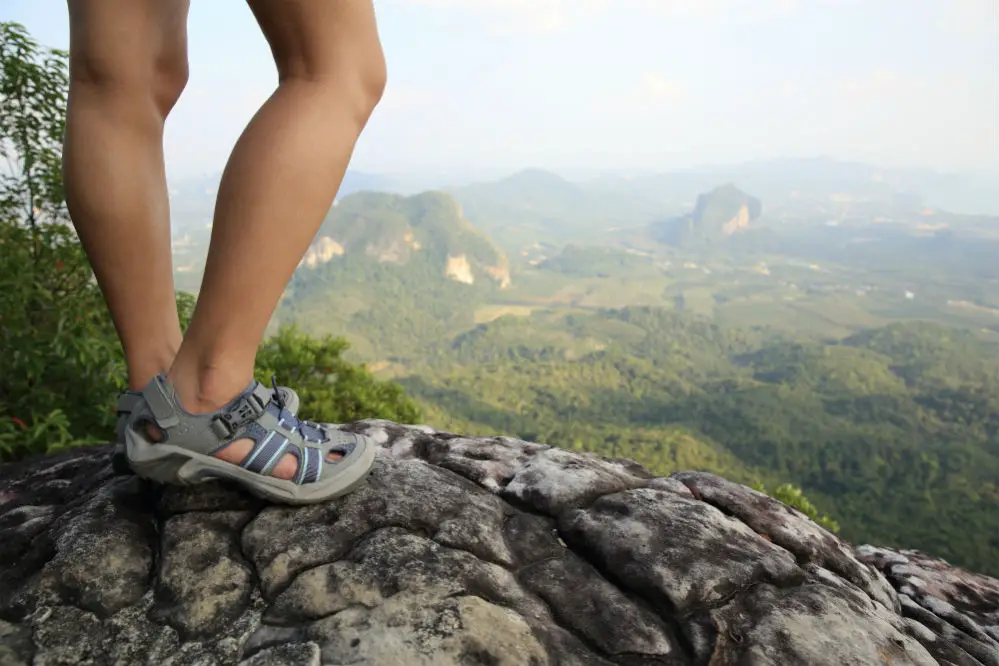 Hiking sandals are lightweight and dry quickly, although they may not provide adequate protection and support for all terrain, so plan your footwear according to your route.
Some hiking sandals have closed toe areas to provide enhanced protection, while others are completely open.
If you are opting for more traditional footwear, make sure that your socks are light wool or synthetic as your feet are more likely to sweat in the heat.
You can wear lighter, thinner socks than in winter, however cotton socks are not recommended as your feet will stay wet and sweaty, possibly leading to slipping as well as discomfort.
If you're planning a long hike or going backpacking, you will be better off taking at least one spare pair of socks to allow you to change into a dry pair while you dry out your other pair. 
Base Layers
Depending upon the temperature and your trip, you may or may not need summer base layers.
It's important to remember that temperatures can fluctuate hugely, so if you're backpacking or day hiking into the evening, or even heading to higher altitudes, you may prefer to take a lightweight silk or synthetic top.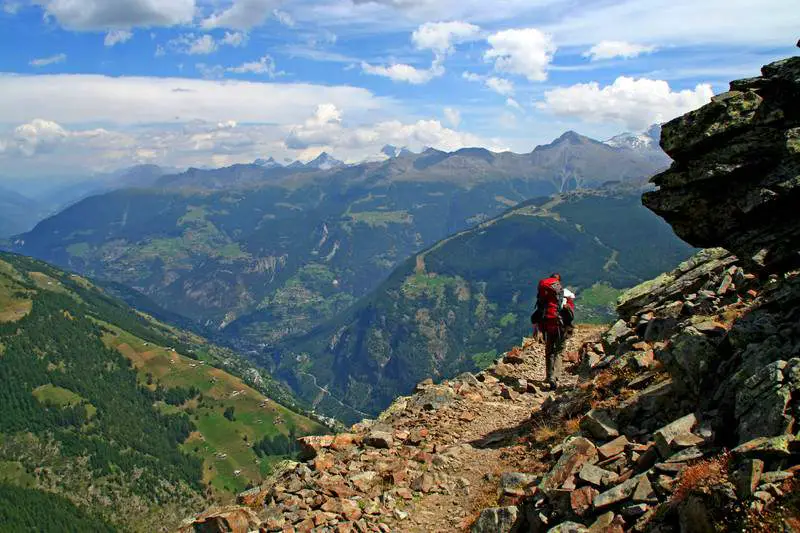 This will likely come in use anyway on a backpacking trip and can double up as camp clothes. Likewise, if you are setting off on an early morning hike, you may prefer to wear a lightweight base layer that you can later remove.
Lightweight base layers can also provide extra protection from UV rays, if you wear them under a loose fitting, open weave top that provides good air circulation but would otherwise leave you over exposed.
It can be useful to wear an absorbent base layer to prevent chafing, if you sweat a lot and it leaves you feeling uncomfortable, a synthetic t-shirt will help to keep you dry. 
Summer Hiking Tops
You should be looking for a long sleeved top that will provide you with adequate protection from the sun. Synthetic materials such as nylon or polyester will provide you with good protection against UV rays.
If you're hiking somewhere hot and dry, like a desert, then you could wear cotton as it will retain any moisture near to your skin that will help to keep you cool.
Cotton is generally not advised for hiking because it can cause chills leading to hypothermia, so be sure to take a change of clothing for any drop in temperature.
This is particularly important in desert-like areas where the temperature can drop significantly after sunset.
Ventilation
Summer hiking tops may have air vents which will allow you to cool off with increased air circulation, without exposing your skin to the sun's rays.
Air vents situated at the back of your garment can help to prevent sweat building up that could make your backpack uncomfortable to carry.
You may also like to take a lightweight fleece for hiking at altitude where it will be colder, or for use at night time. As fleeces are highly packable and very lightweight, you could always pack one just in case.
If it is too warm to wear it, you could use it as a pillow, especially if you tend to sweat a lot on hot summer nights, as its absorbent qualities and fast drying properties will help keep you dry and comfortable.
You could then rinse it out in the morning and tie it onto your pack to dry. Don't forget that summer is often a time for spectacular rain storms, so it can be useful to take a light waterproof jacket.
This can also double up as protection against mosquitoes if you're passing through an area where you're likely to get bitten.
Summer Hiking Pants
As your legs are less exposed to the sun's rays, you might want to wear shorts, or even better a pair of hiking pants that detach below the knee, so you can choose between pants and shorts when you're out on the trail.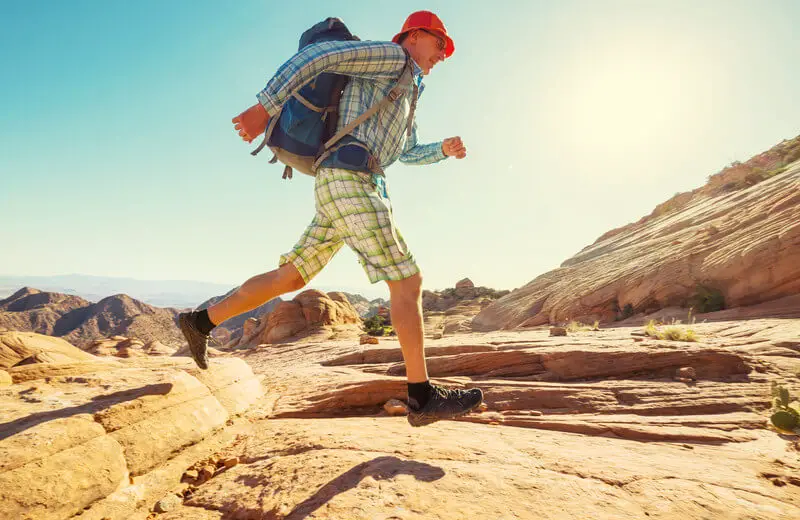 You may prefer the protection from long pants in certain areas, especially if there is any overgrown vegetation to contend with.
Summer hiking pants will likely be lighter weight and more breathable than insulated winter ones. However, they will still need to be fairly durable.
You may prefer a slightly closer woven variety if insects are likely to be a problem, especially mosquitoes, to protect your legs from bites.
In most cases, provided temperatures are relatively high and you have a light waterproof jacket, you are unlikely to need to pack any waterproof bottoms.
Summer Hiking Accessories
When you're planning going hiking on hot summer days, summer accessories can make all the difference to your comfort levels.
Hiking Hat
A good hiking hat with a decent sized brim is extremely important. A hat can help to keep the sun off your face and allow you to see better without squinting.
When you're faced with challenging, rocky terrain, it is important to be able to focus upon your footing and a hat can help to shade your face enough to make this possible.
Neck Protection
It is also important to protect your neck from the sun's rays. Tubular scarves such as the multipurpose Buff are also available in summer versions.
They exist in treated versions that protect against UV rays and they can also be used as hats, hair bands and scarfs. If you're also wearing a hat, ducking your Buff in a creek before putting it on between your head and your hat can be very effective at helping you to stay cool.
You could also use a neck gaiter or even a lightweight cloth. There are also special types of polymer-crystal filled neck scarves that are designed to retain moisture for longer periods of time, ideal on hot summer hikes where water refill points are scarce.
Gloves
Hiking gloves can also be a good choice when you're hiking in hot weather, helping to protect your hands from the sun. If you use trekking poles or a hiking staff you may also like to wear a pair of gloves for better grip with hot sweaty palms.
Sunscreen and Bug Protection
Sunscreen is essential for spending the day out in the sun, so be sure to regularly reapply it throughout the day. Sprays and stick formats often come in handy sizes that are easy to use when your out on the trail. Bug spray can be useful depending upon where you're headed.
Inside your tent, it's probably healthier for you to use bug nets over the vents or to set your net up over the opening and to sleep with it open, rather than spraying chemicals in a confined space.
Sunglasses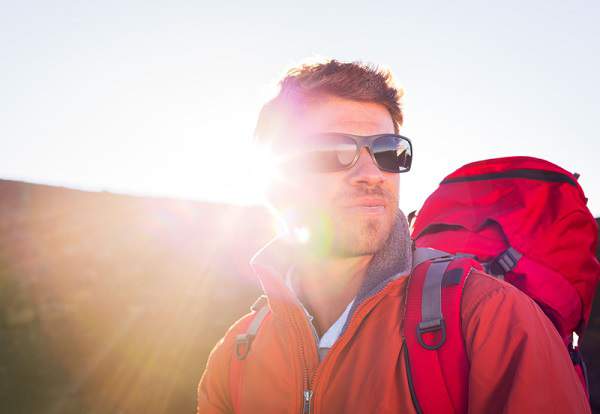 Sunglasses are also an important addition to your summer hiking outfit. Certain landscapes reflect the sun's light more than others and the glare that is given off can make your hike unpleasant to say the least.
Sunglasses will help to protect your eyes from the sun's glare and reduce eye strain. It is best to purchase a good, solid pair of sunglasses with decent coverage.
You should also invest in a cord to make sure that they don't fall off, or get knocked off by any vegetation or left up a hill. 
Local Climate
If you're traveling some distance or are going summer hiking abroad, be sure to take the local climate into account. Check the data for recent years, and if possible find out about the specific area.
If you're uncertain, you may want to pack a few lightweight extra layers just to be sure. For example in countries such as the UK, it's not uncommon to have a very cold and wet day during the summer months.
If you are traveling to a mountainous part of a country, bear in mind that they can also have their own unique micro climates that can vary greatly to the climate in the neighboring flatter regions.
Summer Hiking Tips
When you're hiking in hot weather, be sure to drink water regularly and take breaks in shaded areas whenever possible.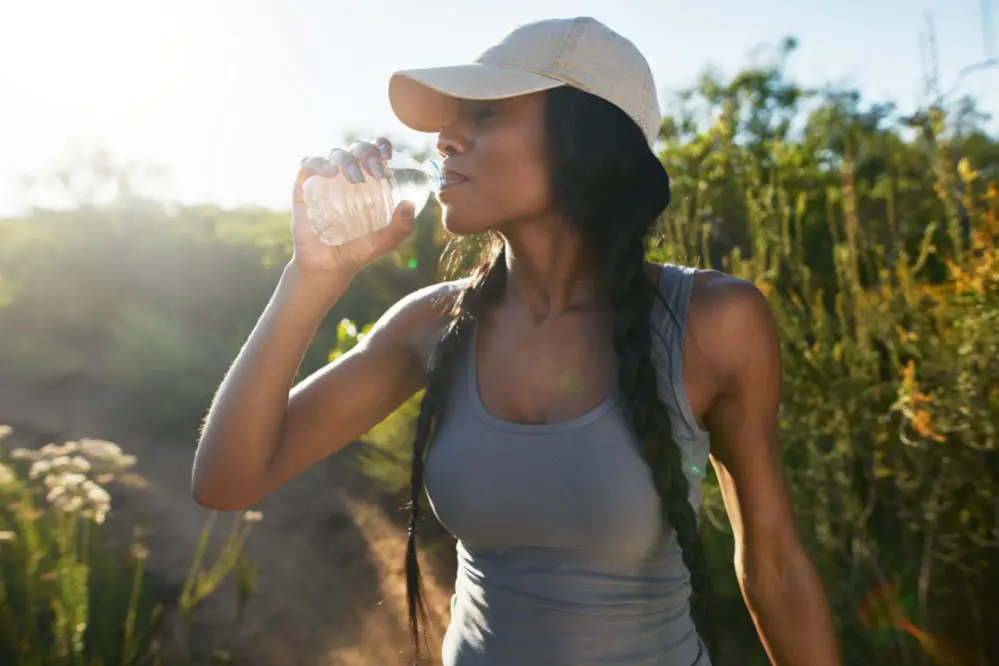 Make sure that you are aware of the first signs of heat stroke which can include nausea, dizziness, confusion and a lack of perspiration even when temperatures are high. Don't take any unnecessary risks and if you feel unwell stop and try to cool down.
If you usually use water bottles, you may like to try out a hydration bladder, an easier way to transport larger amounts of water.
The drinking tube allows you to drink without stopping, which could help you to drink more regularly out on the trail and to stay more hydrated than drinking less frequently from a bottle.
Hydration bladders also take up less space than water bottles, so if you're looking to take a smaller backpack out with you for summer hikes with less equipment, then they could also be a good choice for that too.
When possible try to choose trails with plenty of shaded areas or creeks so you can cool down on the trail.
Hiking early in the morning or in the evening can also be a better idea when temperatures are lower, try to avoid the hottest times of day or plan to take a long break somewhere cool or near a creek or lake.
Water Purification
Trails with creeks can also provide refilling points, so don't forget to take your water purifying kit. This will allow you to lower your pack weight by carrying less water and a lower pack weight means less exertion. Just be sure to have a backup water refill point, just in case.
Be careful when hiking at high elevations in the heat, higher elevations have lower oxygen concentrations and the effect of UV rays are stronger.
Also, if you're on a high up exposed area and you start to suffer from the heat, you'll be further away from any sources of assistance.
Conclusion
Now you know how to dress for hiking in summer to really make the most of the warmer weather. Remember, even on cloudy days it's still important to protect yourself from UV rays and a good summer hiking shirt or blouse can keep you cool as well as safe.
Your clothing and footwear choices will generally be lighter weight, however take care not to compromise on safety, especially if you're heading out into the backcountry.
Accessories are especially important including hats, neck protection and sunglasses. Wherever you choose to go hiking this summer, be sure to take plenty of sunscreen and drinking water.
Research your destination well ahead of time and pack accordingly. If you're heading off into any remote areas, make sure that you stay safe and always have a backup plan.