Trekking poles and walking sticks (or staffs) both provide extra support and stability when you're out on the trail. Opinion is often sharply divided over which one is the most advantageous, so let's take a look at the two head to head, trekking pole vs walking stick, and see if there's a clear winner.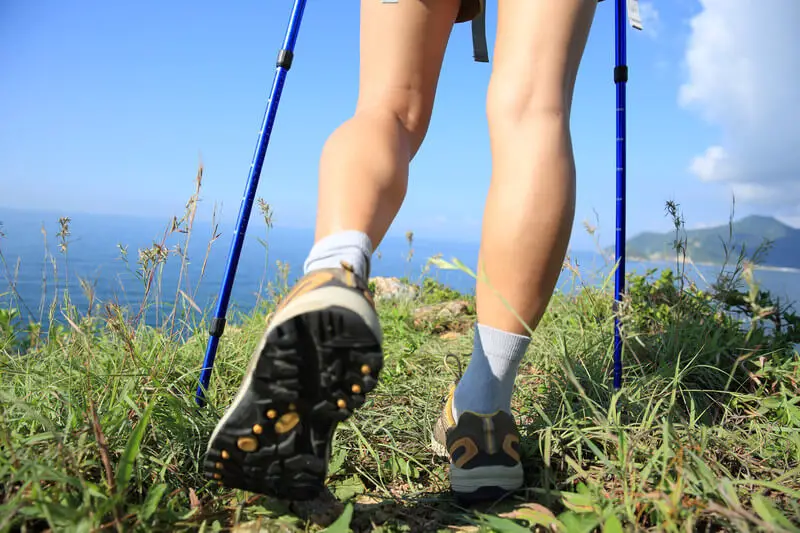 Walking Sticks
Walking sticks, also known as staffs, are used individually. They can be crafted out of a variety of materials, although the classic wooden walking stick is the main one that more frequently springs to mind.
Some people even recycle wooden sticks from household items to transform into staffs, or select a suitable tree branch before starting, or during, their hike.
Walking sticks can be purchased in non-hiking specific stores and they may have various decorations or insignia. As with anything these days, the amount of choice is endless.
Common usage
Walking sticks are often used for extra support over uneven terrain or when crossing water. Although some people may use them when ascending or descending they are generally best used on flat terrain.
Modern hiking staffs can be made from a variety of materials, and may also include additional features such as shock absorbers and camera mounts.
Advantages
Makeshift walking sticks can be picked up on the trail if there are plenty of trees around. They can also be left behind for other hikers and, therefore in these cases, don't cost a penny and aren't subject to any transportation issues.
A walking stick can help to provide extra support and stability, preventing trips and falls.
They can be used on an as-needed basis and don't really require you to train to build up a regular rhythm with them.
Disadvantages
Walking sticks can cause you to overly lean to one side for support which can be dangerous on steep descents. If the stick is on the opposite side to where you need support then you may not be able to switch hands before slipping.
Also, the way that your hand typically grips a walking stick causes your body to dip on one side, which could even lead to a stumble or fall on terrain than is not flat.
Traditional staff models are also non-adjustable.
Walking sticks are best used with little to no load, so if you're thinking of trying backpacking or going for a long day hike, and you need extra support, a pair of trekking poles would, in our humble opinion, be a wiser option.
Traditional hiking staffs can also be heavy and cumbersome to transport or carry when not needed, and you can't always rely upon finding a suitable branch for a makeshift one when you're out.
Trekking Poles
Trekking poles are designed to be used in pairs, although they can be used on as a single pole, and are generally made from modern, lightweight, man-made synthetic materials. There are a huge range of brands and different types available.
Unlike traditional hiking staffs, most trekking poles are adjustable in height, allowing an individualized configuration, which can be altered on the go to adapt to the terrain.
Trekking poles are designed to be used with their wrist straps, which provide support, with the hands only touching the pole handles when walking.
However, be careful with wrist straps, as if you take a tumble and you can't loosen your hand, you could easily twist your hand or wrist. Generally speaking, we recommend you avoid the straps.
Common usage
Trekking poles offer excellent support. In particular, they are extremely useful for taking pressure off the knees during steep or prolonged descents. Unlike hiking staffs, trekking poles are designed to be used over a wide variety of terrain.
As mentioned, they can be adjusted in height, so they can be effectively used for ascents by reducing their height, descents by lengthening, and even contouring hills with one longer than the other. There are many benefits to trekking poles.
Advantages
Trekking poles are lightweight and easily attached to a backpack when not needed.
They provide greater support and stability on varied terrain and are especially useful for hill walking.
As they are generally used in pairs, they can provide much greater support.
Their adjustable length means greater safety and security on steep gradients, meaning less falls and slips.
Trekking poles can be utilized in certain tarp and tent configurations and so can help offer a much lighter solution than carrying a classic tent.
The use of trekking poles will also increase cardiovascular activity and upper body movement.
Trekking poles can also help you to speed up your hikes and feel less fatigued at the end of a long hike.
Disadvantages
Trekking poles can be expensive if you're looking for a quality lightweight model.
They can also be difficult to take on planes if you're planning on hiking overseas, you may need to check them before travelling to your destination and back home again.
Although using trekking poles is generally a quick learning curve, it can still take a while to really get used to them.
Which one should I choose?
If you're unsure which one to go for, in our opinion, trekking poles generally offer the best support, and they are easily stowed on or in your pack when you don't need them. However, it really is a matter of personal preference and what suits one person, will not necessarily suit the next.
It is also important to take into account what kind of terrain you will be hiking over as this can affect your choice and preference. Some people use a walking stick to push vegetation out of the way, for creek crossing and rocky terrain without ever feeling the need to try using two poles.
For steep gradients and hill contouring with narrow paths and loose footing, trekking poles can greatly improve stability and prevent accidents from happening.
They can also help reduce fatigue and provide support. Trekking poles can of course also be used to help push vegetation out of the way, for creek crossing and rocky terrain.
If you're planning a long hike over mixed terrain with plenty of hills and a heavy backpack, then trekking poles would seem to be the obvious choice.
Conclusion
When it comes to the trekking pole vs walking stick head to head, we feel trekking poles are the clear winner. They are just more versatile and they are going to provide you with more support over a wider variety of terrain.
You can to some degree also mimic a walking stick / staff by using one trekking pole, so you can have the best of both worlds to some degree. However, there are people who feel uncomfortable with trekking poles and prefer to use a single walking stick.
The most important issue is that you feel comfortable and enjoy your hike in safety. If you don't have a marked preference for one or the other, try a few different hikes over varying terrain with different walking sticks and trekking poles and see how you get on. The proof is in the pudding, or the eating of the pudding I should say 🙂
We hope you found this short article useful. Please share it around your networks if you did.