What is your hobby? Hiking or mountain climbing? If yes, then we both have an idea of what is involved and the tools we require to have a successful day out on the hills.
Trekking poles are strong poles, kind of like walking sticks, that support or give stability when you are hiking and / or backpacking. Their main aim is to ease the strain of your leg muscles and greatly reduce the impact on your knees whether you are going uphill or downhill.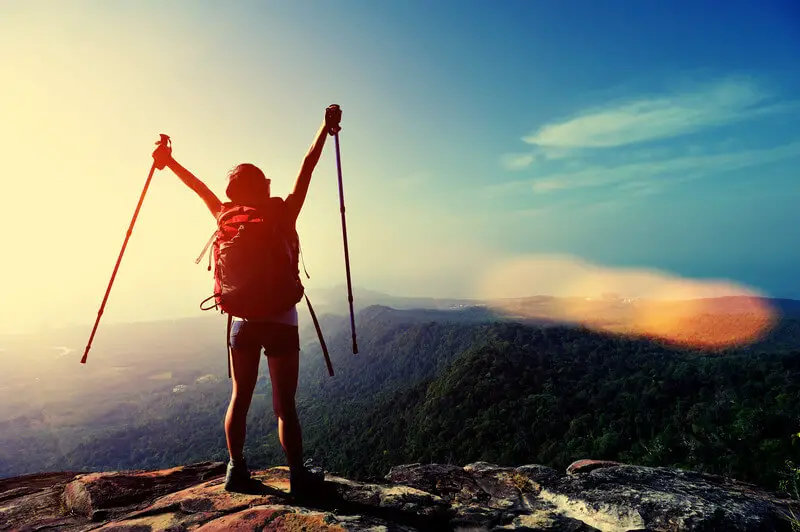 Hopefully that gives you a rough idea of what we are talking about. If not, don't worry! Buckle up as we take you through the main trekking pole benefits you can enjoy when you hit the trail with them on a hike.
Benefits
Hiking is a wonderful activity, it not only helps to rejuvenate your body but also compliments general fitness. All this is fun until you cannot walk or bend, or do anything the next morning after a full day of hiking due to all sorts of body aches. This can and does happen, to novice and experienced hikers.
Trekking poles can play a very important role in countering this, ensuring that hiking remains enjoyable at all times and helps to ease off on the aforementioned aches after a hard day out on the hills.
Walking Rhythm
Sounds a little odd perhaps, but learning and understanding how to use and choose the correct hiking poles, even on the rough or rocky ground, really help establish a good walking rhythm.
When synchronized with your arms, this can help balance the load so that no muscle is excessively strained on a consistent and repeating basis. With that in mind, it really is worth investing in the best poles you can get.
When we talk about setting a perfect rhythm, we refer to the pace at which you walk. Hiking poles propel your body forward when walking so you can end up walking quite a bit faster when using them.
The coordination of your arms and legs improve your stride distance and you end up covering more distance within a shorter time.
Aches and Strains
Hiking poles help reduce the strain on your knees and leg muscles. As mentioned above, they help balance the load of your body across all your limbs, which in turn helps reduce the likelihood of aches and strains.
Balance
A really important one. When walking through generally rough terrain, trekking poles are excellent for helping you to maintain your balance. This is very useful when hiking over uneven or undulating terrain.
Heaven forbid … If you get injured …
In case you are unlucky enough to get injured on a day out on the hills, trekking poles can be more help than you could ever imagine. For instance, a sprained or twisted ankle is almost impossible to walk on. Trekking poles can be used to help lift of weight off of your injured leg.
Though the hike may take a little longer due to the slower pace, the poles may just be a life saver if you just need to get that last few hundred feet back to your car to get yourself out and to help.
Bushwhacking
Isn't that an Australian thing? I think so, but it kind of fits the bill for this point. Trekking poles can be used to mark your trail when walking through bushy paths.
That is, if you have a lot of vegetation in your way, you can use them to help whack any troublesome plants and shrubs out of your way. In extreme circumstances, although I have never done this and hope I ever have to, you could use it to scare off wild animals in your path.
We all agree that the chance of coming across a wild and very dangerous animal in the middle of a human used trail is unlikely, but it could happen, right? And if it did, any kind of implement to fend off a wild beast, could come in handy.
Ground Testing
A personal favorite of mine and one I use my poles for often. If you're hiking over wet ground, say like bog, or deep snow, you can use your trekking pole to test the ground before you step on it. Very useful and one that has saved me from sinking down into the ground on many an occasion!
Resting
Sometimes, heading up a steep incline that seems like it will never end, can make your tired, both physically and mentally. If the terrain is too tricky to get a chance to sit, leaning on your trekking poles for a moment can actually be relieving to your tired muscles.
Your backpack may also be a little heavy, say if you're backpacking for a few days, and tiresome and on wet surfaces, you may not be able to sit, so using your poles to lean on can help take the pressure off. Resting for a moment on your poles as you stand can help relieve the strain on your leg muscles.
Breathing Efficiency
Not sure how else to call this one, but to explain what I mean. How do you feel when you walk hurriedly during a hot day? You end up sweaty and breathing very heavily right?
As noted above, trekking poles can help increase your walking pace, as you can walk more efficiently, and with faster breathing, it improves your lung capacity by allowing more oxygen during inhalation. The poles help you maintain an upright posture that is ideal for proper breathing.
Posture
Something that is often overlooked … Frequent hiking, especially on mountains where you walk uphill for long hours, may affect your posture. The possibility of walking in a funny shape is much higher due to the nature of hiking.
The weight of your backpack can easily force you to hunch forward and this will distort your upright posture with time. The trekking poles can really help prevent this, helping you keep a more upright position and better posture as you hike.
Weight distribution
Imagine being asked to carry a heavy load up 20 flights of stairs to the top of a building several times in a row. Most probably, the next day will be stiff and possibly painful for you.
The pain on your muscles is what we call fatigue. The most fatigued part of our body after a long day of hiking is our legs and lower back.
When you use a hiking pole, weight is evenly distributed all over the body since both the upper and lower body share the weight more.
Each step on weight affects the muscles and if the poles can reduce the weight more evenly on your body muscles, then it will take longer to fatigue right? Yet again, trekking poles can really help with this.
If You're Overweight
We all agree that hiking is not only done as a hobby, but can also be a great part of a weight loss program for people who are overweight. Walking for long distances, definitely burns a considerable amount of fat from our bodies.
Burning of calories can help us feel better as well as being healthy for our physical health. Overweight individuals may find it a little challenging to walk on more challenging terrain e.g. rocky surfaces, due to their weight.
Trekking poles are the ideal option for such circumstances. They will help folks propel their bodies forward and evenly distribute their weight better all over the body.
Accidents Anyone?
Instances of accidents are thankfully rare enough if you hike responsibly. However, sometimes you can just get unlucky. What would happen if your hiking partners backpack fell into a deep hole?
If the hole is a little deep you could tie one of your hiking poles onto a rope, hook the backpack and pull it out of the pit. Easy right?
Or say, your hiking partner gets a little nervous about hiking up over a steep stone that is a bit wet. You could use your trekking pole to help them up over it.
The main point here is just that there are plenty of unplanned for situations, where a strong trekking pole could come in very handy.
Conclusion
The use of trekking poles over the years has been a great development in the hiking world, and the quality of poles available gets better and better, year on year. They really are one of the best and most helpful gear items any hiker can add to their kit.
Whether you are a regular hiker, or just someone who dips their toes in and out of hiking from time to time, incorporating trekking poles into your hiking strategy going forward, will only help you enjoy your days out on the trail even more.
We feel it is important to acknowledge the trekking pole benefits for a hiker. It's really worth investing in a pair and learning how to use them properly, so you can get the most from them.
If you are interested in buying trekking poles, please check out our top hiking pole recommendations, to see some great options available on the market today.
Happy hiking!