If you're thinking of trying out trekking poles, or maybe you already own a pair, you may be wondering how to best adjust them.
When used correctly trekking poles can help reduce fatigue and joint strain while improving stability, however, if they are not correctly adjusted to your height they can be cumbersome and more of a hindrance than a help.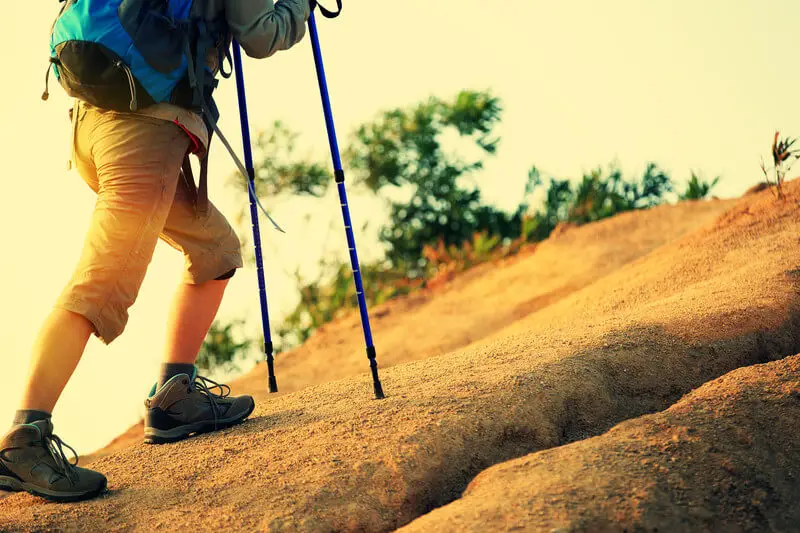 Let's take a look at how to adjust trekking pole height correctly for the different types of poles and why it's important to do so.
If you're new to trekking poles or if it's something that you've just never quite 'got the hang of', you may find that this could lead you to change your mind and possibly make your hiking trips go even better.
Reasons To Adjust Trekking Pole Height
Firstly, although you can buy fixed height poles, as each and every one of us is different to the next person, it makes sense to be able to customize our accessories whenever possible.
Adjustable trekking poles allow you to fine tune the exact length of your poles, thus maximizing your levels of comfort and support. Most adjustable trekking poles have an alterable length of 24 to 55 inches.
Secondly, trekking poles are a huge help when negotiating difficult terrain. They can make the almost impossible, possible and a good deal easier, especially on the joints.
Once you have adjusted your poles for your height and you're using them with ease, you will find them even more useful for ascending and descending if you shorten and extend them accordingly on the go.
Rugged hillside terrain may even require you to lengthen one while shortening the other for perfect balance and comfort while contouring a hill with narrow paths.
In fact given the simplicity and efficacy of trekking pole adjustment, you may find yourself adjusting them for any kind of rough terrain, streams and sand dunes.
Thirdly, and best of all, it takes seconds to do. So let's take a look at how it's done.
How To Find The Right Height
To find the optimum length for your trekking poles, hold your pole with its tip touching the ground. When you will have adjusted the height as necessary, either increasing or decreasing, your lower arm will be parallel with the ground with your upper arm at a 90 degree angle.
This will be the main height that you will need for flat terrain. Once you've done one pole, don't forget to make sure that the second one is the same length by comparing them.
Some people find it useful to mark this height on their poles or to adjust the lower level(s) then use the upper level for changes when they're on the trail.
I'd say to hang on a bit and just get comfortable, once you've got a few hikes with them under your belt, then you will get a feeling for how they work best for you and what, if any changes you will be making on a regular basis.
Most poles come with graduated markings so you should be able to keep track of which height works best for you.
How To Adjust Your Trekking Poles
Although trekking poles may differ in terms of looks, materials and price, in general there are two main types of adjustable ones, telescopic poles and foldable poles.
Telescopic Trekking Poles
Also known as telescoping poles, these trekking poles are made up of sections that store inside of one another when not in use.
Foldable Trekking Poles
Foldable poles, also known as tri-fold or z-fold poles, are made of separate sections that are connected by a cord. These sections fold next to one another when the pole is not in use.
To adjust the height of your poles:
Unlock the pole from its collapsed/folded position.
Hold the pole by its grip with its tip touching the floor. Make sure your shoulders are relaxed and your grip is comfortable.
Decide if you need to lengthen or shorten the pole to achieve the correct height (as discussed in the previous section).
If your pole uses a twisting mechanism, twist to loosen or tighten as appropriate. If it has a lever or catch mechanism, extend or shorten until the desired length is achieved, then close or release the lever or catch. Double check that the pole is locked, and repeat for the second one.
Try both poles and adjust again if necessary.
If you have any difficulty adjusting your trekking poles, check the manufacturer's notice or website for product-specific information, see this example. The vast majority of poles are extremely simple to adjust and self explanatory.
Once you've adjusted your trekking pole height you may like to check it again with a pole in each hand, to check that you have the right weight distribution and that they feel comfortable.
Having done each pole individually the first time allows you to be familiar with the process and to arrive at the stage where only very fine tuning should be needed.
Also, make sure that you have the correct pole in the correct hand, most brands have left and right hand poles that are slightly different to one another.
Conclusion
Trekking poles are often invaluable aides for hikers, they are extremely useful for navigating difficult terrain, improving stability and reducing the risk of a slip or fall.
They can also help to reduce fatigue, improve cardiovascular fitness by increasing upper body movement and circulation, and they help to reduce joint strain.
However, in order to fully benefit from all of the positive aspects that trekking poles can offer, it is essential that you know how to adjust trekking pole height correctly.
Trekking poles that are not correctly adjusted can cause muscle pain, joint pain and general discomfort, so it's important to check that your poles are adjusted to the right height.
Adjusting trekking pole height is extremely simple and it can be done quickly and easily, making difficult ascents and descents much easier and safer, and general hiking a lot less tiring.
If you've never quite taken to using trekking poles, or you've just got your first pair, take a few moments to double check that they're the right height for you, it will definitely be worth your while.
Finally, if you're looking to invest in a pair of trekking poles, check out our top trekking pole recommendations.