With Summer in full flight, it's that time of year again for the resurgence of every hikers sworn enemy, the bug! Mosquitoes are probably the best known insect irritant but there are any number of bugs that can make a hike a nightmare.
From flies to midges, ticks to chiggers there are no shortage of pests that will want to either make a meal out of you or just annoy, aggravate and generally drive you to distraction!
It's a little ironic as in many places, like in parts of Europe, you get the best weather at the same time. So, you have great weather to hike in but lots of bugs and insects to contend with. What can you do!
It's not easy, that's for sure, but of course through the marvel of human ingenuity man has of course fought back and come up with all sorts of ways to help keep the bugs at bay.
With that in mind I thought I'd run through some of the options a hiker has to protect themselves from bugs and insects on the trail. I see this as an ongoing project or work in progress, if you will, as I no doubt won't cover and don't know every way to repel insects.
Only last week I learned of a new solution to help fend off bugs while hiking. With that in mind, I will update this post on an ongoing basis.
So, lets start at the beginning …
What Options are there?
There are actually quite a few options available so I thought it would be useful to go through them one by one and try to list the pros and cons of each. 
I have not used all of them but I will add in as much useful information as I can and update them as I learn more over time e.g. when I use a product I haven't used as yet.
Please note, any products pictured in this post are available at the bottom of this post. You can learn more on any of the listed products by clicking on the product picture.
Standard Insect Repellent
This is probably the most well known one and so I am putting it first. Now, I am referring here to standard bug spray that is probably the most commonly known one.
DEET (aka diethyltoluamide) is one very well known insect repellent chemical but there are a bunch of them. The one in the image below is Repel 100, which performs pretty well.
Pros:
From my experience DEET, or similar chemical type sprays of this kind, do work pretty good … there's no doubt about that
Very affordable, probably anywhere from $5.00 to $10.00 will get you a good sized spray bottle
Cons:
Leaves a sticky residue (I think this is part of what repels the bugs / protects you though)
Tastes nasty should you get any in your mouth … watch your eyes too
Not the nicest smell in the world 🙂
Natural Insect Repellent
This is broadly similar to the first option but it opts to avoid chemicals as such and focuses on natural ingredients to make up the spray.
There are many of these available too, pictured below is 'All Terrain Herbal Armor DEET Free Natural Insect Repellent'. Now, that's quite a mouthful! These do the same thing as the first category and work in the same way, they're just not loaded with artificial chemicals.
I haven't used this type of spray as yet. However, one Mountain Guide I know swears by it and says it's the best stuff he's ever used. Picture below is a popular natural insect repellent, Herbal Armor from All Terrain.
Pros:
Less man-made chemicals probably has to be a good thing for your skin and the environment
Affordable, probably anywhere from $5.00 to $20.00 will get you some of this
Apparently leaves less of a sticky residue than the chemical stuff and doesn't smell as potent
Cons:
A little more expensive than the supermarket generic stuff but nothing too crazy
Avon Skin So Soft
This may well possibly fall under one of the previous headings but I am giving it a special mention as it is one that has been identified specifically to me by several experienced hikers. 
It's also effectively a skin moisturizer which I think is used for normal day to day use. However, it is also meant to be very good at repelling insects.
I have heard that soldiers use Avon Skin so Soft it as it's much nicer on the skin than the chemical stuff. I haven't used it myself yet but I do have a bottle of it winging itself to me as I write, I ordered a bottle two days ago.
I'm curious to see how it feels to use, smell etc. and of course how it performs. I'll update this post with the results 🙂
Pros:
Easier on the skin as it's a moisturizer
Again, a much more fragrant smell than many spray bug repellents (maybe too fragrant for some manly men out there lol 🙂 .. kidding )
Inexpensive … same price as the standard bug spray stuff
Cons:
Only one Mountain Guide I know has used this and didn't like it, he said it was very sticky on the skin … however, I know others who love it though
Citronella Oil
This is an interesting one and one a hiking friend of mine who is a Doctor told me to try out one time we went out on a night hike. Basically, you dab a few drops of the citronella oil onto your clothes around where your body is exposed and that does the trick.
As I said, I only used this once but it did seem to work pretty good.
Pros:
As I said, I only used this once and it did seem to work well
A nicer smell than many spray bug repellents
In and around €15.00 for a bottle so more expensive than standard bug spray
Cons:
This is nearly a contradiction to the pro above but, the nicer smell is very strong and pungent as you have to use a fair bit for it to be effective
The smell tends to stay on your clothes long after you're away from the bugs
Maybe not as easy to get your hands on as the spray stuff (Although I could be looking in the wrong places 🙂 )
Bog Myrtle
Bog Myrtle is a flowering plant that is native to parts of Western Europe and parts of North America, and is apparently a very effective inside repellent. It will help keep midges, horseflies, etc. at bay. I believe it is a very popular natural insect repellent to those in the know.
I have not used this myself but I have heard stories that it is effective and as it's very natural, much more pleasant to use.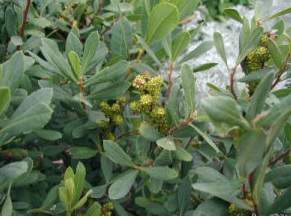 Bog Myrtle picture above taken from wikipedia
Pros:
A natural solution like this has definite advantages, just feels nicer to use normally
Apparently the smell is quite pleasant
Cons:
Probably not as easy to get your hands on but you can get it (I found this website which ships it from Scotland)
Might work out a bit more expensive than standard bug spray
My Recommendation
This is a tricky one at the minute as I haven't used all of the options listed above. I am going for a two day wild camp this weekend and I will have the traditional chemical bug spray in my pack.
However, as mentioned I do have Avon Skin So Soft on it's way to me and if it is half as good as I have heard, it could be my new favorite. I'll report back in a week or two 🙂
Conclusion
So, that's it for now. As I said at the start, I would like this to be an ongoing informational post so I will be updating as I go. I am sure I will learn of other good ways to keep the bugs at bay, there are probably many more ways to help with this problem on the trail.
I think this topic is relevant to nearly all hikers as you will get attacked by insects at some point. I was reminded of this a couple of weeks back on a hike I was on. I was camping the night before the hike in a campsite at the base of the mountain range.
It was a hot day and I arrived late, 9:30pm. With the natural light fading, I needed to get my tent up quick. I found my pitch spot and started to get organized. As soon as I was stationary for a few seconds fiddling with the tent, a swarm of midges descended upon me. It really was not pleasant!
And of course, I'd forgotten my bug spray .. yikes! … luckily my friend had some. I can't imagine what it would have been like if he hadn't had that. Would have been a very uncomfortable evening and most likely not feasible for me to stay there.
As stated, this is an ongoing informational project in a post so if you know of any good ways to keep the bugs at bay that I haven't touched on, please do let me know in the comments below. I'll add them in.
I hope you found this post on what's the best insect repellent useful and if you did, please like and share 🙂