Whether you're planning to tackle one of the 14ers or heading overseas to even higher elevations, it's important to know how to prepare for high altitude hiking if you plan to head higher than where the human body is comfortable.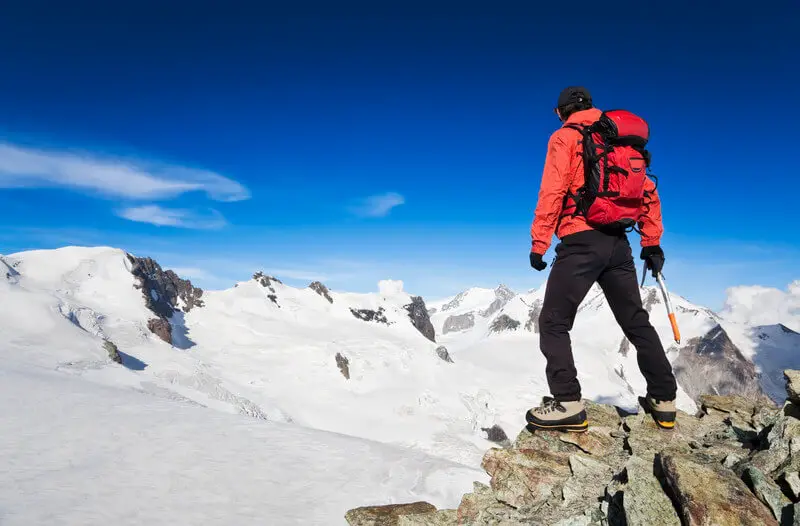 Preparation is key and involves much more than just being in good shape. An appreciation of the dangers, an understanding of altitude sickness and knowing how to acclimatize are all essential knowledge you need to be familiar with.
High altitude hiking is a dangerous and difficult activity that is becoming increasingly popular, if you prepare correctly you can minimize the risks and savor the challenge.
What is High Altitude Hiking?
High altitude hiking is generally classed as hiking above an altitude of 8,000 feet (2,400 m). Air pressure is created by the weight of the air above it. The higher you go above sea level, the lower the air pressure becomes. This means there is less oxygen in every breath that you take.
At 8,000 feet the air pressure is sufficiently reduced that it can start to cause altitude sickness problems for those accustomed to living at sea level or low altitudes. Of course, the higher you go, the harder in can get as they oxygen gets less and less.
What are the Risks?
If you don't prepare yourself correctly for high altitude hiking, it can be extremely dangerous and even life threatening. Extreme terrain, cold and isolation are just some of the factors that make these inhospitable altitudes dangerous.
You will be relying upon your fitness and judgement for your survival. Add a dose of altitude sickness, that can confuse and fatigue in its mildest forms, and the dangers become hugely multiplied.
One small mistake could cost your life. While not everyone is affected in the same way or severity, altitude sickness is most probably going to affect you at some point during your ascent even with careful acclimatization strategies.
How to Prepare Yourself
Although it's difficult to really prepare for high altitude hiking without actually being there, there are several things that you can do before departure to ensure that you make the most of your time at the top, enjoying the views, rather than collapsing part way up.
Know your Limits
No one likes to waste a dream opportunity especially when it may involve wasting a lot of money on travel, but if you are not able to continue on all the way to the top on that trip of a lifetime to the top of Denali, you need to know when to stop.
Not only could you be putting your own life in danger, but also the lives of those with you and those of any rescuers. Spend more time acclimatizing and try again if possible, or enjoy a lower altitude hike. High altitude hiking is not for everyone and it should not be taken lightly.
Boost your Fitness
Hikers are generally very fit, however, when preparing to hike at high altitude there are certain workouts you should be doing in addition to regular hiking or other exercise to boost your cardiovascular performance.
Cardiovascular workouts improve the amount of blood pumped by your heart with every beat. This will maximize your use of the decreased amounts of oxygen you will be breathing at high altitude. Incorporate a moderate intense cardio activity into your exercise routine.
Another highly effective training method to combat the effects of high altitude is interval training. Interval training pushes you to your maximum heart rate for several minutes duration followed by a rest period. This will boost the maximum amount of oxygen your body can make use of during exercise.
Breathing Exercises
Finally, practice breathing exercises. It is important to be able to control your breathing at high altitude. When you're out on the trail, some recommend practicing deep breathing to match your gait.
Having a deep breathing pattern can help you at high altitude, where you may have to coordinate smaller steps with deeper breaths as you're acclimatizing.
Interestingly, I just finished a book called the Oxygen Advantage. There are very specific breathing exercises in this to mimic for high altitude training. I tried these out before heading to the Andes in Peru this year, and I think they helped. The interesting thing though, is that the authors advice runs contrary to the recommendation in the last paragraph re: deep breathing.
I've also just started a course to learn about the Wim Hof Method, which also employs deep breathing and, to the best of my knowledge, can help with hiking at high altitudes.
Confused? 🙂 Yes, I was too, but I am open to experimentation, and that's what I recommend for you when it comes to breathing exercises for high altitude hiking. Have a go at a couple of different things like I have, and see what works best for you.
Acclimatize
Tempting as it may be to get going, it's important to take plenty of time to acclimatize. This will help combat altitude sickness and give your body the change to adapt to the change. If you live at sea-level you're more likely to be adversely affected than someone who lives in the hills.
Over time, your body will increase your breathing and heart rate, increasing the amount of oxygen you breath in and how fast it is pumped around your body.
Your cells will also slowly change to maximize their oxygen use. However, you will need to be patient. Not everyone adapts at the same rate, some people take much longer than others.
A successful strategy to combat altitude sickness without remaining stuck at the same level is to climb high and sleep low. This will allow you to make progress with your ascent, whilst descending to a safe height to sleep, giving your body the time it needs to adapt.
Using this strategy, you can climb higher than you would if you were going to make camp at that altitude and it is also safer as you already have camp set up at an altitude you're acclimatized too, so you can descend to safety should you need to.
Precautionary measures
Make sure that you are psychologically and physically prepared. Check all of your gear over thoroughly and make contingency plans, in case of emergencies. Remember to find your pace and take it slow.
Get to know the signs of altitude sickness and the effects it can have upon you and your decision making. Remember when faced with an isolated, often hostile environment you'll be relying upon your wits as much as your stamina to survive.
Headaches are often the first sign of altitude sickness and you may also experience fatigue, loss of appetite, difficulty sleeping or nausea. It is important to listen to your body and slow down sooner before these symptoms progress and you risk aggravating your condition. Returning to lower ground will completely stop the sickness at an early stage.
Medication
To help to alleviate the symptoms you may wish to take Diamox (generic name Acetazolamide). It comes with its own set of side effects such as tingling fingers, increased urination and in rare cases, blurred vision. However, it will acidify your blood, stimulating breathing and thereby increasing your oxygen levels.
You can get Diamox on prescription before leaving for your high altitude hiking and it may be worth trying it out first to see how the side effects are for you.
Normal painkillers can also help to relieve the headache you experience whilst acclimatizing, although they will be less efficient than usual and will not help with the actual problem unlike Diamox.
I have hiked at high altitudes a good amount of times now, and so far I have not had to use Diamox, so can't comment from a personal point of view. That isn't to say I wouldn't use it, absolutely I would if it meant I could continue on a trip I have probably spent a lot of time and money to do.
Conclusion
Preparing correctly for high altitude hiking could save your life. It is important not only to be fit and healthy, but to prepare your body for a decrease in oxygen levels through cardiovascular and high-intensity interval training as well as breathing exercises.
If you still have any questions about how to prepare for altitude hiking, especially if you have any preexisting medical conditions, it is very important to have your concerns addressed by a health professional before you go. Remember altitude sickness can even kill if you are not sufficiently prepared and ascend too quickly without sufficient acclimatization.
It's really important to stress again, that even with the best preparations, sometimes your body just reacts badly to altitude, and there is no set pattern.
What I mean by that is that, the first ten times hiking at high altitude you might be fine and have no issues, but on the eleventh time, you might react badly to it. There is no logical pattern to it, so always stay aware and put your health and safety first!