Summer, with its long days and sunny skies, can be one of the best times to go backpacking. But when things start to heat up a little too much, you might feel uncomfortable in your regular tent.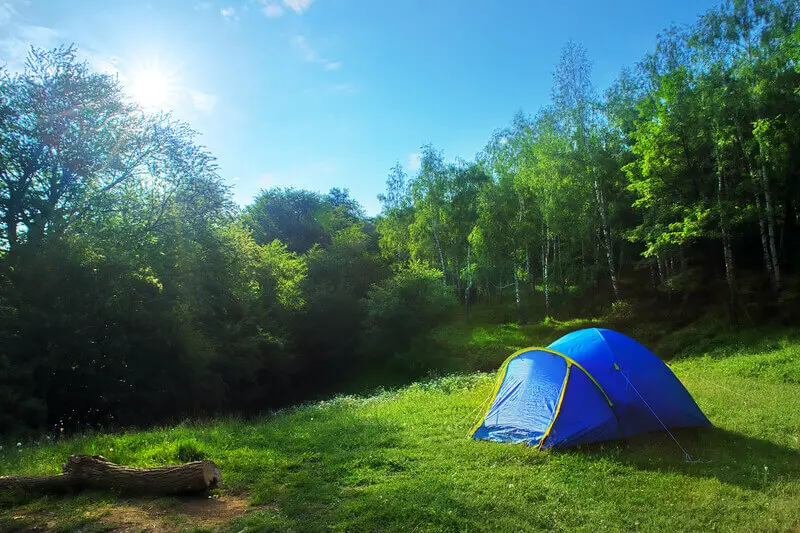 So, what is the best tent for hot weather you may well ask? Read on and find out what makes for the best way to spend a night's backpacking when the mercury rises. 
Season Specific Tents
Tents, like your sleeping bags and jackets are also designed to take into account the seasons.
When you're purchasing a tent, be sure to check out its season rating to make sure that it's appropriate for the time of year during which you intend to be using it most.
When you're choosing a tent, your main choice will be between a two season, a three season or a four season tent. There is also a sort of halfway tent rated as a three to four or a three plus that comes somewhere between the two.
For very hot weather, you're going to be better off selecting a two season tent.
Two season tents are generally mainly constructed of mesh fabric for improved air circulation during the hotter months, but they are only designed for fair weather camping.
If you're likely to be dealing with a lot of rain as well as the heat, you may be better opting for a three season tent with functional mesh panels and a good rainfly for improved protection.
Three season tents can withstand downpours and most weather scenarios, however, they are not quite as sturdy as four season tents. Three season tents can be tough enough though, I once used one in winter and it worked pretty well.
Four season tents tend to have less mesh panels and can get rather stuffy during summer or on warm days. They are designed to withstand colder, harsh weather conditions including strong winds and snow.
Best Type of Tent for Hot Weather
Aside from a tent's seasonality, you're going to need to focus on a range of features depending upon the sort of hot climate you will be camping in.
Dry heat, such as you'll experience in desert-like conditions, is very different from humid, tropical heat as you might encounter in a rainforest.
The features that your tent will need will ultimately depend upon which kind of heat you're faced with on your backpacking trip.
Tent Features for Hot & Humid Climates
When you're looking for the best tent to spend the night backpacking in hot, humid conditions you'll need to ensure that your tent is predominantly mesh with a rainfly cover to hand when needed.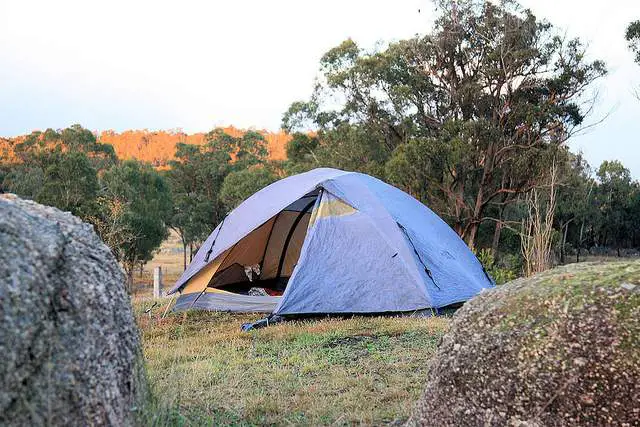 You'll need to have continued airflow even when you've got your rainfly on to prevent moisture build-up within your tent.
A fan can help improve air circulation and angled tent windows or ones with extended awnings over the windows, will allow you to leave them open in rainy conditions, thus improving air flow.
Bear in mind that hot humid climates are home to various insects, including mosquitoes, so mesh tent walls, are really are going to be the best option here, allowing air to enter while keeping the insects out.
You may wish to go for a tent with enough space to sit comfortably in, as if there are a lot of mosquitoes about in the evening, you're going to need to spend more time inside your tent to avoid being bitten.
Even with excellent insect repellent, it can just be unpleasant to be surrounded by mosquitoes and bugs. 
Wet and humid conditions also mean that you're going to need a tent that has a ground sheet or ideally a footprint, to ensure that moisture stays out of your tent from the ground below.
Make sure that you have a good fitting rainfly and that all seams are weatherproofed. 
Tent Features for Hot & Dry Climates
When you're backpacking in hot, dry conditions, you're going to need to try to shade your tent as much as possible from the sun.
Although not as big a deal at night, it is relevant during the day, some place can heat up very quickly as soon as the sun is up.
Your rainfly can be used to do this although a tarp stretched above will better protect your tent from the sun, while leaving the mesh sides free to allow air to circulate.
If possible, make use of any shade provided by any structures such as walls, or vegetation.
Advantages of Purchasing a Tent for Hot Weather
You may think that purchasing a tent especially for summer use may be an unnecessary extra expense.
However, doing so will make your summer backpacking trips much more agreeable, and will help to improve your quality of sleep on the trail.
It is not uncommon for many backpackers to only camp out in fairer weather anyway, not too many people want to head out into heavy rain and wind to camp.
In addition, you will find that tents designed primarily for summer use are lighter than your average tent, meaning a lighter load to carry.
The vast majority are also cheaper than tents designed for colder weather conditions.
Hot Weather Tent Price Range
Prices for small, basic mesh tents vary, however you're probably looking at prices ranging from around $80 for simple models, of questionable quality, to much higher-priced ultralight models designed for fastpacking and ultralight hiking at several hundred dollars.
Don't forget if you're going for the most basic, cheapest option, you may need to add on a ground sheet or tarp, and it could be a good idea to pick up a bug net just in case you experience any quality control issues.  
Other Options for Hot Weather Camping
When the weather's warm and the nights are long, you could spend the night under the open skies with just your sleeping pad and liner or a light sleeping bag.
Some people can't sleep well in the open without the security of a tent or other type of structure, while others have no difficulty with sleeping in the open air.
If insects are going to be an issue, then again remember that you will also need a bug net.
Other great hot weather sleeping options include pitching your tent with only the rainfly and footprint. This way you'll have a the familiar tent feel, but with plenty of space for air to circulate between the fly and the ground sheet.
Ideal for those who like the sensation of sleeping surrounded by a structure, but with plenty of air circulating. The rainfly will also provide shade from the early morning rays as things start to heat up.
Another main advantage is you don't need to purchase another tent, just use what you already have for the structure, rainfly and footprint.
You could also make yourself a simple tarp shelter to lie under. Bear in mind this will not protect you from any damp, although it will keep the sun off you, and you can angle it to protect you from the first warming rays.
While the last two options can be rather uncomfortable and don't provide any bug protection, possibly the best alternative solution for a lightweight way to sleep on a hot summer night is to invest in a hammock tent with bug netting.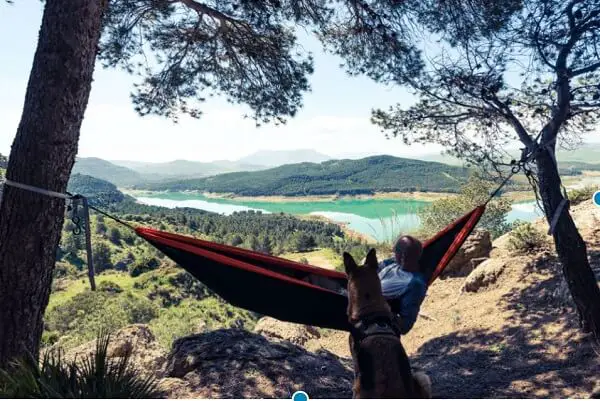 As you'll be sleeping suspended off the ground you will be more comfortable and protected by the netting from any bugs. Just make sure that your planned stopover point has plenty of sturdy trees to attach it to.
You could also sleep on the ground in either a bivy sack, a breathable barrier sack, in your sleeping bag, or in a bug shelter, made from bug netting held up with trekking poles.
Conclusion
The best tent for hot weather really depends on the kind of heat that you're experiencing. In areas of high humidity you'll want to keep yourself and your possessions as dry as possible, with extra protection against mosquitoes and other insects.
In drier heat, you'll need to try to keep your sleeping quarters shaded and aerated. Purchasing a summer tent makes good sense as they are lighter and often fairly inexpensive.
However, there are plenty of other great options available, such as hammock tents or making use of your rainfly with your footprint. A good bug net can be added to any set up plus a ground sheet if you're in a humid area.
So, in fact the best tent for hot weather may not actually be a real tent at all, but a combination of various tent elements set up to your liking, tailor-made to deal with the challenges brought on by the climate where you're hiking.
And most importantly a set up that you feel comfortable and secure enough to sleep in.