If you take the time to imagine a backyard oasis, you're sure to think of a hammock, but there are plenty of other uses for these convenient pseudo-beds, especially when it comes to adventures in the outdoors.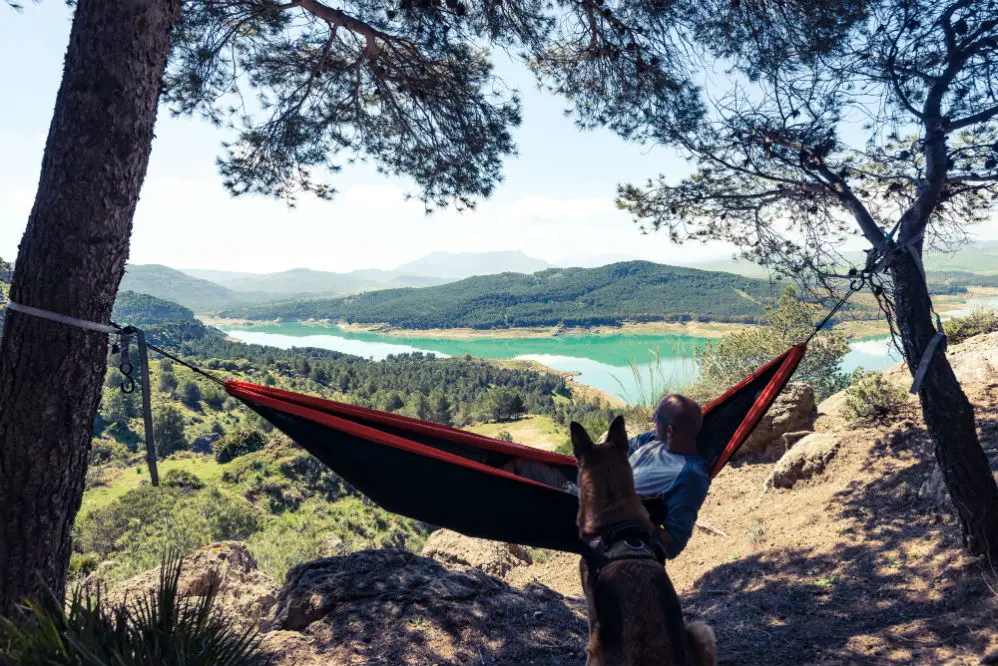 If you're in the market for the best hiking hammock, you're going to want to find a model that adapts to your needs in order to experience the most outdoor comfort as possible. In this guide, we'll review our top three picks for hammocks and what they have to offer.
If you are in a rush and just want to know our top recommendation, we think the Wise Owl Oufitters Hammock is a fantastic choice.
1. Wise Owl Outfitters Hammock
Pros:
High-quality stitching without fraying
Extra material can be used for bug protection
Thin and breathable material yet strong and durable
Cons:
Might feel snug for people over 200 pounds
Instructions are difficult to follow for beginners
Product Description
For optimal relaxation and the feeling of stability and safety, the Wise Owl Outfitters Hammock is another one of the best hiking hammock models designed for your rucksack or bug-out bag. The entire unit is constructed out of 210T parachute nylon which helps to add to its resilience without compromising comfort.
Unlike other hammocks, this unit is designed for one person since it is nine feet in length by four and a half feet wide. As an added benefit, it only weighs 16 ounces and can easily be stored, as it resembles the size of a grapefruit when packed.
Another phenomenal feature of the Wise Owl Outfitters Hammock is that it comes with two eight-foot ropes, giving you more than enough space to tie your bed up absolutely anywhere off-trail when you're setting up camp.
Summary
As an experienced hiker who has used a hammock before, you'll love the Wise Owl Outfitters Hammock as it excels in comfort, durability, and reliability.
On the opposite end of the spectrum, beginner hikers should try setting the hammock up a couple of times before heading out on the trails to make sure they thoroughly understand the setup instructions.
When compared to other hammocks on the market, this model makes it easier for larger and taller people to fit, but it's not recommended for all individuals over six foot four and 200 pounds.
In the event that you have extra material on the sides of the hammock, it can easily be pulled over your face for additional bug protection.
If you're in the market for a compact, durable, and high-quality hammock with no signs of fraying, poor stitching, or loose strings, the Wise Owl Outfitters Hammock is a great option.
2. Legit Camping Double Hammock
Pros:
Comes equipped with all necessary hardware
The bag is attached to the hammock for easy storage.
Adaptable to many sized tree trunks
Comfortable, soft, and lightweight fabric with extra durability
Cons:
The rope may fray because of the rough carabiners.
Tree straps will stretch with heavier loads
Product Description
If you're someone who enjoys camping with a companion or even if you want a little bit of extra room at the end of a long day, the Legit Camping Double Hammock is the ideal piece of equipment.
Designed to withstand up to 400 pounds, you'll easily be able to relax at the end of your hike or if you're interested in taking a quick break.
What makes the Legit Camping Double Hammock so innovative is its grab-n-go design that includes the hammock, a small sack, steel carabiners, tree-friendly straps, and a rope. Everything can easily be packed into the small sack so that the kit is readily available for whenever you need it.
Another feature you're sure to appreciate is its easy-to-use design that is incredibly simple to setup and gives you more comfort than you would expect, especially as it's constructed out of military-grade nylon for extra support.
Summary
The Legit Camping Double Hammock offers comfort and more than enough room for two people to sleep while out on the trail, but the closer the load on the hammock is to 400 pounds, the tree straps are likely to permanently stretch.
With that being said, you will appreciate the versatility of the straps as they can be used separately for thinner tree trunks and used together for larger trunks.
All the hardware that you'll need for setup is included with the hammock and can easily be stored in the carrying bag that is conveniently attached to the entire unit. Setting the Legit Camping Double Hammock is easier than you would expect, especially as a beginning hiker.
3. WoneNice Camping Hammock
Pros:
Comfortable and spacious for people over six feet tall
Triple-stitched seams make the material feel more secure
Easy to fit two children beside each other
Cons:
Doesn't block the wind
Tension is poorly placed in the center of the hammock
Product Description
Constructed out of parachute silk, the WoneNice Camping Hammock is a great choice for someone who is looking for a quick and easy hammock for weekend outdoor excursions or backyard relaxation.
What sets this design apart from the rest is that it's not only fast-drying and resistant to mildew, but it's also incredibly breathable.
Aside from the parachute silk used on the body of the hammock, you'll also have braided nylon rope with a special strengthened inner core that helps to keep the ropes as strong as possible, even with consistent setups and tear-downs.
Also, the WoneNice Camping Hammock is specifically designed to be easy to carry with the help of the compression bag.
When it comes to hiking with people above 300 pounds, you'll finally have a hammock that you can feel comfortable in as this model can hold up to 500 pounds in the sleeping section, 1100 pounds with the nylon rope, and 880 pounds with the galvanized steel carabiners.
Summary
The WoneNice Camping Hammock is one of the great hiking hammock models that your whole family can use and enjoy as it is not only great for short and tall adults but multiple children as well.
Another feature that sets it apart from the competition is its heavy load-bearing capabilities, making it adaptable to every type of outdoor enthusiast.
The high-quality triple stitching and overall construction make it feel very sturdy and reliable, which is essential for first-time hikers who are setting up their camp. Also, it's quite simple to install with the help of the included equipment, such as the tree straps and carabiners.
However, if you intend on using this hammock in cooler weather or a windy area, you're going to need to rely on a sleeping bag or large blanket for additional warmth as the breathable material also lets plenty of wind through.
Conclusion
There's a high probability that you're going to use your hammock for more than hiking trips, which is why you need a versatile model that is adaptable to all types of weather and other outdoor conditions.
The Wise Owl Outfitters Hammock is by far the best hammock on this list as it not only excels in build quality, but it also gives you a warm, comfortable, and safe environment to rest your head at the end of a long day.
It's durable parachute nylon construction with rugged carabiners, and reliable tree straps give you a relaxing yet sturdy build that you can rely on and you won't have to worry about being affected by cool winds once the sun sets. You'll also appreciate how simple the hammock is to set up once you've used it a couple of times.
For a great family-friendly hammock that can be used for a wide variety of occasions, the Wise Owl Outfitters Hammock is the top-tier choice and recommendation for all outdoor enthusiasts.